KYIV, Ukraine — For the second time this month, US Air Force B-52H Stratofortress bombers flew in Ukrainian airspace, underscoring a significantly ramped-up American bomber presence near Russia.
On Monday's flight, three B-52 bombers flew over both Romanian and Ukrainian airspace before heading onward into international airspace over the Black Sea. Along the way, the bombers flew in formation with Ukrainian Su-27 fighters, as well as Romanian F-16s.
In response, Russia scrambled four fighter jets — two Su-27 and two Su-30 fighters — claiming that the American bombers were approaching Russian airspace. Russian military officials said their radars detected the three aircraft inbound from Ukraine, yet the US B-52s remained in international airspace over the Black Sea and did not violate Russian territory.
"The crews of the Russian fighters approached the aerial targets at a safe distance, identified them as three US Air Force B-52H strategic bombers and escorted them over the Black Sea," Russia's National Defense Control Center said Monday.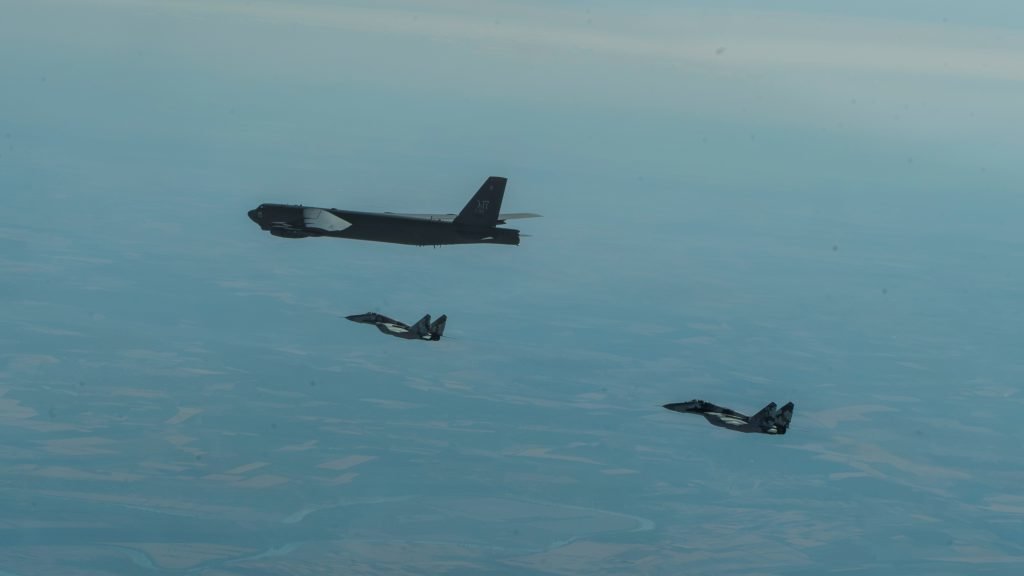 The B-52s, which belong to the 5th Bomb Wing at Minot Air Force Base in North Dakota, are currently deployed to RAF Fairford in the United Kingdom. Six of the nuclear-capable bombers have been deployed to England as part of a bomber task force mission since Aug. 22, performing combat training missions across the European continent.
Monday's flight was another statement of American solidarity with Ukraine — a former Soviet republic that overthrew a pro-Russian regime in 2014, and has been engaged in a defensive land war to hold a Russian invasion force at bay ever since.
"B-52 crews provide collective defense capabilities for the United States, NATO allies and partners, as well as strategic and operational capabilities to deter Russia," Ukraine's Ministry of Defense said in a Monday statement.
In May, a pair of Ukrainian fighter jets — a MiG-29 Fulcrum and an Su-27 Flanker, both of which are Soviet-era fighters — flew in formation over the Black Sea alongside two US Air Force B-1B Lancer supersonic bombers. It was the first time that B-1Bs had flown alongside such Ukrainian warplanes.
And on Sept. 4, US B-52s flew over Ukrainian airspace and integrated with Ukrainian air force Su-27 Flankers. It was the first time that US strategic bombers had flown within Ukrainian airspace, and was especially notable for how close the American jets came to Crimea, a Ukrainian peninsula in the Black Sea that Russia invaded and annexed in 2014.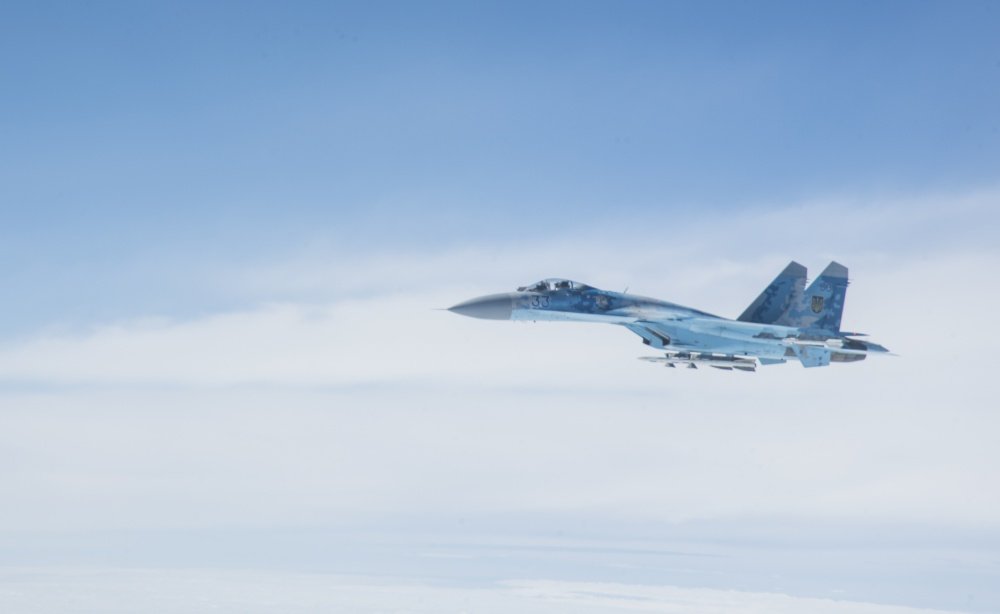 The B-52H Stratofortress, nicknamed the "BUFF," is a Cold War-era bomber capable of carrying nuclear and conventional weapons, including air-launched cruise missiles.
The B-52 was originally conceived during the Cold War for carrying out long-range nuclear strikes against the Soviet Union. Monday's mission marks a broader return of the B-52 to its bread-and-butter global strike mission after decades of primarily focusing on close air support for US ground troops on the counterinsurgency battlefields of Iraq and Afghanistan.
On Aug. 28, B-52 bombers flew over all 30 NATO countries in a single day, underscoring a broader uptick in so-called bomber task force missions that are meant to show America's adversaries — principally Russia and China — that the US Air Force is ready and able to destroy targets anywhere on the planet, at any time.
The Su-27 is a workhorse fighter jet for the Ukrainian and Russian air forces. Ukrainian pilots are trained in some of the same Soviet-legacy air combat tactics and techniques as Russian pilots — providing an invaluable training opportunity for US aircrews.
"Bomber task force missions to Europe demonstrate commitment to our allies and partners all while providing a clear deterrence message to any adversary," Gen. Jeff Harrigian, US Air Forces in Europe and Air Forces Africa commander, said in an earlier release.
Following Russia's invasion and seizure of Ukraine's Crimean peninsula in 2014, the Black Sea has become an increasingly contested region between Moscow and NATO. Thus, in addition to deterring Russia, US bomber missions in the Black Sea region are a way for American aircrews to familiarize themselves with a potential future battle space ahead of time — and under peaceful circumstances.
"It's been six years since Russia annexed Crimea, the first time since 1945 that European borders were changed through military force," wrote Luke Coffey, director of The Heritage Foundation's Douglas and Sarah Allison Center for Foreign Policy, in a June report.
"The annexation halved Ukraine's coastline and, along with the subsequent deployment of anti-ship and anti-air missiles, advanced Moscow's big geostrategic goal of turning the Black Sea into a Russian-controlled lake," Coffey wrote.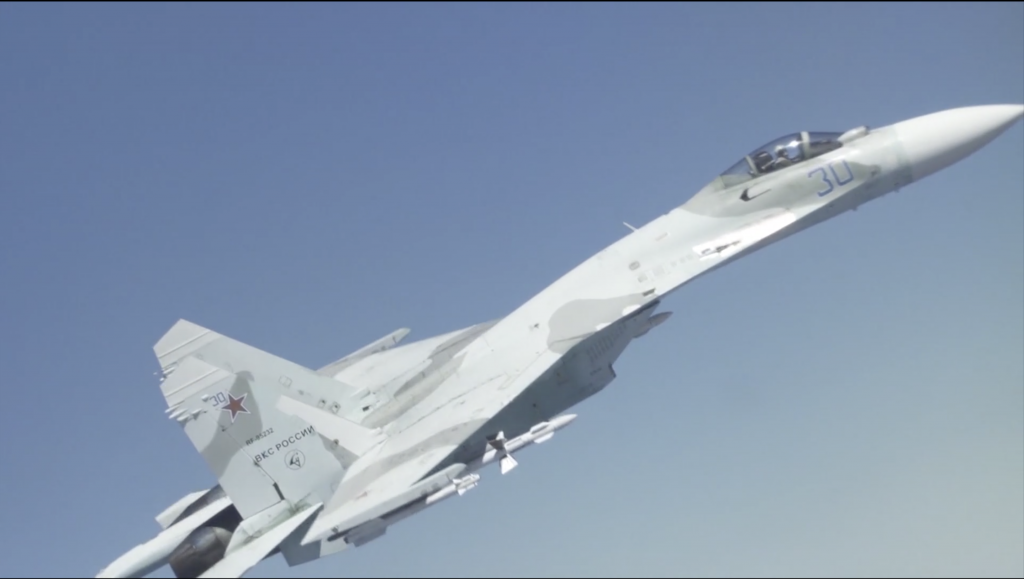 Based at Barksdale Air Force Base in Louisiana, Air Force Global Strike Command has taken over a docket of responsibilities essentially equivalent to that of Strategic Air Command during the Cold War.
Over the past few years, this upstart command — which was activated in 2009 — has steadily dialed up its pace of so-called bomber task force missions, comprising details of bombers, typically launched from American soil, which then fly transcontinental missions to conduct simulated combat strikes in geographical regions ranging from the Arctic to Eastern Europe and the South China Sea. Since 2018 Air Force Global Strike Command has conducted some 200 bomber task force missions.
"The US Air Force is engaged, postured and ready with credible force to assure, deter and defend in an increasingly complex security environment," the Air Force said in a release.