Corruption and politics often go together like peas and carrots. That was especially true in the 19th century, when election results were regularly determined by which candidate was able to muster enough criminals to outmuscle his opponent. In the years preceding the Civil War, that muscle usually came in the form of firefighters. This unorthodox role of firefighters was particularly prevalent in Baltimore.
"Baltimore's fire departments were often little more than political clubs populated by jobless young men," Charles W. Mitchell wrote in The Baltimore Sun in 2018. "They would race to fires and brawl with other 'fire companies' for the right to extinguish the blaze. Payment was demanded up-front from property owners, who resisted at the risk of watching their homes or businesses burn. More than half of the 225 fires in the city in 1858 were classified as arson, generating a revenue stream for these 'firemen.'"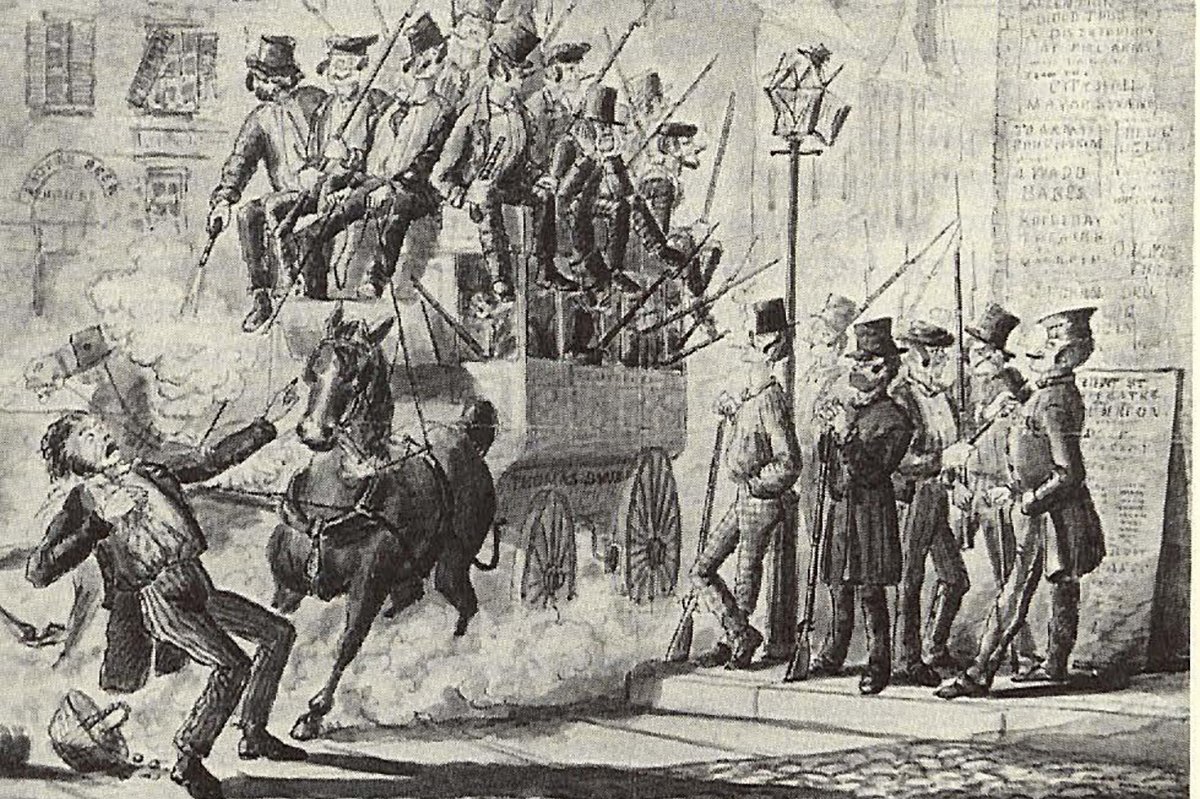 During the 1856 mayoral election in Baltimore, firefighter criminal activity came to a violent head. American Party candidate Thomas Swann called on local pro-American Party gangs the Plug Uglies and Rip Raps — originally the Mount Vernon Hook and Ladder Volunteer Fire Company — to rig the election. When Swann's supporters cornered the New Market Fire Company — a pro-Democrat gang — the confrontation escalated from a standard street brawl to a full-blown gunfight.
"Instead of using bricks and picks, this time the gangs came armed with muskets, shotguns, and blunderbusses. They even rolled in a cannon," author Lauren Silberman writes in her book Wicked Baltimore: Charm City Sin and Scandal.
After three hours and some 200 shots fired, the fight finally ended with the Plug Uglies ripping the doors off the New Market firehouse. When the smoke settled, two citizens lay dead, and 20 more were wounded.
Election violence continued throughout 1856, ultimately claiming the lives of 19 people. It wasn't until 1859, when Baltimore stopped relying on volunteer companies and established the Baltimore City Fire Department, that violence among firefighters finally waned.
The Baltimore City Fire Department has since developed an outstanding reputation within the fire service. Despite the city's decreasing population, its fire department remains one of the busiest in the nation. In 2011, Baltimore's Steadman Fire Station was the busiest firehouse in America.
Baltimore wasn't the only city in the 1800s with a firefighter-gang problem. Cities like Philadelphia and New York City had similar issues among their volunteer fire companies. In these cities, gangs like the Dead Rabbits, Bowery Boys, and Roach Guards vied for dominance, and politically aligned volunteer fire companies often acted as their muscle.
The 2002 film Gangs of New York accurately depicts firefighters of the era inflicting more carnage on the city than aid. Luckily, with the establishment of municipal fire departments, big-city firefighters left gang violence and political coercion behind, and the only fighting modern departments engage in is against actual fires.
Read Next: