Federal prosecutors on Thursday arrested former White House Chief of Staff Steve Bannon and US Air Force veteran Brian Kolfage, alleging they and two other men enriched themselves by defrauding donors to the controversial "We Build the Wall" campaign.
According to the federal indictment, Bannon, Kolfage, Andrew Badolato, and Timothy Shea orchestrated a scheme to defraud hundreds of thousands of donors to the campaign, which raised more than $25 million to build a wall along the US-Mexico border.
"As alleged, the defendants defrauded hundreds of thousands of donors, capitalizing on their interest in funding a border wall to raise millions of dollars, under the false pretense that all of that money would be spent on construction," Acting US Attorney Audrey Strauss said in a statement. "While repeatedly assuring donors that Brian Kolfage, the founder and public face of We Build the Wall, would not be paid a cent, the defendants secretly schemed to pass hundreds of thousands of dollars to Kolfage, which he used to fund his lavish lifestyle."
The indictment alleges Shea, of Castle Rock, Colorado, controlled a nonprofit and shell company that helped route the money that was raised by using fake invoices and sham vendor arrangements.
Kolfage, who touted his military service and status as a wounded war veteran to bolster the group's fundraising efforts, is from Miramar Beach, Florida, and Badolato is a financier from Sarasota, Florida.
According to the indictment, "To induce donors to donate to the campaign, Kolfage repeatedly and falsely assured the public that he would 'not take a penny in salary or compensation' and that '100% of the funds raised . . . will be used in the execution of our mission and purpose' because, as Bannon publicly stated, 'we're a volunteer organization.'"
"Kolfage noted in a text message to Badolato that his pay arrangement remained 'confidential' and kept on a 'need to know' basis," prosecutors said.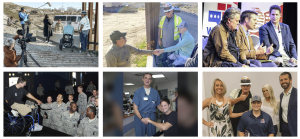 Prosecutors allege Kolfage "covertly took for his personal use more than $350,000 in funds," and Bannon, the former head of Breitbart News who was a leading architect of President Donald Trump's 2016 election campaign, received more than $1 million through a nonprofit that he then used to pay off hundreds of thousands of dollars in personal expenses.
Bannon was arrested early Thursday in Connecticut by US postal inspectors and brought to Manhattan to face charges.
All four men have been arrested and charged with one count of conspiracy to commit wire fraud and one count of conspiracy to commit money laundering, each of which carries a maximum penalty of 20 years in prison.