Before he completed an enlistment in the US Marine Corps, Maximilian Uriarte had already launched Terminal Lance — the wildly popular and often irreverent military comic strip about life as a Marine grunt.
Since Uriarte's comic debuted in 2010, the Corvallis, Oregon, native has published two graphic novels that stand out as some of the best American works of literature from the wars in Iraq and Afghanistan.
With help from a Kickstarter campaign, Uriarte self-published a first edition of The White Donkey in early 2016, and within a week of the release, Little, Brown & Co. picked up the book for widespread distribution. It spent more than 14 weeks on the New York Times bestseller list.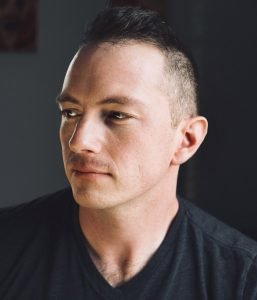 On his Terminal Lance website, Uriarte described The White Donkey as "my attempt to illustrate, in my own voice, the experience of being a Marine during the Iraq war and the experience of going to Iraq and coming home."
If The White Donkey was Uriarte's "coming home" book, his sophomore offering — Battle Born: Lapis Lazuli — puts to rest any suspicions the artist might have been a one-trick pony.
Set in Afghanistan's mountainous Badakhshan Province, the story follows Sergeant King, a colossal Black Marine squad leader whose stoic demeanor and quiet professionalism conceals his complex nature and a traumatic backstory that helped shape him into a fierce warrior and inspiring leader.
"In a way, Battle Born was designed to be a kind of modern reinterpretation of Robert E. Howard's Conan the Barbarian character," Uriarte writes in the book's afterword. "I wanted to create a kind of modern mythical hero like Conan in a contemporary realist setting. Sergeant King became that character."

Like Conan, King is an epic badass, and Uriarte imbues his protagonist with a keen understanding of human nature and plenty of paternal wisdom.
King is part of a platoon of Marine grunts who establish Combat Outpost India in the middle of the Sar-I Sang Valley of Afghanistan's Badakhshan Province, where Afghans have mined the semi-precious gemstone lapis lazuli for millennia.
Their mission is to wrest back control of the province from the Taliban, who have been strong-arming the locals and controlling the gem trade, which accounts for up to 25% of the Taliban's annual revenue.
While the American perspective remains central in Uriarte's narrative, the Marine deftly illustrates the deep complexity of the American mission in Afghanistan and the legacy of colonialism that colors the conflict to this day. His treatment of the Afghan experience is rendered with a deep reverence and empathy for the Afghan people that is reminiscent of Elliot Ackerman's Green on Blue.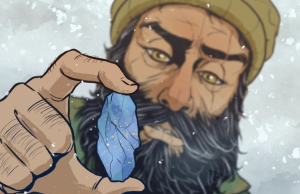 In his platoon of American Marines, Uriarte has drawn a rich cast of supporting characters.
Raised by British parents and educated in London, 1st Lt. Roberts is King's eager but naïve platoon leader who wins zero cool points by referring to cookies as "digestives" in casual conversation.
"Oh, you know the British … too civilized to call things what they are," Roberts says to King in one scene.
As the platoon's only female Marine, Lance Cpl. Chavez struggles to prove herself as King pushes her to "work twice as hard" to earn the respect of her fellow Marines.
"You hear that, Chavez? You're Black now," says a Black Marine in the room when King counsels Chavez for having fallen out of the 33-kilometer hike to COP India.
A recently demoted self-described redneck named Forrest rounds out the platoon's core of archetypes and provides a mechanism by which Uriarte explores one of his central themes, which the author describes as "the civilized and the savage in the shadow of colonialism, driven by racism."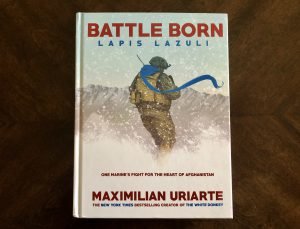 "While not necessarily my initial motivation, I found that writing a Black protagonist gave me a unique literary opportunity to tie the themes of racism and colonialism from this story into America's own bloody, racist history," Uriarte writes in the afterword. "It was never my intent as a white-Hispanic man to try and capture the experience of being Black in America. However, I found that the further I delved into King's character, the more it became impossible to separate his blackness from his worldview and his story."
While Battle Born is full of poignant social commentary, Uriarte is careful not to treat the subject matter with too heavy a hand. His dialogue and treatment of the social dynamics within an infantry platoon feel genuine and speak to the author's real-life experience.
Uriarte enlisted as an Infantry Assaultman and completed two combat tours in Iraq from 2007 to 2009. As a grunt, he served as a lead turret gunner, squad leader, team leader, and SMAW gunner. On his second deployment, he served as a combat photographer and illustrator with 3rd Battalion, 3rd Marine Regiment, officially documenting the unit's experiences.
After leaving the Corps in 2010, Uriarte refined his talent at the California College of the Arts, earning a Bachelor of Fine Arts in animation.
Battle Born's most striking quality is undoubtedly Uriarte's absolutely gorgeous artwork. The panels throughout this novel and The White Donkey are masterfully rendered. His storyboarding and use of color are brilliantly conceived throughout these works, and his skill has grown in Battle Born.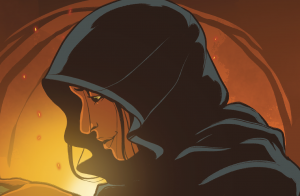 "Coming off The White Donkey, I wanted to do something that was bigger, bolder, and more visually driven than my previous graphic novel," Uriarte writes in Battle Born's afterword. "I wrote the script to this story with this visual approach in mind, knowing that I would spend much more space on imagery than words. As a result, this book is nearly one hundred pages longer than The White Donkey, but with significantly less dialogue. With its roots in medieval high fantasy like Conan, Battle Born was always intended to be a more visceral experience than a heady one."
As Battle Born's action ratchets up, Uriarte shows us a side of Sergeant King that feels more iconically American in its centering of the warrior's capacity for extreme violence. Certain scenes had an almost Tarantino-like treatment of violence and reminded me of Inglorious Bastards or some of the anime scenes in Kill Bill Volume 1.
In King, Uriarte gives us a perfectly flawed American warrior whose extraordinary fighting spirit and sense of justice are balanced with a deep sense of humility and fidelity to his mission as guardian and protector of the Afghan people being terrorized by the Taliban and anyone else who has suffered marginalization and exploitation at the hands of an oppressor.
In the end, Battle Born is both visceral and heady — a perfect balance of thoughtful social commentary and classic themes of good and evil, and honor and virtue. In this must-read graphic novel, Uriarte shows us the best and worst of ourselves as Americans, asking us to wrestle with our past and look with clear eyes at our strengths and weaknesses in hopes that doing so may help us realize more fully our American ideal of "liberty and justice for all."
Battle Born is available wherever books are sold. Run, don't walk to pick up a copy of this powerful, intricately rendered piece of American war literature.