Most Americans recognize Cinco de Mayo by drinking margaritas and eating tacos. Today, it's a celebration of Mexican culture — and it's a much bigger deal in America than in Mexico. Though many Americans mistake Cinco de Mayo for Mexico's independence day (which is September 16), it's actually a military holiday. It celebrates the day that a group of outgunned Mexican troops took on a much larger and better equipped French force and won.
However, the legacy of the Battle of Puebla is more than a mere military engagement — the battle and its aftermath offer a glimpse into the inextricably linked history of the United States and Mexico. It's a story of war, slavery, sacrifice, and the struggle for freedom and democracy.
French, Spanish, and British troops invaded Mexico in 1861 after newly elected Mexican President Benito Juarez put a moratorium on debt repayments to Europe. However, France's Napoleon III had more ambitious aims. The way he saw it, if he could capture Mexico, he would make it the first colony in what he hoped would be a new French stronghold in the Americas. With the Americans embroiled in the Civil War, they wouldn't be in a position to stop him.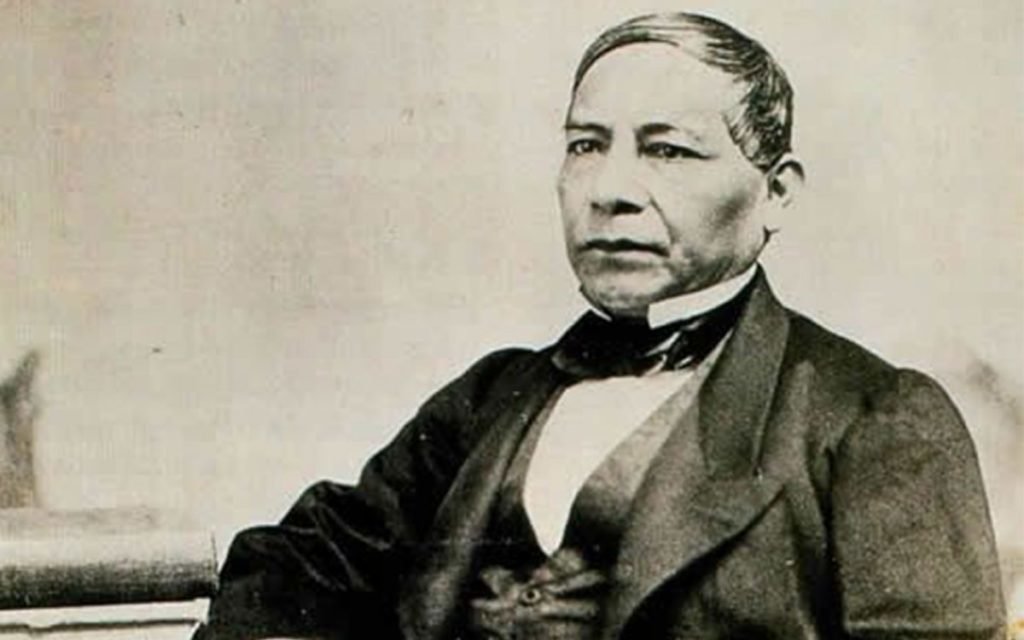 He also saw the potential to support the Confederacy in their fight against the Union. Slavery allowed the Confederacy to harvest and sell cotton and tobacco at low prices to European markets, but a Union blockade had slowed those exports and made them increasingly rare in Europe. Napoleon believed that he could support the Confederacy with modern artillery and weapons in return for their crops. The British and the Spanish cut deals with Juarez, but Napoleon's forces kept pressing on.
The Mexican troops fighting back were under the command of General Ignacio Zaragoza. As a young man, the Texas-born Zaragoza had risen in the ranks of an army of volunteers that in 1855 defeated Mexican dictator Santa Anna and led to the re-establishment of a constitutionally democratic government in Mexico. He served in Juarez's cabinet as Secretary of War but resigned to return to the field to fight the European invaders.
The French routed Zaragoza's forces at Acultzingo on April 28, 1862, forcing him to withdraw. But he knew that he could lay a trap for them in Puebla. The town was already heavily fortified — to its north, forts Loreto and Guadalupe stood on opposite hilltops. Zaragoza had his men dig a trench that joined the two forts via a saddle in the hills.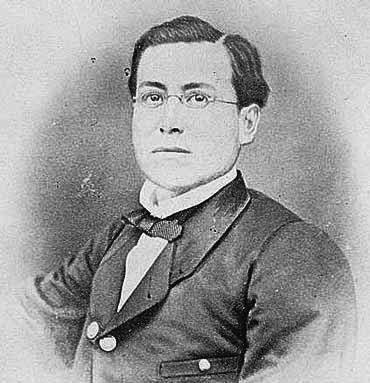 General Charles de Lorencez, the French commander, was under the impression that the town's occupants were friendly to the French and would overthrow the Mexican garrison when his men arrived.
Lorencez decided to attack Puebla from the north, just as Zaragoza predicted he would. During numerous failed attempts to assault the city, his troops ran out of munitions for their artillery. As Lorencez's men retreated from their final assault, Zaragoza had his cavalry attack them from both sides while troops concealed along the road flanked them. By the afternoon the daily rains had turned the battlefield into slippery mud.
Lorencez regrouped, counting 462 of his men dead against only 83 of the Mexicans. He waited a couple of days, hoping to lure Zaragoza into the open — but he wouldn't take the bait. Eventually, Lorencez withdrew his forces to Orizaba. The French army had suffered its first major defeat in five decades.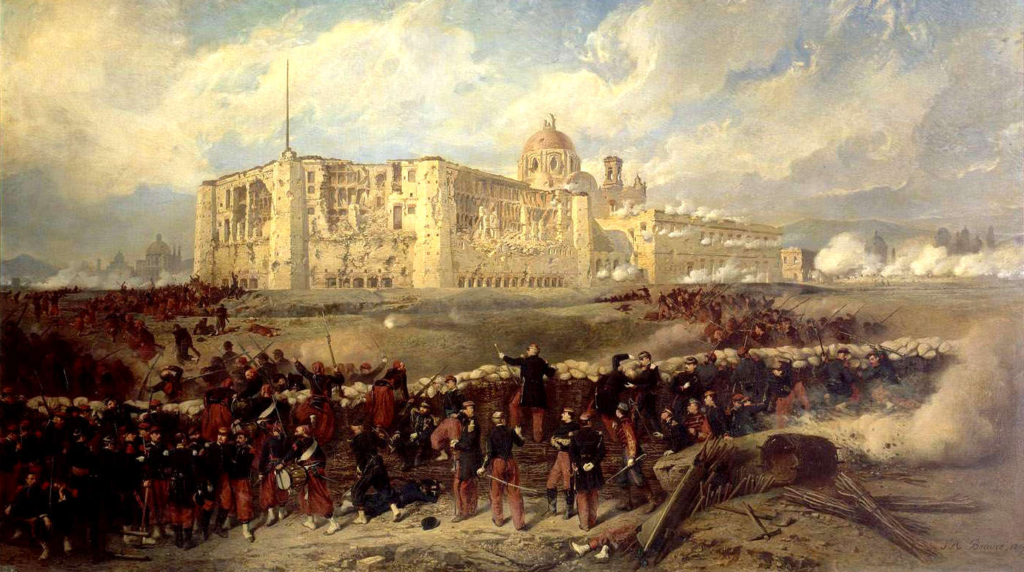 Not long after his historic victory, Zaragoza became stricken with a case of typhoid fever that swiftly killed him at age of 33. But news of the victory spread across the county, as well as north to the Mexican miners in California who had gone for the gold rush. Mexican-Americans were fighting on both sides of the Civil War, but in California, most Mexicans were staunch Union supporters. One of the first things Mexicans had done after winning independence from Spain was abolish slavery.
Soon after the victory at Puebla, Mexican-Americans in California and Nevada began forming Juntas Patrióticas —"Patriotic Assemblies" — to celebrate the victory at Puebla and what it meant for the Union cause. They held monthly rallies where they gave speeches praising Zaragoza and troops and denouncing the pro-slavery Confederates.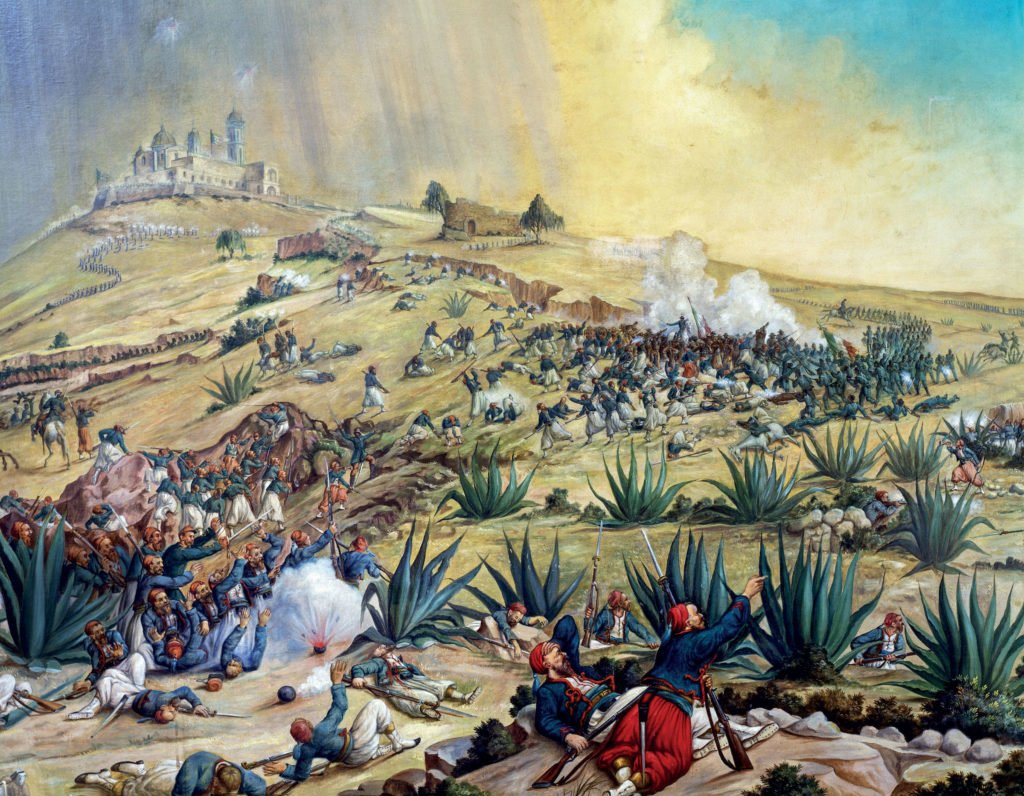 French troops began a new advance in 1863, this time capturing Puebla and seizing Mexico City. Napoleon then installed Ferdinand Maximilian — the younger brother of Austrian Emperor Franz Joseph I — as Mexico's new ruler. He became known as Maximilian I of Mexico. By that time, the U.S. Union Army had won several decisive victories, and the French essentially abandoned their effort to get involved in the U.S. Civil War.
Meanwhile, Juárez and his elected government fled the capital and became a government in exile. Several supporters, including Juarez's wife, fled to the United States. Mexico's first lady met with President Abraham Lincoln several times during her time in the country.
The Mexican resistance badly needed funds and weapons if it was to survive. In 1864, Juarez sent General Plácido de la Vega on a secret mission to California to meet with leading Mexican-American families to get backing for their effort to re-establish the government. While in California, Vega became the vice president of the Union Club of San Francisco and volunteered to work on Lincoln's 1864 presidential reelection. The gambit paid off; funds from Mexican-American communities went south, along with donations from other sympathetic American communities.
Soon after the victory at Puebla, Mexican-Americans in California and Nevada began forming Juntas Patrióticas —"Patriotic Assemblies" — to celebrate the victory at Puebla and what it meant for the Union cause.
As both the Civil War and the French occupation of Mexico dragged on, members of the Juntas Patrióticas began paying dues to support the war efforts on both sides of the border. On Cinco de Mayo, Mexican-Americans held parades in which they carried both American and Mexican flags and sang songs in English and Spanish.
When the Confederacy finally surrendered, Lincoln's government became more openly hostile to the French intervention in Mexico. Several Union army veterans began making their way to Mexico to fight on the side of the Mexican rebels — some as volunteers and others as soldiers of fortune.
After Lincoln's assassination, President Andrew Johnson demanded the French withdraw from Mexico and imposed a naval blockade in February 1866. Not long after, U.S. Army troops started to "lose" gear "near" (or, according to some accounts, across) the border with Mexico. In General Philip Sheridan's memoirs, he wrote that he had given arms and ammunition to Juárez's forces, "which we left at convenient places on our side of the river to fall into their hands."
By late 1866, the French forces began their withdrawal, and in 1867, Juarez's forces routed the last of Maximilian's troops.
Juarez's troops captured and executed Maximilian.
Cinco de Mayo celebrations continued in Mexican communities in California and Nevada, and they have gradually spread to Chicano communities around the United States, morphing over time into the celebration we know today.