Early Tuesday evening, people in Lebanon's capital city of Beirut watched as a massive plume of gray smoke from an explosion in the port billowed over the capital skyline. Then a second devastating explosion erupted from the site, blooming up with a massive mushroom cloud that had people online speculating about a nuclear attack.
The earthquake-like force of the blast sent cars tumbling, collapsed roofs, and exploded windows for miles.
The New York Times reported that the blast, which leveled whole sections of the city near the port of Beirut, was "so powerful it could be felt more than 150 miles away in Cyprus."
The blast killed more than 100 people and injured at least 4,000, but with countless others still missing, officials expect the death toll to rise.
Vivian Yee, an international correspondent based in Beirut, was in her apartment when the blast rocked her building, injuring her and many others. She described her experience in The New York Times.
"When I got downstairs, dodging the enormous broken window that rested jaggedly in my stairwell, my neighborhood, with its graceful old-Beirut architecture and arched windows, looked like a picture from the wars I had seen from afar — a mouth missing all its teeth. […] Everyone on the street seemed to be either bleeding from open gashes or swathed in makeshift bandages."
The Washington Post reported that, "Many residents lost their homes, especially in the majority-Christian eastern part of the city closest to the blast."
Beirut's people were already suffering with an economic collapse, a political crisis, and reeling from the COVID-19 pandemic. After stumbling through ravaged streets, wounded people were sometimes turned away by already overwhelmed hospitals.
"As I neared the hospital, elderly patients sat dazed in wheelchairs in the streets, still hooked to their IV bags," Yee wrote in the Times. "A woman lay on the ground in front of the exploded emergency room, her whole body dripping red, not moving much. It was clear that they weren't taking new patients, certainly not any as comparatively lucky as I was."
For many of Lebanon's 5.2 million people, the aftermath resembled too closely the destruction from the country's decades of war.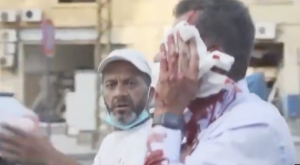 Reports say the initial explosion originated in a fireworks warehouse, and while the cause of the second explosion remains unclear, Prime Minister Hassan Diab said roughly 2,700 tons of the highly explosive compound ammonium nitrate had been stored in a depot at the port since 2014.
In a televised statement, Diab said, "This is a great national disaster," suggesting the blast was the result of neglect. "What happened today will not pass without accountability. Those responsible for this catastrophe will pay the price."
Stableseas.org reported, "The 2,750 tons of ammonium nitrate that detonated on Tuesday can be traced back to the Rhosus, which called into the Port of Beirut on September 23, 2013 after experiencing technical difficulties. The ship, sailing under a Moldovan flag, was en route from Georgia to Mozambique. Once in port, the Rhosus underwent an inspection by Port State Control technicians who found significant deficiencies and banned it from resuming operations. […] At some point between July 2014 and October 2015, the ammonium nitrate was moved to a warehouse where, ostensibly, it remained until the catastrophic explosion."
While President Trump told reporters yesterday that his generals "seem to think it's an attack," Newsweek reported that a senior Pentagon official said there were "no indications of a strike at this time," explaining that "the explosion's characteristics indicate it was an internal explosion, not an external one." Instead, "Initial reports are a fireworks explosion initially but secondary due to chemical storage and grain silos."
"There's insufficient detail on which to render an informed judgment but the Israelis aren't going to strike the Christian side and they do have rules on collateral damage," retired CIA operations officer Doug London told Newsweek.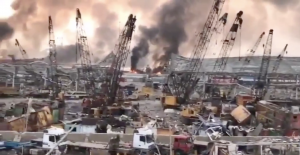 Lebanese ambassador to the United States Gabriel Issa wrote in a statement sent to Newsweek, "As far as the Lebanese government is concerned, we have no indication thus far that this was in any way caused by a deliberate attack or bombing of any kind. Initial indications are of a chemical storage massive explosion and investigations are ongoing to determine the cause."
In his televised statement, Diab appealed for international assistance to help Lebanon.
"I am sending an urgent appeal to all countries that are friends and brothers and love Lebanon to stand by its side and help us treat these deep wounds," he said.