Jon Bernthal delivers one of television's most accurate and humanizing performances of a corrupt cop in HBO's new hit-miniseries We Own This City. The Hollywood A-lister, best known for his roles in The Punisher, Fury, and The Walking Dead, spent three months with the Baltimore Police Department (BPD) and even picked up the nuanced "Bawlmerese" dialect to fully immerse himself in the role. Bernthal's dedication is evident from the opening minutes of the first episode when he's shown twirling an espantoon: the ornate nightstick unique to Baltimore police.
"There's a spirit to Baltimore; it's got so much scrap and vigor. It's unlike anything I've ever seen in 20 years of doing this," Bernthal said in an exclusive behind-the-scenes look for HBO. "The main character of The Wire is Baltimore. It's no different here; this is an examination of Baltimore."
David Simon and George Pelecanos — the writers behind the critically acclaimed series The Wire — teamed up again to write We Own This City, HBO's quasi-sequel to the five-season cop drama. Praised for its authentic portrayal of police, criminals, and citizens of Baltimore, The Wire remains one of the best-rated dramas in television history, with two of the five seasons achieving a rare 100% Fresh rating on Rotten Tomatoes and an overall audience score of 97%.
"For me, The Wire is a seminal piece of television," Bernthal said during a recent appearance on The Late Show with Stephen Colbert. "I was so taken with that sort of storytelling and journalistic integrity."
In the spirit of integrity, Bernthal took it upon himself to go above and beyond in preparation for his role as corrupt Baltimore detective Wayne Jenkins. During his three months embedded with the BPD, Bernthal accompanied officers on drug raids twice a week to familiarize himself with the dangerous work. Bernthal's attention to detail was so precise, that, according to Pelecanos, while filming a courtroom scene, one of the show's crew members criticized Bernthal's costume, saying, "Your character, Jenkins, wouldn't be wearing that in court." In response, Bernthal casually showed them a picture of Jenkins wearing the exact outfit during a testimony.
Bernthal's character embodies the very worst of law enforcement. Jenkins — a real-life corrupt detective and the head of Baltimore's notorious Gun Trace Task Force — was charged with racketeering, robbery, extortion, and fraud. But for all the character's evil deeds, Bernthal's performance manages to humanize him.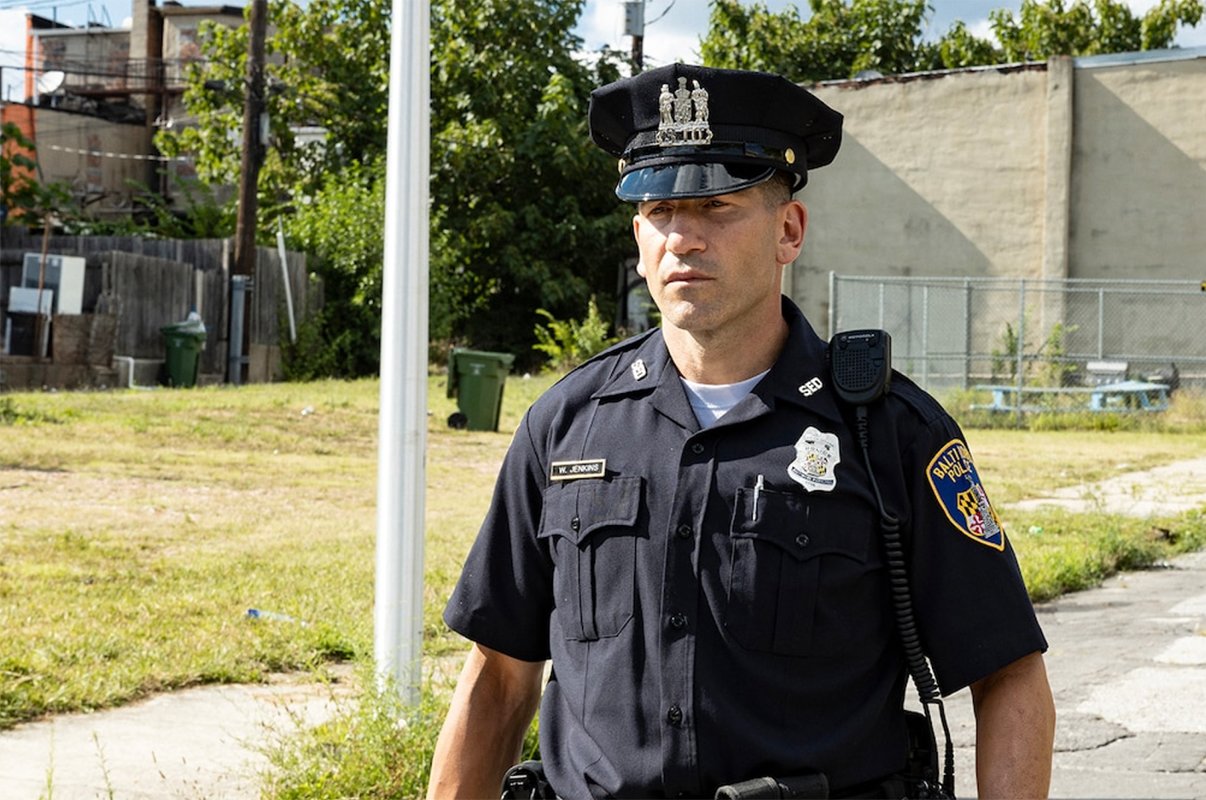 "The first conversation I had with David Simon, he said, 'Look, we can't play a monster here; you've got to play a human being,'" Bernthal said on CBS Mornings.
In the episodes that have already aired, audiences watch as Jenkins transforms from a wide-eyed rookie, eager to help his city, to a criminal of the most despicable order. In his four-episode fall from grace, Jenkins terrorizes the citizens of Baltimore, implicates his fellow officers in a litany of felonies, and even takes to robbing a stripper with dwarfism for fun in his free time.
While Bernthal morphed into the show's villain, he simultaneously developed a profound appreciation for the department Jenkins operated in.
"My biggest takeaway from all of it, there are no words for the victims of police corruption and police brutality. There's no words for the folks whose Fourth Amendment rights are violated and folks who've been imprisoned falsely, and people's lives who've been taken," Bernthal told Colbert. "But there's a whole other group of victims of bad police — and that's good police. And so many members of the law enforcement community in this country are policing for the right reasons, respect the communities that they police, are from the communities that they police. They do it and they've taken this oath to being a peacekeeper, and that's not told enough."
It is not a popular time to praise police — particularly a department like Baltimore's, which has repeatedly been in the national spotlight for corruption — but Bernthal has made a point throughout the We Own This City press tour to praise the men and women across the country who selflessly don a badge and serve their communities.
"I walked away with this unbelievable love and appreciation of the good folks in the Baltimore Police Department whose lives have been upended," Bernthal told Colbert. "You know, their lives are upended by the bad deeds and evil deeds of the few, and I don't think that story is told enough."
The penultimate episode of We Own This City airs on HBO on May 23, with the series finale on May 30. Bernthal is slated to star in the upcoming Showtime series American Gigolo later this year.
Read Next: