In about a month's time, President Donald Trump will transfer power to Joe Biden, launching a new administration with new policies. How will that impact the lives of veterans and the active-duty military? Undoubtedly, after four years of bombastic affirmation of the military by Trump, some might be apprehensive about what's to come.
Rhetorical flourishes aside, there is not a pro-military and an anti-military party and certainly not a pro-vet and an anti-vet party. Any such distinction swings back and forth so much based on the political mores of the day that simplistic categorizations are pointless. Franklin Delano Roosevelt, a Democrat, signed the original GI Bill. Republican George W. Bush signed the 9/11 GI Bill. Barack Obama signed the Veterans Choice Act, and Trump made it permanent. The low points of veteran care are similarly bipartisan, from the crushing of the Bonus Army by Herbert Hoover to the Veterans Affairs wait-time scandal under Obama.
Biden took the initiative to bring up veterans' issues at many opportunities during the campaign. He often used his son Beau's service in the National Guard as a talking point to emphasize his personal stake. The future first lady, Jill Biden, has made veterans' issues one of her pet causes for several years now. She wrote a book for military children and participated in several efforts supporting military spouse employment. First ladies typically adopt a pet cause for their tenures. If veterans and military families are Jill Biden's, it certainly would create a great deal of pressure for her husband to support her with substantive policy.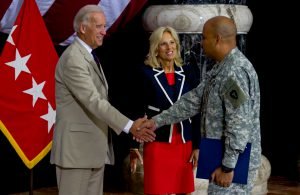 As presidential candidates normally do, Biden had a laundry list of proposals for vets and the military. Some were standard talking points, such as providing "world-class health care" for all veterans and reducing veteran homelessness. But there were several specifics that he can be held to account on as well.
Among those specifics was a promise to reassess VA staffing and work to hire the best professionals in their fields. For example, Biden has said he will endeavor to increase wages at VA health care facilities to match that of the private sector. A $400,000 salary may sound like a lot of money, but when a cardiac surgeon earns $800,000 in San Francisco, you aren't getting a first draft pick. Biden further promised to advance VA health care with improvements to community care guidelines, greater emphasis on traumatic brain injury and burn-pit-related injuries and illness, and updates to VA infrastructure.
A $5,000 tax credit for informal caregivers (read: family members) of injured, ill, or elderly veterans is one of several potential Biden initiatives that is aimed at veterans' families. Biden plans to assist such caregivers with better VA support, such as giving them mental health support, training, and respite care.
Transition and veteran employment appear to be priorities for Biden. His veteran policy webpage highlights several incremental improvements, such as better monitoring and management of the Transition Assistance Program and GI Bill. One step that would be a major break with the Trump administration is closing the 90/10 loophole, wherein GI Bill money does not count against a school's percentage of tuition received from federal aid. This loophole incentivizes for-profit schools to aggressively and often unethically market to vets.
Notably, Biden has selected Denis McDonough to be the Secretary of Veterans Affairs, a move that was met with raised eyebrows. McDonough's critics cite that he has not served in the military, nor does he have a medical background — two factors that usually weigh heavy on a president's nomination for that position.
Much of the well-being of active-duty troops depends on defense and foreign policy decisions that go well beyond personnel policy. That being said, Biden has already proposed several actions that would have tangible effects on service members.
Like most candidates, Biden promises to pay the military more. While working on a revised pay plan for the entire federal government, he proposes additional pay to help military families below the poverty line. He further promises to study the Permanent Change of Station, or PCS, system to reduce unnecessary moves as part of a quality-of-life initiative.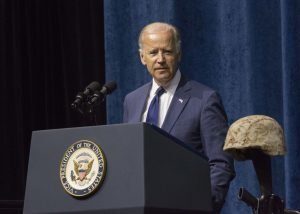 Military spouse employment initiatives are also prominent in Biden's list of initiatives for the military. He proposes programs for mil spouse entrepreneurs, expanding employment assistance for spouses, and professional licensing reform to increase the mobility of work qualifications.
Although it directly affects only a small portion of the force, the step that will likely garner the most attention is reversing Trump's ban on open transgender service. Whatever one's opinion on the issue, ending the ban would at least relieve lingering confusion among active service members. Troops generally support inclusion of trans personnel, and some indications are that this move will help readiness and retention.
Similarly, the Trump administration's "deploy or get out" rule reduced the number of combat ineffective troops on the rolls. Biden believes that applying that rule to HIV-positive service members unfairly stigmatizes a condition that is no longer a hindrance to deployment and has a disproportionate impact on LGBTQ personnel. As such, he promises to end involuntary discharges for HIV-positive status.
At this point, we are still relying on campaign promises to tell us exactly what President-elect Biden will do for vets. Whether you believe those promises depends in large part on how much you trust Biden himself. Some of his proposals, such as reforming the 90/10 rule on financial aid, may be stopped outright by a Republican Senate. But in the main, he's put forth a number of initiatives that will potentially help military personnel and vets if he implements them, and for which he can be held accountable if he doesn't.