This article was originally published June 13, 2021, on Radio Free Europe/Radio Liberty.
U.S. President Joe Biden has said that NATO is "critically important" for American interests and that the alliance's mutual defense clause is "a sacred obligation."
Biden, speaking in Brussels upon arriving for a summit of NATO leaders on June 14, also said he wants Europe to know the United States is by its side.
"Article 5 is a sacred obligation," Biden said, referring to the collective defense doctrine in NATO's founding treaty. "I want all Europe to know that the United States is there."
Biden's attendance at the NATO summit is part of a European tour aimed at repairing relations and reassuring Washington's transatlantic partners after four years of contentious relations under his predecessor, Donald Trump.
From Brussels, Biden is due to travel to Geneva for his first summit with Russian President Vladimir Putin, which will be held on June 16.
The U.S. president is also holding a private meeting with Turkish President Recep Tayyip Erdogan at a time when relations between the two NATO members are particularly tense.
Having not met face to face since 2018 because of the coronavirus pandemic, leaders of the alliance's member states have plenty of topics to deal with, including an ongoing pullout of troops from Afghanistan, relations with Russia and China, and defense spending.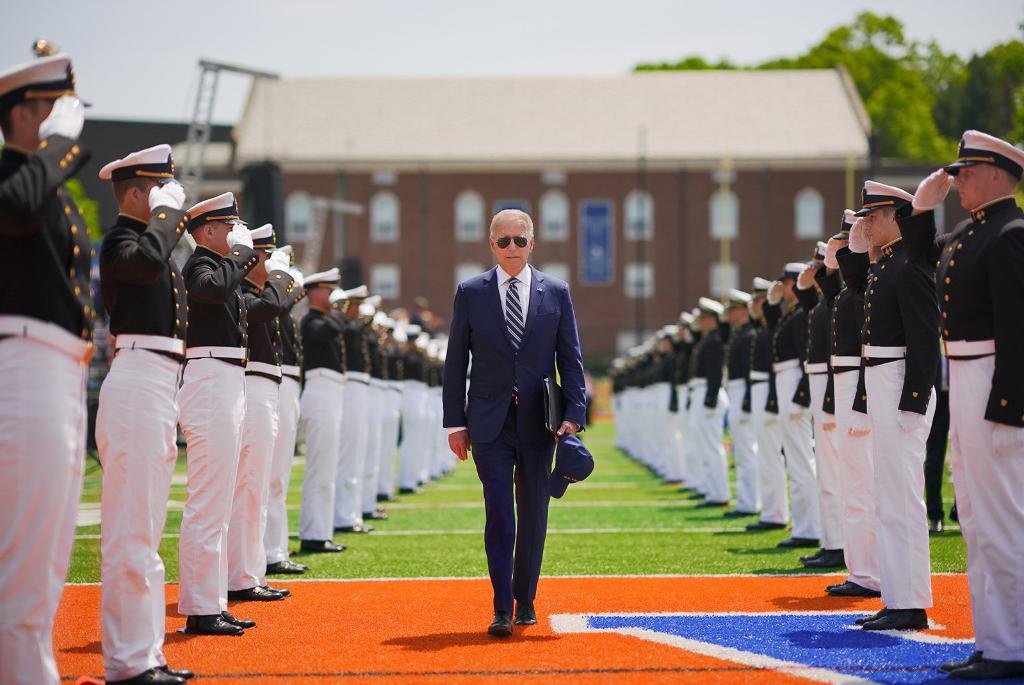 Speaking to reporters on June 14 ahead of the summit, NATO Secretary General Jens Stoltenberg said there is not a new Cold War with China. He also said China is neither an adversary nor enemy of NATO.
But Stoltenberg said NATO needs "to address together, as the alliance, the challenges that the rise of China poses to our security."
Stoltenberg also said a final statement from the NATO summit would signal a new strategy toward Beijing.
"China is coming closer to us. We see them in cyberspace. We see China in Africa. But we also see China investing heavily in our own critical infrastructure," he said.
During a four-year term that ended when Biden was inaugurated in January, former U.S. President Trump often denigrated NATO and even threatened once to pull out of the alliance.
But Biden is coming off a Group of Seven (G7) summit where he proclaimed that the United States "is back" and is reconnecting with its allies. Little drama and a lot of agreement is expected during the talks in the Belgian capital.
Russia is also one of the top items on the agenda of the NATO summit.
Since taking office in January, Biden has challenged Moscow over its role in Ukraine's conflict, the Kremlin's alleged meddling in the elections of other countries, and cyberattacks emanating from Russia.
But Biden has also said the United States wants a "stable, predictable" relationship that allows Moscow and Washington to work together on common issues like strategic stability, arms control, and climate change.
British Prime Minister Boris Johnson said on arrival at the NATO summit on June 14 that Biden will take some "tough messages" to Putin this week.
Meanwhile, German Chancellor Angela Merkel said on June 14 that challenges posed by Russia are among the topics being discussed by NATO leaders. She highlighted the need to respond to disinformation campaigns by the Russian state.
Merkel said leaders would also discuss ways to work with Georgia and Ukraine, two countries seeking closer ties with NATO as a bulwark against the threat posed by Russia on their borders and within their territory.
Ukraine is pressing for negotiations on joining NATO, citing Russia's ongoing support for separatists in eastern Ukraine and its occupation of Crimea. NATO had promised in 2008 that there was a pathway for Ukraine to achieve membership in the alliance.
The Kremlin has warned NATO several times against admitting Ukraine.
Jamie Shea, the president of the Center for War Studies, was a NATO official for almost four decades before he left the organization in 2018.
Shea says that while there is a lot of important business for leaders to address on June 14, the key task for Biden is to simply reassert Washington's commitment to the defense of NATO.
Specifically, he said NATO allies want Biden to do what Trump "always signally refused to do, which was to commit publicly to the Article 5 collective defense guarantee."
Biden has already reversed a Trump decision to pull U.S. troops out of long-time ally Germany, while pressure remains for European allies to pay more towards their own security.
Having strengthened its capability to carry out its core mission of defending Europe following Russia's 2014 annexation of Crimea, NATO's new strategy outline will aim to be more ambitious.
Biden's meeting with Erdogan comes as relations between the United States and Turkey have deteriorated in recent years.
Contentious issues include Ankara's purchase of Russia's S-400 weapons system, democratic backsliding in Turkey, and U.S. support for Kurdish-led forces in Syria that Ankara considers linked Kurdish militants who've fought a nearly four-decade war against the Turkish state.
Copyright (c)2021 RFE/RL, Inc. Reprinted with the permission of Radio Free Europe/Radio Liberty, 1201 Connecticut Ave NW, Ste 400, Washington DC 20036.