William Clark's breath made clouds of fog in the December air as he and his teammates headed into an open field in Helmand province. Through his night vision goggles, Clark suddenly spotted something their eye in the sky had missed: a man, hiding behind a tree.
Clark shined a laser toward the base of the tree, and his partner Aks, a Belgian Malinois working dog, rushed at the target. In an instant, Aks snapped his jaws onto the enemy fighter's arm and remained attached, dangling from the man's body, as the panicked fighter ran toward a building that hadn't been cleared yet.
Gunfire erupted. Clark and his teammates dropped to the ground, searching for cover in the sparse field. Bullets sliced through the night sky, flying from all directions.
And Aks was out in the center of it all.
As bullets ricocheted around the field and US air assets dropped bombs, Clark screamed Aks' name at the top of his lungs. Through the chaos, Clark could see Aks trying to make his way back to the team but only stumbling and falling down.
"I could just see by his body language that he was hit," Clark said. "He was obviously disoriented."
Clark couldn't bear to see his dog die in the empty field, alone and afraid.
So he ran to him.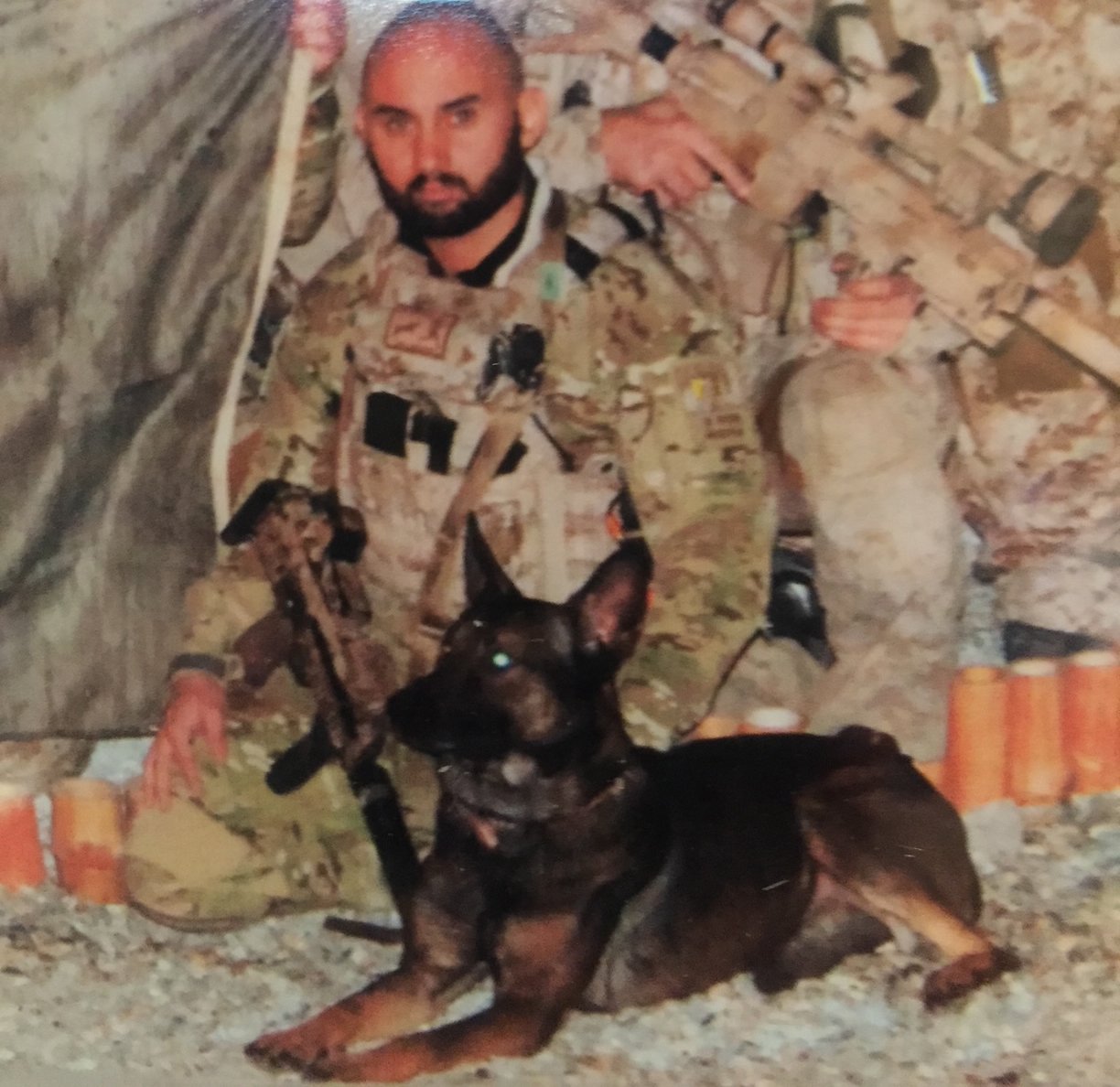 There is a new push for special operations dog handler William "Billy" Clark to receive a valor award for his actions during a Dec. 4, 2007, SEAL team raid on a high-level Taliban commander in Afghanistan's Helmand province. Clark's supporters say his actions that night merit a valor award. Some believe he may have been overlooked for an award after the raid because he is not a SEAL but a military working dog handler.
Republican Rep. Mike Waltz of Florida, a Green Beret who now serves as a colonel in the National Guard, has asked the Navy to reconsider Clark's case for an award, and other veterans and organizations continue to advocate on his behalf.
Clark's teammates from the raid, which killed 15 fighters, say he and Aks located eight enemy fighters and engaged all of them.
After returning from the deployment, Clark received a relatively middling joint service award for the three-month deployment, but nothing for combat on Dec. 4. A 2019 review upgraded that deployment award to a Bronze Star, but Clark's heroism on the Dec. 4 raid remained relegated to a footnote, despite many of those who served with him arguing he deserved more.
His case might have faded into history if it had not been for former Army Capt. Scott Davidson. Davidson helps find and screen veterans to be singled out and saluted by the crowds at the Washington Football Team's home games. After a friend recommended he check out Clark's story, Davidson started reading documents and witness statements about the 2007 raid and was shocked the dog handler had not received an action award.
"He's in several different firefights over the course of several hours, he prevents civilian casualties, he puts himself in mortal danger to save the dog and continue the mission, and he keeps fighting the whole time," Davidson told Coffee or Die Magazine. "I just don't know what happened and why there was no recommendation."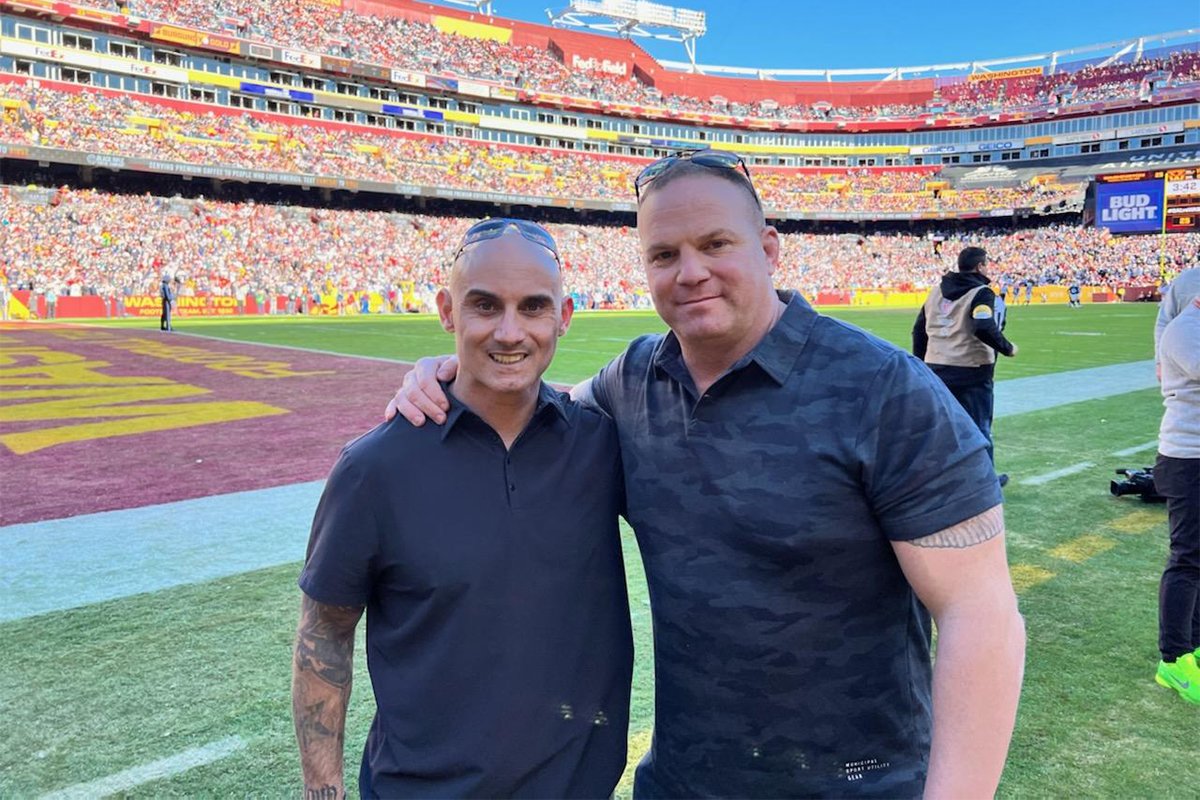 Clark's journey to the dark night in Helmand began early. Growing up in a dysfunctional household, he spent hours with the family's many pet dogs, finding their company a "safe haven" from a chaotic home life. Clark enlisted in the Marine Corps in 1997, then after four years switched to the Navy for the chance to work with dogs.
In 2005, he made the cut as a dog handler for the Naval Special Warfare Development Group, or DEVGRU, the Navy's elite Special Missions Unit. He'd already served three combat deployments when he and his teammates landed their helicopters outside a compound where a Taliban heavyweight was holed up.
The team was essentially in active combat from the first second of the mission. Clark and Aks were among the first out of the chopper and immediately came under fire, shooting back until the bullets stopped.
As they approached a house, the SEALs called for Aks.
"Billy, I need you to get that dog in there," the team leader ordered. As they'd trained to do a thousand times, Clark used a laser to direct Aks to the building. The dog wore an infrared strobe so Clark could track him through night vision goggles. He watched as Aks entered one room and immediately went still, his sign to the handler that he had spotted possible danger.
Inside, Clark found Aks staring at two rolled-up rugs. The team unfurled the rugs, revealing two fully loaded machine guns.
"That was his first find, a cache of weapons," Clark said.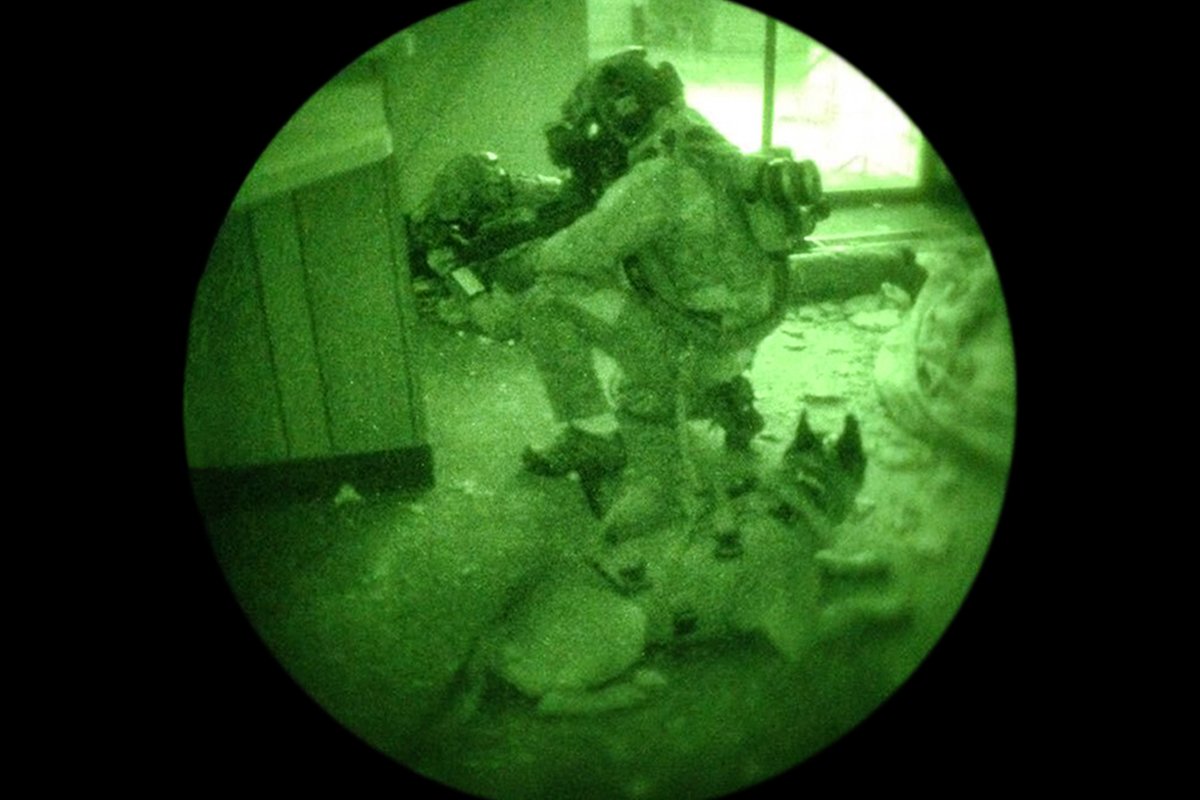 As Clark and his teammates started to leave the room, a drone circling overhead spotted enemy combatants moving to surround them.
"[Enemies] were literally all over the place," Clark recalled. "So we had to split the assault force into two elements because there were just too many people."
Clark's element continued through the compound. Outside one building, the team found an animal-sized door. Clark sent Aks in and waited silently outside, straining to see through small gaps in the wall.
Then he heard the screams. The team rushed in and found Aks in a pitch-black room, darting between two men, biting them as quickly as he could to keep them both disoriented. The team finished them off and Aks lunged for the next room, but Clark grabbed his harness, not knowing what was inside. It was a fortuitous move: Glancing inside, he saw the room was full of women and children.
In later statements, his SEAL teammates praised Clark's calm in that moment.
"No women and children were harmed due to PO1 Clark's very quick and timely decision," one SEAL wrote as part of the 2019 review.
After working their way through other areas of the compound, the team moved out toward a nearby open field. It was there Clark spotted the man behind the tree. When the firefight erupted and Aks was shot, Clark desperately yelled to him.
"You could see the loyalty," Clark told Coffee or Die. "He was still trying with every amount of energy he had to get to me, he just physically couldn't do it."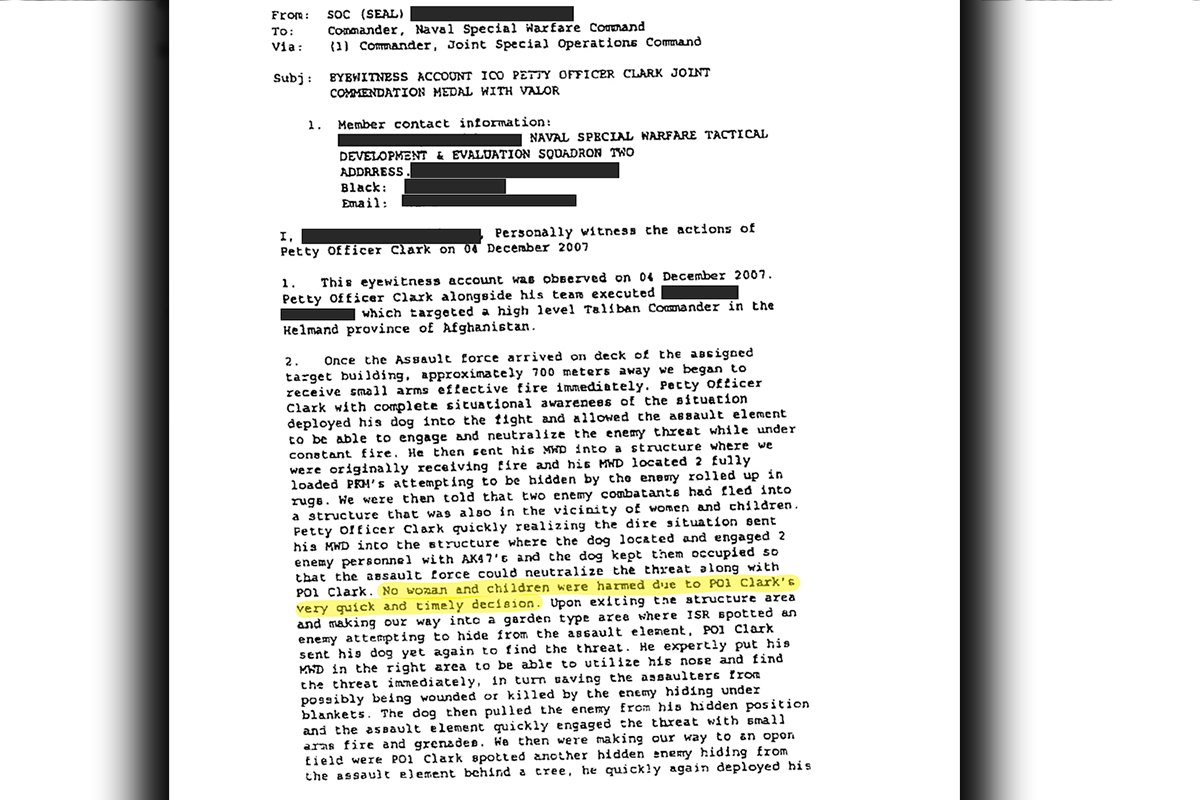 Clark could take no more.
"I finally just ran out there," he said.
Under intense fire from all directions, Clark reached Aks and pulled the dog toward a small structure the team had already cleared. Aks fought his handler the whole way.
"He's pulling me and pulling me and pulling me because he wants to get back in the fight," Clark said.
Clark fumbled in the dark to find where Aks had been shot, his fingers checking the fur underneath the dog's vest and finding nothing. Then through night vision goggles, he saw steam coming from Aks' head. He touched the top of Aks' skull. He felt bone fragments, exposed skin, and blood. In the tree line, enemy combatants were on the move.
"Billy, I need him over here," the troop chief called.
"He's hit in the head," Clark answered. "He's done for the night."
As the fight continued, Air Force Pararescueman Davide Keaton, acting as the team's medic, made it to the shelter and gave Aks a shot of morphine.
Still, it didn't look good. The bullet had struck Aks under his left eye, bounced off the cheekbone, then exited out the top of his skull. His left eye protruded from its socket. Keaton wrapped gauze bandages around Aks' eye and the top of his head.
"We waited about another hour for the firefight to end," Clark said. "Finally the medevac came and the dog was the first one on."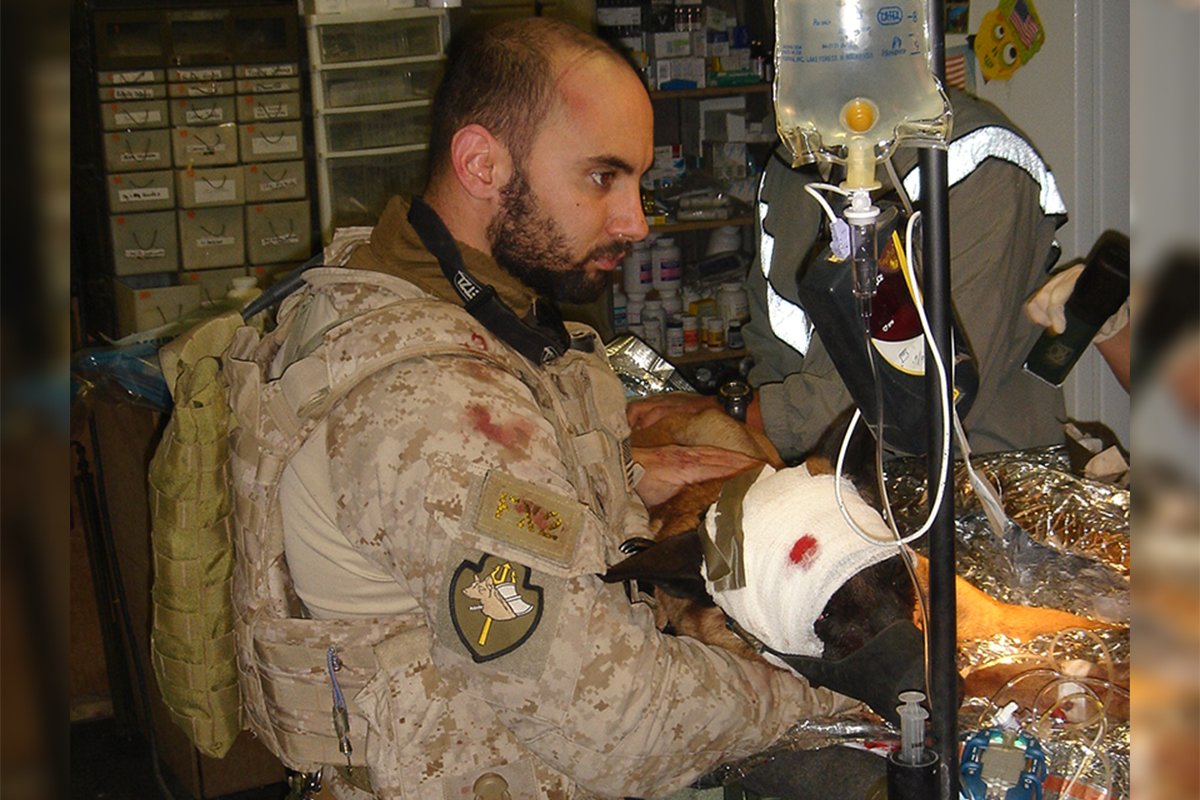 Aks survived but lost sight in his left eye and kept bumping into walls during work-up for the next deployment, making it clear he would have to retire. He left active service with a Purple Heart and a Bronze Star with Valor for the raid.
Clark — who went on to serve 11 total combat deployments before retiring in September 2021 — received an end of deployment award for the period of Oct. 9 to Dec. 15, 2007, but many who were there say it's not enough.
"I personally witnessed PO1 Clark and his dog find 8 enemy personnel that night and he himself engaged all 8 enemy fighters alongside his teammates," Keaton wrote in a 2019 statement on Clark's behalf.
Though Davidson understands that valor awards are a subjective process, he believes Clark's actions merit review for a Silver Star. Davidson suspects the main reason Clark was left out of the initial award process was that he was an enabler, not a SEAL.
"Since he's not a SEAL […] they kind of look at you in a different light," Davidson said. "Like, 'Hey, you're kind of tagging along for the ride,' and the SEALs always get the prestige."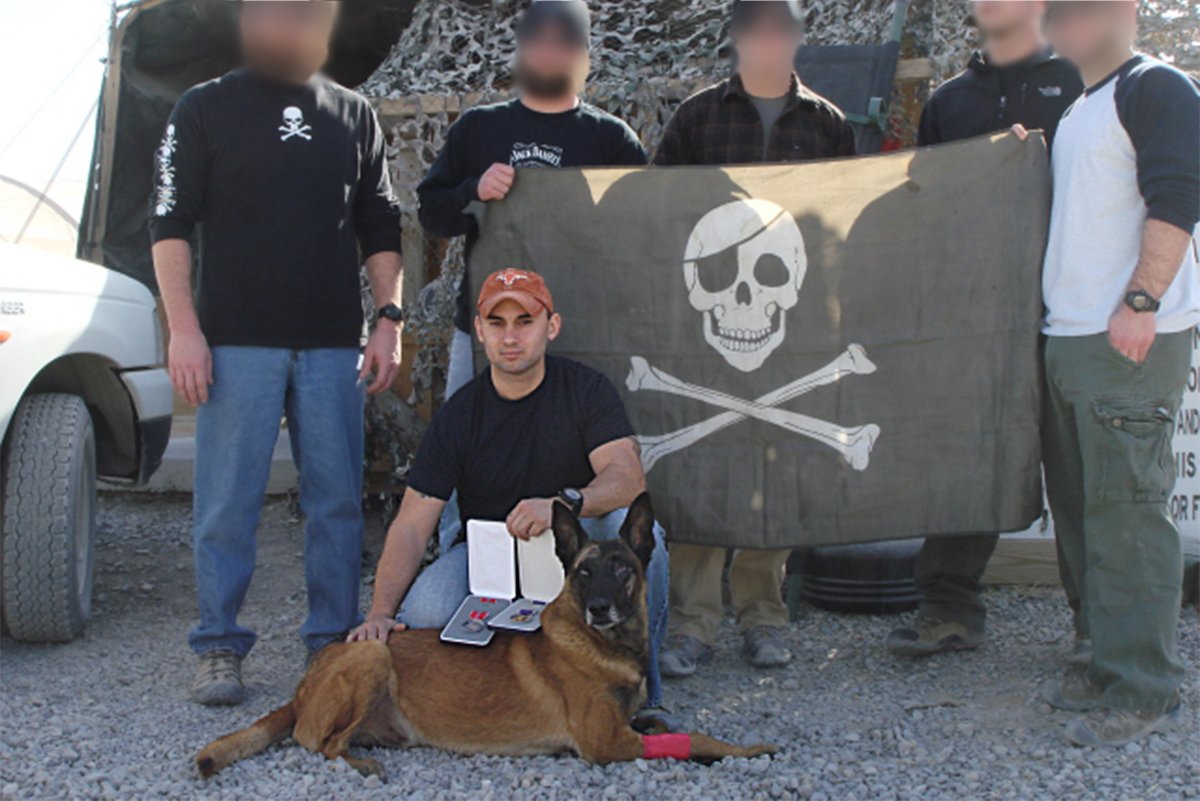 Clark is still close with many of those whom he fought alongside that night, and he faults leadership, not his teammates, for the fact that support personnel sometimes get overlooked.
"All those guys on that battlefield, I love to death," he said.
In November, Veterans Advocacy Services wrote Waltz, the Florida congressman, requesting he pick up Clark's cause as well. The letter, signed by VAS president Margaret Ann Matthews, also suggests Clark's actions merit a Silver Star.
On Nov. 17, Waltz sent a letter to the Navy requesting the service take another look at Clark's case.
"I believe that it is worth reconsideration based on his actions on the night of 4 December 2007," Waltz wrote.
Waltz's office had not received a response from the Navy as of Thursday, a spokesperson told Coffee or Die.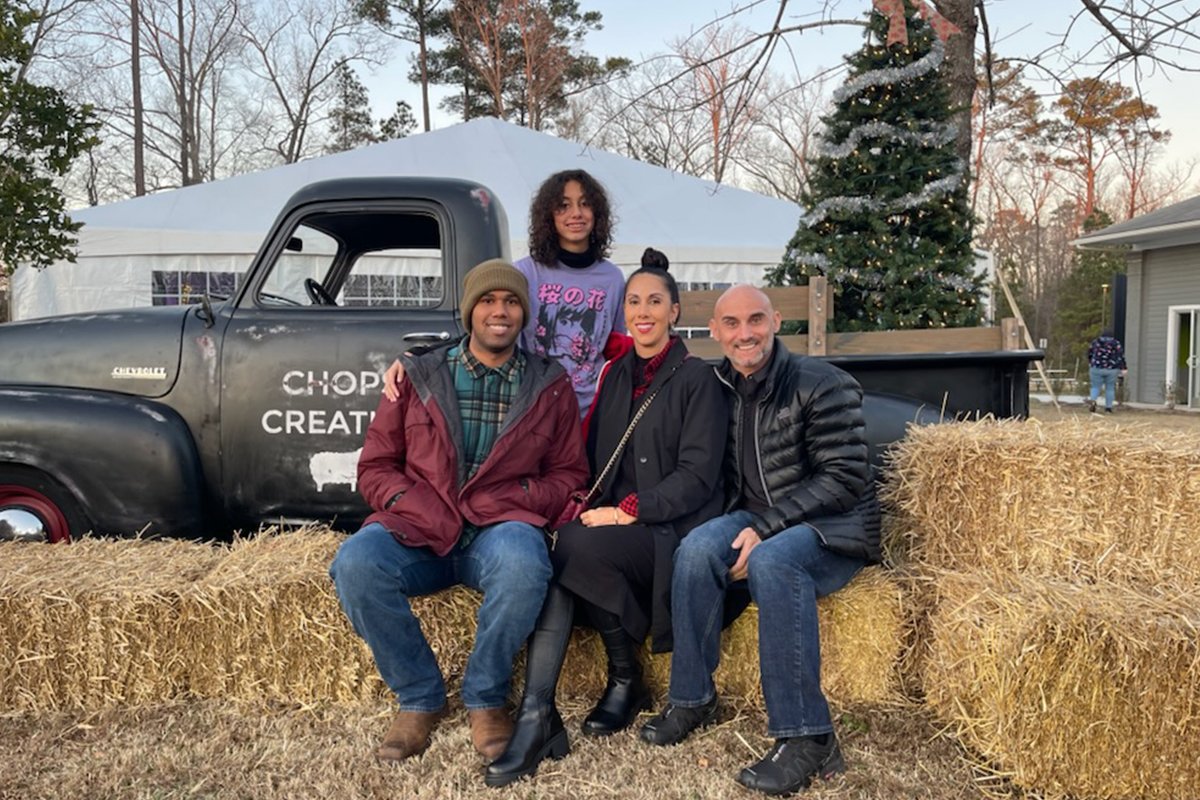 Clark, meanwhile, keeps his other medals tucked away in boxes in his attic. He imagines his kids will one day dig through the boxes and have something to remember him by when he's no longer here. He says adding one more medal is less important to him than the principle that everyone — including support personnel — should be treated equally when it comes to the awards process.
"Your actions on the battlefield are what define you," he said.
As for Aks' life after the Navy, he spent his final seven years with a vet tech and his family.
"He lived a normal dog's life living on a couch, chewing on bones, and having a good life," Clark said.
Read Next: