At the 1964 Tokyo Olympics, the world watched in awe as an unheralded Oglala Lakota runner came from behind and conquered the 10,000-meter race, setting a world record and becoming the first and only American to ever win gold in that event. Legendary runner and Marine Corps veteran Billy Mills revisited that historic day on a recent episode of the Department of Veterans Affairs podcast Borne the Battle.
Billy Mills was born June 30, 1938, on the Pine Ridge Indian Reservation in South Dakota. His mother died when he was 8, and his father died when he was 12, leaving his older sister to quit high school and raise her siblings. Mills' father always told him it took a dream to heal a broken soul, encouraging his son to find a passion and develop his skills: That's when the magic happens.
Mills' passion was running, and it earned him a scholarship to the University of Kansas, but he struggled with pervasive racism on campus. Several times, photographers asked him to step out of photos with his fellow All-Americans. After one such incident, he went back to his dorm room and stepped up onto a chair next to the open window, planning to jump.
"I just could no longer take the rejection, not understanding why I'm accepted, but I'm not accepted," he told podcast host Tanner Iskra. Then he heard a quiet voice in his head — "Don't." It repeated that single word four times.
"It sounded like my dad's voice," he said. "That's when I remembered: It takes a dream to heal a broken soul."
Mills got down from the chair and wrote down his dream: Win a gold medal in the 10,000-meter race.
"The Creator has given me the ability. The rest is up to me," he said. "Believe, believe, believe."
Mills enlisted in the Marine Corps in 1963, hoping to make the track team and get a shot at the Olympics. He trained hard at Camp Pendleton, California, and found brotherhood in the Marines, feeling for the first time in his life like he belonged.
As the Olympic trials neared, Mills considered dropping out. He'd been diagnosed as hypoglycemic after joining the Marines, and his blood sugar levels frequently dropped dangerously during training. In the first of the Olympic trials, he blacked out. His mentor and former Olympian Tommy Thompson knew Mills was hypoglycemic and rushed over to the athlete with a cup of Coca-Cola to help him get his blood sugar back up. Mills was terrified and walked over to tell his wife, Pat, that he needed to drop out to protect his health.
Pat had already excitedly made plans to room with another couple in Tokyo. Mills couldn't bear to disappoint her, so they went home. He kicked the decision back and forth, going to get a loan from the bank to fund their travel, then returning it when he wanted to back out. Finally, one afternoon, Mills went for a 25-mile run to mull things over. The sun was directly over him, so he said there shouldn't have been a shadow.
"But I look, and I see this beautiful shadow," he recalled. "I look so powerful. I look so strong. I thought, 'I can do it.'"
The day of the race came. Mills felt his blood sugar dipping and was fortunate that a Japanese trainer gave a candy bar to one of the US trainers. Mills chowed down on it 20 minutes before the race. He waved toward his wife in the stands but didn't make eye contact. He knew that, if he saw any doubt in her eyes, he wouldn't be able to do it. He took his place on the starting line with dozens of other runners, and then they were off.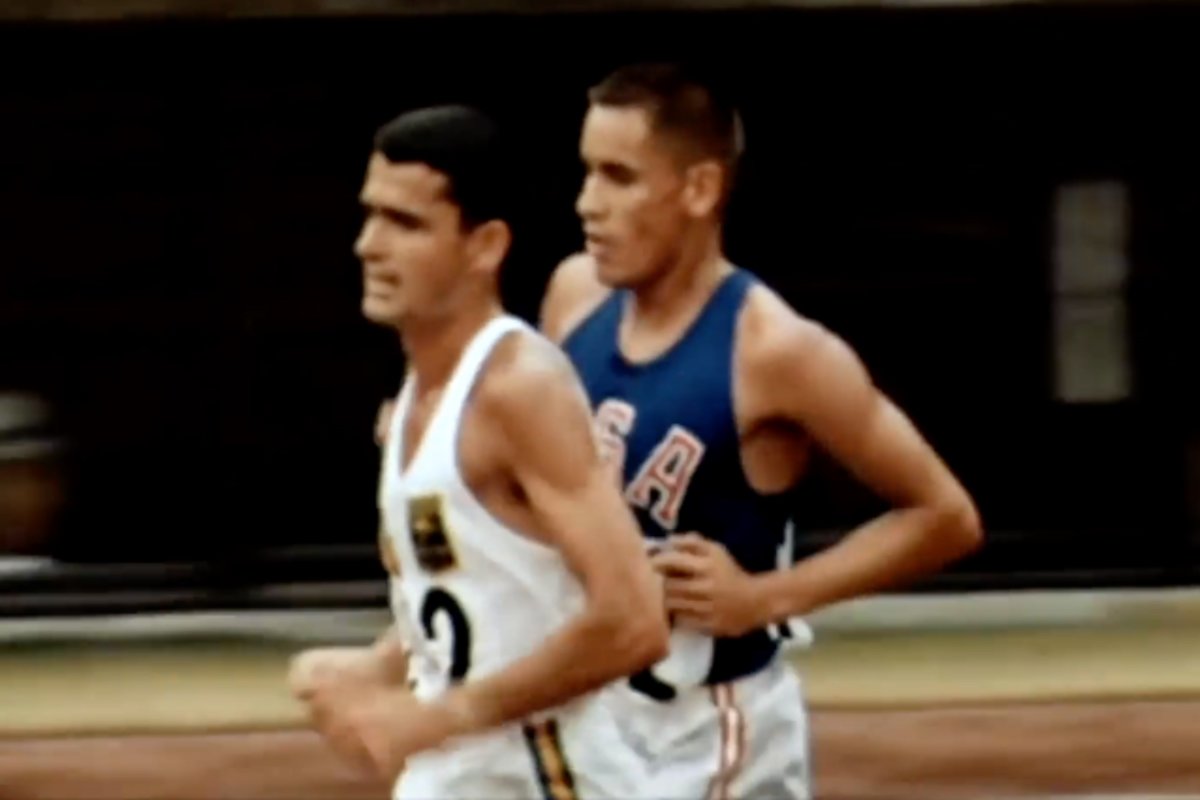 "Billy Mills of the United States is in there, a man no one expects to win this particular event," an announcer remarks casually in footage of the race.
Even before the race started, Mills had his eye on Australian runner Ron Clarke. In the last lap, he and Clarke bumped each other back and forth, jockeying for position. They were lapping slower runners too, adding to the confusion.
Mills looked at one of the runners and thought he saw an eagle in the center of his jersey. It reminded Mills of his dad.
"Someday, you can have wings of an eagle," his father had told him.
Approaching the race's final turn, Mills was trailing about 5 meters behind the pack of runners. As Clarke made his move, trying to sprint ahead to victory, Mills started to fly. Clarke battled for the lead with Tunisian runner Mohammed Gammoudi as Mills surged toward them from the rear with explosive energy. He blew past Clarke into second place and then right past Gammoudi, who glanced to his right, stunned, as a few more long, powerful strides carried Mills into the lead. He never looked back. As the tape broke across his chest, a deafening cry rose up from the crowd, and he thrust his arms skyward. He won by nearly 3 meters.
An official ran up to him, asking, "Who are you? Who are you?" Mills panicked and asked whether he'd miscounted the laps. "Finished," the other man replied. "You're a new Olympic champion."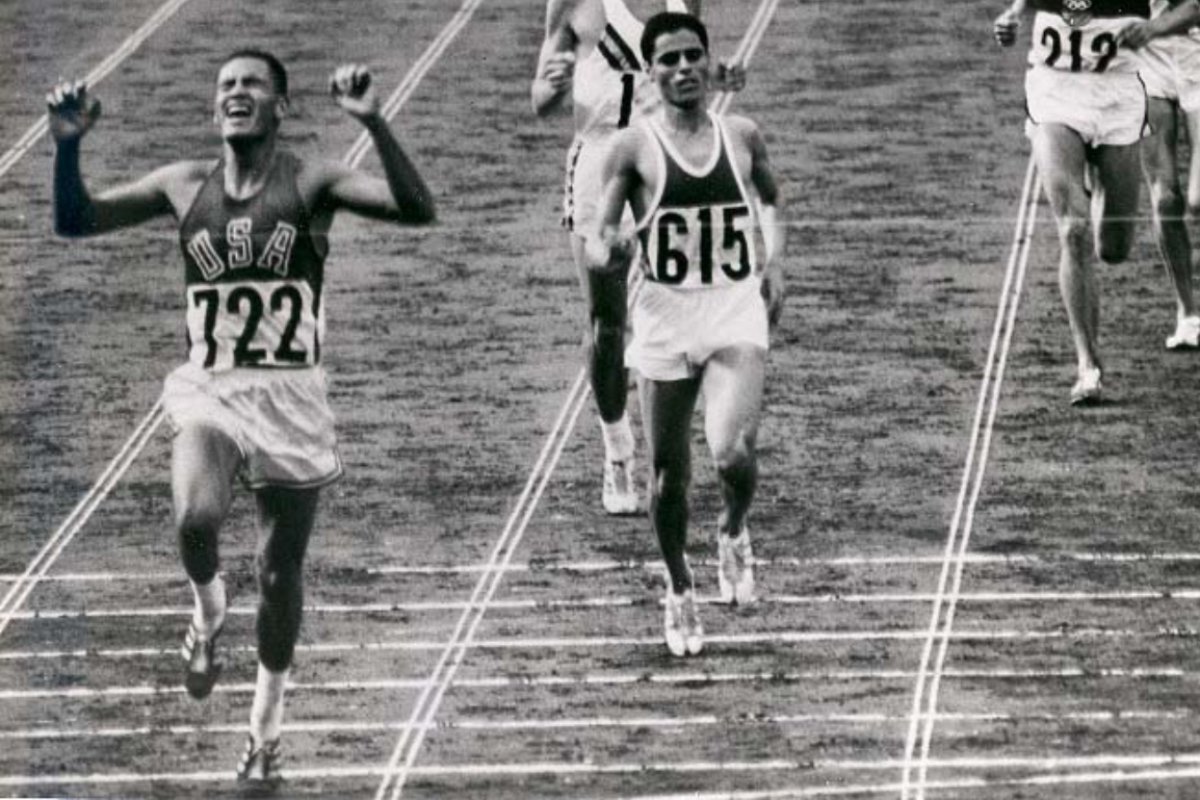 Mills not only won the race but also set a world record with a time of 28 minutes, 24.4 seconds. Almost 60 years after his stunning victory in Tokyo, he remains the only American to have won gold in the 10,000-meter.
After the race, Mills saw the runner's jersey on which he'd seen an eagle. He realized there was no eagle, but the vision had carried him to victory and Olympic gold.
"I think what got me there was the simple thought of my dad saying, 'It takes a dream to heal a broken soul,'" Mills said. He also attributed his success to his Lakota values, which he had poured into his training for so long.
Listen to the full episode of Borne the Battle to hear more about how Mills is helping the next generation of Native American youth and his advice for fellow veterans.
Read Next: