KYIV, Ukraine — The summer doldrums are notorious for inciting violence. This past week on the entrenched battlefields of eastern Ukraine was no exception.
Combined Russian-separatist forces — operating under Moscow's command — have continued their daily drumbeat of shelling Ukrainian troops and towns in Ukraine's eastern Donbas region, where Ukraine and Russia have been fighting a low-intensity land war since the spring of 2014. There's been a steady trickle of combat deaths in the Donbas for more than six years. And Europe's only ongoing war often falls from the headlines. But the killing of a Ukrainian medic on Monday spurred notably incensed reactions from both Kyiv and Washington.
"We join the people of Ukraine in condemning the ongoing, brutal aggression of Russia-led forces in the Donbas and pay tribute to Ukrainians killed and wounded fighting for their democracy," U.S. Secretary of State Mike Pompeo said during a Wednesday press conference in Washington.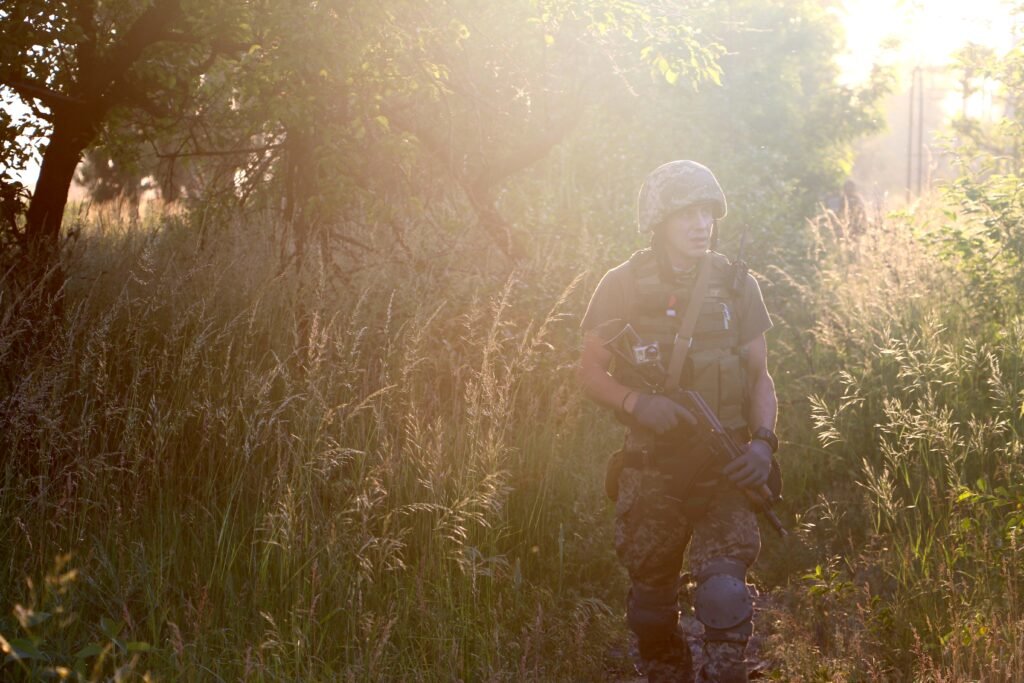 Three Ukrainian soldiers died during a day of heavy fighting on Monday. At the front line town of Zaitseve that day, according to Ukrainian media, Ukrainian and Russian forces agreed to a short truce to allow a team of Ukrainian soldiers to retrieve the body of a comrade who'd died after stepping on a land mine.
The Ukrainian evacuation team, whose members were reportedly wearing white helmets and other identifying insignia, was nearly upon the body when nearby Russian forces opened fire with small arms, reportedly wounding at least two of the Ukrainians.
A Ukrainian medic rushed forward to rescue the wounded. According to Kyiv, Russian forces then opened fire with small arms, grenade launchers, and large-caliber machine guns. The medic was killed.
Another Ukrainian soldier died from enemy shelling at a separate location that day, and six more were reportedly wounded.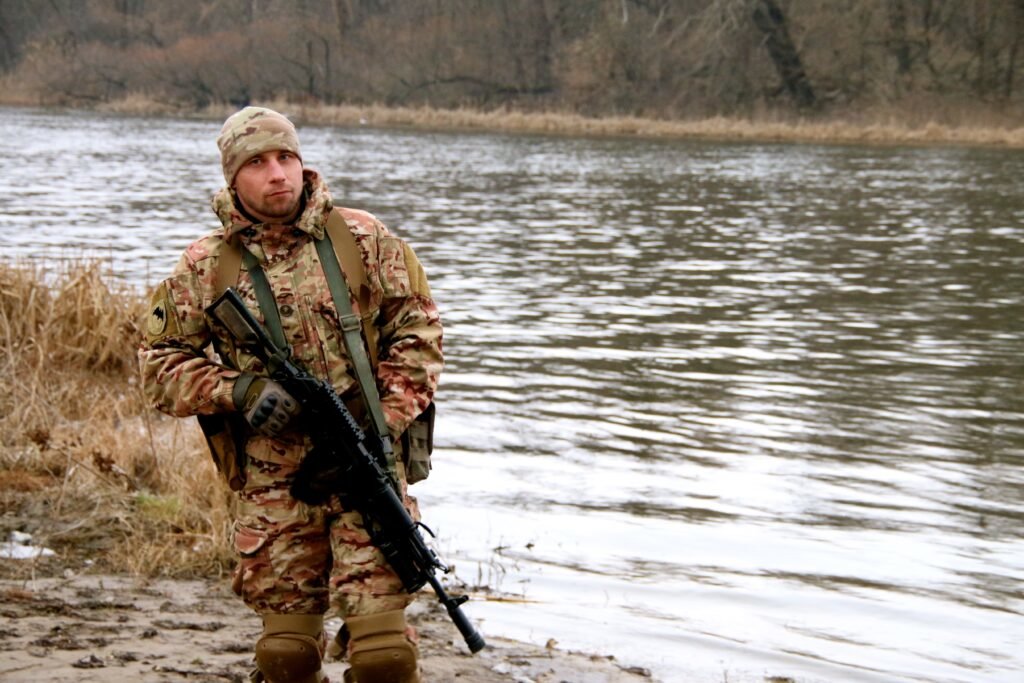 "An insidious murder of a medic, who had all the relevant markings, is another evidence that Russia-led forces are not even going to comply with any international law," the press center of Ukraine's Joint Forces Operation Headquarters said in a statement on Monday.
"Russian occupying forces once again violated all moral and humanitarian norms and fired on three servicemen who were to evacuate the body of a fallen Ukrainian hero," the Ukrainian military press center added.
The U.S. Embassy in Ukraine also condemned the Ukrainian medic's death.
"We are deeply saddened by the reported killing yesterday of a Ukrainian military medic near Zaitseve. We join the people of Ukraine in condemning the ongoing, brutal aggression of Russian-led forces in Donbas and pay tribute to the heroism of many Ukrainians who have lost their lives and suffered injuries in brave service to their democracy," the embassy wrote on Twitter on July 14.
On Tuesday, seven more Ukrainian soldiers were wounded during another day of heavy fighting. The Ukrainian military reported that combined Russian-separatist forces attacked their positions with Soviet-era anti-tank missile systems, mortars, grenade launchers, heavy machine guns, and small arms.
Fighting flared on Tuesday at several places along the roughly 250-mile-long entrenched lines in Ukraine's eastern Donbas region. Last weekend, as well, Russian forces shelled Ukrainian positions up and down the front lines. Eight Ukrainian soldiers were reportedly wounded over the weekend. And on July 10, a well-known Ukrainian volunteer soldier named Taras Matviiv was killed by shelling.
Matviiv, 31, was a journalist before taking up arms in 2015 after Russia's invasion. He helped found the Maidan Search Initiative, a group that searched for the roughly 85 protesters who disappeared during Ukraine's 2014 revolution.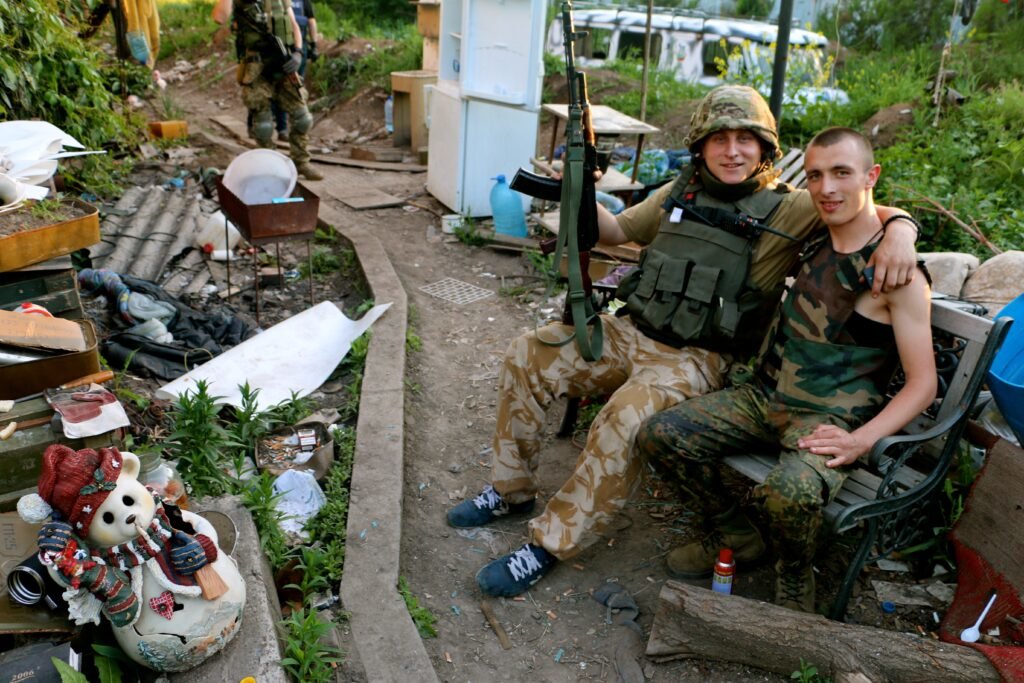 After its annexation of Crimea in March 2014, Russia orchestrated a hybrid war takeover of the Donbas. Ukraine's armed forces — a ragtag coalition of its regular army and irregular forces called civilian volunteer battalions — eventually reversed the Russian operation and had nearly retaken all of the Donbas when in August 2014 Russia sent thousands of its own troops over the border, thereby escalating the conflict into a conventional, mechanized war.
A succession of failed cease-fires failed to stop the fighting but froze the war along its current front lines. Today the war is a static, trench conflict not unlike World War I when it comes to the daily rhythm of combat — albeit on a much smaller scale and with a high-tech edge.
Today, the Ukrainians face a combined force of Russian regulars, pro-Russian separatists, and foreign mercenaries. Moscow supplies the two so-called breakaway republics with weapons and money. And, according to Ukrainian and NATO officials, Russian troops maintain command and control over combat operations.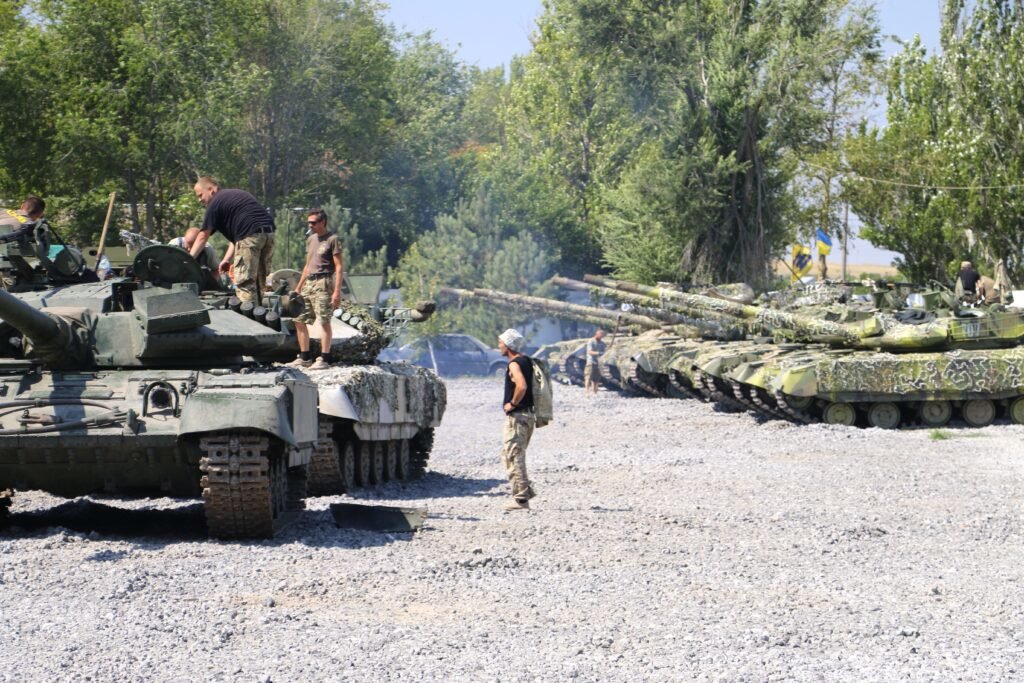 "Russia continues to provide the occupying forces in the territory of Donetsk and Luhansk regions with weapons, ammunition, fuels and lubricants, and other military equipment through border sections not controlled by Ukraine," Dmytro Hutsuliak, a spokesman for Ukraine's Defense Ministry, said July 7 in reference to Russia's two client territories in eastern Ukraine.
Moscow denies it's involved in the war at all and says the separatists are disgruntled Ukrainians who rose up against Kyiv after a pro-democratic revolution ousted Ukraine's pro-Russian president, Viktor Yanukovych, in 2014. According to Moscow, the Donbas separatists raided Ukrainian government military bases to sustain their six-year war effort.
Moscow has, however, been a party to all of the war's cease-fire negotiations, demanding that Ukraine modify its constitution as a precondition for peace.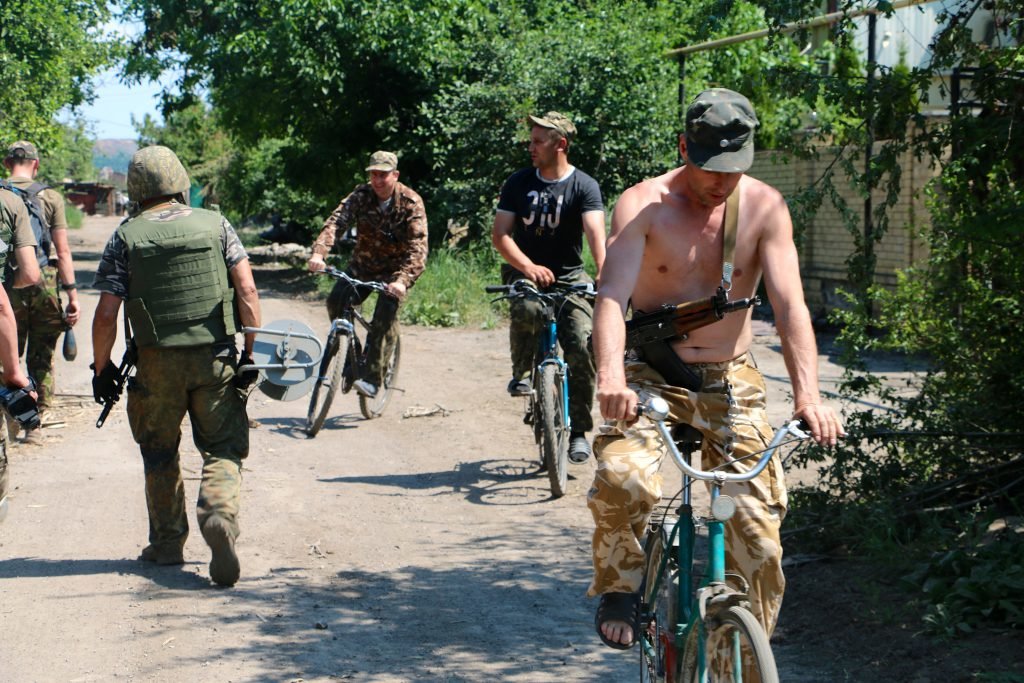 Daily combat in the Donbas mainly comprises indirect fire potshots, sniper shootings, and small arms gunfights. At some places, no man's land is several kilometers across. At others, the two camps are close enough to shout insults at one another. Neither side is attempting a breakthrough or to shift the lines in any significant way. Rather, both camps go on fighting to not be the side that backs down first.
The war has killed about 14,000 Ukrainians and displaced roughly 1.7 million people from their homes. So far this year, the war has killed eight civilians and wounded 47 more.
"The cause of all casualties in eastern Ukraine, military and civilian, can be traced to Russia's failure to instruct the forces it arms, trains, finances, leads, and fights alongside to implement a comprehensive ceasefire," James Gilmore, U.S. ambassador to the Organization for Security and Cooperation in Europe, said during a meeting in Vienna on Thursday.