A deadly blue-on-blue shooting in the suburbs of Vancouver, Washington, highlights the grim early weeks of 2022 for cops nationwide.
Since late January, eight law enforcement officers have been killed on the job, raising the total number of on-duty deaths so far this year to 38, according to the Officer Down Memorial Page.
Donald Sahota
Vancouver Police Department Officer Donald Sahota, 52, died Jan. 29 after he was stabbed at his home by a holdup suspect and then shot multiple times by accident by Clark County Sheriff's Deputy Jonathan Feller, investigators said.
The tragedy was set into motion at 8:14 p.m. that night, when authorities say Julio Cesar Segura held up a Chevron Food Mart in the suburb of Orchards with an airsoft pistol that resembled a Glock handgun.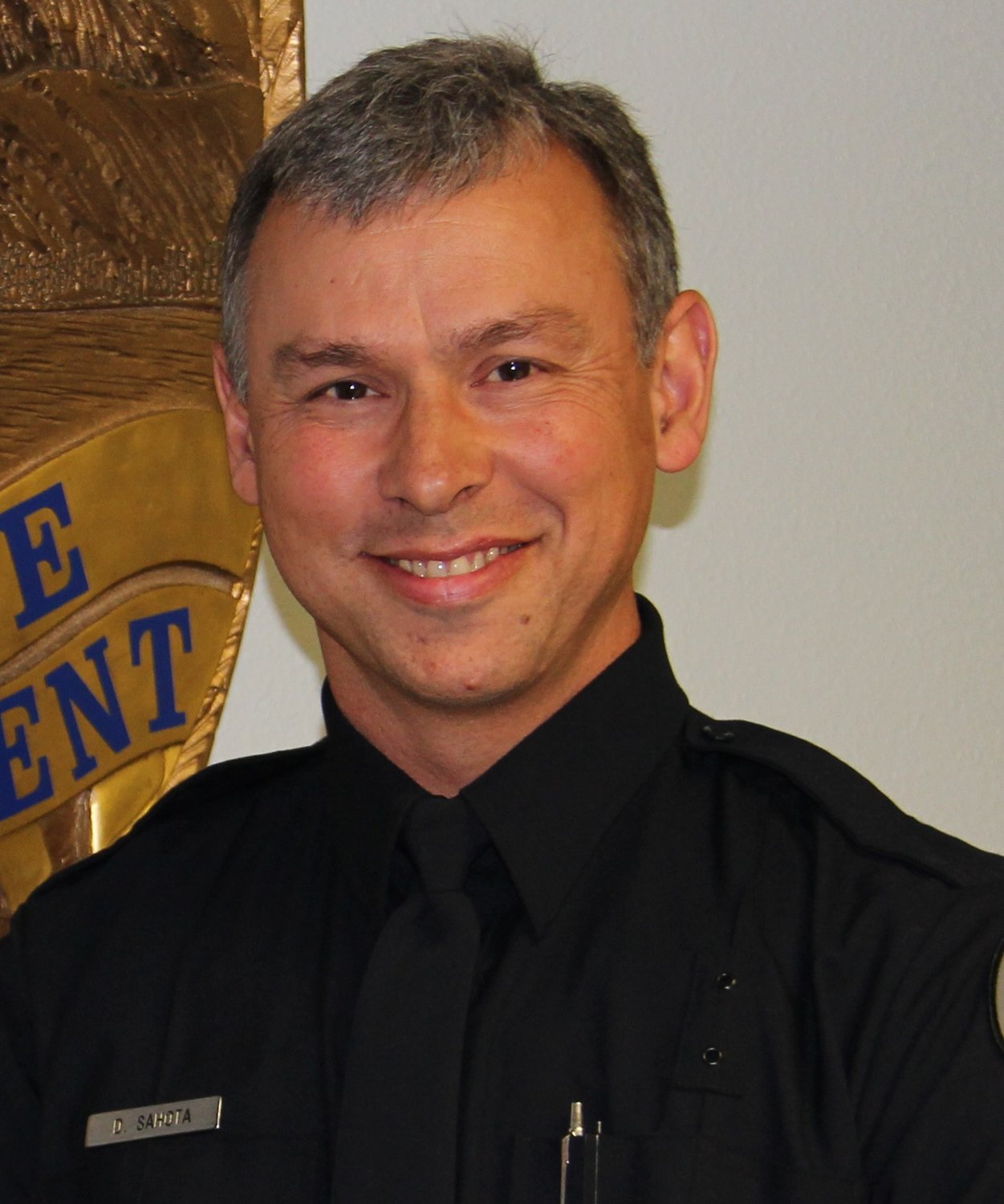 Detectives suspect that Segura fled with $583. He drove away in a vehicle with no plates that was reported stolen from a Mercedes dealer in Yakima, according to the probable cause statement buttressing the 20-year-old's later arrest later that night.
An unnamed deputy intercepted Segura's vehicle heading north on Interstate 205 off the Padden Parkway. Fellow Clark County Sheriff's Deputy James Lawrence raced to position his patrol vehicle ahead of Segura. Told that the suspect had ditched his vehicle after it ran over police spike strips and was fleeing the freeway on foot, Lawrence moved his position in an attempt to nab Segura.
An aerial drone and a Portland (Oregon) Police airplane picked up Segura as he jogged north of the abandoned Mercedes, roughly 10 miles away.
Then, a 911 call came in from a resident in Battle Ground, Washington. She reported that a stranger claimed he'd crashed his car near there and needed help.
More information began flowing to the dispatcher, with the caller saying the intruder was at the home of a law enforcement officer who was holding the suspect at gunpoint, according to the court filing.
Lawrence and other deputies flocked to Sahota's Battle Ground residence. Footage from the two aircraft appeared to show Sahota struggling with Segura in the driveway. An object, later identified as a pistol, fell to the ground, and Sahota went to retrieve it.
When the deputies arrived, Segura bolted into the home. Holding the handgun, Sahota started to take off after Segura and had reached the porch, the aerial reconnaissance revealed.
Screeching up to the house, lights on and siren blaring, Lawrence told investigators he heard two gunshots before he exited his patrol vehicle. By the time Lawrence rushed to the porch, Sahota was on the deck, shot by Deputy Feller.
Segura put his hands out the front door and came out. It was then the deputies realized the homeowner, an off-duty Vancouver Police officer, was the man who had been shot. County authorities later ruled that Sahota had acted in his official capacity as a law enforcement officer to subdue Segura.
Lawrence said as he began to handcuff Segura, the suspect kept repeating, "One Lord, one God." Segura sat alone in Lawrence's patrol vehicle for up to 30 minutes, and when the deputy went to check on the suspect, Segura allegedly said, "I'm ready," according to the arrest report written by Cowlitz County Sheriff's Detective Troy Lee.
Interviewed later by Kelso Police Detective Craig Christianson, Segura allegedly confessed to stealing the Mercedes and sticking up the convenience store, adding that he'd intended to flee to Seattle.
Detective Lee wrote that Segura claimed the knockoff Glock airsoft pistol had fallen out of his pocket into a swamp, somewhere between where he ditched the Mercedes and Sahota's home.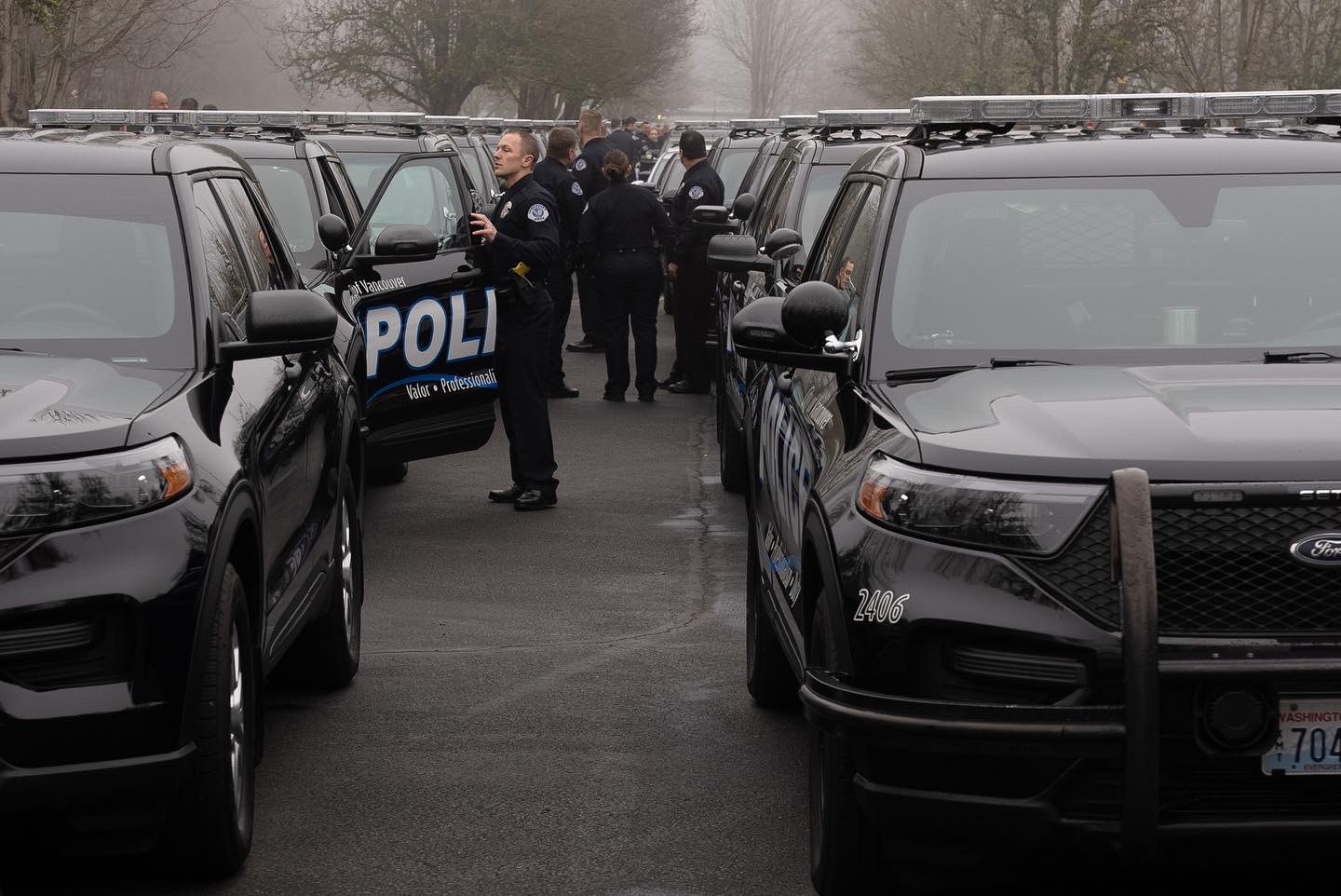 Segura admitted that Sahota had identified himself as a law enforcement officer, but Segura had still stabbed the homeowner three times in the torso and thought he'd left him for dead, Lee said.
Sahota's wife, Dawnese, had been on the phone with 911, but she lunged to lock the door before Segura could enter. Segura forced the door, slamming it into the woman's forehead, Lee wrote, and she'd fallen to the ground.
With deputies arriving, Segura allegedly tried to hide the knife by spearing it into a couch cushion.
Dawnese Sahota was transported to a nearby hospital for treatment.
Segura was booked into the Clark County Jail shortly before dawn on Jan. 30.
He's being held on a $5 million bond for attempted murder, robbery, burglary, assault, attempting to elude authorities, and possession of a stolen vehicle, according to the probable cause sheet.
A deputy at the county agency since 2018, Feller has been placed on critical incident leave.
In a prepared statement, Vancouver Police Chief James McElvain said the circumstances surrounding Sahota's death were "extremely painful and emotional for our department, as well as the greater law enforcement community in our area."
It was the department's first line-of-duty death since it was established in 1883, officials stated.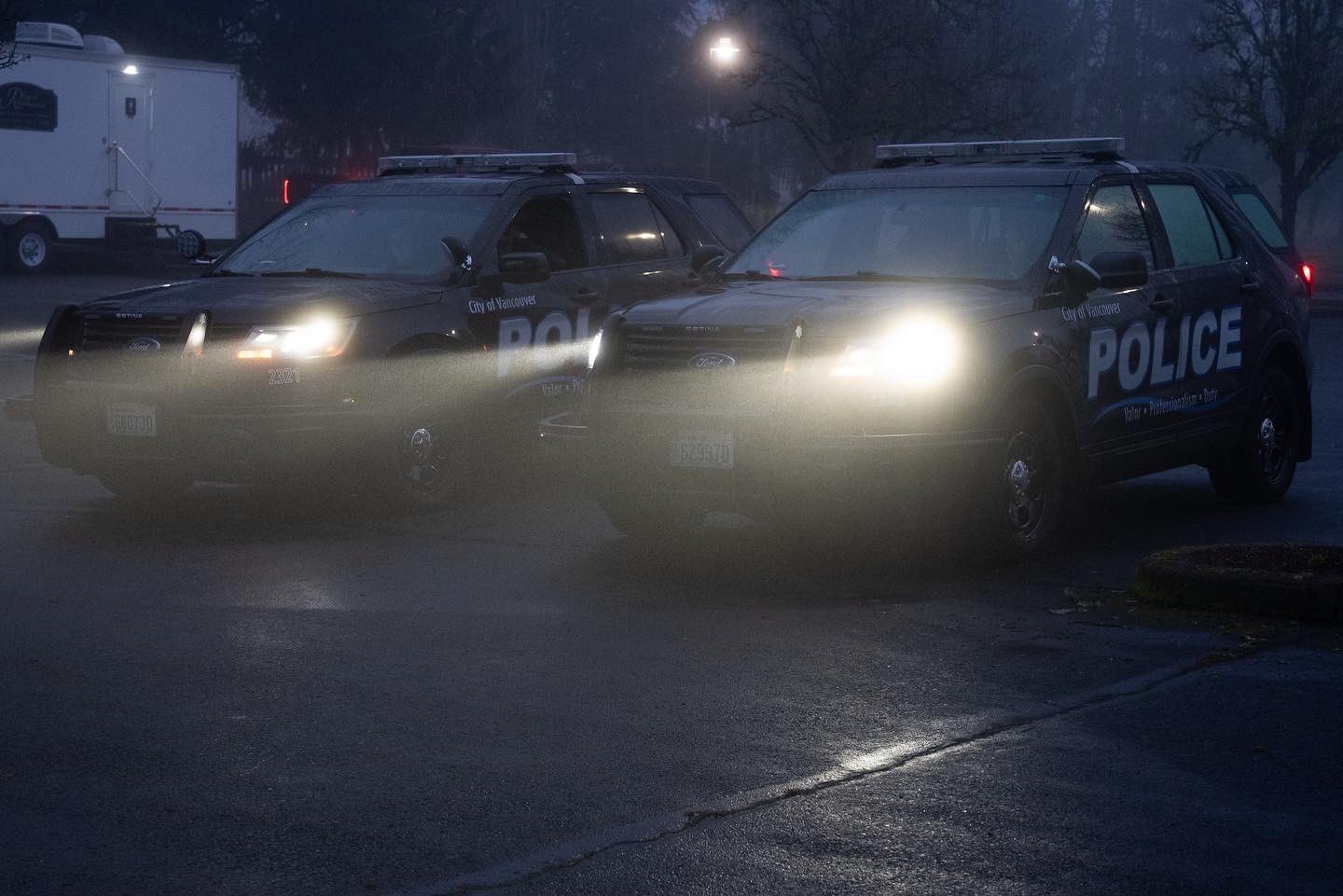 McElvain also released a prepared statement from Sahota's wife and two children.
"While police officers are heroes, they are also human," it reads. "Being a law enforcement family, we understand that this is one of the hardest jobs in the world, often involving split-second decisions that mean life or death. We would like everyone to know that we hold no ill feelings toward the Clark County Sheriff's Office, or the deputy involved in this tragedy, and hope others can show them grace as well. The fact remains that one person is ultimately responsible for the death of Officer Donald Sahota — the suspect in custody. If this individual hadn't made poor decision after poor decision, and ended up inside our home, we wouldn't be where we are now."
During Officer Sahota's Tuesday, Feb. 8, memorial service at the ilani Casino Resort in Ridgefield, McElvain expressed his "sincere gratitude to the Sahota family for sharing Don with us and the communities he served.''
Sahota was born July 18, 1969, in Yuba City, California, according to his obituary. He moved to Battle Ground in 2003, and "they called their small farm home for over 18 years," the obituary reads.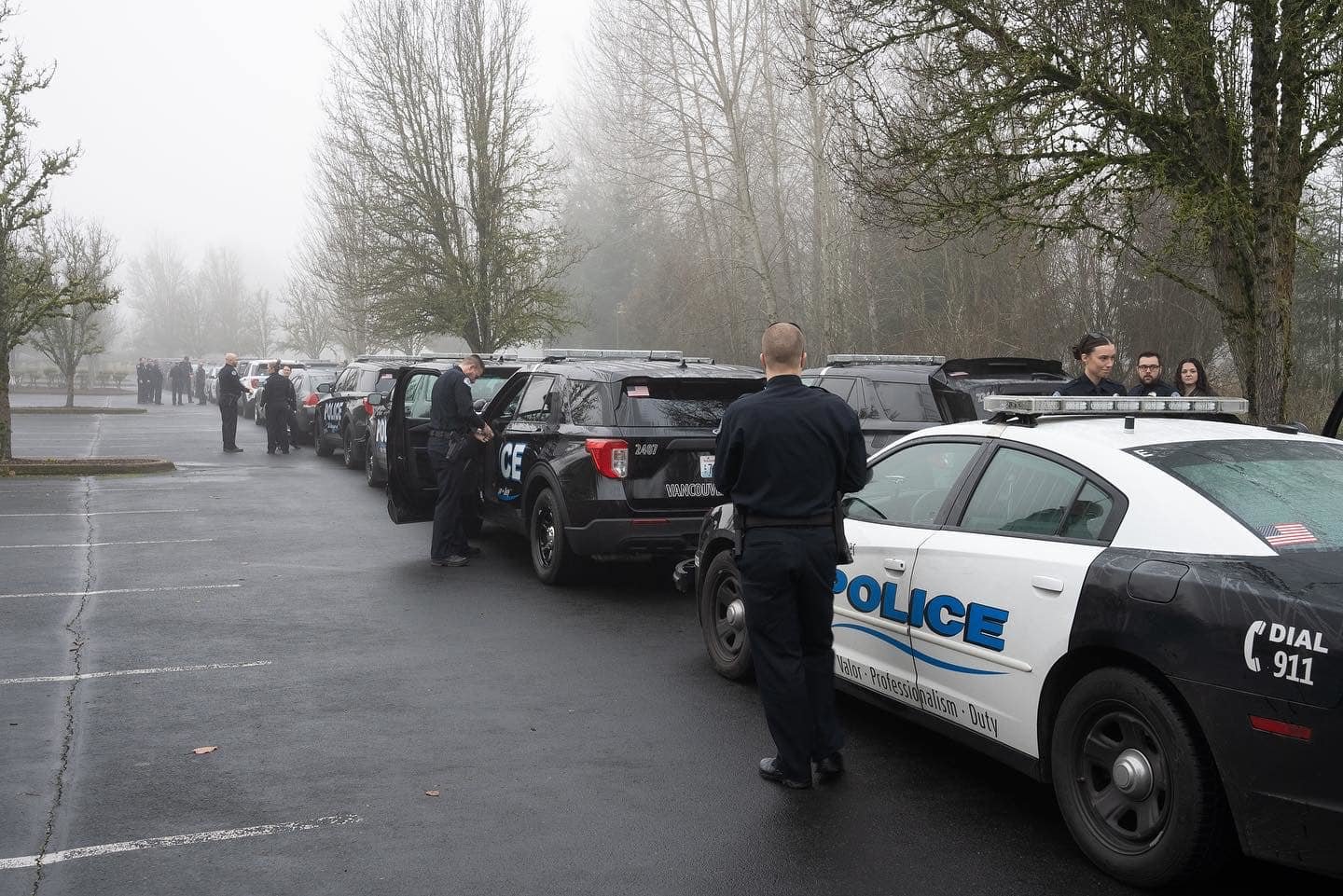 Sahota served with the Gresham Police Department and the Port of Portland Police Department before joining the Vancouver Police Department in 2014.
He was nicknamed "Battle Santa" by his daughter, Kylie, and son, Colton.
"He was this happy, jolly guy who would do anything to help and protect others, including laying down his own life," his daughter told mourners during the memorial service.
A longtime friend of the officer, James Reinhardt, told funeral-goers Sahota "loved his family crazy."
"His motivation for the things he did was all around his family and their well-being. Don was a man you wanted to pattern your life after. He commanded respect through his actions, not just his words," he said.
John Elwood Painter
A shooting spree by an ex-student at a Virginia campus claimed the lives of Bridgewater College Campus Police Officer John Painter, 55, and Bridgewater College Campus Safety Officer Vashon "J.J." A. Jefferson, 48.
The incident began around 1:20 p.m. on Feb. 1, when officers went to intercept a suspicious man carrying a duffel bag in a restricted area of Memorial Hall, authorities said. After a brief interaction, Alexander Wyatt Campbell opened fire, according to Virginia State Police investigators.
Troopers said that Campbell, 27, a 2017 graduate of the college, fled into town, sparking a manhunt by eight local and state law enforcement agencies. Officers caught up to him along East Riverside Drive in Bridgewater. He began to ford the North River until he reached an islet, where he was taken into custody without incident.
Officers discovered that Campbell had been shot, but it remains unclear whether the round came from Painter's service weapon or whether it was self-inflicted, according to the Virginia State Police. Campbell was treated and released from Rockingham Memorial Hospital.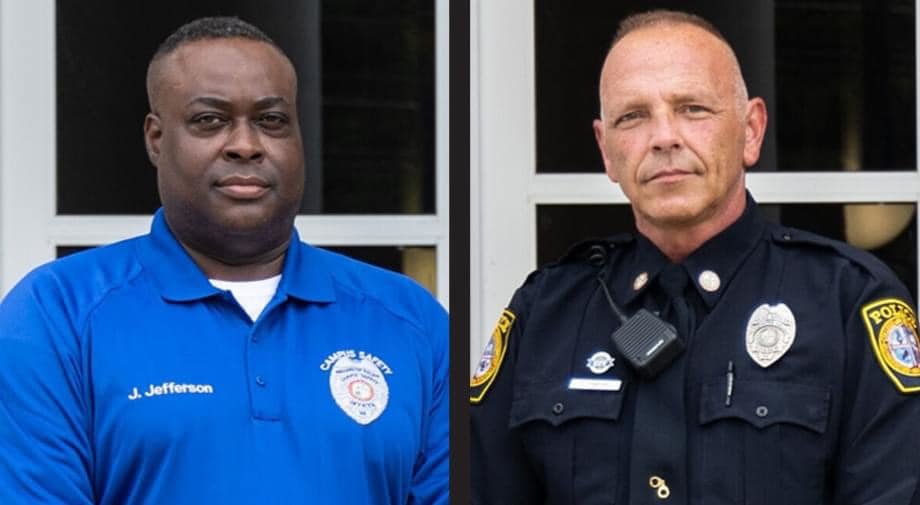 The Ashland, Virginia, man is charged with two counts of capital murder, first-degree murder, and using a firearm during a felony. He is being held without bond at the Rockingham-Harrisonburg Regional Jail.
Speaking at Painter's Wednesday funeral service at James Madison University's Atlantic Union Bank Center in Harrisonburg, Timberville Chief of Police J.R. Dodd said "untold lives were saved that day" by the bravery of Painter and Jefferson.
Painter served three years in the US Air Force and one year in the US Army National Guard as an intelligence analyst before launching his law enforcement career in 1989 with the King George County Sheriff's Office.
He served 18 years as the Grottoes Police chief until his 2018 retirement. He joined the Bridgewater College Campus Police Department in May 2019, according to a press release by the college.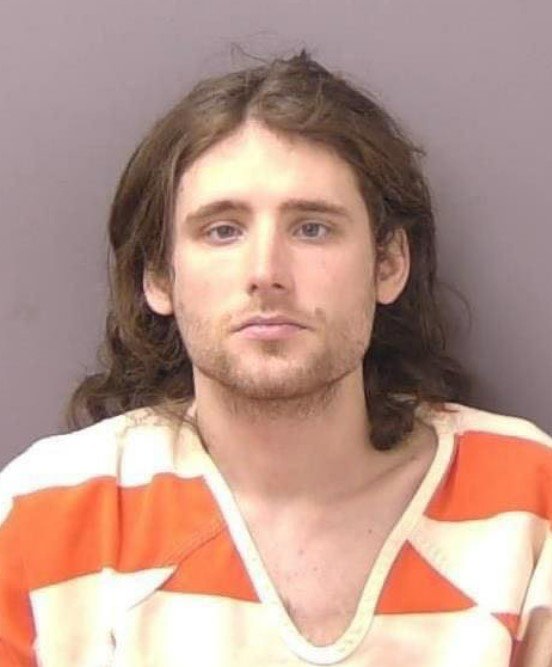 "Everything came easy to John. If ever a man was meant to be a police officer, it was John Painter," Charles Lawhorne, a former Grottoes Police chief, told mourners during the service.
Lawhorne said the community had loved Painter, and had been a unanimous decision by municipal lawmakers to appoint him their police chief.
"He gave his life to protect the citizens and students at Bridgewater and is a true hero, as well as J.J.," Lawhorne said.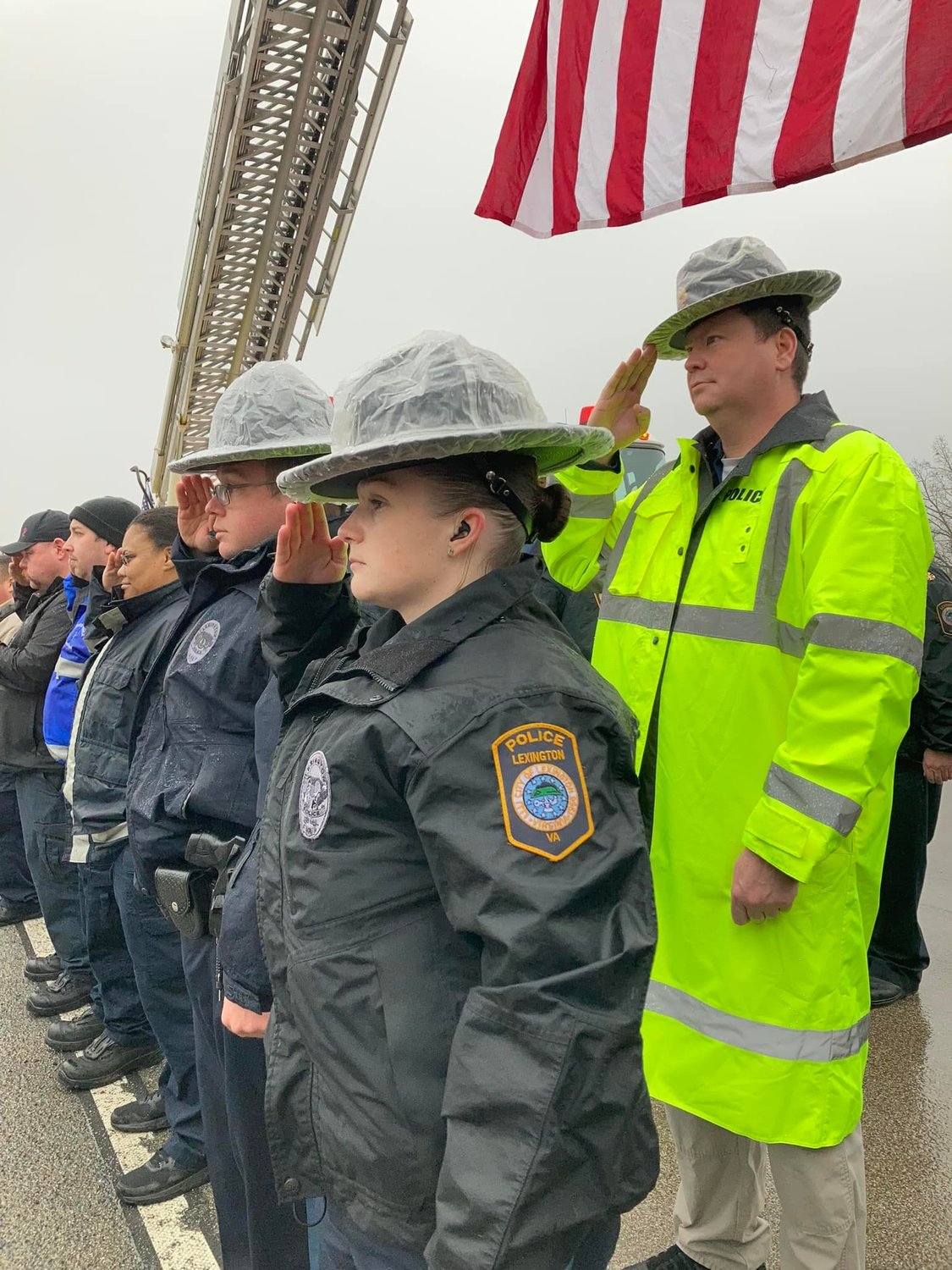 John Elwood Painter was born July 28, 1966, in Germany to Willie Painter and Roswita Ottilie "Rosie" (née Eppers) Painter. He was raised in Augusta County, Virginia, according to his obituary.
Painter is survived by his parents; daughter, Courtney; brother, Andreas; and sister, Sandra.
Bridgewater College established the John Painter and Vashon "J.J." Jefferson Memorial Student Support Fund to remember the fallen men.
Noah Cleon Rainey and Dane Gregory Northcutt
Carroll County Sheriff's Deputy Noah Rainey, 30, and Jail Deputy Dane Northcutt, 24, died early Jan. 29 in Clinton County, Indiana, from injuries sustained during a car crash.
About an hour after midnight, Rainey was driving his Dodge Charger Pursuit cruiser when he received a call for assistance on a chase from the Rossville Police Department, according to the Indiana State Police. Northcutt was off duty and riding along on that night's patrol.
Rainey's Dodge departed the eastbound side of State Road 26 near Washington Street in Sedalia before striking a pole. Authorities pronounced both men dead at the scene of the accident.
Indiana State Police investigators are probing the incident.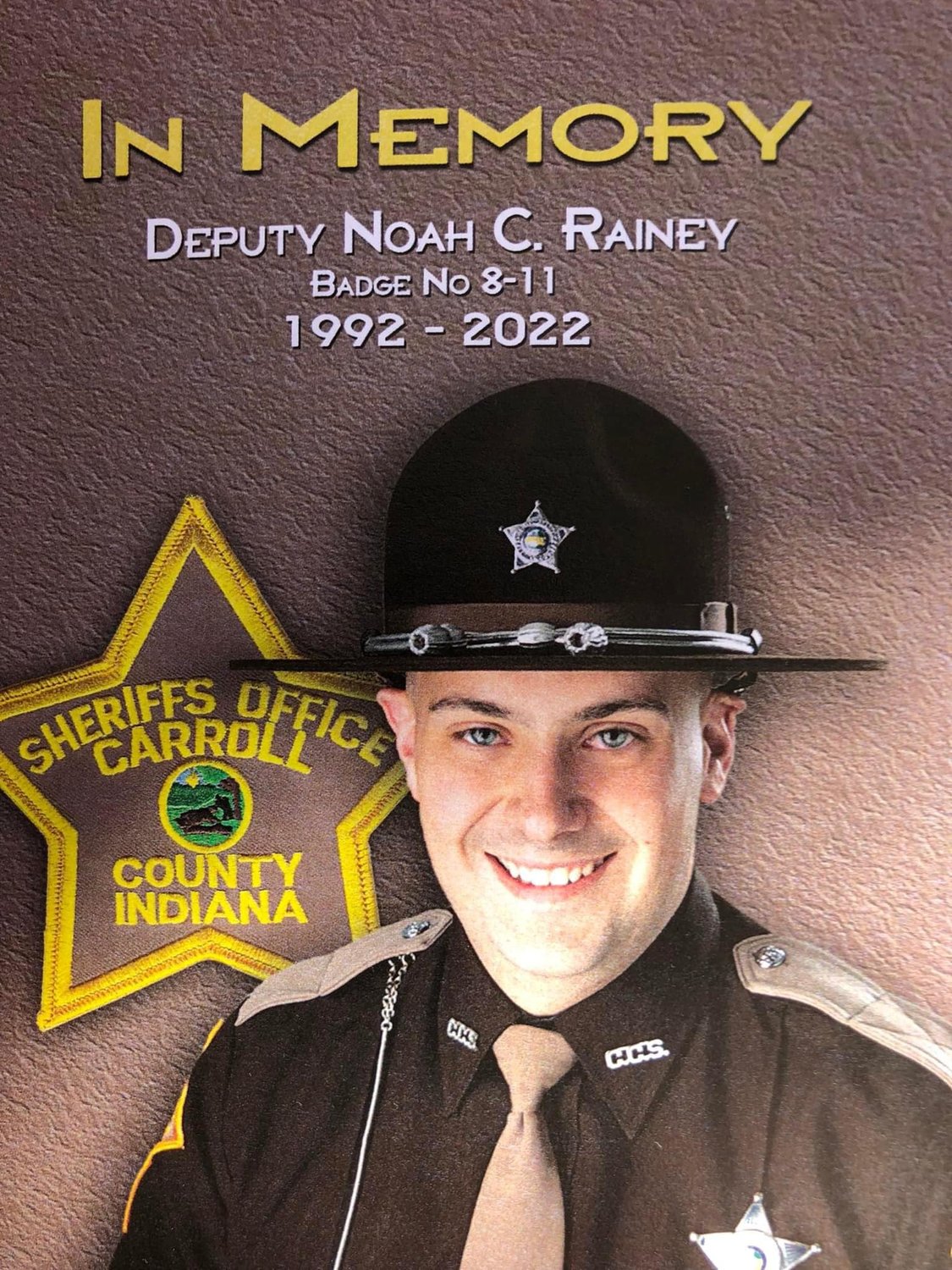 A resident of Delphi, Rainey graduated from the Indiana Law Enforcement Academy Nov. 13, 2020, slightly more than two years after he joined the Carroll County Sheriff's Office as a reserve deputy, and a year after he was hired full-time by the agency.
He previously worked for the Tippecanoe County Sheriff's Jail Division and the Plainfield Correctional Facility.
Rainey was born Oct. 28, 1992, in Lafayette to G. Bruce Rainey and Victoria J. Martin Hobbs, according to his obituary.
He was preceded in death by his father.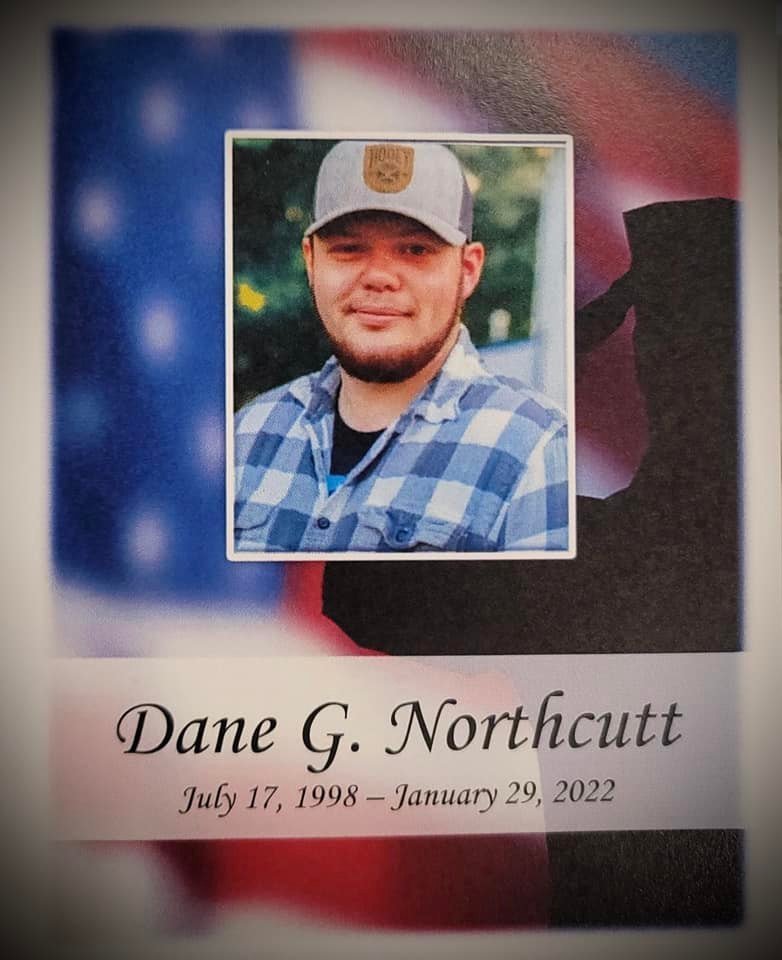 He is survived by his mother; wife, Maria C. Rainey (née Salter); sons, Easton W. and Nicholas A. Rainey; and brothers, Matthew Welborn, Vincent Martin, Zach Hobbs, Adam Hobbs, and Eli M. Rainey.
Rainey's funeral service was held Sunday at the Delphi Community High School gymnasium, where the Rev. Todd Ladd officiated.
Burial followed at the International Order of Odd Fellows Memorial Gardens in Pittsburg.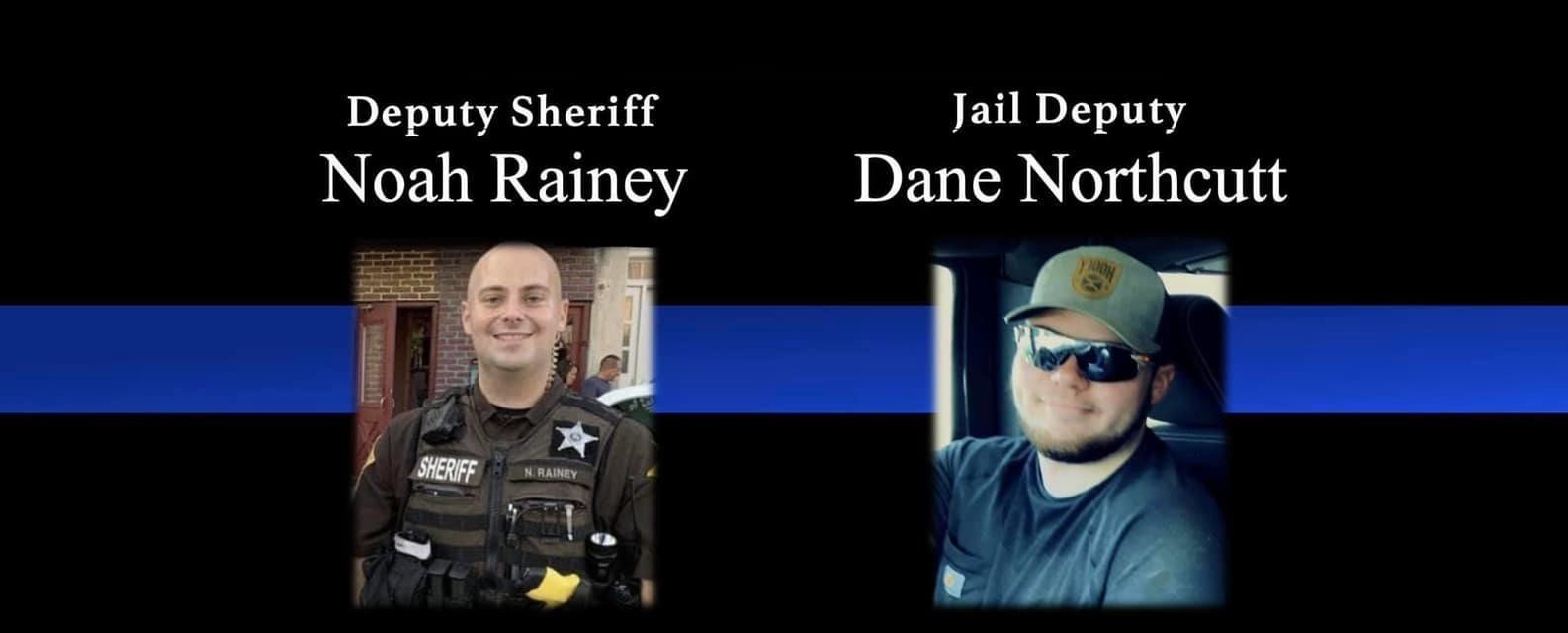 Northcutt joined the Carroll County Sheriff's Office Jail Division shortly after a stint as a helicopter mechanic in the US Army, according to his obituary.
"Dane was selfless; he would give up anything for anyone who knew him," his sister, Madalyne Northcutt, 28, wrote in the obituary. "It did not matter if it was tools, cars, food or the shirt off his back that's just how he was. But lastly Dane was a son, grandson, brother, coworker and friend to a lot of people. He will be missed by all who knew him. Dane was loved by all because that's just who he was. He was Dane."
Northcutt was born July 17, 1998, to Greg Northcutt and Kimberly Northrup. He is survived by his parents and his sister.
Northcutt's funeral service was held Monday at Soller-Baker Funeral Homes and Crematory, Lafayette Chapel.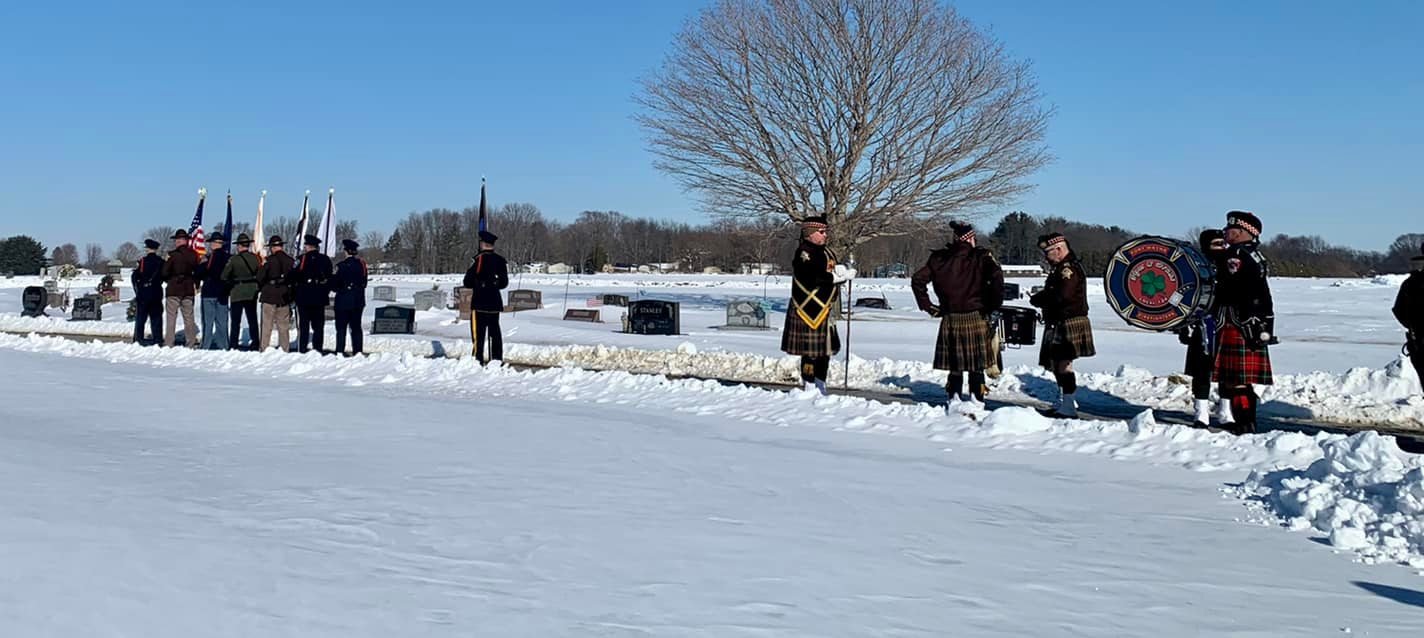 Lorin Marie Readmond
Loving County Sheriff's Deputy Lorin Marie Readmond, 41, was killed Jan. 29 in Mentone, Texas, while driving to aid a fellow deputy at a traffic stop.
Authorities suspect Readmond collided with a tractor-trailer on Highway 302 when its driver attempted to turn in front of her patrol car.
She was pronounced dead at the scene. Texas Highway Patrol is investigating the crash.
Readmond served a dozen years as an intelligence specialist in the US Navy Reserve, rising to the rank of chief petty officer before exiting in 2018. A former Hudspeth County sheriff's deputy, she joined the Loving County office in 2019, according to her obituary.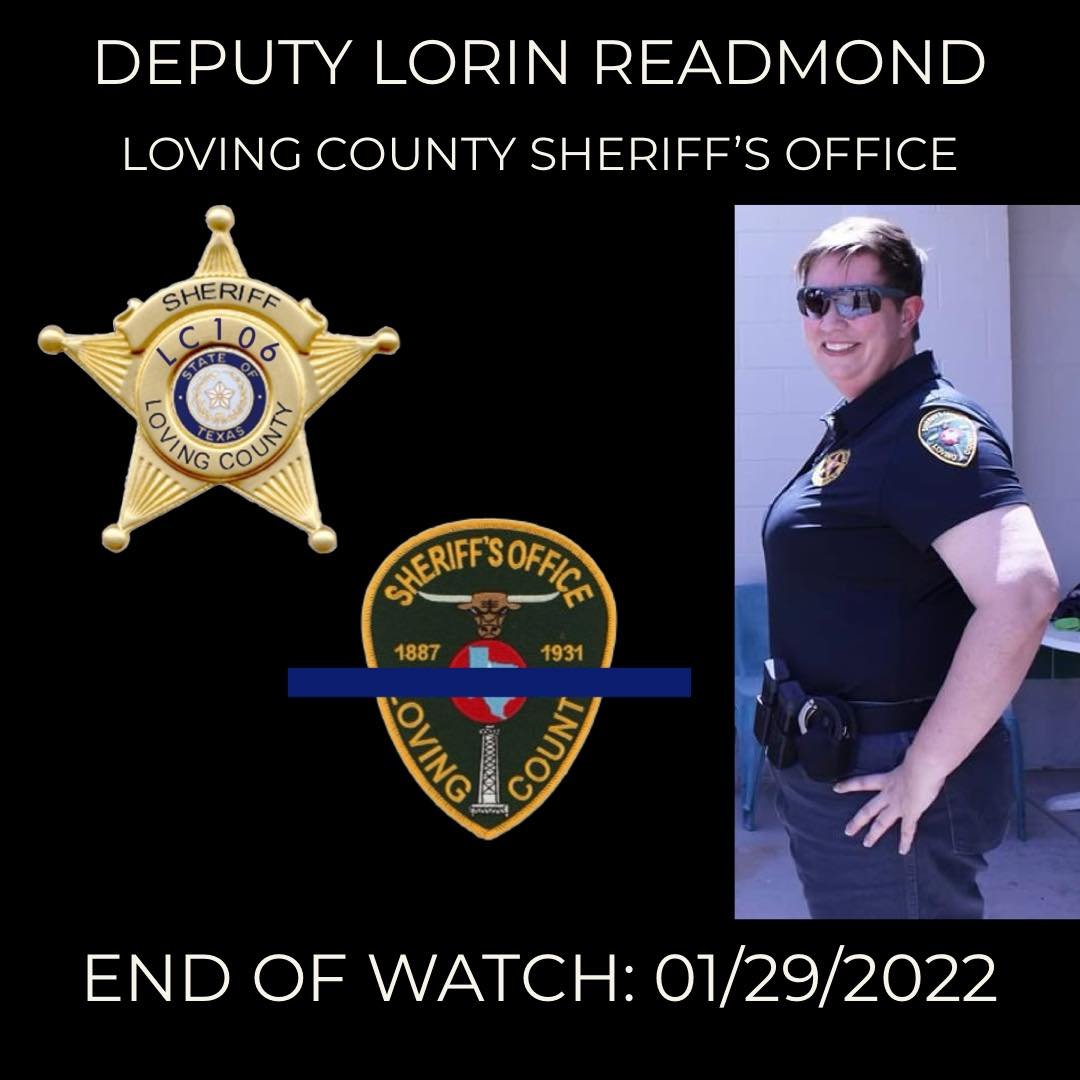 Lorin Marie Readmond was born March 3, 1980, to Ronald and Janet Readmond in Baltimore, Maryland.
She was preceded in death by her father. She is survived by her mother; her sister, Carey Ward; and three brothers, Robert, David, and Jefferson.
A funeral service was held Monday at the Reeves County Civic Center in Pecos, Texas.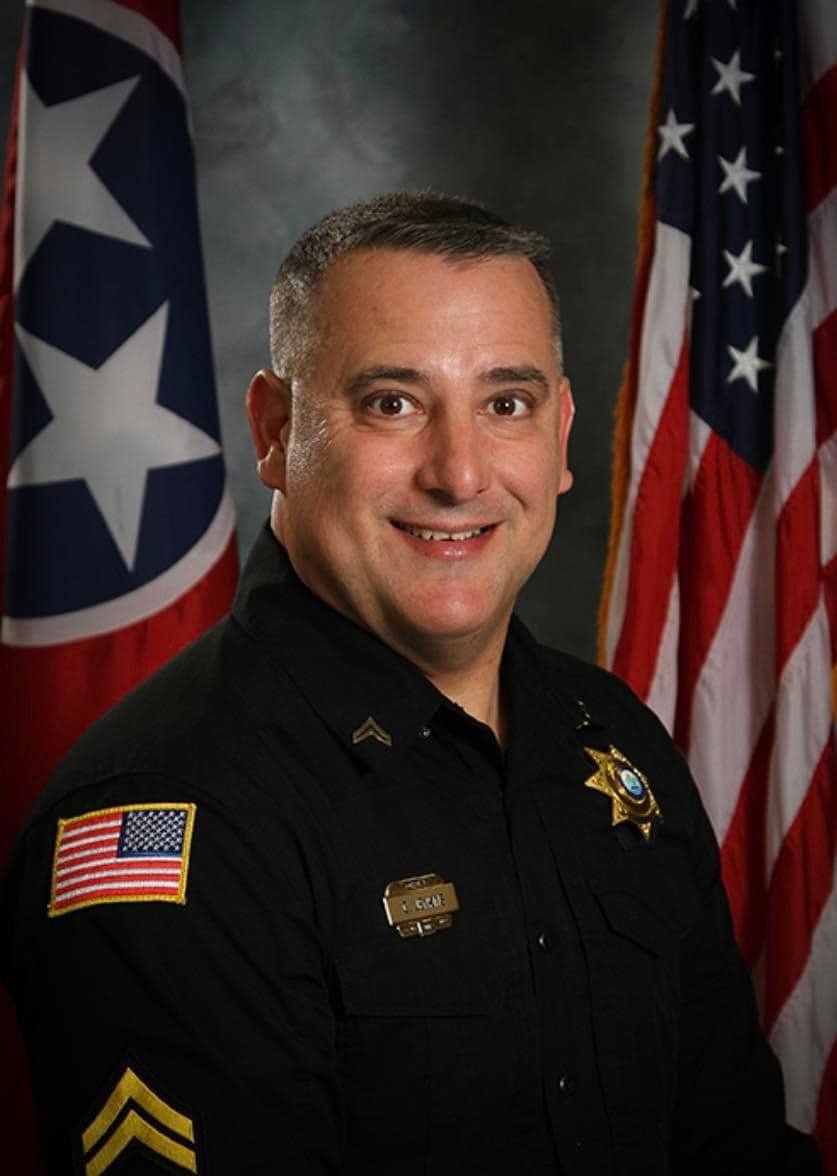 Christopher Allen Jenkins
Loudon County (Tennessee) Sheriff's Office K9 Unit Sgt. Chris Jenkins, 48, died Feb. 3 after being struck by a semitrailer truck on Interstate 75 near a bridge spanning the Tennessee River.
Tennessee Highway Patrol investigators arrested the truck driver, Christopher Michael Savannah, of Houston, Texas, and charged him with criminally negligent homicide, possessing a handgun while under the influence of an intoxicant, driving under the influence, reckless endangerment, possession of drug paraphernalia, and simple possession.
Savannah, 43, is being held on a $1 million appearance bond at the Roane County Detention Facility.
When troopers arrested Savannah, they used the dead sergeant's handcuffs to restrain him, according to the Loudon County Sheriff's Office.
Investigators believe Jenkins was retrieving a ladder from a northbound lane of the highway near mile marker 74 when Savannah's truck struck him.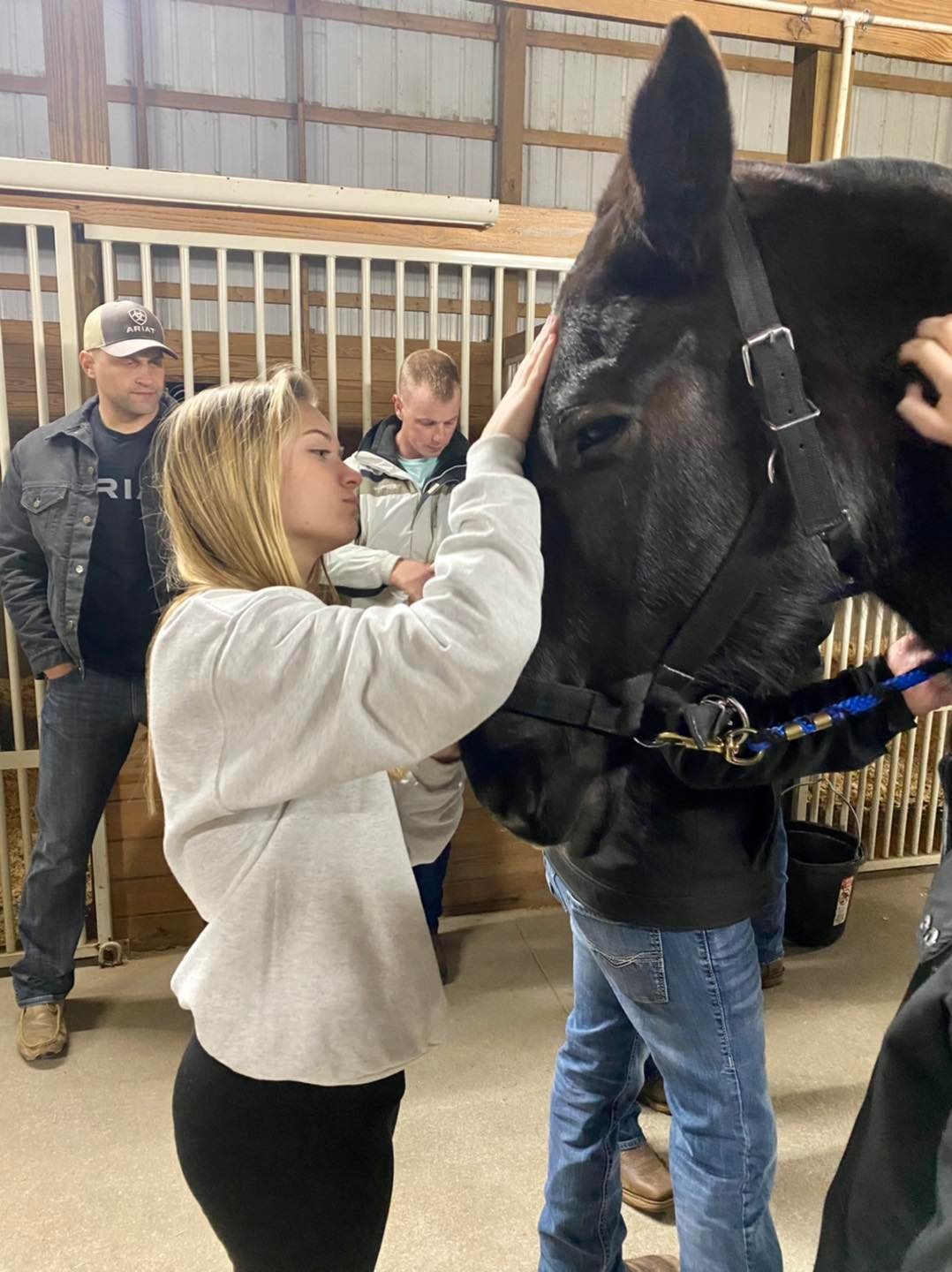 A veteran of the US Air Force, Jenkins joined the Loudon County Sheriff's Office as a corrections deputy in 2002. He was promoted to patrol deputy the following year. He graduated from the Tennessee Law Enforcement Training Academy in 2004 and joined the K9 Patrol Unit three years later.
Jenkins was born Nov. 17, 1973, to David Jenkins and Faye Everett in Loudon.
He was preceded in death by his father, according to his obituary. He is survived by his mother; son, Clay, a Loudon County sheriff's deputy; daughter, Chloee; sister, Melissa; and fiancee, Kristi Ingram.
Clay Jenkins visited his office's command post Sunday to radio a message to all units on patrol: "I just wanted to say thank you guys for keeping the county safe. I'm very proud, and my dad would be very proud of all of you guys."
The funeral for Chris Jenkins was held Tuesday at the Loudon High School Gymnasium. Burial followed at Loudon County Memorial Gardens in Lenior City.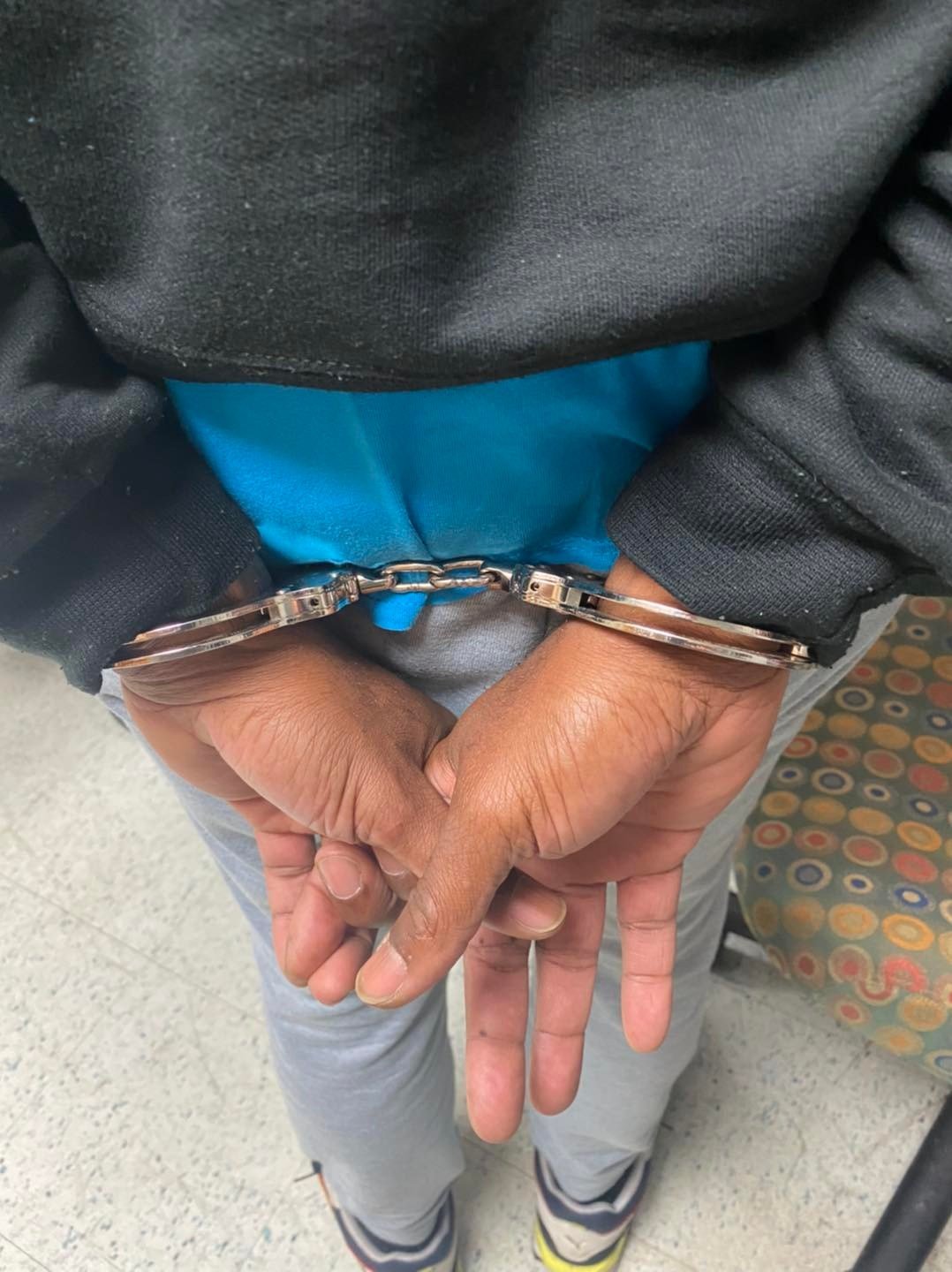 Helen Mae Smith
North Carolina Department of Public Safety – Division of Adult Correction and Juvenile Justice Correctional Officer III Helen Smith died from an apparent heart attack on Feb. 3 while responding to a disturbance at the Pasquotank Correctional Institution in Elizabeth City.
According to a prepared statement from North Carolina Secretary of Public Safety Eddie Buffaloe Jr., Smith was returning to her post following an 11 a.m. incident in another part of the prison when she went down. Paramedics transported her to a nearby hospital, but she died several hours later.
She was 52 and joined the North Carolina Department of Public Safety on April 1, 2019.
"Our thoughts and prayers go out to Officer Smith's family during this difficult time," Buffaloe said. "She had a great reputation and was dedicated to her job; this is a huge loss for our DPS family."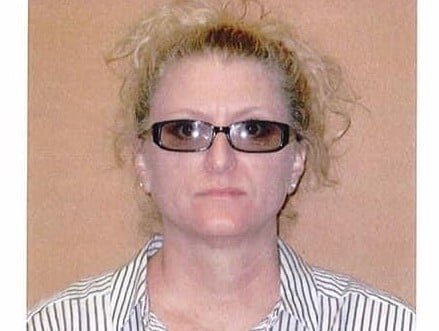 "She was a terrific officer, very dedicated and committed," Pasquotank Warden Daniel Everett added in the statement. "Our work family mourns with her family on her very tragic passing. This is a sad day for us all."
Helen Mae "Hank" Smith was born April 5, 1968, according to her obituary. She is survived by her husband, Tony; son, Andrew Wainscott; daughter, Samantha Smith; sisters, Cindy and Claire Taylor; and brother, Wayne Taylor.
"She will be remembered as a wife, a fiercely protective mother, the best Mamaw, a sister, and a best friend," her obituary reads.
Smith's funeral service is slated for Friday at Broadcast Church in Chesapeake, Virginia.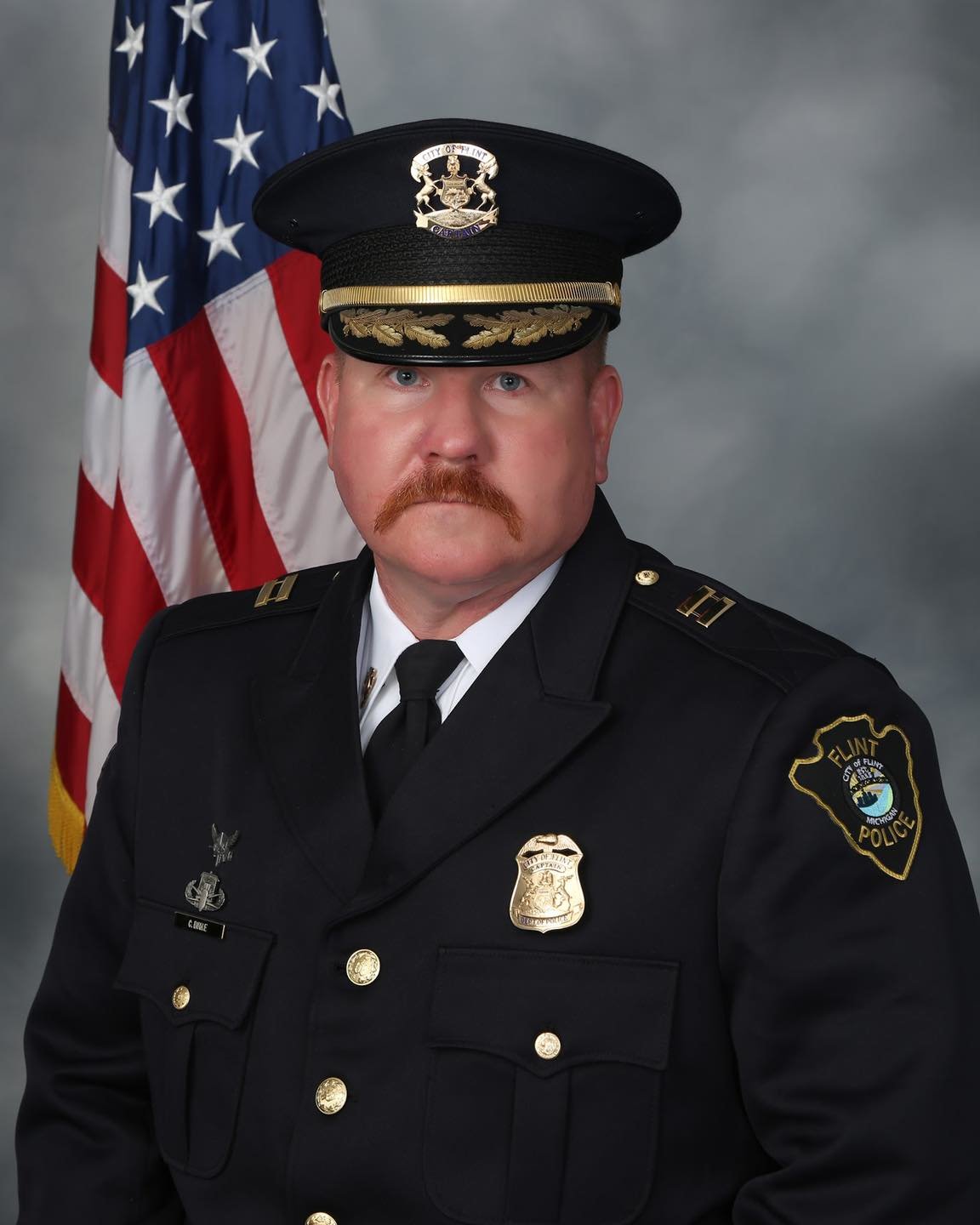 Collin Brevik Birnie
A Feb. 4 head-on collision in Michigan killed Capt. Collin Birnie shortly after he came off his shift at the Flint Police Department.
Authorities suspect a juvenile driver in a Chevrolet Traverse SUV struck Birnie's Chevrolet Tahoe SUV around 6 p.m., Feb. 4, along Elms Road.
Birnie was transported to Hurley Medical Center where he was pronounced dead. He was 53 and had served the Flint Police Department for 26 years, including stints commanding the Patrol Bureau, Bomb Squad, and Tactical Team. He also was the department's lead firearms instructor.
Before entering law enforcement, he served in the US Marine Corps from 1988 to 1992 and deployed in support of Operation Desert Shield and Operation Desert Storm in Iraq.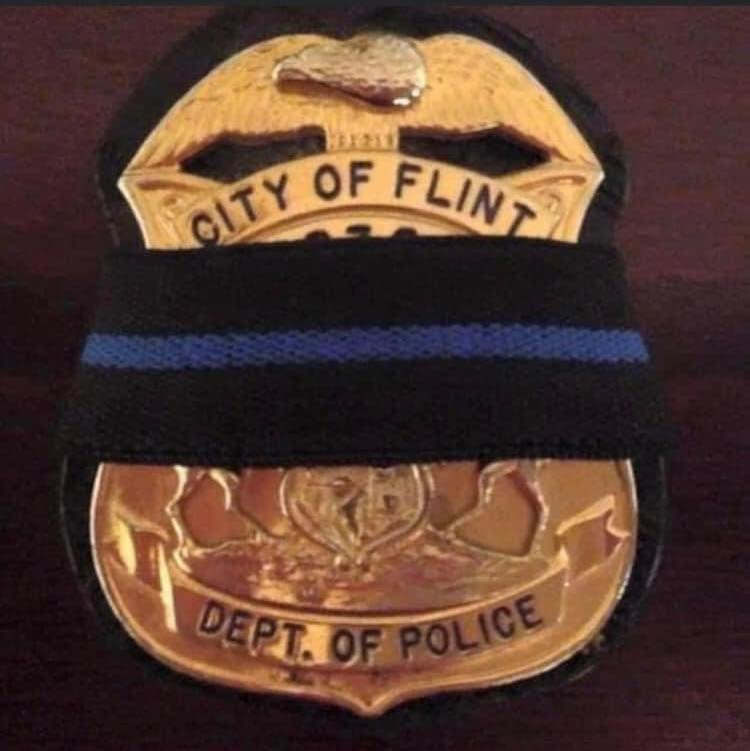 "On behalf of the Detroit Police Department, I send my heartfelt and deepest condolences to the families and friends of Flint Police Captain, Collin Birnie, who was tragically killed in the line of duty," Detroit Police Chief James White said in a prepared statement shared on his department's social media. "We grieve with you."
Birnie was born May 4, 1968, to Reed Birnie and Stephanie Webb in Ann Arbor, according to his obituary.
He is survived by his parents; wife, Tina (née Gott); two daughters, Marista and Bailey; and sister, Nicole.
A funeral service is slated for Friday at St. Paul's Episcopal Church in Flint with the Rev. Don Davidson officiating.
Read Next: