If you're ready to make that jump to specialty coffee brewing, adding a French press to your home kit is a wise investment. This immersion brewing method makes a decent cup of coffee and is easy to use.
The French press brew technique comes down to three consistent variables — water temperature, grind size, and the amount of time the water interacts with the freshly ground coffee. From there, it's all about making micro-adjustments to match your personal preferences.
Bodum is a family-owned company known worldwide for its iconic French press coffee makers. Bodum's history dates back to 1944 when Peter Bodum launched the company in Copenhagen, Denmark. Now headquartered in Switzerland, the company continues to develop all its products in-house and under its core principle that good design should be functional and affordable. The company's products include coffee, tea, glassware, kitchen electronics, and other gadgets.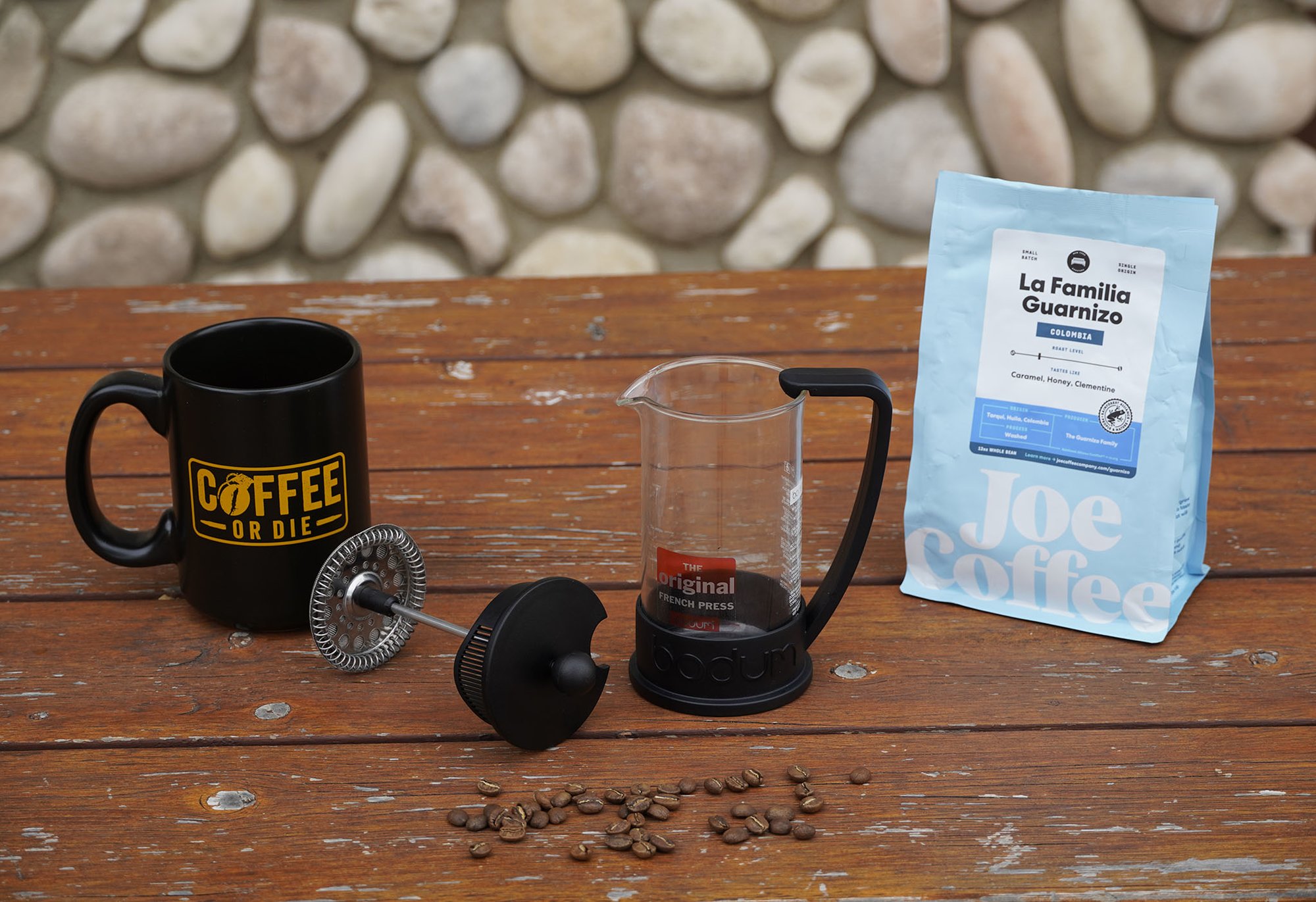 The budget-friendly Brazil French press coffee maker has been in Bodum's product lineup since the 1980s. But don't let its small serving size and affordable price fool you.
The Brazil coffee maker uses premium-quality borosilicate glass for the carafe and a reusable stainless-steel filter. It features a lightweight, BPA-free plastic body, handle, and lid, along with stylish good looks that epitomize the company's motto that good design doesn't have to be expensive.
With this brewing system, Joe Coffee's La Familia Guarnizo, a single-origin light roast from Colombia with notes of caramel, honey, and clementine, seemed like a good roast to test.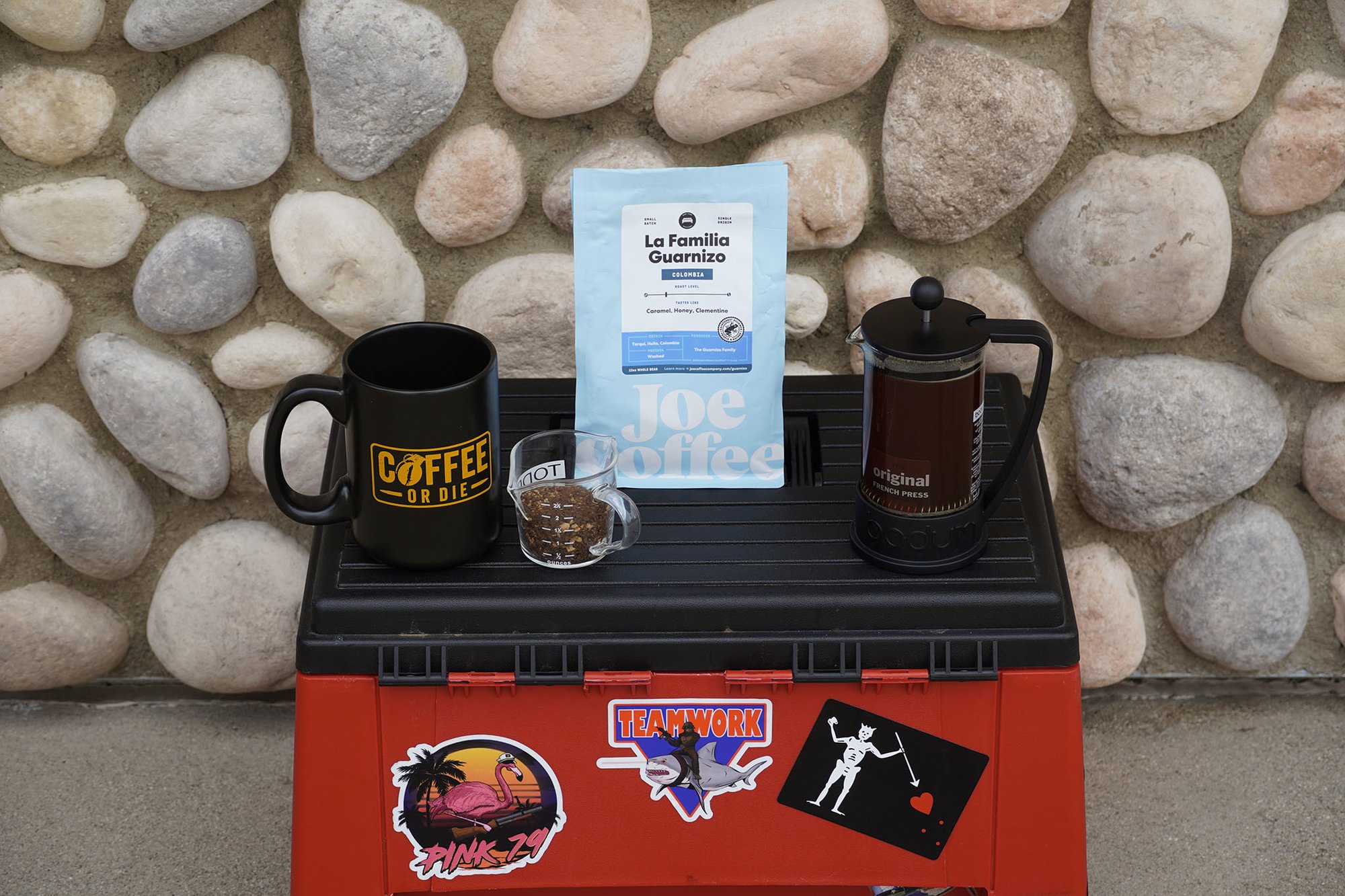 Brewing With the Bodum Brazil French Press


Fill the bottom of the 12-ounce Brazil French press with hot water to preheat the vessel.


Grind 25 grams of coffee just before use. A coarse grind is recommended for this system.


Pour out the water.


Put the ground coffee in the bottom of the vessel.


Boil your water. Our ideal temperature was 211 degrees Fahrenheit.


Fill the Brazil vessel with hot water, leaving a minimum of 1 inch empty at the top.


Give it a quick stir with a plastic or wooden spoon to ensure all the grounds are wet.


Put the lid on gently without pressing down on the plunger.


Wait for 4 minutes.


Slowly press the filter plunger down to the bottom. Aim for the full press to take about 15 seconds.


Pour the coffee and enjoy it in your favorite mug.


Brewing with the French press allows you to dial in your ideal extraction level. In short: The longer you steep, the stronger your extraction will be. Four minutes was the perfect amount of time for this sampled roast.
Using a French press also allows you to enjoy the full sensory experience of making coffee. With this brewing method, La Familia Guarnizo roast stood out. A complete saturation of the coffee and its oils brought forth all the coffee's aromas and flavors. Each cup poured using the French press produced sweet and inviting tasting notes of tangerine, caramelized sugar, and even toasted pecans.
The cleanup and storage routine for this single-serve device was a snap.
Read Next: