US Army company commander of the 717th Ordnance Disposal Company (ODC), Capt. Kaitlyn Hernandez, broke the 1-mile run women's world record in an explosive ordnance disposal (EOD) bomb suit. Hernandez shattered the record Saturday, April 3, just before noon with a time of 10 minutes and 23 seconds.
"I couldn't be more excited," Hernandez told Coffee or Die Magazine. "I feel like I can breathe for the first time in a long time.
"It's been a long time coming. We've been trying to put on this event for about 14 months now. The fact that it's done, it's over, and I achieved what I wanted — I'm just so happy."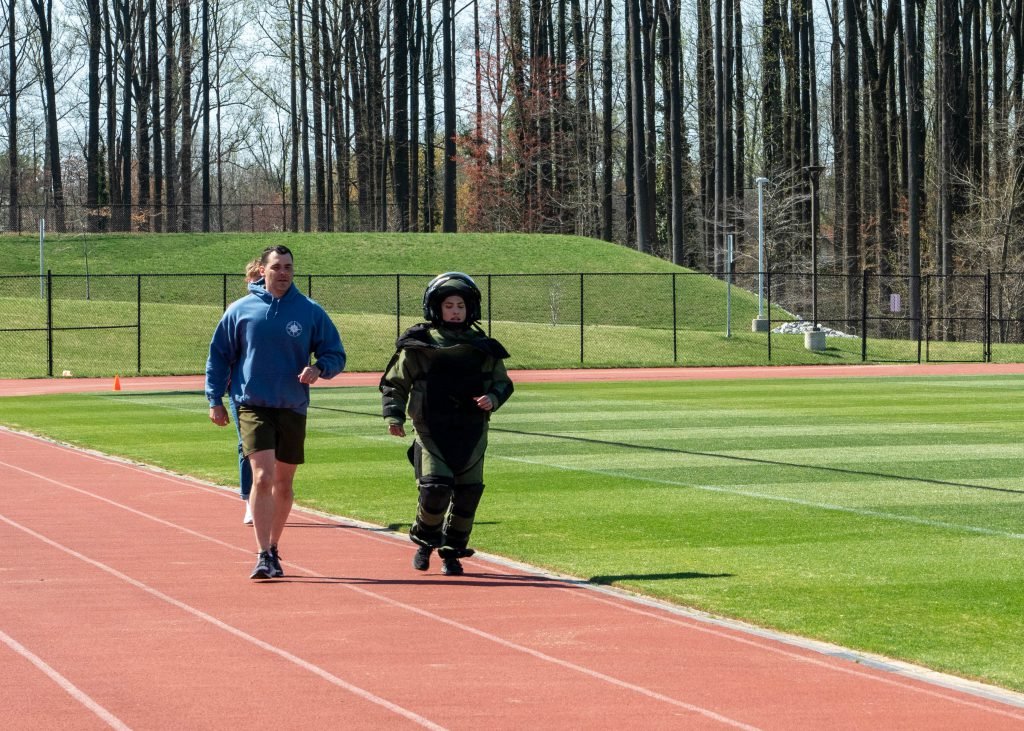 Hernandez's bomb suit weighs approximately 85 pounds and is designed to protect soldiers from explosive detonation. The suit can be claustrophobia-inducing, and running in it can strain both the heart and lungs. Hernandez weighs approximately 135 pounds, so the bomb suit adds more than half of her own body weight.
The 2020 2nd Annual Bomb Suit Run and Family 5K was originally planned for March 28, 2020, but was delayed because of the COVID-19 pandemic. The relatively young Military Family Program (MFP) hosted the event with support from Headstrong, a nonprofit promoting awareness of mental health problems and suicides resulting from injuries and traumatic experiences in the military and first responder communities.
"We want to congratulate Katie for her exemplary feat in breaking the World Record for the bomb suit run today," Matt McCoy, Headstrong digital content manager, told Coffee or Die Magazine. "She is not only a phenomenal athlete but a role model for her relentless commitment to bringing awareness to the stigma surrounding mental health treatment and normalizing getting help for those suffering from the hidden wounds of war."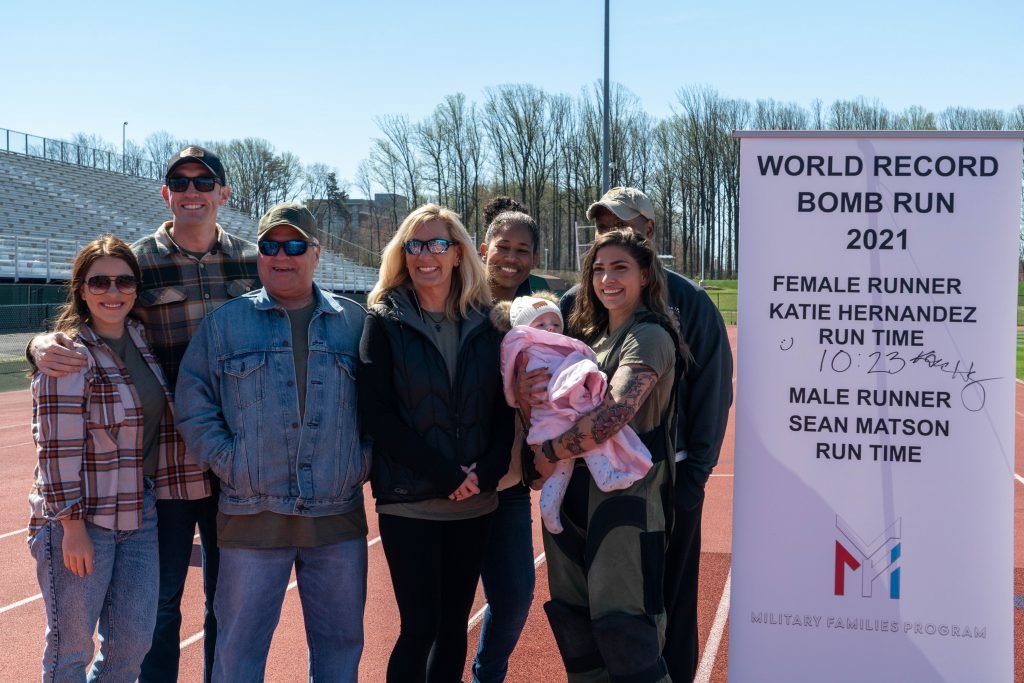 Because of current COVID-19 restrictions, the event was constrained to a smaller number of attendees compared to what organizers had originally planned for. Scott Davidson, the CEO of Government Contracts Operations and co-founder of BourBiz and MFP, previously told Coffee or Die Magazine, "Come hell or high water, we're going to do it."
The event kicked off at 11 a.m. Saturday at the George Mason University stadium. Hernandez started her first of four laps at a strong pace of approximately a minute and a half. She had her First Sergeant from the 717th ODC pacing her through the whole race. A local law enforcement official was present to time Hernandez, as requested by the Guinness Book of World Records.
Sean Matson, a Navy SEAL veteran and the co-founder and CEO of CardoMax, was originally set to take on the male world record but sustained a leg injury on Wednesday that prevented him from attempting the feat. He was still present at the event to support both Hernandez and the mission of Headstrong.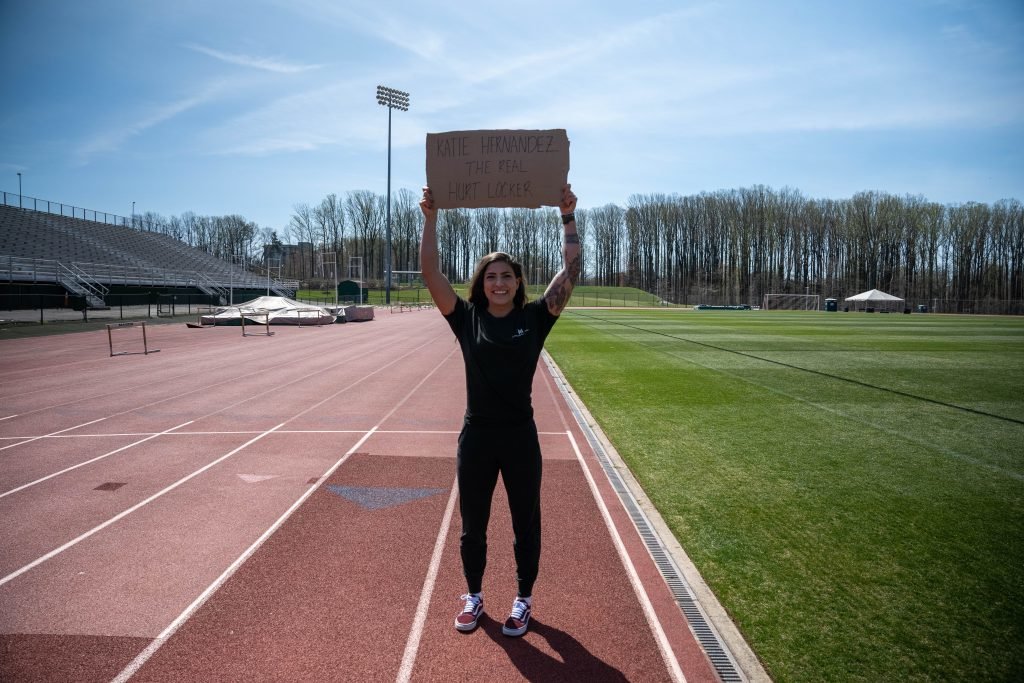 "It was awesome to witness Katie break the world record, especially understanding how hard she's been training for it," Matson told Coffee or Die Magazine. "Unfortunately, I wasn't able to also attempt it for the male record, but regardless we both were able to help support a great cause — Get Head Strong."
Among those in attendance was Ashley Sorensen, who held the women's world record prior to Hernandez's race. Sorensen and Hernandez became friends while stationed in Hawaii together several years ago. They played rugby on the same team and forged a sense of camaraderie through the military and sports. She told Coffee or Die Magazine that she was so excited when she first heard of Hernandez planning to take on the record.
"Records are meant to be broken, so eventually somebody is going to," Sorensen said. "And […] what better person than someone like Kait? We've been friends for a really long time. It's awesome — she deserves it. She works really, really hard. It should stay with someone who is actually active duty and still in the service. I got out in 2018. It shouldn't be with me anymore. You should pass the torch. You should want somebody to come and do better than you. It's progress — and that's what you want for your community."
Read Next: That Time a Cow Blocked the Path of Two EOD Techs With 16 Pounds of C-4