On the left pectoral muscle of an active-duty Navy SEAL, a stenciled skeleton of a bone frog is traced and inked into his skin.
The illustrative tattoo and a symbol of Navy SEALs, or "frogmen," has taken on a life of its own. It is a replacement for tattoos common among Vietnam War-era and pre-9/11 SEALs, including the spiderweb on the elbow or the trident emblem on the bicep. The bone frog is more discreet, often hidden beneath a T-shirt or pants, and steeped in tradition.
Commonly recognized as a mark of acceptance into the warfighting fraternity, following the successful completion of one full platoon or rotation, the tattoo has evolved into a tribute to fallen comrades.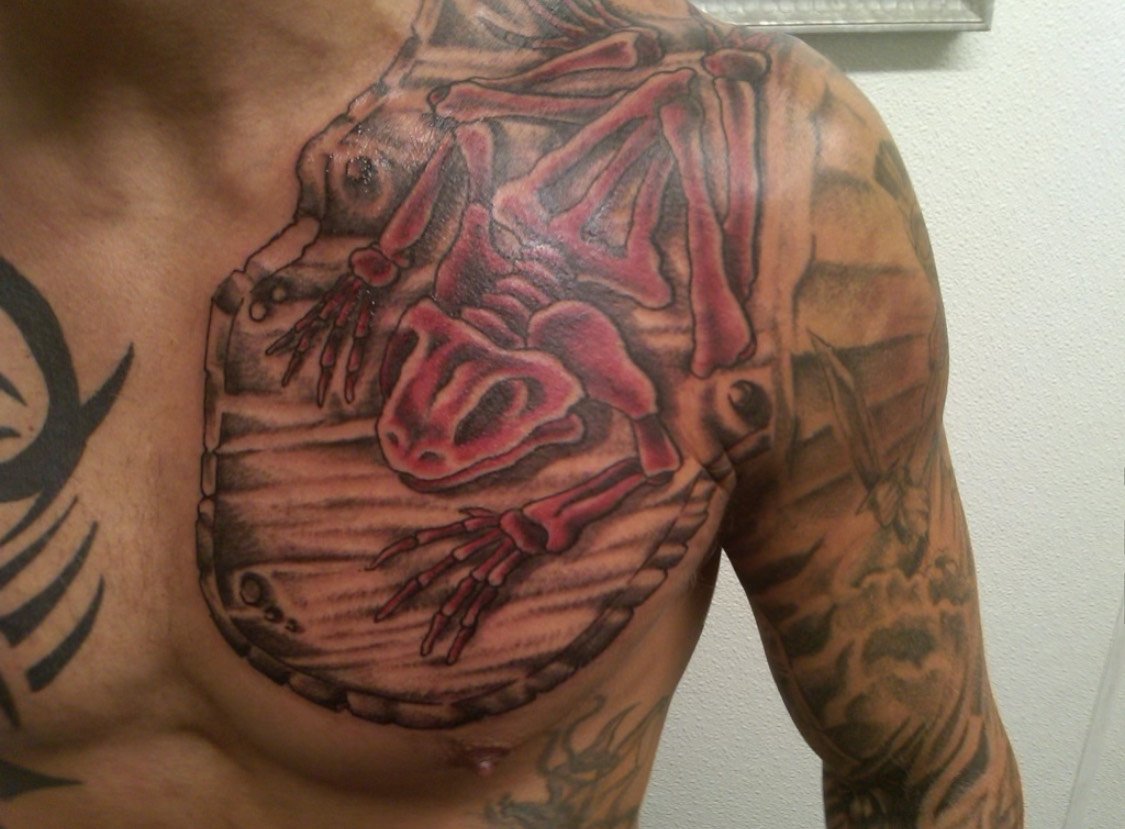 Tragedy is commonly the inspiration for a given bone frog tattoo.
On Jan. 11, 1997, Hospital Corpsman 2nd Class Keith Kimura, a SEAL, died following a training accident at Basic Underwater Demolition/SEAL training — the famously grueling selection course that transforms ordinary sailors into Navy SEALs.
Kimura, a BUD/S instructor until his death, had drawn the original bone frog that would become iconic. After fighting the Global War on Terror, many SEALs have returned from combat deployments and sat in the tattoo chair of Joey Nobody (real name withheld for security reasons) to get a bone frog tattoo.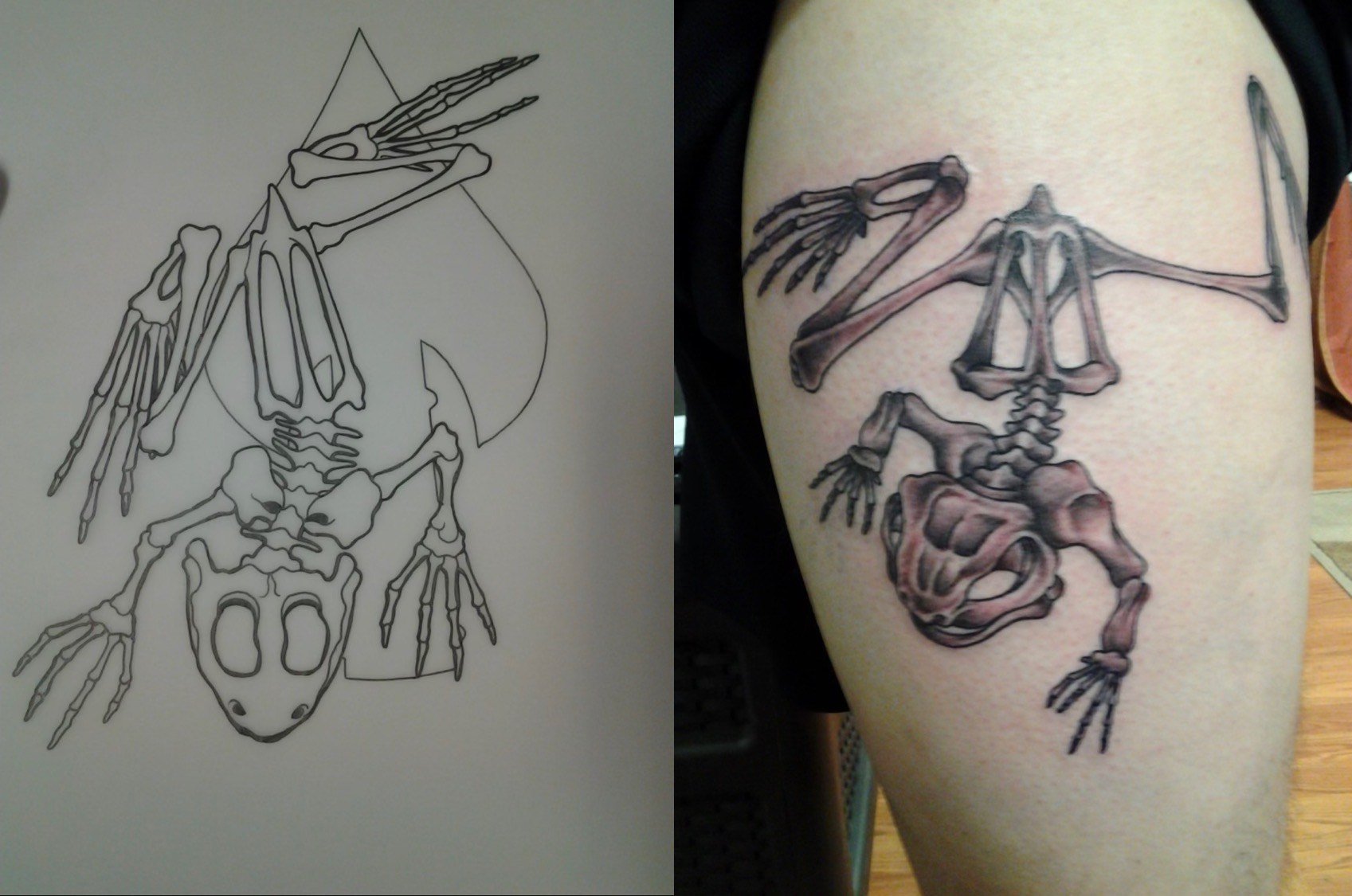 Between 1981 and 1982, Joey Nobody, who was only 13 years old at the time, started his tattooing career in New York City. Back when the craft was illegal, his clients were bikers, criminals, drug addicts, and sex workers. The outlawed nature of his work took him all around the country. Soon he was going on tour with rock bands who performed on MTV. He settled down in Virginia Beach in the late 1990s, where he helped make the tattoo industry mainstream under more legal circumstances.
With his proximity to the East Coast SEAL teams, it didn't take long before the first team guy walked in and asked Joey Nobody to ink a bone frog into his skin. To date, Joey Nobody has tattooed close to 3,000 bone frogs, a remarkable number considering that, at any given time, there are only about 2,500 SEALs on active duty.
Coffee or Die Magazine asked Joey Nobody about his process.
"I used to stencil them as most tattoo artists would, with a copy of a drawing that is turning into a thermal sheet stencil, which is then placed upon the area of the body and then traced over with the needle, ink, machine," Joey Nobody said. "But I was always doing a lot of freehand work where I would take a Sharpie and draw whatever the client asked for and fit it using the individual's anatomy. Especially in the case of [Naval Special Warfare] guys, they're all built like Spartans, so in turn, I would pen them on with a Sharpie, flowing with the physique."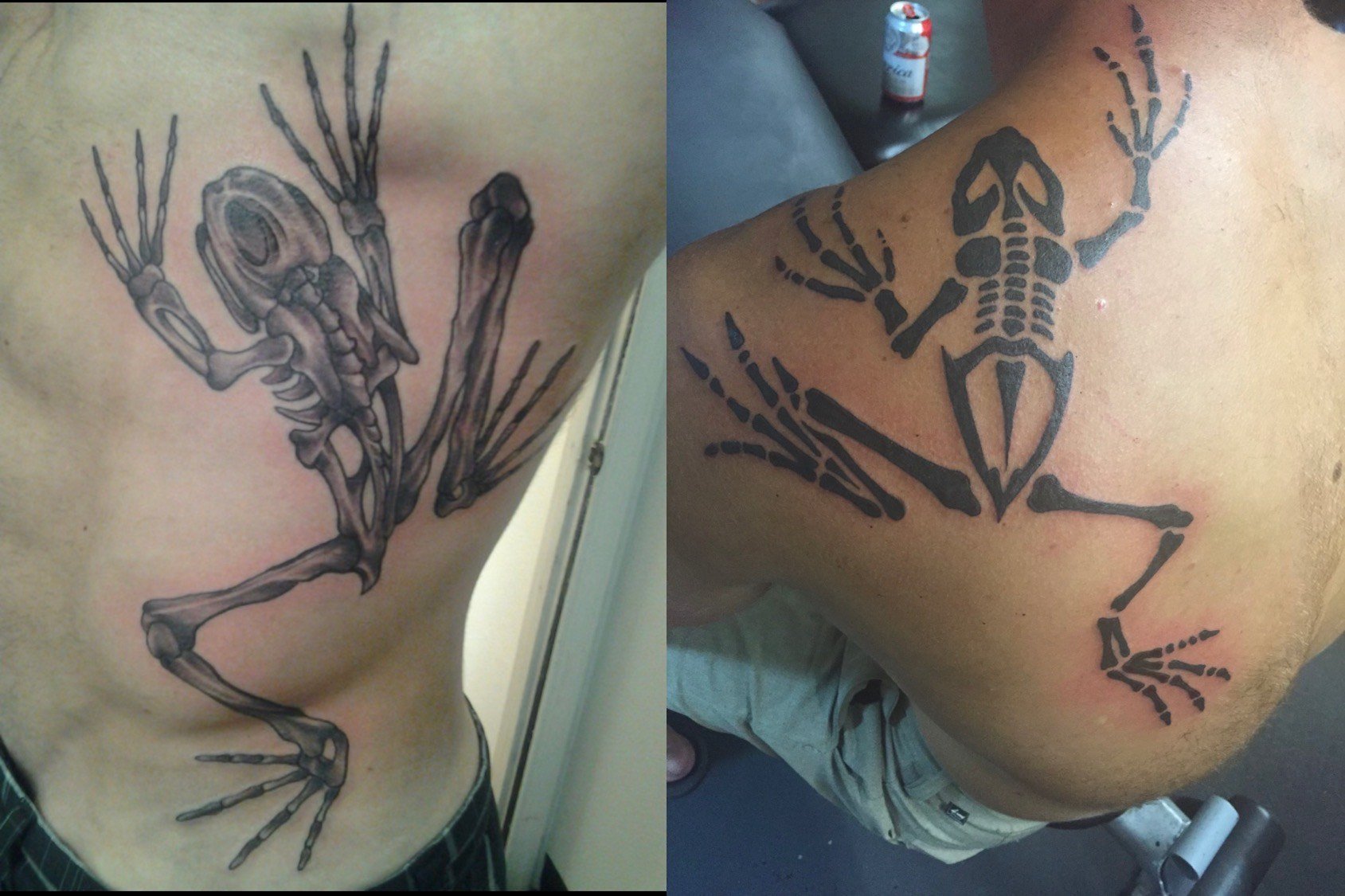 He's tattooed so many bone frogs that he no longer needs a stencil.
"I got to a point where I would just draw a stick figure, just to show the placement on the body, arms, and legs, and then just make it look like a bone frog as I tattooed it," Joey Nobody said. "It used to freak out these big Billy badasses when they would look in a mirror and see this lollipop stick figure. The end result, of course, was a badass bone frog."
The bone frog tattoo remains a mainstay in Navy SEAL lore to this day.
Read Next: