A self-proclaimed anti-cop Boogaloo Boi who mugged with a firearm at the Alamo and told followers he was waging a war against the FBI will spend the next two years behind bars.
On Thursday in San Antonio, US District Court Judge Jason K. Pulliam sentenced Cameron Emerson Casey Rankin to 24 months of imprisonment, three years of supervised release, and a $100 fine for unlawfully keeping a Rapid Fire RFG223 5.56 mm rifle. He had faced up to 10 years in a federal prison.
Rankin, 22, was barred from possessing firearms because he had been committed as a juvenile by a Bexar County judge to a mental institution in 2008, according to his criminal complaint. He'd also tried to purchase two long guns from a San Antonio retailer on March 23, 2018, but was denied because his name was listed in the "Prohibited Category" of owners, according to the FBI.
Rankin pleaded guilty to unlawfully possessing the rifle on March 11, 2021, but details from his agreement with federal prosecutors remain under seal. His attorney did not return messages from Coffee or Die Magazine seeking comment.
Rankin landed on the FBI's radar in 2020 thanks to a tip from a concerned citizen who alerted agents about the man's increasingly radicalized rhetoric as a "boog boi" being shared on the social media site Facebook.
One post vowed to overthrow "three alphabet agencies," by which he meant the Bureau of Alcohol, Tobacco, Firearms and Explosives; the Federal Bureau of Investigation; and the Internal Revenue Service.
Another post showed him in front of San Antonio's Alamo on May 30, 2020, with two other men, all of them wearing Hawaiian shirts and ballistic plate carriers and carrying rifles, and one of them toting a flag used by the Boogaloo Bois movement.
A leaderless movement, the Boogaloo Bois fit into what counterterrorism experts call an "accelerationist" culture. Members want to speed up social revolution and overthrow the federal government, and they've seized upon the May 25, 2020, murder of George Floyd by a Minneapolis police officer as a rallying cause.
Many Boogaloo members see themselves as anti-police crusaders alongside far-right terrorists, far-left anarchists, and violent Black nationalists. The federal crackdown on the Boogaloo Bois has secured convictions against other members, including Ivan Harrison Hunter, who fired his AK-47-style rifle into the Minneapolis 3rd Precinct station on May 28, 2020, shortly after other rioters set fire to the structure.
On Facebook, Rankin seemed to support the demonstrators who set fire to the precinct house, telling one commenter, "yeah, no fuck police hope they burn the precinct down" and another, "I'm BOOGALOO we hate police."
On Aug. 11, 2020, ATF agents intercepted Rankin at Manchester-Boston Regional Airport in New Hampshire, where he had attempted to bring a handgun in his checked luggage. They seized the weapon and ammunition, according to federal filings.
Then, on Aug. 24, 2020, Rankin posted a selfie photo on Facebook holding a black Galil-style rifle with optic mounted, magazine inserted, and his finger on the trigger. He told another Facebook user he'd purchased it from a gun show for $1,000.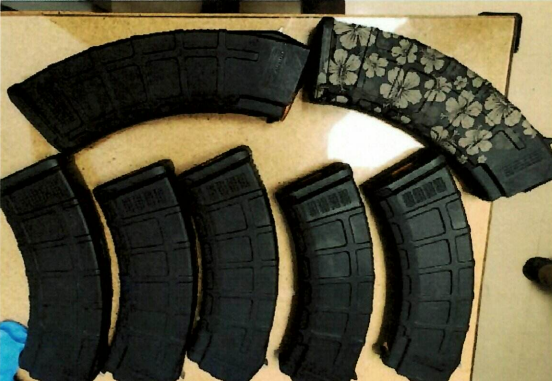 On Oct. 20, 2020, FBI agents armed with a search warrant raided the apartment where Rankin was staying and seized the black Galil-style rifle in the Facebook photo, plus a camouflage ballistic plate carrier and two magazines loaded with ammunition.
He was indicted on Nov. 18, 2020.
"Firearms in the hands of prohibited persons present a real danger to the law-abiding residents of our community. When illegal firearms possession is combined with mental illness and violent, extremist ideologies, we have a prescription for disaster," said then-US Attorney Gregg N. Sofer in a prepared statement following Rankin's indictment.
Read Next: Boogaloo Bois Rioter Pleads Guilty in Police Station Shooting