There was a time when Brazil wasn't the largest producer of coffee in the world, and that time was about 60 years before the world's oldest person, Kane Tanaka, was born. In fact, since it became the leading distributor in the 1840s, Brazil has been so dominant in global coffee distribution that it still exports about one-third of all of the coffee in the world. Brazil maintains this hold on the coffee market with 220,000 coffee farms, 3.5 million workers, and 10,000 square miles dedicated to the industry.
While Brazil has a burgeoning speciality coffee segment, the majority of their coffee crop is comprised of Robusta and Arabica beans — with Arabica sitting in the firm majority at 76 percent to Robusta's 23 percent. Arabica coffee is known for its sweeter, smoother, and fruitier taste, in contrast to a Robusta's harsher, nuttier taste.
However, neither bean is native to Brazil, and it wasn't until 1727 that Francisco de Melo Palheta planted the original Arabica crop there. Palheta was a colonel in the Brazilian army and had been tasked by the ruling Portuguese government to steal a coffee crop from the French to bring to Brazil. During that period of time, countries kept their coffee crops under constant supervision. By some accounts, the opportunity for Palheta to procure a coffee crop was when Brazil was asked to settle a border dispute between French and Dutch colonies in French Guiana.
There are conflicting reports, but the most widely reported story is that after quelling the border dispute, Palheta befriended Marie-Claude de Vicq de Montebaud, the wife of the colonial governor, who gifted Palheta a bouquet of flowers that contained coffee clippings before he returned to Brazil. Another version involves the governor of French Guiana, Claude Guilloet D'Orvilliers, giving the seedlings to Palheta as a token of thanks for settling the dispute. Either way, Brazil now had the beginnings of their coffee empire.
Approximately 160 years later, 7-year-old Rafael Moscardini fled a politically tumultuous Italy to join relatives who farmed land for coffee barons in Cristais Paulista, Brazil. Four generations later, the Moscardinis have transitioned from sharecroppers to land owners, growing coffee on 750 of their 1,400 hectares in the region of Alta Mogiana. They've also perfected the meticulous process of natural controlled fermentation.
Fermentation is a natural process that occurs when microorganisms like bacteria and yeast consume and metabolize sugars and acids. This usually produces alcohol, but with coffee cherries, the process is used to inundate the coffee bean with flavor and aroma that would be invisible without the fermentation process. This natural fermentation is essential to coffee production in places like Brazil because it allows farmers to dry process the coffee beans.
Dry processing, or natural processing, is used on nearly all Brazilian coffee and is the oldest process in the world. The idea of it is relatively simple: pick the coffee cherry, lay it out in the sun, and let it dry. This usually leads to a sweeter, smoother cup of joe.
But the Moscardinis have turned that process up to 11 with the natural controlled fermentation process, which allows for bolder, sweeter aromas and flavors.
"Essentially, it's most similar to natural, but it's dried in piles with a more controlled approach," said Josh Burdett, the head of Houston trading for coffee importer InterAmerican Coffee Inc. "The Moscardinis take all sorts of measurements (temperature and humidity) and arrange and rearrange the beans into piles for three to four days. Then it's moved to drying patios for another week. The other big difference is that the cherries are hand-selected."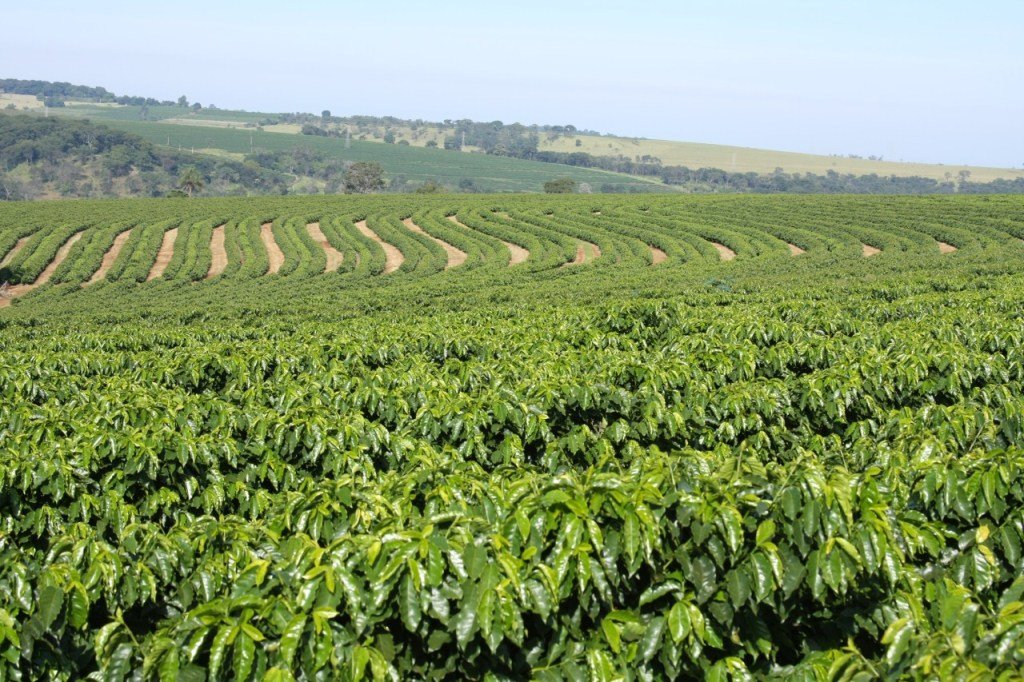 The idea is to kick-start the fermentation process while the beans are in the large piles, and then slow it down in the following days by rearranging and reducing the size of the bean piles. This process imparts lively, herbal cupping notes of citrus and white peach, with a round body and sweet aftertaste.
Brazilian fermentation processes have many benefits, but there are risks involved, especially because of the country's cultivation period. This season is incredibly hot and dry to the degree that some coffee cherries can start to parch on the branch and are called pasas, or raisins. The heat also leaves a small margin for error with the fermentation process because without strict supervision, the process could result in what some equate to rotten wine flavors. But many farmers have found a relative sweet spot in the process for achieving the most consistent product possible.
"If you don't have a consistent product, it's super difficult to make long relationships," said Luiz Roberto Saldanha, owner of Capricornio Coffees in Brazil, adding that consistency is key in maintaining regular sales in the coffee market.
The Brazilian share of the coffee market has dipped in recent years, but with farmers like the Moscardinis perfecting new and unique processes like natural controlled fermentation, it still maintains a hold over much of the world.