A morning without good coffee is not a good morning.
Trying to brew a solid cup of coffee while on the go is something I've struggled with for years. Cowboy coffee, French presses, Turkish coffee — all of these have some merit, but none of them were quite right.
And there are better solutions than simply resigning yourself to instant coffee.
When you're making coffee, you need to know in advance the method of brewing, the type of grind, and how to heat your water. But all of this gets a bit more complex when you go outside.
Let's start with ways to heat water.
Naturally, that depends on where you are. If you're out in the field, the best idea is to use a camping stove. I'm a fan of the venerable MSR WhisperLite for backpacking. It boils water quickly and can also be used for more traditional cooking, which cannot be said for many of the canister-fuel stoves on the market today. Another great option is the portable Jetboil, which is a container and cooking system combo.
But, unfortunately, I'm not always in the wilderness. At home, I boiled water on my stove for coffee for years. This was easy, but a typical electric stove can take 10 or 15 minutes to boil enough water for coffee. The fact that it took me longer to make coffee at home than it did in the wilderness was frustrating.
Enter the Bodum electric kettle. This 17-fluid-ounce kettle can boil water in four or five minutes, depending on the starting temperature. This electric kettle has changed my coffee drinking life the most.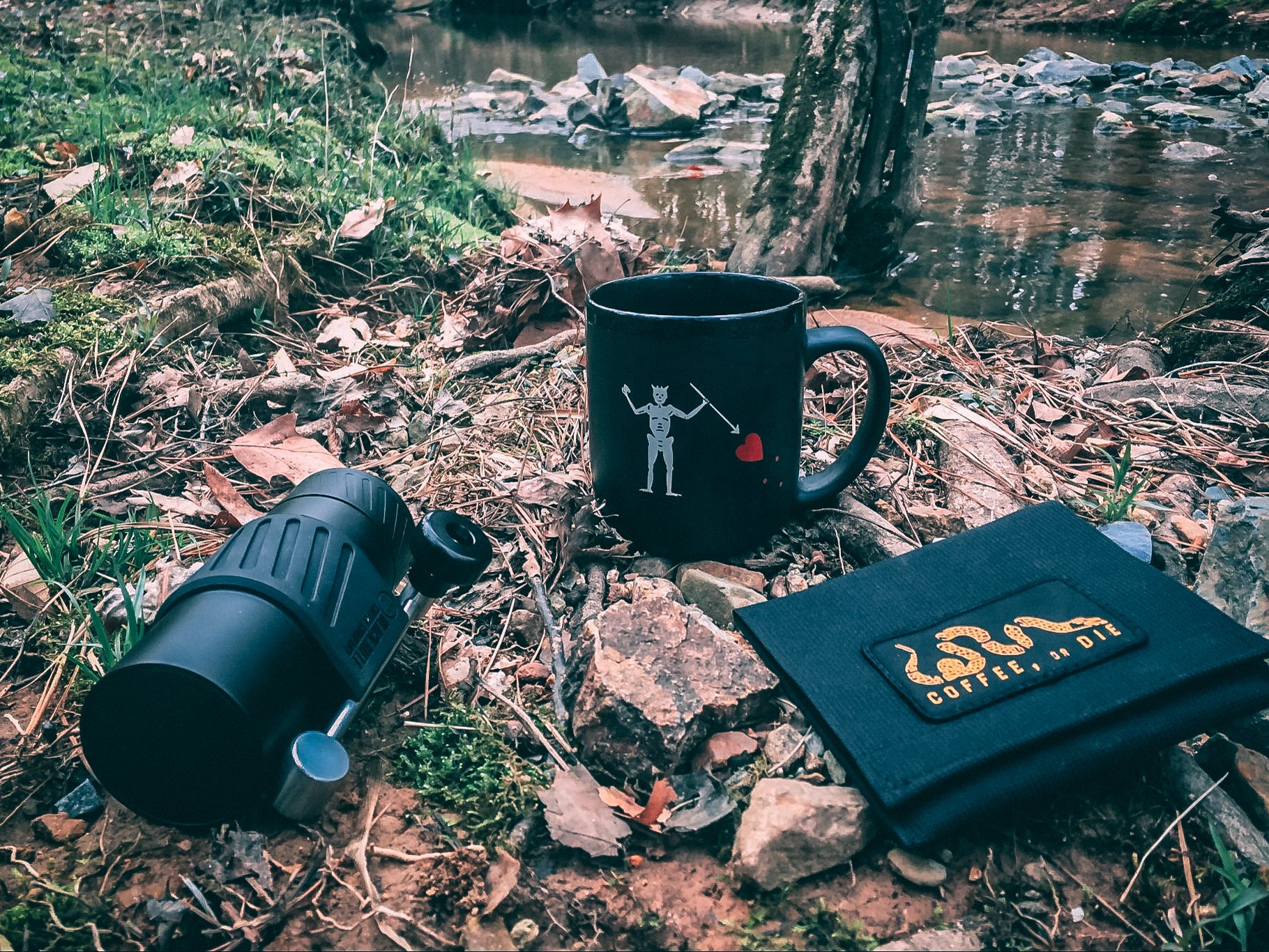 This kettle has a manual on/off switch but also shuts off when the water boils. Just bear in mind that coffee brews best around 203 degrees Fahrenheit, so it's best to stop the heating process right before a full boil. The pouring spout has a mesh screen, too, to keep any detritus out of your coffee.
Black Rifle Coffee sells the Bodum kettle for $18. At that price, it's really a no-brainer.
So you have hot water, what about the coffee itself?


A lot of people just buy pre-ground coffee to keep things simple. And that's okay. But if you really want a fresh cup of coffee, you'll need your own grinder.
Black Rifle Coffee makes a hand-powered burr grinder, which uses a conical grinding piece to ensure maximum uniformity in the grinds. Uneven grinds, like what you'll get out of a more common blade grinder, lead to an inconsistent brew. The Black Rifle Coffee Burr Grinder makes a consistent grind and is adjustable for different styles of brewing.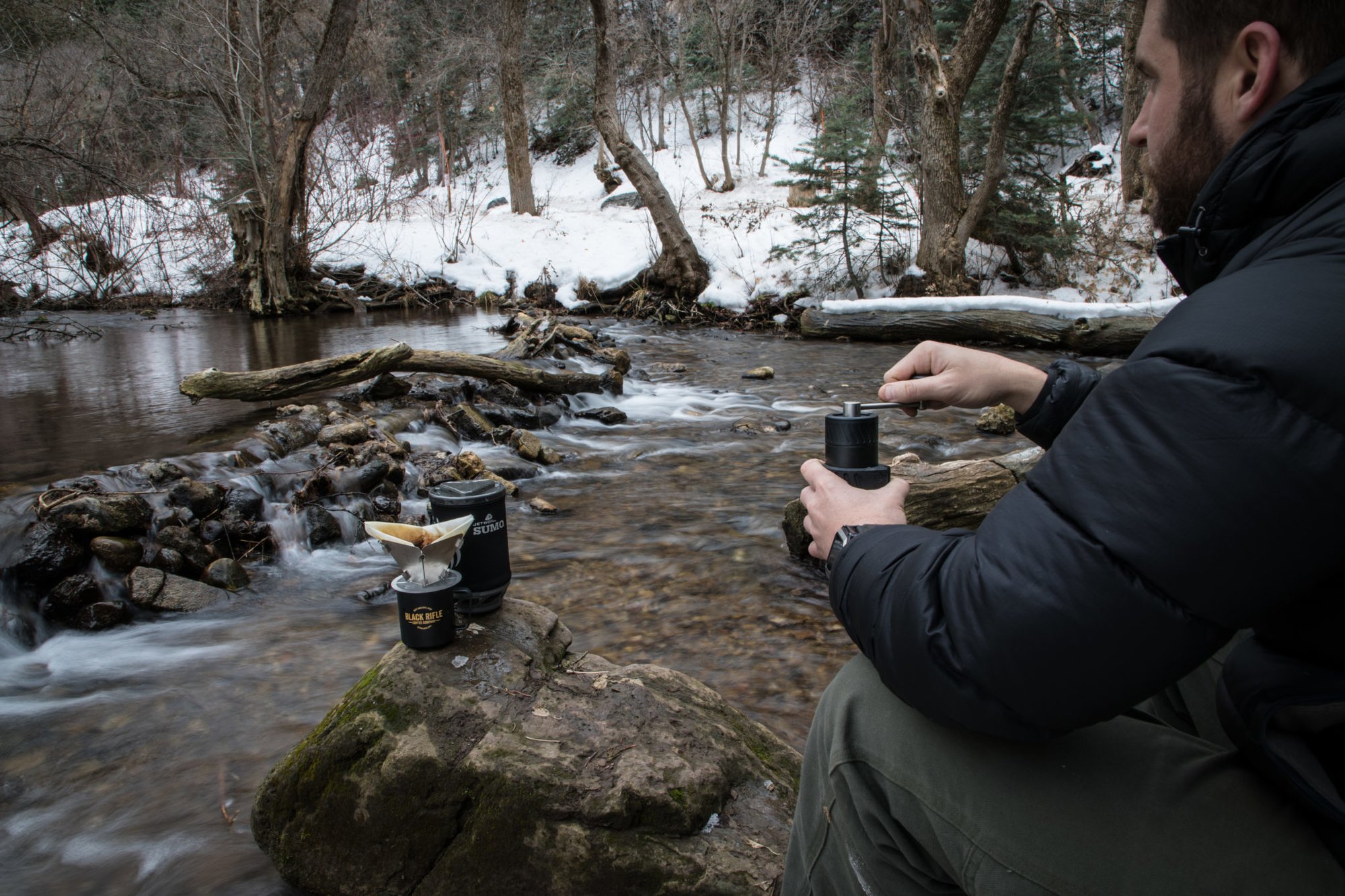 Using a French Press? Remove the bottom piece of the grinder and turn the silver knob counterclockwise for a coarser grind. Making Turkish coffee? Turn that knob clockwise and for coffee grinds as fine as dust.
The grinder is smooth, boringly reliable, and compact. That said, the body is aluminum and the burr itself is steel, so it's not a great choice for backpacking but is perfect for base camp.
The burr grinder is hand-powered (no electricity needed here!), and in less than a minute it can grind enough coffee for one cup at a go.
Retailing for about $100, this coffee grinder isn't cheap, but it performs very well, grinds coffee quickly, and does so consistently so you get the best coffee possible.
Alright, you've ground the coffee beans. How to brew them?
A traditional pour-over apparatus like the Chemex is great but not exactly portable. Enter the Black Rifle Coffee Company collapsible pour over device, which folds nearly flat and carries easily in the included nylon pouch.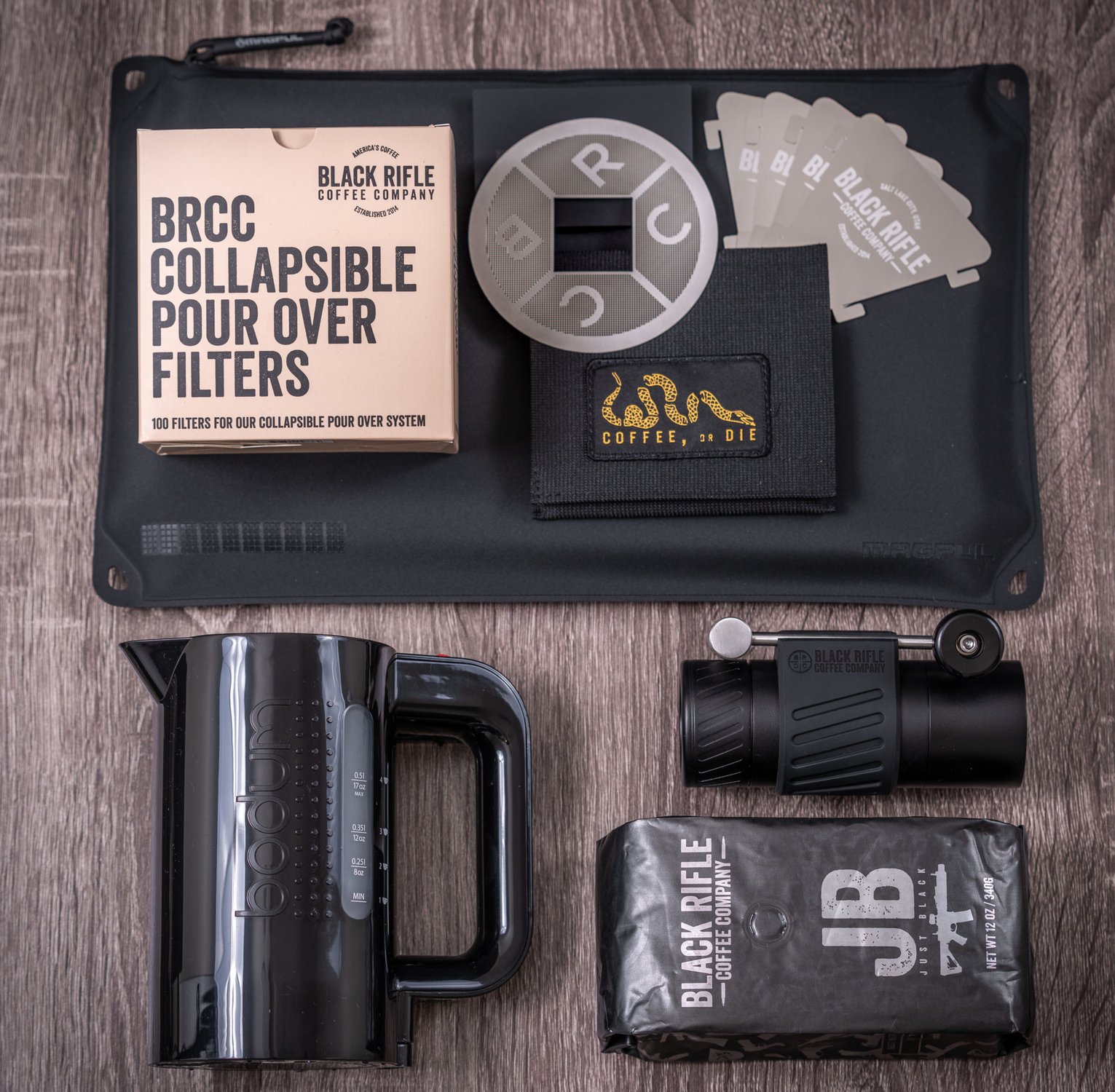 The steel device is packable and light. The real selling point here has to be the portability. You can make a great cup of coffee quickly and almost anywhere.
Pour-over coffee methods traditionally require a paper filter, and BRCC makes its own pre-folded filters for this piece of equipment. In testing, the filters worked as expected, providing smooth cups of coffee. Just be sure to wet the filter before adding the grinds, which removes any residual paper taste and ensures the best coffee quality.
You don't have to give up good coffee because you're headed away from home. Just a couple of simple items allow you to drink a great cup of joe wherever you are. And this coffee kit works just as well at home, too. BRCC's coffee kit is a solid way to make good coffee, anywhere.
---
Editor's note: It's no secret that Coffee or Die is part of Black Rifle Coffee Company. Every once in a while we'll feature a BRCC product — now is one of those times. Hey, at least the stuff is cool!