Black Rifle Coffee Company founders Evan Hafer and Mat Best recently took a ride inside Joe Rogan's "red pill" studio, appearing on the comedian's massively popular podcast, The Joe Rogan Experience.
The JRE, which has 9.7 million subscribers and more than 1,500 episodes on YouTube, features long conversations with Rogan's friends and guests, including comedians, musicians, MMA fighters, scientists, authors, academics, artists, and more. Previous guests include Elon Musk, Jocko Willink, Neil deGrasse Tyson, Jordan Peterson, and Bill Burr.
Hafer, a former Army Special Forces NCO, is BRCC's CEO, and Best, a former Army Ranger, is the company's executive vice president. After recording the JRE episode, Hafer said on Instagram that he is a longtime listener of the show.
"I couldn't have been more humbled to talk about Black Rifle Coffee Company and veterans issues with such a great guy," Hafer wrote.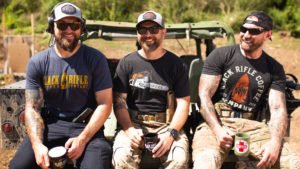 The veteran leaders know their way around the world of podcasting and YouTube content creation. Best's YouTube channel has more than 1.3 million subscribers, and his videos, such as How To Be an Operator, How To Workout Like an Operator, and even How To Be American, have been viewed millions of times.
Black Rifle Coffee Company was born from the convergence of Best's passion for content creation and Hafer's love of roasting coffee and building community around shared experiences and interests.
Hafer and Best, along with fellow BRCC co-founder Jarred "JT" Taylor and BRCC Editor-in-Chief Logan Stark, are hosts of the Free Range American Podcast, which they recently expanded with the launch of Free Range American, an online lifestyle magazine covering topics that include hunting and fishing, adventure, Americana, fitness, and more.
Free Range American is the sister publication of Coffee or Die Magazine, and both are owned and operated by Black Rifle Coffee Company.
Check out the newest episode of the JRE now.