On November 2, a team of gamers partnered with Black Rifle Coffee Company and Leupold Optics for a charity Twitch livestream to raise money for the Boot Campaign. Over the course of 10 hours playing "Call of Duty: Modern Warfare," the streamers raised over $72,000.
"Any money's great, but I didn't foresee it raising $72,000," said Mat Best, Boot Campaign board member and stream participant. "I'm absolutely blown away and humbled by that many people donating to the organization."
"I knew everyone would want to watch us soldier dudes playing soldier video games. No one argued that," said organizer Eli Cuevas. "I know the Twitch community has done many great things in the past with St. Jude and stuff like that, so that's why I had faith going into it. I just wasn't sure what numbers we could hit."
Cuevas sees Twitch, a video game streaming platform, as a perfect community for these sorts of events. "The Twitch community is one of the most passionate communities because you're interacting on a daily basis with these people," he said.
As the participants played, other streamers could chat with all the players. "I had two different chats up," said Best, "and then I'm playing the video game, and then I had Eli yelling, and I had everybody else in my headset on Discord, so I had like seven different things going on. So it's kind of hard to manage all of it, but we weren't playing competitively, obviously."
"It was just a blast, just being able to play," agreed Cuevas. "You're playing with your friends, and you're talking to your community on the fly. You're having a good time."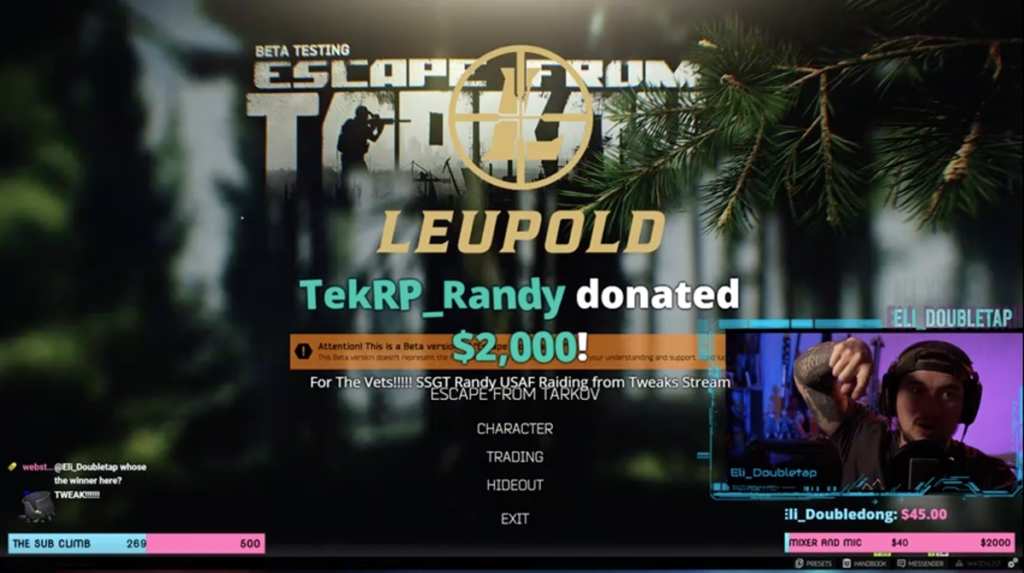 Screen grab of a large donation. Courtesy of Eli Cuevas.
And the game itself garnered rave reviews. "The new 'Call of Duty' is fantastic," Cuevas said. "We all just killed each other a whole bunch. Just complete chaos."
"Since the streamers were being so kind in their generous donations," Best explained, "we were like, 'How do we make this the most fun, interactive thing?' So we were doing knives only, pistols only, doing the shortest maps, and rocket launchers only."
Each participant had one optic to give away and their own pool of donations from the streamers viewing the game. And Leupold, despite being the main sponsor, wasn't the only one giving things away. "I called an audible a bunch," Best admitted. "Obviously it's going to get transferred through an FFL, but I donated one of my personal firearms and raised about $1,000 in three seconds on it. 'It's a $1,500 gun, if you give me a thousand bucks —,' and it was like ding! That was about three or four hours in, and about five shots of whiskey, so it was a fun time."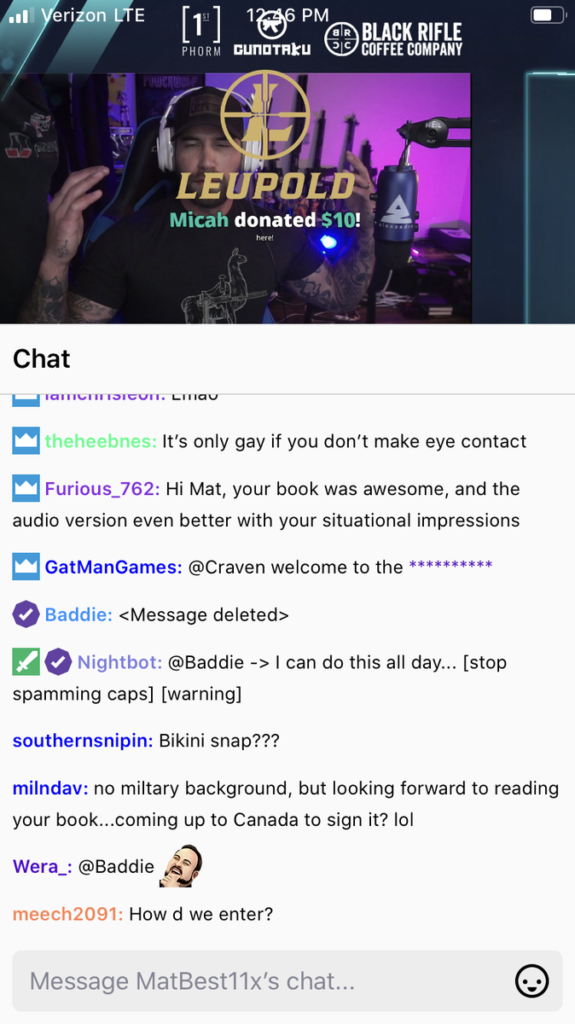 Chat screen grab courtesy of Eli Cuevas.
Multiple donors gave more than $1,000. The largest single donor was streamer Randall Philippi, who gave $11,200 spread across all the different participants. "He came in with those huge donos," said Cuevas, impressed. "He said he doesn't have a big family himself, so the military is his family. He's been watching Mat, JT, and all these guys since Article 15 and the transition to Black Rifle. He actually sent me pictures of his huge Black Rifle display and everything. Awesome dude, super kind."
Best and Cuevas both hope that they can do another similar event soon, and potentially on a quarterly basis. "It's a really cool synergistic way of entertainment, donation, and then payoff with the raffle," said Best.
"I was wiped out the next day, but the day of was just phenomenal," said Cuevas. "Everyone just crushed. I'm so proud."