Black Rifle Coffee Company, founded in 2014 by former U.S. Army Green Beret Evan Hafer, originated as a premium, small-batch coffee roaster, with Hafer roasting and shipping coffee out of his garage. The garage didn't last for long though.
BRCC has grown exponentially since then. Today, its high-quality coffee and viral video content — which ranges from the hilarious to the inspirational — is famous among veterans, first responders, firearms enthusiasts, and people who identify with the outdoors lifestyle. Hafer and company have built, and continue to grow, a raging fanbase with brand loyalty that few companies ever obtain, and they've done it almost exclusively as an eCommerce retailer — until now.
On February 19, BRCC announced that it intends to disrupt the rapidly growing ready-to-drink (RTD) segment of the beverage industry by offering a convenient means to consume premium Black Rifle Coffee on the go.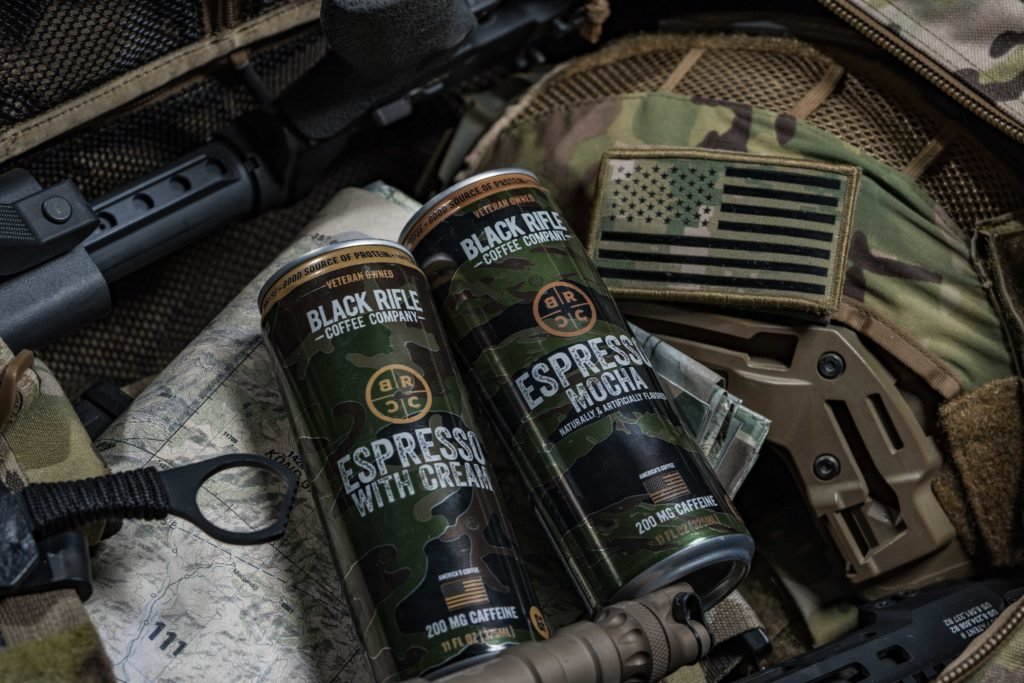 As successful as BRCC has been, it has operated in the smallest sector of the market — coffee purchased online for consumption at home. Since 2014, the company has served just 1 million of the 160 million total U.S. coffee consumers. BRCC's expansion into the RTD realm provides access to a $3 billion segment that, according to Beverage Marketing Corp, has experienced double-digit volume growth over the past five years. Starbucks is clearly the biggest name in RTD, claiming a 50 percent market share.
Starbucks went public in 1992 with a little over 150 stores and around $90 million in revenue. At that time, a U.S. Marine Corps veteran named Tom Davin was heading up the Mergers and Acquisitions (MA) team at PepsiCo, which was in discussion with Starbucks about ideas to expand its presence overseas. If Davin's name sounds familiar, it should — he was one of the first Black Rifle Coffee Company board members and has been the co-CEO alongside Hafer since 2019.
"It's funny — a lot of people at PepsiCo in the early '90s had never heard of Starbucks," Davin said. "They had fewer than 200 stores concentrated in the West. But I had been skiing with my wife, Holly, up in Vancouver Beach and saw intersections where two of the four corners had Starbucks stores. Wait a minute — they're dropping Starbucks on opposite sides of the street? These guys are on to something special."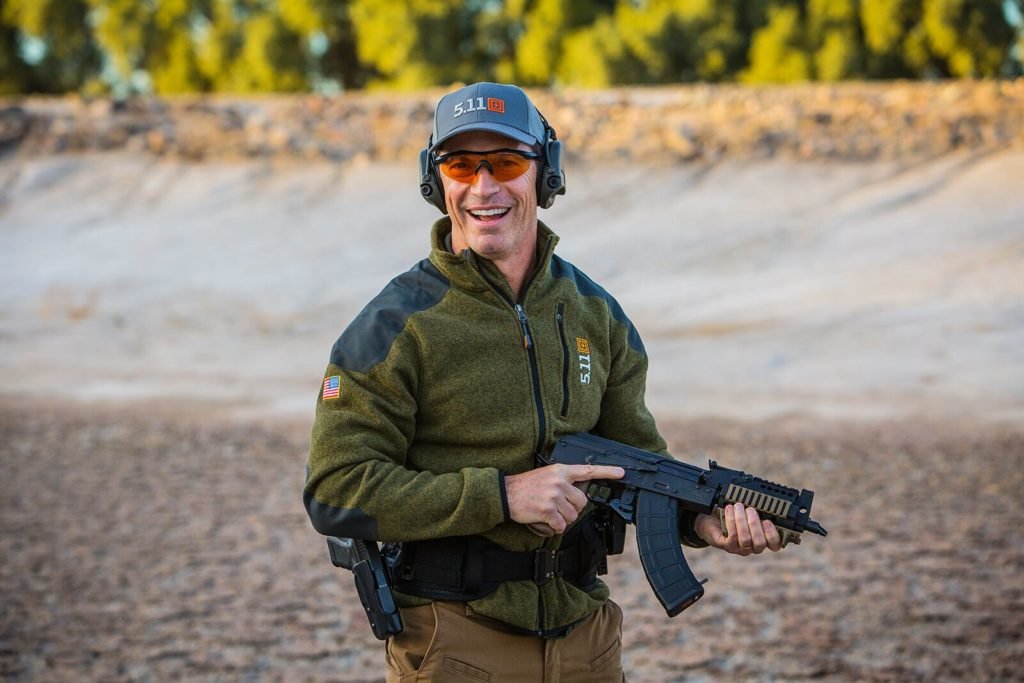 During a 1992 meeting with Starbucks chairman and CEO Howard Shultz, Davin pitched the concept of bottling or canning Starbucks coffee, which he modeled on a previously successful joint venture between PepsiCo and Lipton iced tea. Initially, Schultz was less than enthusiastic about the idea.
"Back then, Howard was only selling drip coffee and espresso beverages," Davin said. "He didn't believe in any kind of flavored coffee, cold, or blended drinks. He was very much a purist at the time."
Schultz expressed some discomfort dealing with the corporate monolith of PepsiCo, and the joint venture negotiations cooled between the two companies for several months. A West Coast meeting in 1993 rekindled talks. After a subsequent tour of PepsiCo's R&D facility in Somers, New York, Schultz and Davin brokered a deal that would create a joint venture company to produce a coffee concentrate. That allowed PepsiCo to bottle a new product under the Starbucks brand: the blended coffee in a bottle known as the Frappuccino. Given his role in this project, it's not hard to imagine how Davin can help BRCC develop new channels — like an RTD product.
"When we initially met the [BRCC] team, we were so incredibly impressed with their genuine nature […]. The message is resonating with consumers and retailers alike and is helping to drive BRCC's dramatic expansion on the shelf."
There are plenty of challenges that any company can face when jumping into the RTD beverage space. For BRCC, the key will be translating its online success in the direct-to-customer model to a more complex, three-tiered distribution system — distributors, retailers, then consumers. Quickly learning the ropes is essential to the short- and long-term success of any brand, from initial development to product on the shelf, all while driving the brand message as a whole.
Joe Cugine is a longtime veteran of the food and beverage industry who now owns CKA Management, which operates more than 80 Wendy's and Taco Bell restaurants in New York, New Jersey, Pennsylvania, and Connecticut. After leaving PepsiCo, where he served as CEO and senior vice president, Cugine joined a start-up, premium tea venture called Argo and has been involved with launching several new RTD products.
In a recent interview with Coffee or Die, Cugine said that many companies are capable of doing the homework required to develop a good RTD product — the market research, brand development, formulation, etc. However, many of these products whither on the vine due to supply chain problems.
"How many ingredients are in the product?" Cugine asked rhetorically. "Where can I source them? Can I get commitments from suppliers to have the right amount of these ingredients?"
Answers to these questions are tied to a sales forecast — the number of units the company can reasonably expect to sell in the first year. The first big test for BRCC, or any company entering this space, is making sure it has all of the required ingredients in sufficient quantities to meet that sales forecast.
"Most start-ups fail around this area," Cugine said. "They create a great product, but their supply chain falls apart — it's not sophisticated enough. They can't get distribution with distributors because they run out of product, and there's another drink coming right behind you and another behind that. So you get one chance to be great — you can't blow it coming out of the box."
For help with these and other related challenges, BRCC has partnered with Strategy & Execution Inc., based in Dayton, Ohio. SEI brings a wealth of RTD market experience to the table. CEO Bryon Evans spent nearly 20 years working for Red Bull, Pepsi, and other beverage brands, and he managed one of the largest distributorships in the United States. He also helped connect BRCC with a leading formulation partner in the RTD industry. Evans recognizes his new client is navigating uncharted territory but doesn't seem terribly concerned about the potential headwinds.
"We've already seen a great response as we've presented the RTD product to distributors and retailers around the United States."
"When we initially met the [BRCC] team, we were so incredibly impressed with their genuine nature," he said. "They are not only motivated to provide great quality coffee — which is obviously critically important to the mission — but also laser-focused on supporting the veteran community and first responders. The message is resonating with consumers and retailers alike and is helping to drive BRCC's dramatic expansion on the shelf."
"We've already seen a great response as we've presented the RTD product to distributors and retailers around the United States," Evans continued. "Most of them already have a significant knowledge of the brand, which has been great to see. Distributors and retailers believe in the BRCC message and see the RTD as a natural extension in the marketplace."
Pete Popovich leads sales and distribution for SEI. A U.S. Army veteran and graduate of the U.S. Military Academy in West Point, New York, he spent more than 20 years cutting his teeth in the beverage industry at PepsiCo, then became president of a start-up premium tea company.
"There are a lot of [RTD] drink coffees in the marketplace," Popovich said. "And the world wasn't necessarily clamoring for another one […]. What was so appealing to Bryon and I is that Black Rifle is distinct and so truly different [from other companies]. Today, so many products in stores have the same ingredients, with only a different label. What all of us were able to do […] was create an innovative product that was representative of the loyalty and passion that is Black Rifle Coffee."
"I think what we bring to the table is our experience in all aspects of the beverage business," Popovich continued. "We know who to call and when to call upon them. The strategy from the sales perspective has been all about timing, driving density, and making sure we made it easy for our distributor partners to be successful. In turn, that will allow our retailer partners to be successful as well.
"RTD coffee […] is best consumed cold, so we knew it was critical to win in the convenience channel first to drive the awareness and distribution, which will allow BRCC to expand in other channels. Drug, grocery, mass, nontraditional, and military are all launching in key markets around the United States with our primary distribution partners. We have seen extremely positive movement with BRCC Espresso and want to keep momentum moving forward!"
"We have been working on the Ready to Drink Coffee for over three years […] but I'm super proud of where we landed on these coffees."
BRCC faces the challenge of establishing its brand identity in an already crowded space of "me too" coffee drinks. For the first time, the company will present its product in an environment it does not control — a retail shelf surrounded by myriad competitors. The creative team at Black Rifle Coffee collaborated with SEI to create two eye-catching designs, true to the BRCC brand and its consumer.
The Espresso Mocha can is dressed in a Vietnam-era tiger stripe camouflage pattern, and Espresso with Cream sports the more modern Woodland BDU camo. Both designs prominently display the signature BRCC reticle logo, which is easily recognizable to existing fans of the brand and should reach out and grab new consumers.
Popular RTD coffee products fall into two categories: decadent (indulgent but well-deserved treats) and functional (for renewed energy and focus). BRCC's initial offerings target both. The decadent Espresso Mocha blend features a hefty coffee backbone with subtly sweet mocha flavor, and the Espresso with Cream beverage has a coffee-forward flavor with a splash of sweet cream. For functionality, both flavors pack an energy punch, outgunning the competing brands with 200mg of caffeine and 7 grams of protein.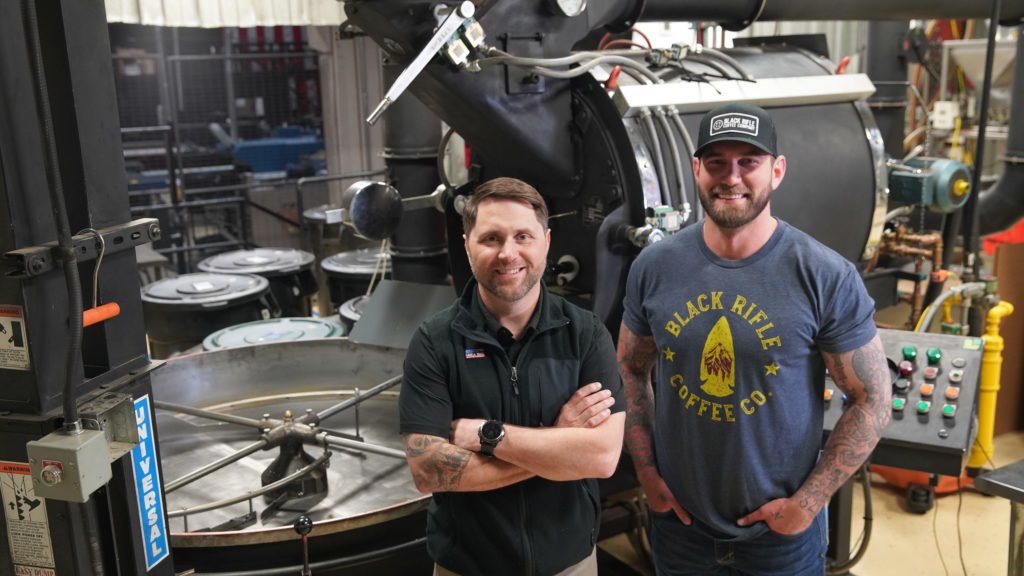 Furthermore, these beverages are blended with best-in-class ingredients, including 100 percent Colombian coffee and real milk. BRCC believes this unique combination will appeal to the "work hard/play harder" lifestyle of the typical BRCC customer.
The new RTD espresso beverages have already arrived on shelves in a handful of markets, including Las Vegas; Cincinnati; Dayton, Ohio; Cleveland; and Chicago, as well as much of Alaska and southern Kentucky. As of mid-March, BRCC has also launched the product on its website, supported by a social media marketing campaign. A phased, nationwide retail rollout begins this month and will continue throughout 2020.
"We have been working on the Ready to Drink Coffee for over three years," BRCC CEO Evan Hafer said. "We wanted to balance great-tasting coffee with some sweetness. It took us a long time to get the flavor right, but I'm super proud of where we landed on these coffees."
---
Editor's note: It's no secret that Coffee or Die Magazine is part of Black Rifle Coffee Company. Every once in a while we'll feature a BRCC product — now is one of those times. This stuff is just too cool to not write about!