Gen. Charles "CQ" Brown Jr. made history yesterday when he took the oath of office and accepted responsibility as the new chief of staff of the US Air Force, making him the first Black chief of any of the military services.
Brown became the Air Force's 22nd chief of staff during a solemn, socially distanced ceremony that focused on his achievements while also honoring Gen. David L. Goldfein, who retired after four years as chief of staff and a 37-year career in the Air Force.
"Today is possible due to the perseverance of those who went before me, serving as an inspiration to me and so many others," Brown said, speaking in a hangar at Joint Base Andrews, Maryland. "Those like the Tuskegee Airmen, Benjamin O. Davis Jr., Chappie James, African American leaders across our Air Force and military, past and present, to include today's special guest, Ed Dwight, America's first African American astronaut candidate. It is due to their trials and tribulations in breaking barriers that I can address you today as the Air Force chief of staff."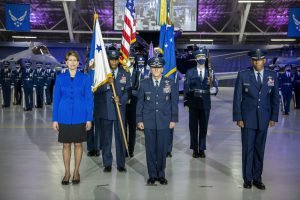 Gen. Benjamin O. Davis Jr. commanded the Tuskegee Airmen, an all-Black unit of fighter pilots in World War II. Gen. Daniel "Chappie" James Jr. was the first Black four-star general in US military history.
Brown, who has served on active duty for more than 35 years, is a command pilot with more than 2,900 flying hours, including 130 combat hours. The 58-year-old general's previous assignments include service as commander of Pacific Air Forces; deputy director, Operations Directorate, US Central Command; and as the top Air Force general in the Middle East, where he oversaw the air war against the Islamic State.
Brown was confirmed by the Senate June 9 with a 98-to-0 vote.
Defense Secretary Mark Esper, Chairman of the Joint Chiefs of Staff Gen. Mark A. Milley, and Secretary of the Air Force Barbara Barrett were all on hand at the ceremony to honor the service of Brown and Goldfein.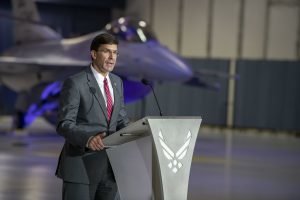 "Gen. Brown brings with him more than 35 years of service distinguished by a depth of expertise and experience that makes him exceptionally qualified to be our nation's next Air Force Chief of Staff," Esper said.
Esper presented Goldfein with the Defense Distinguished Service Medal at the ceremony and honored the general's wife, Dawn Goldfein, with the Department of Defense Distinguished Public Service Award.
"Gen. Goldfein, Dave, our Airmen thrive in today's environment because of your strong leadership and your steadfast commitment to upholding the core values of the Air Force – integrity, service, and excellence, each and every day," Esper said. "The United States of America is safer because of you. Thank you for your lifetime of service to our great nation."
In 2018, former defense secretary Jim Mattis had recommended Goldfein to be the next chairman of the Joint Chiefs of Staff, but President Donald Trump selected Milley instead.
The Washington Post reported Wednesday that former Air Force secretary Heather Wilson said, "Every combatant commander and every other member of the Joint Chiefs" agreed with Mattis' recommendation and "thought there was one guy [Goldfein] above all others."
The Post reported that Milley called Goldfein one of the finest officers he has ever served with and said he is looking forward to working with Brown.
"In CQ, we have all that is good about America," Milley said. "He not only represents exceptional competence, as well, and strategic intellect and impeccable character. But in CQ, we see that America can be a better place."
As Air Force Chief of Staff, Brown serves as the senior uniformed Air Force officer responsible for the organization, training and equipping of 685,000 active duty, Guard, Reserve, and civilian forces serving in the United States and overseas. As members of the Joint Chiefs of Staff, the general and other service chiefs function as military advisers to the Secretary of Defense, National Security Council, and the president.
According to airforce.mil, Brown is "taking the reins of an Air Force in transition, one moving from a decades-long priority of combating and containing terrorism to a new era of Great Power Competition. As part of that new focus, the Air Force and entire U.S. military must be trained, ready and properly equipped to confront, deter and if necessary, defeat, challenges from Russia and China. It also comes at a time of heightened challenges from North Korea and other geopolitical shifts across Asia."
"I am committed to addressing today's challenges while preparing for the future so we can better compete, deter, and win," Brown said at the ceremony. "To do so, we must no longer defer, but must accelerate the needed change and tough choices we've often discussed. We must develop and empower leaders and provide the quality service and quality of life where our Airmen and families can reach their full potential."
Brown added that he will continue to be guided by what he described as his four tenets of leadership: Execute at a high standard; be disciplined in execution; pay attention to the details; and have fun.
In his outgoing remarks, Goldfein honored Chief Master Sergeant of the Air Force Kaleth O. Wright, calling Wright his "wingman."
"They don't come any better than Chief Wright," Goldfein said recently. "He is one of my closest life-long friends […] He's the guy that I lean on the most."
After thanking his wife, Dawn, for her 37 years of service by his side, Goldfein turned his attention to Brown.
"I took the chiefs walk for the final time [Wednesday], and I could not be prouder that a true warrior, leader, and personal friend will be taking his first walk of the chief tomorrow as the 22nd Chief of Staff of the Air Force […] The future of our Air Force has never looked brighter!"