This is a place that we are welcomed on a daily basis," said Chris "Slyde" Harrison, president of the Buffalo Soldiers Motorcycle Club's Seattle-Tacoma chapter. It's a smoky room in the Thunderbird Lounge on the Puyallup Indian Reservation where he and his clubmates smoke cigars and down whiskey.
The name "Buffalo Soldiers" harkens back to the Indian Wars on the frontier that became increasingly bitter as American settlers moved west into Native American lands after the Civil War. The Native Americans called the cavalrymen of the all-black 10th Cavalry Regiment — a unit raised in 1866 after the Civil War — Buffalo Soldiers both because of their dark complexion and their resolve in battle. However, the name stuck and was used to describe segregated black units until the military integrated in 1948 with President Harry Truman's signing of Executive Order 9981.
The majority of Buffalo Soldiers MC's membership is black, and most are current or former service members or law enforcement. For them, the legacy of the Buffalo Soldiers has a deep resonance. The club works to educate the public about the history of black servicemembers, along with being involved in community service projects, fundraising and mentoring at-risk youth.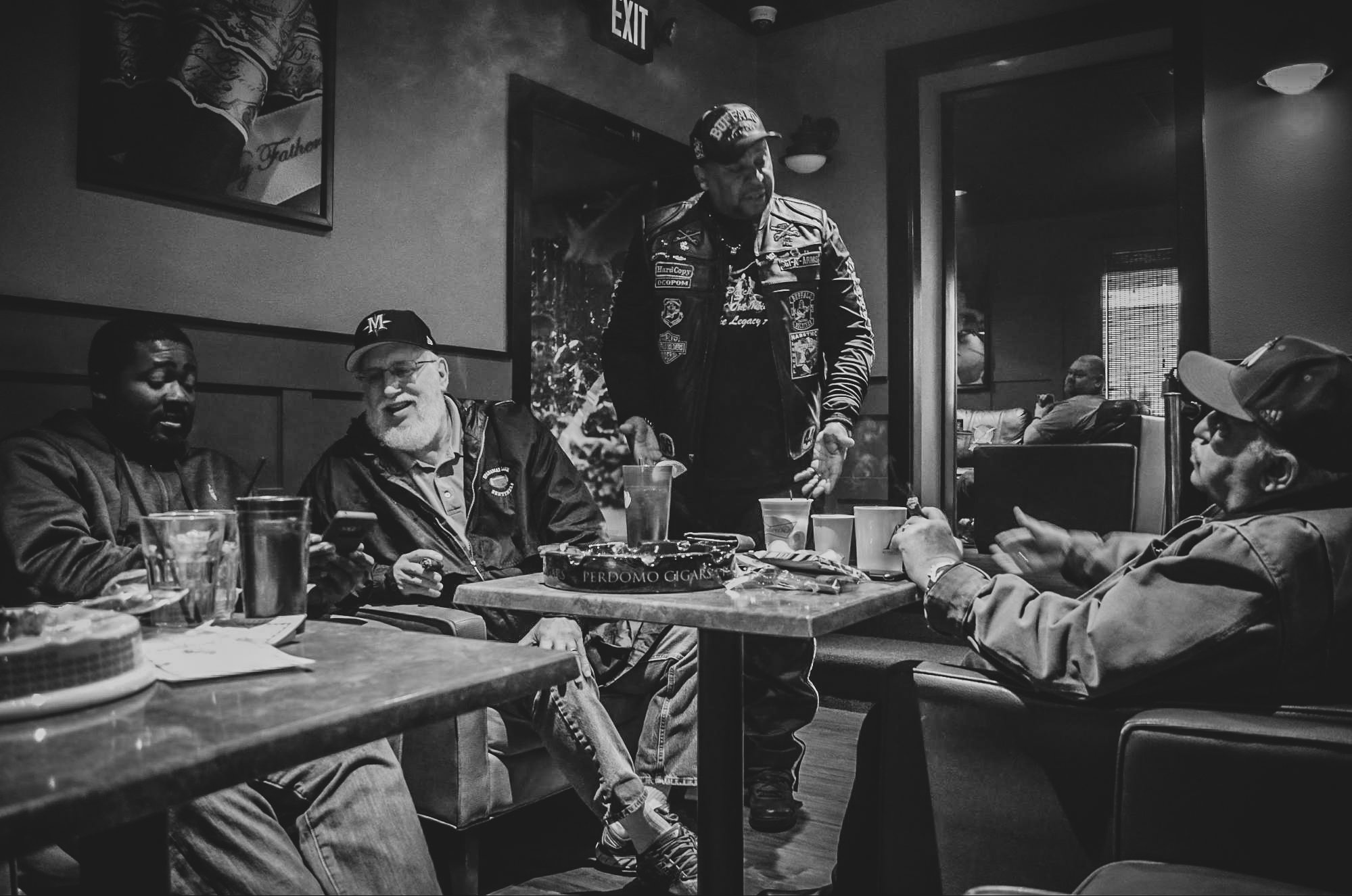 "A lot of people don't know the total role of the Buffalo Soldiers," said Henry "Hard Copy" Williams. The Buffalo Soldiers patrolled America's earliest national parks before the government began hiring park rangers, and the Iron Riders were a group of Buffalo Soldiers who fielded bicycles for the military across rocky terrain in Montana well before there were any paved roads.
Hard Copy, a veteran of the elite 2nd Ranger Battalion, said he rode with a motorcycle club for awhile after leaving the military but quit when he decided that the members' talk about being involved in the community didn't match the reality. Eventually, he found the Buffalo Soldiers MC and was immediately drawn to both its historical legacy and its strong emphasis on community involvement.
Their club colors are blue and yellow, evoking the legacy of cavalrymen who fought on the frontier. It's in some ways ironic that a club that honors the history of America's bloody Indian Wars would make an Indian Reservation one of its prime hangout spots. But members of the club say they have a great relationship with members of the tribe.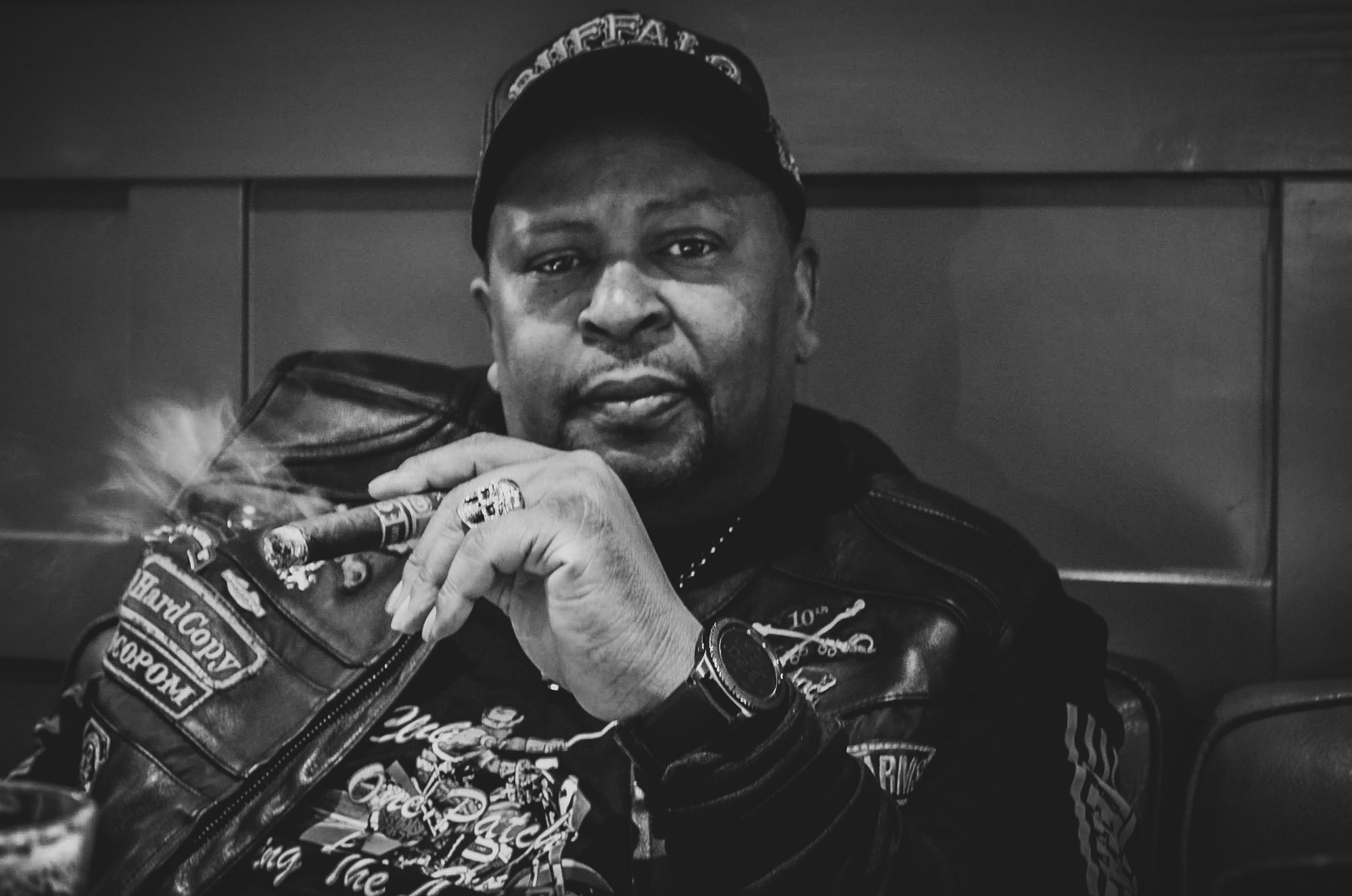 Patrons of all races share conversation at the Thunderbird. "No matter where you're from, we are entwined together," said Henry "Shadow" Williams, a Liberian immigrant and patched member of the club. "When you die, the only thing that leaves your body is blood, no matter what color your skin is."
American history is complicated and filled with contradictions, particularly when it comes to the way Native Americans and black people were treated, Slyde said — but he hopes it can be viewed constructively.
"I'm not going to judge you today for something your ancestors did in the past. The past is something for us to look at to learn how we should go forward," he explained. "I can't change what's happened in the past, but I can guide us forward and work to be a positive influence."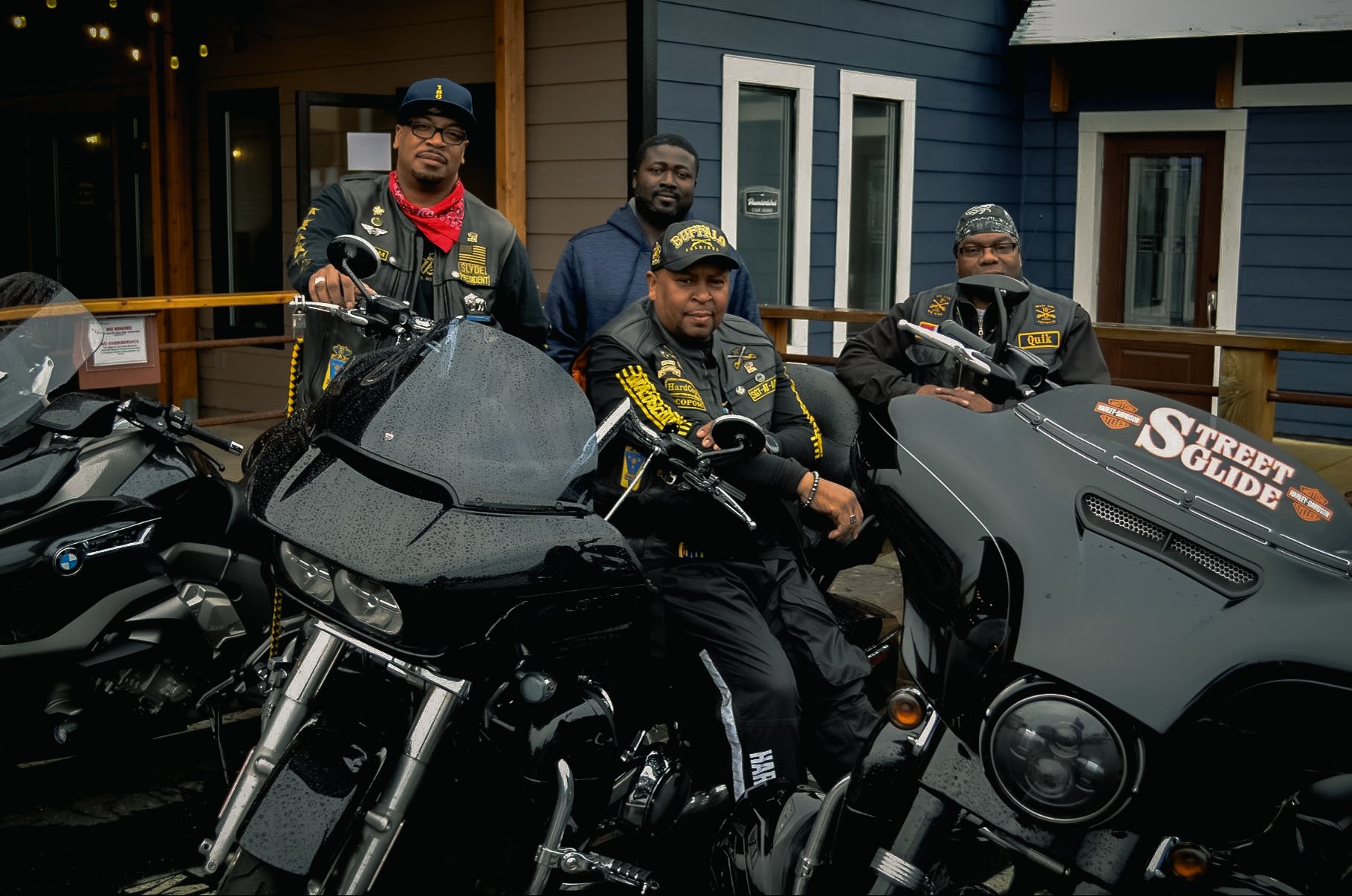 The club was founded in Chicago in 1983 by Ken "Dream Maker" Thomas, a retired black Chicago Police Department officer. He'd been a member of motorcycle clubs before but wanted to be part of an organization that did more than just hang out and drink. He decided to start a club of his own with a few law enforcement friends and other professionals.
The Chicago Chapter is called the Buffalo Troopers MC to distinguish it from another existing Buffalo Soldiers organization in the city. Today there are 117 chapters of the club across the country.
American motorcycle clubs began springing up in the 1920s but experienced a surge in popularity after World War II as veterans began returning home. Some of these veterans struggled to re-adjust to civilian life — an existence many of them regarded as boring and lonely. The adrenaline rush of riding helped give some a small dose of the thrill they felt in combat, while the comradery of the clubs provided a sense of belonging. However, sensationalist press coverage of events like the 1947 Hollister Riot and media portrayals of bikers as violent created the popular image of the "outlaw biker."
"Most of the individuals who joined our club initially around the country had never thought about joining a motorcycle club," Dream Maker told Coffee or Die. "But because of the history of the Buffalo Soldiers, who dealt with the adversities of just living in our society, and their accomplishments not only in the military but out here in everyday life — people could identify with that."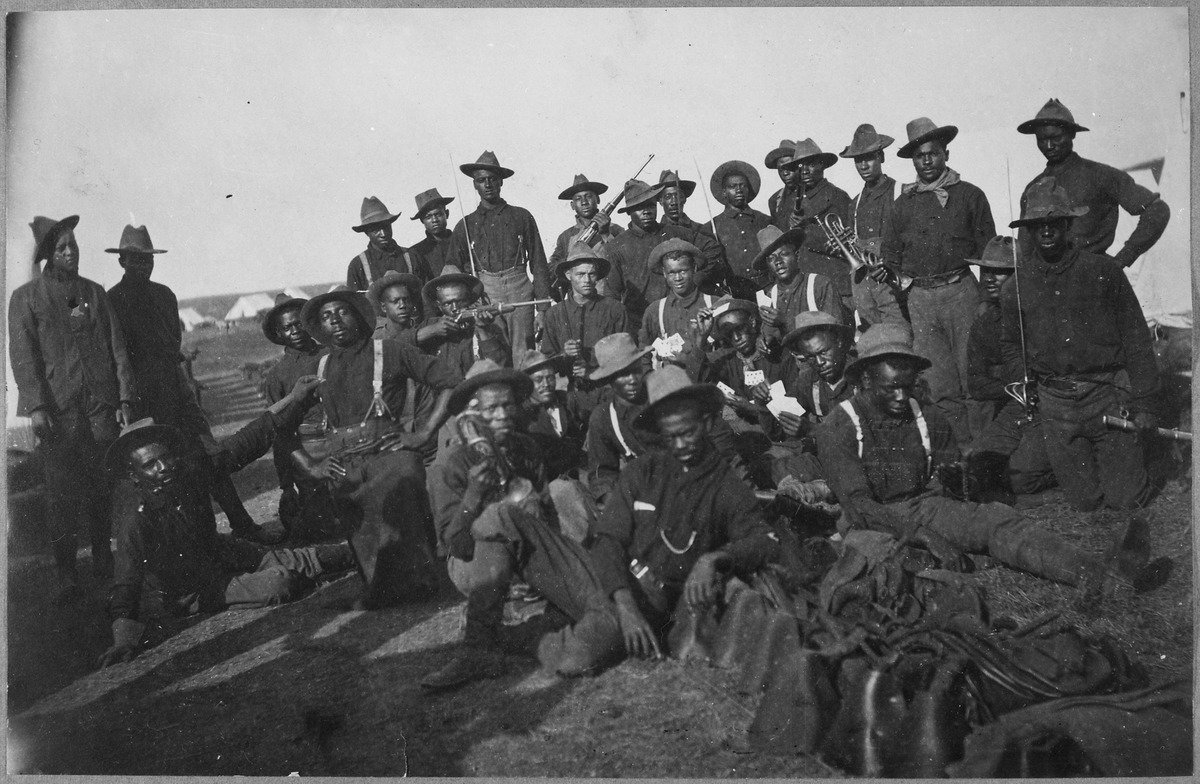 The early Buffalo Soldier regiments were under constant scrutiny from white leaders who were looking for any excuse to write them off as inferior. As a result, they couldn't just perform adequately — they had to be exceptional. "There were a lot of men who were runaway slaves, freed men so to speak, and joining the army was a way to prove themselves worthy as doing the same things as other men," explained Slyde.
The Buffalo Soldiers on the frontier received substandard equipment — typically worn-out weapons and uniforms that white troops had either discarded or refused to use. Their horses were often older and sicker than the ones white cavalrymen rode into battle. Nevertheless, the Buffalo Soldiers punched above their weight class doing dangerous, thankless jobs.
"You have to be proficient with the equipment you have," said Slyde — and that aspect of the Buffalo Soldiers' history informs the club's policies. While many MC's require their members to ride Harley Davidsons or other "cruiser"-style bikes, the Buffalo Soldiers MC is much more flexible about both the size and origin of a member's ride.
But soldiers must shed their egos and depend on each other regardless of race — if a unit is to survive in combat, that is.
The membership of the MC, like their namesake units, is not exclusively black. The Buffalo Soldier regiments were typically led by white officers. While that was in many ways a product of the racism of the time, Slyde insists that those men deserve recognition for their role in history — many other white officers refused to live among or lead black troops. "Those officers were on the same point of the spear" and could have easily demanded a transfer or another assignment, Slyde said.
"One of the prime examples of an officer that was given a Buffalo Soldier regiment to command but refused was [Lt. Col. George] Custer. He refused to lead African-American troops," Slyde said. "We all know what happened to Custer."
Many white officers who stayed with the Buffalo Soldiers did so because they felt a strong bond with their comrades, though they sometimes faced the suspicion of white soldiers in other units because of it. But soldiers must shed their egos and depend on each other regardless of race — if a unit is to survive in combat, that is.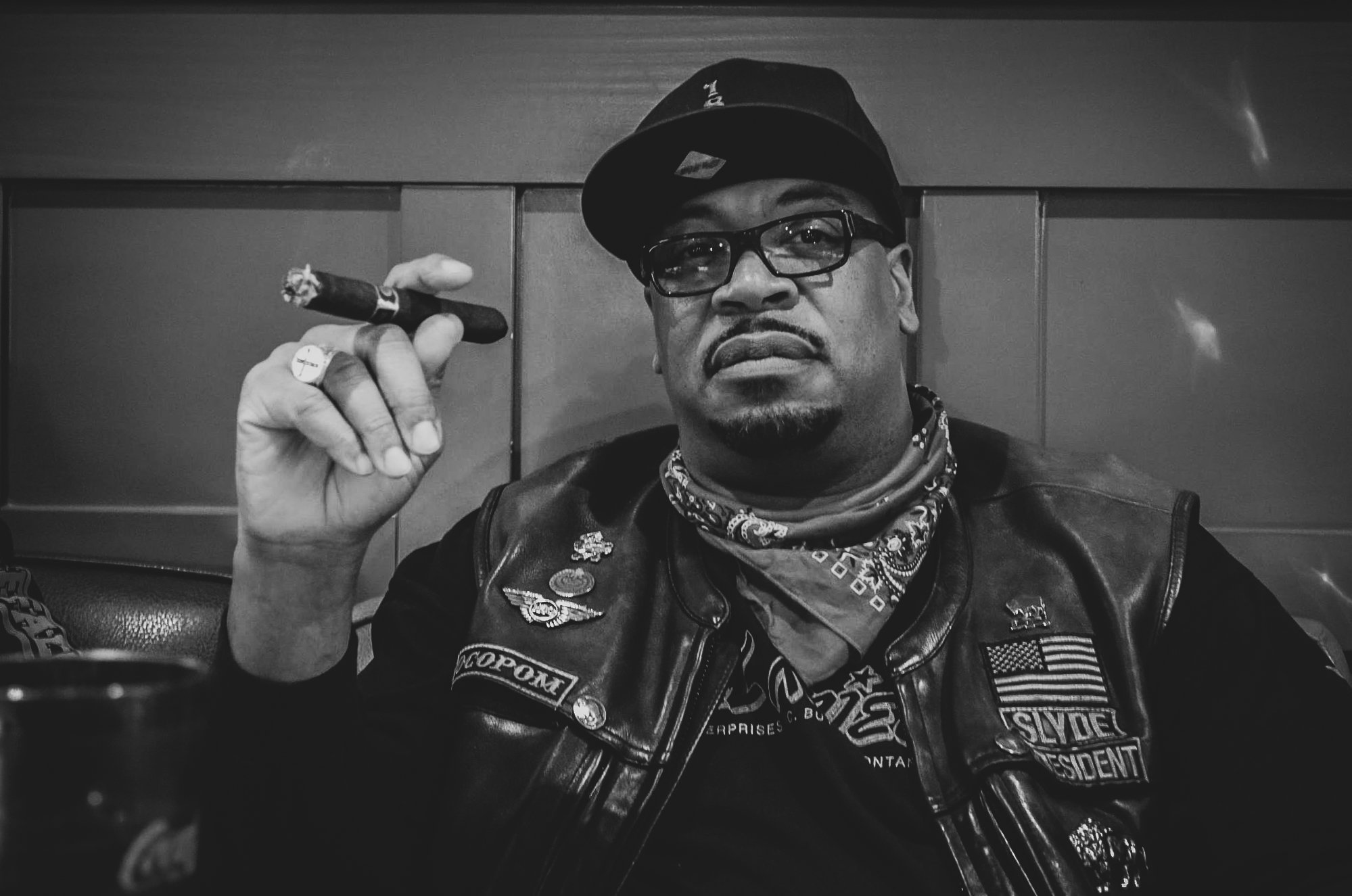 The Buffalo Soldiers MC draws members of all races, often because of the club's charitable work. Slyde told the story of a cowboy-hat-wearing, country music fan who joined the club.
"We don't draw any lines to anybody, whether this is a Russian family, a white family, an Asian family, a Hispanic family or a black family. This is a one-world concept," Slyde said. "What I'm saying is that any child that is hungry from the time they are in school, we are helping that child get food at lunch time. That outpouring of love regardless of who you are or where you come from is what has attracted those other people to us. At that point right there, anybody can be my brother."
The Buffalo Soldiers MC is also one of the few motorcycle clubs to admit women as full-patched members. Many other clubs, particularly among "one percenter" outlaw clubs, admit women only as associate members or as "club property." Understandably, given the history that the MC honors, the notion — even tongue in cheek — that a human being can be property is problematic. "The women in our club are accomplished riders, they're not showpieces," said Slyde.
The U.S. military is currently in the process of integrating women into combat units — including the most elite units. It has been hailed as a victory for equality by some and bemoaned as political correctness by others. Hard Copy, a tabbed Ranger veteran, said that whether it's in a motorcycle club or an elite military unit, as long as they can keep up, he doesn't care if the people he's riding with are male or female. "If your mission's focus is the same as everyone else's and the standards don't change, it's on," he said.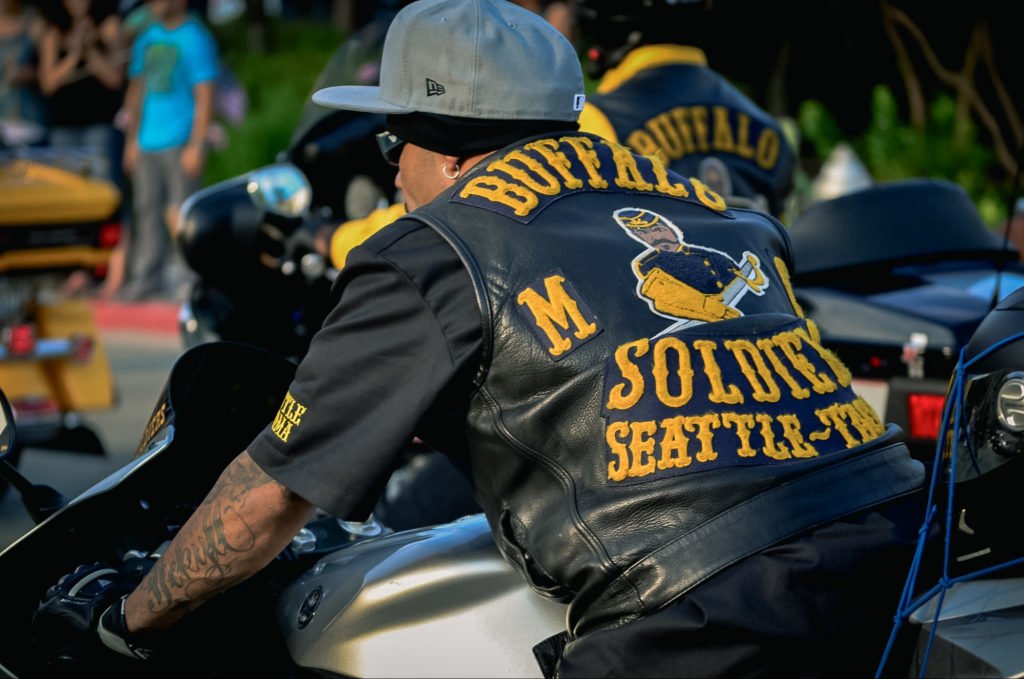 The inclusion of women in the club acknowledges one of the first Buffalo Soldiers: Cathay Williams. During the Civil War, the Union Army liberated countless slaves but, prior to the Emancipation Proclamation, regarded them as "contraband" and at times pressed them into service as laborers. Williams was among those who marched with Union Troops doing support tasks.
Disguised as a man, she joined the army shortly after the post-war formation of six new "colored regiments" in 1866, enlisting under the name William Cathay. Only two others knew of the deception — her cousin and a friend who were also soldiers in her regiment. She might have gotten away with it had she not contracted smallpox, which required her to be inspected by a doctor.
Buffalo Soldiers had to fight to prove themselves on a regular basis. They led the charge up San Juan Hill during the Spanish American War — a battle for which Teddy Roosevelt's Rough Riders are most famously associated with. And during World War I, the New York National Guard's "Harlem Hellfighters" were the first American soldiers to reach France's Rhine River — though they did so under French command. When French commanders sought out American troops, U.S. military leaders feared European leaders would lead them recklessly and reasoned that black troops were expendable.
"The United States didn't really believe in taking those African-American troops and putting them on the front, because they were still considered inferior," Slyde said. During World War II, as Allied forces invaded Sicily, the all-black 92nd Infantry — famous for its buffalo patch — took heavy casualties. Several white commanders saw this as proof of their inferiority. By the time of the Normandy invasion, many black combat units had been disbanded and turned into support troops.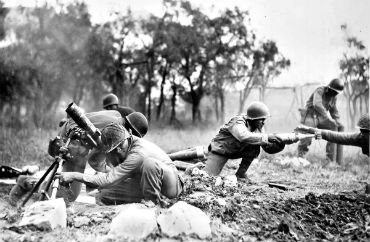 However, as Allied troops moved farther inland, it became clear that they needed rapid resupply. Black troops were hastily re-tasked with making supply runs as part of the "Red Ball Express." During the Battle of the Bulge, desperate commanders began accepting black volunteers as replacement troops on the frontline. The 761st Tank Battalion, the "Black Panthers," quickly gained accolades as one of the U.S. Army's best armored units. Meanwhile in the sky, the Tuskegee Airmen were flying dangerous escort missions for bombers over Germany. While several black fighter pilots lost their lives, the Germans never successfully shot down a bomber under their protection.
When the Korean War began, American units were rapidly integrating. As the Buffalo Soldiers were absorbed and reorganized into integrated units, they were now simply American soldiers. It's that journey the Buffalo Soldiers MC hopes to keep alive.
"Our mission is not to try to draw any kind of line between this unit or that unit," said Slyde. "Our mission today is to show that we made a significant contribution to those victories and to our modern-day way of life."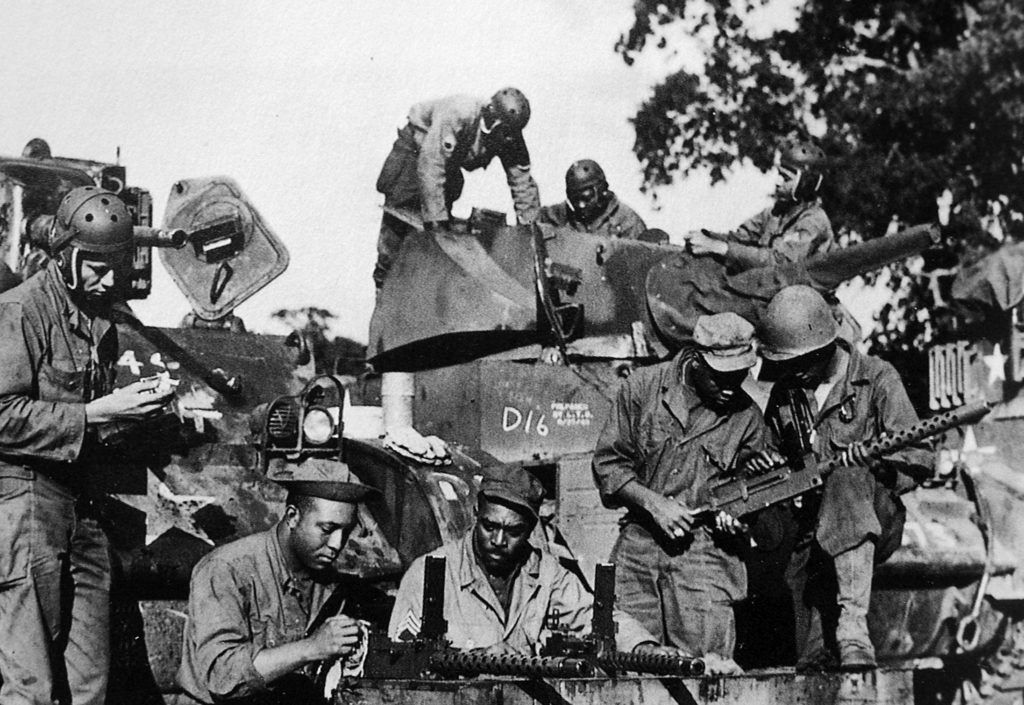 However, despite those strides, race remains a deeply divisive topic in American life. The Buffalo Soldiers MC is a patriotic club, but its members have to balance celebrating a country they believe is great, while also acknowledging that it hasn't always been grateful for the service and sacrifice of their forefathers.
"It's a struggle every day, to be honest with you," Dream Maker explained. "We live in a very racist, violent society, you know. And you just got to work hard at changing the perspective of a lot of people, and I think we're doing a good job."
In recent years, debate around race and patriotism has become particularly charged. Former San Francisco 49ers quarterback Colin Kaepernick kicked off a firestorm of controversy when he refused to stand for the national anthem as he protested in solidarity with the Black Lives Matter movement. The controversy grew as more players joined. Celebrities, pundits, and President Donald Trump all weighed in, taking sides.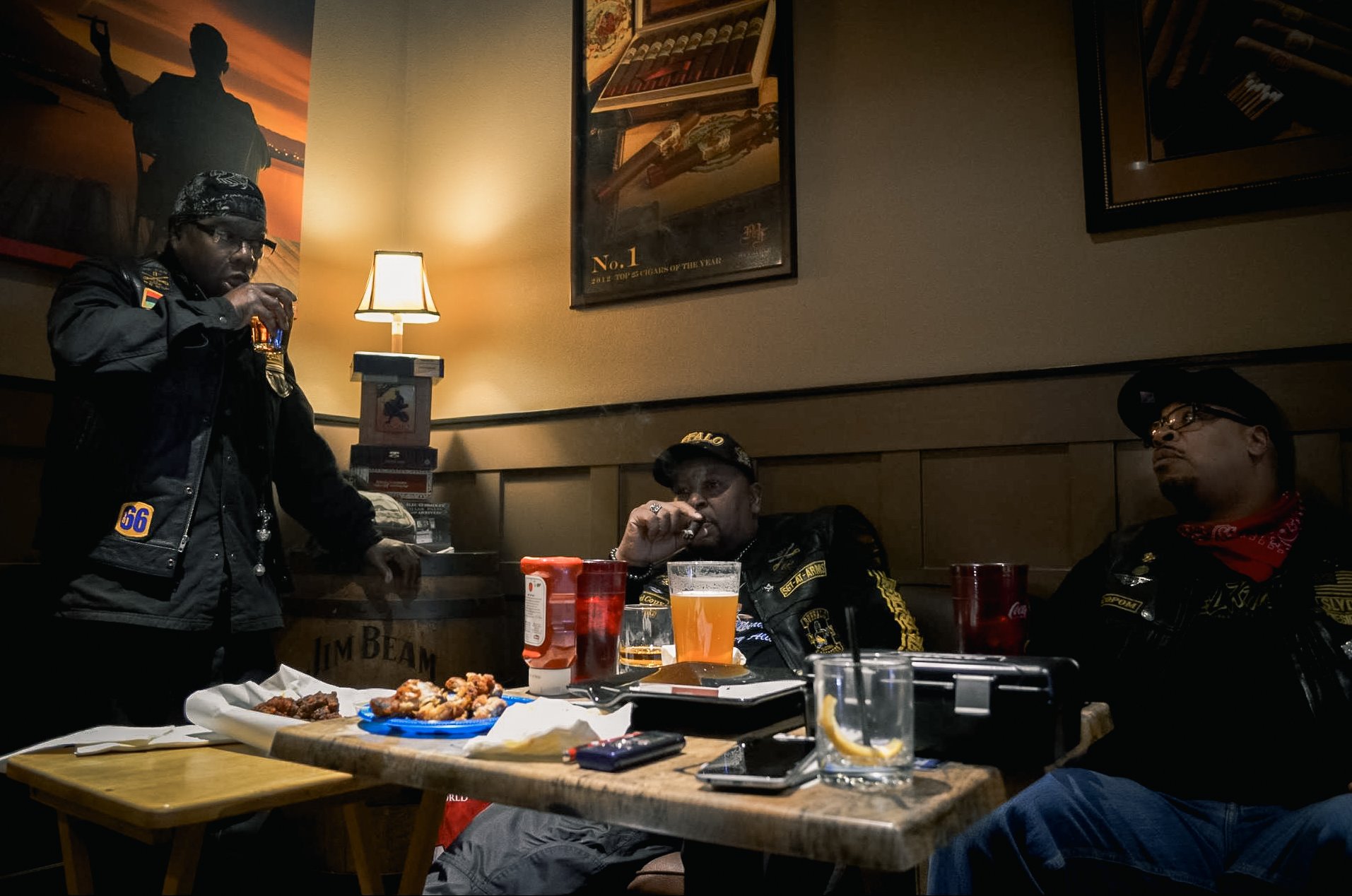 "Do I agree, as a 22-year veteran of the Armed Forces, with him doing what he was doing at that time [during the anthem]? No," said Slyde. But he added that he absolutely understood why Kaepernick was making the statement. Slyde noted that in the past year he'd been pulled over three times by police who were "just checking" on him. "I think the message behind that whole thing is that this isn't working for everyone equally," he said.
"I understand where he came from with that one," said Hard Copy, who added that he believed that both sides of the debate took Kaepernick's protest out of context. He said kneeling (which Kaepernick started doing during the anthem, as opposed to staying seated on the bench, after meeting with Seattle Seahawks player and Army Special Forces veteran Nate Boyer) wasn't a sign of disrespect. "If I go to my father's grave — anyone's grave — I'm not gonna stand up, I'm gonna kneel," he said. He also pointed out that players historically didn't leave the locker room until after the anthem was played.
With the club's heavy concentration of military and law enforcement veterans, many hope they can help bridge the divide between communities that have historically struggled to see eye-to-eye.
However, the motorcycle club itself has a good relationship with law enforcement. "We all have a relationship with the law enforcement community. We show them respect, they show us respect," said Shadow. "Our club has a focus, and our mindset is to better our community and help those who need help. Everything about the Buffalo Soldiers is about the history, and we're trying to live that legend."
With the club's heavy concentration of military and law enforcement veterans, many hope they can help bridge the divide between communities that have historically struggled to see eye-to-eye. "I was in law enforcement for over 30 years and it is a balancing act," said Dream Maker. "You can't solve all the problems in society in a year or in several years — it's an ongoing thing. I don't know if we'll ever get over racism in this country. But you need individuals who push and try to assist people to be better."
Dream Maker's nickname comes from a call he had in a Chicago tenement. He and his partner came across a woman on a bad trip who threatened to kill herself because she believed they were there to take her children and put her in prison. He promised the women he wouldn't arrest her and that she wouldn't lose her children. He stayed with her for several hours to calm her and eventually checked her into a treatment program.
Years later a woman came to the precinct asking to see him; he assumed it was the relative of someone he'd arrested. "You don't remember me do you?" she asked. She told him who she was and that she finished her GED and was going to college: "You made my dreams come true." From then on, his clubmates began calling him "Dream."
"Our country is an outstanding place," said Slyde. "And I can say that because I've been to numerous countries around the planet and I've seen what true oppression looks like." He explained that his experiences serving alongside soldiers of all colors and creeds in places like Iraq and the Balkans, often interacting with and providing assistance to the survivors of massacres and ethnic cleansing, have instilled a deep sense of pride in his country and have fundamentally shaped his view of the world.
"While we don't have it perfect and we don't have it right — it's still a work in progress — it's by far the best system on this planet," he said. "And I can truly say that from the bottom of my heart. At the same time, we need to be able to learn from these things to make it better."
---
Editor's note: This article has been updated to clarify that Ken Thomas is a retired Chicago police officer, and to remove an inaccurate quote used to describe one of the club's members.