Leo Krause estimated he'd been shot nearly 4,000 times over the course of his career. His business partner and fellow bullet magnet, Bernard Spooner, estimated he'd been fired upon nearly 2,000 times. In 1922, when the entrepreneurs first premiered their patented bulletproof vests, the pair surprised law enforcement officers with their unique request that the officers use them as target practice.
Their product couldn't have come at a better time. Prohibition-era gangsters had recently acquired significant firepower in the form of the .45-caliber Thompson submachine gun. Taking a round to the chest in a gunfight with mobsters became an unfortunate likelihood for police officers across America during the 1920s. It was the deadliest decade for law enforcement in US history, with 2,529 officers killed (an average of nearly 253 officers per year).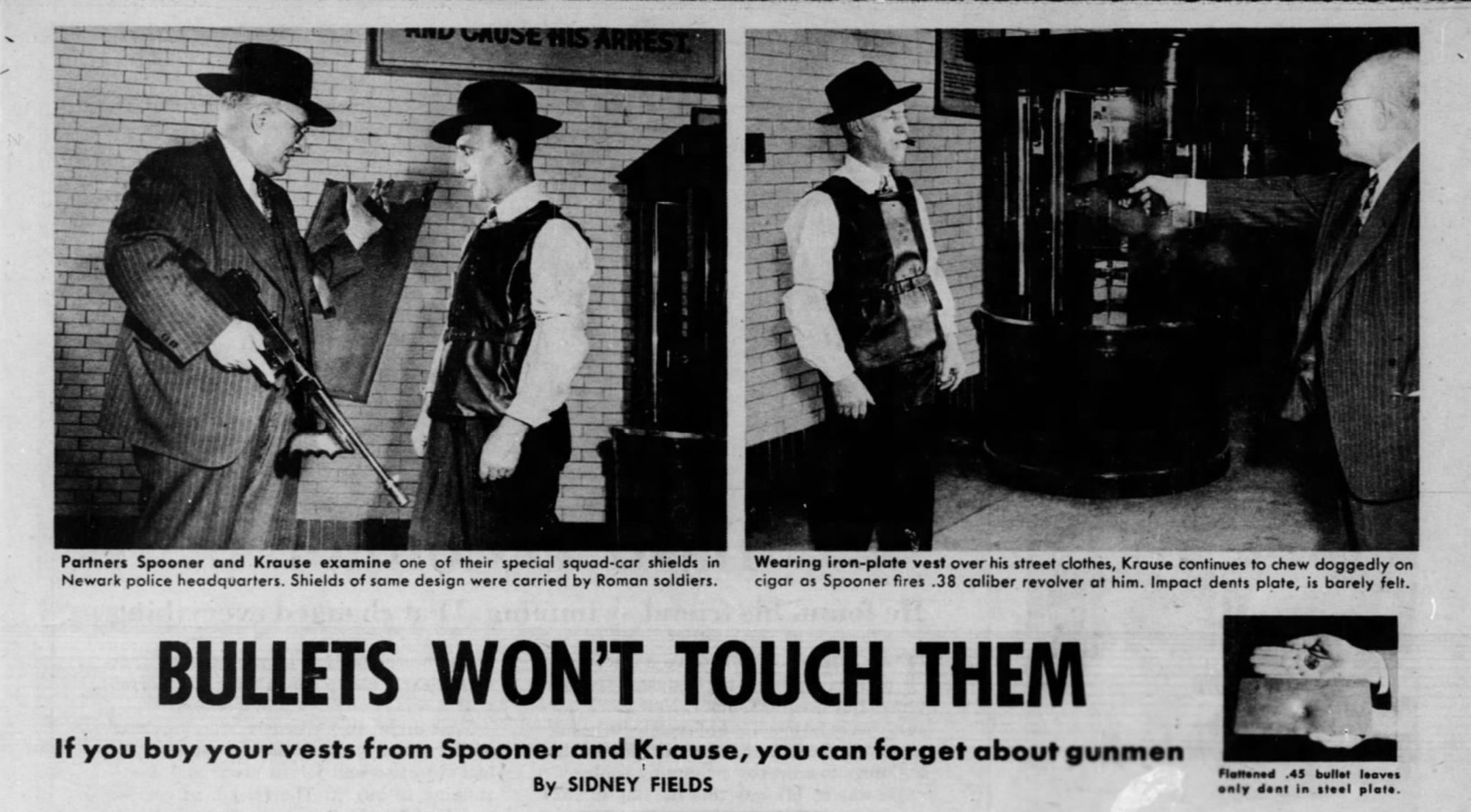 Krause had previously served as an armorer, inspecting and repairing weapons in the Hungarian army before immigrating to the US in 1914. Spooner made the move to America seven years earlier, in 1907. He had observed Austrian soldiers in World War I strip shields off machine guns to use as personal protection. The creative daredevils met in 1920 and soon launched their ingenious enterprise.
Although their first experiment in March 1922 left a man wounded, their later tests proved their inventions to be reliable.
In September of that year, Capt. Edna Pitkin, an officer in a reserve police unit in New York, was shot twice with Krause's .38-caliber revolver. A photographer captured the stunning scene as Pitkin stood in defiance while bullets impacted her body with no lethal effect. Pitkin was wearing one of Krause's new bulletproof vests.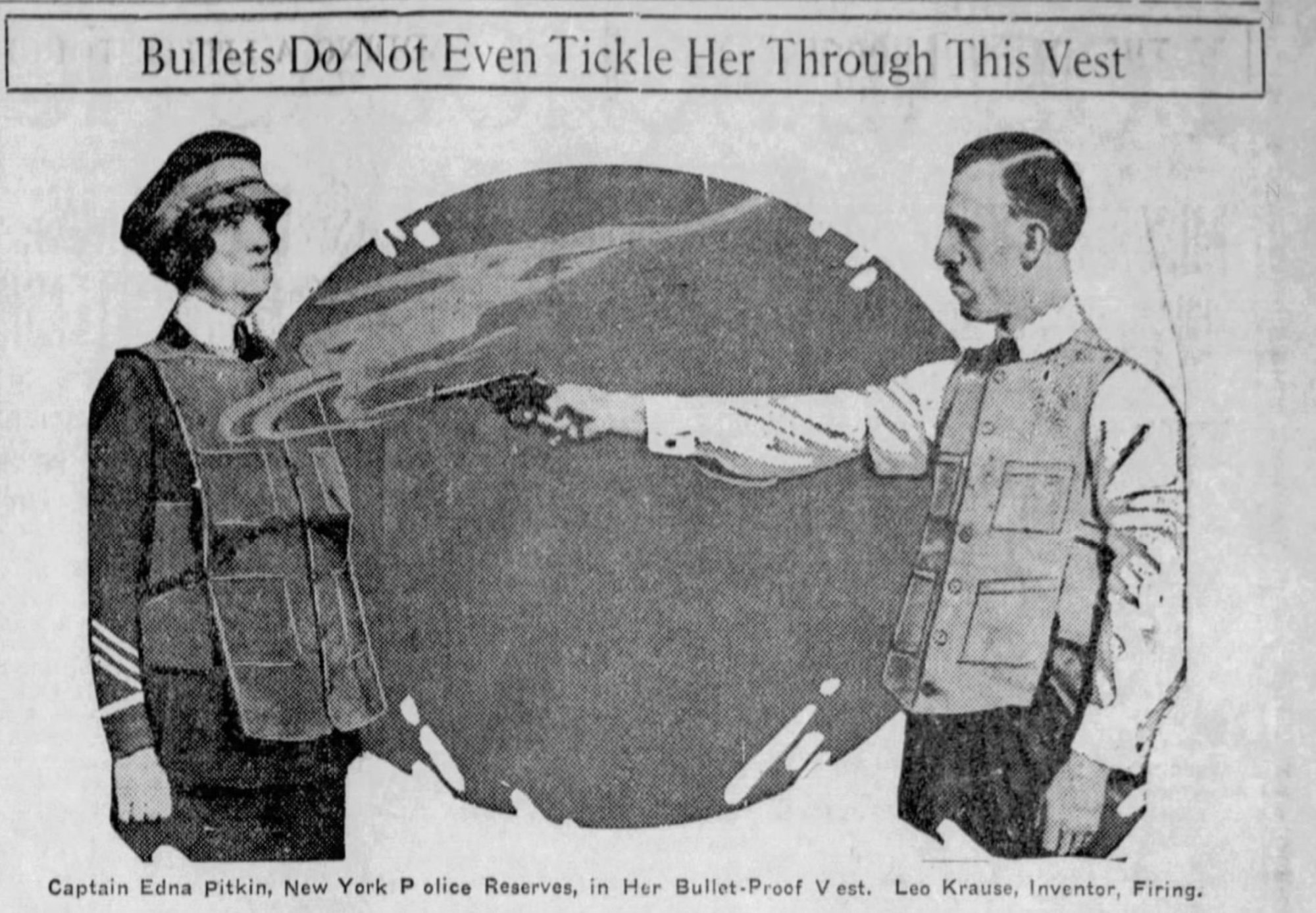 "Didn't even tickle," Pitkin replied to a reporter's question about whether she felt any pain.
The New York City Police Department adopted the vests for officers likely to be exposed to violent encounters. The bulletproof vests were canvas-covered steel plates, made to be worn underneath clothing without giving off the appearance of a bulge. The vests weighed between 12 and 15 1/2 pounds.
"The vests, which come in small, medium, and large sizes, are made of overlapping and interlocking steel plates sewed into the pockets," the Toledo Blade wrote in 1949. "It protects the entire trunk from neck to groin, as well as its sides and back."
The Spooner-Krause team also created hand shields and head protection. The hand shields were designed for when police officers quickly left their cruisers to give chase to a suspect. The corresponding head protection weighed only 8 ounces.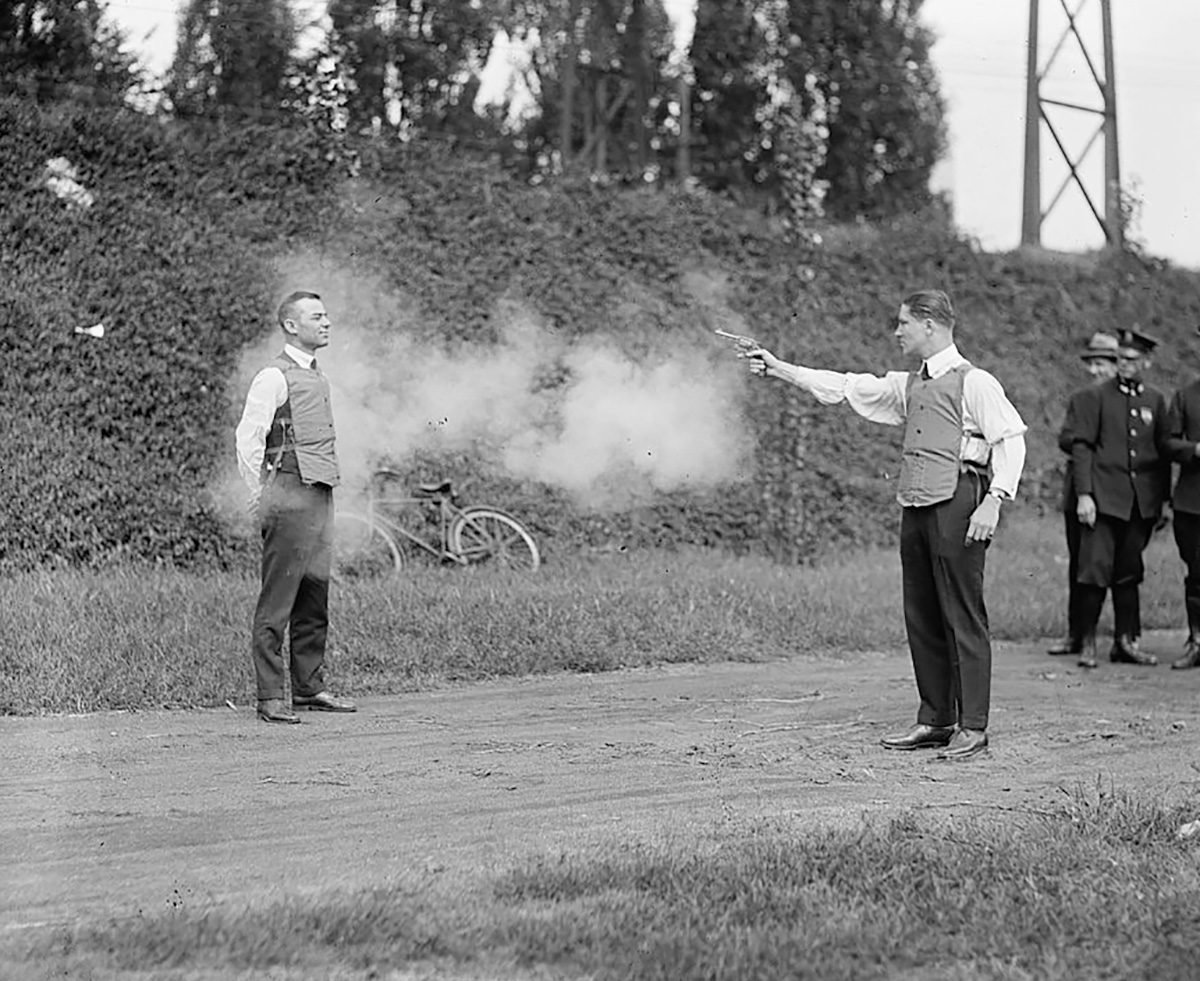 "A while ago," Krause said in 1947, "a cop stepped out of a cruiser here in New York to make an arrest and he got shot through the head. If he had had a head protector on, he'd be alive today."
Spooner and Krause sold more than 20,000 steel-plated vests to police departments from New York to Washington to Kansas. They reportedly sold another 400 bulletproof vests to various heads of state, including Austrian Chancellor Engelbert Dollfuss, whom the Nazis later assassinated in 1934, and Italian Prime Minister Benito Mussolini.
"The bullets just stick on the vest and fall to the ground," Krause said. "At 25 feet I hardly feel anything."
In an experiment on the police pistol range in Washington, DC, Spooner fired a burst of Tommy gun slugs into his partner. "I just laughed," Krause said, "and walked away when it was all over."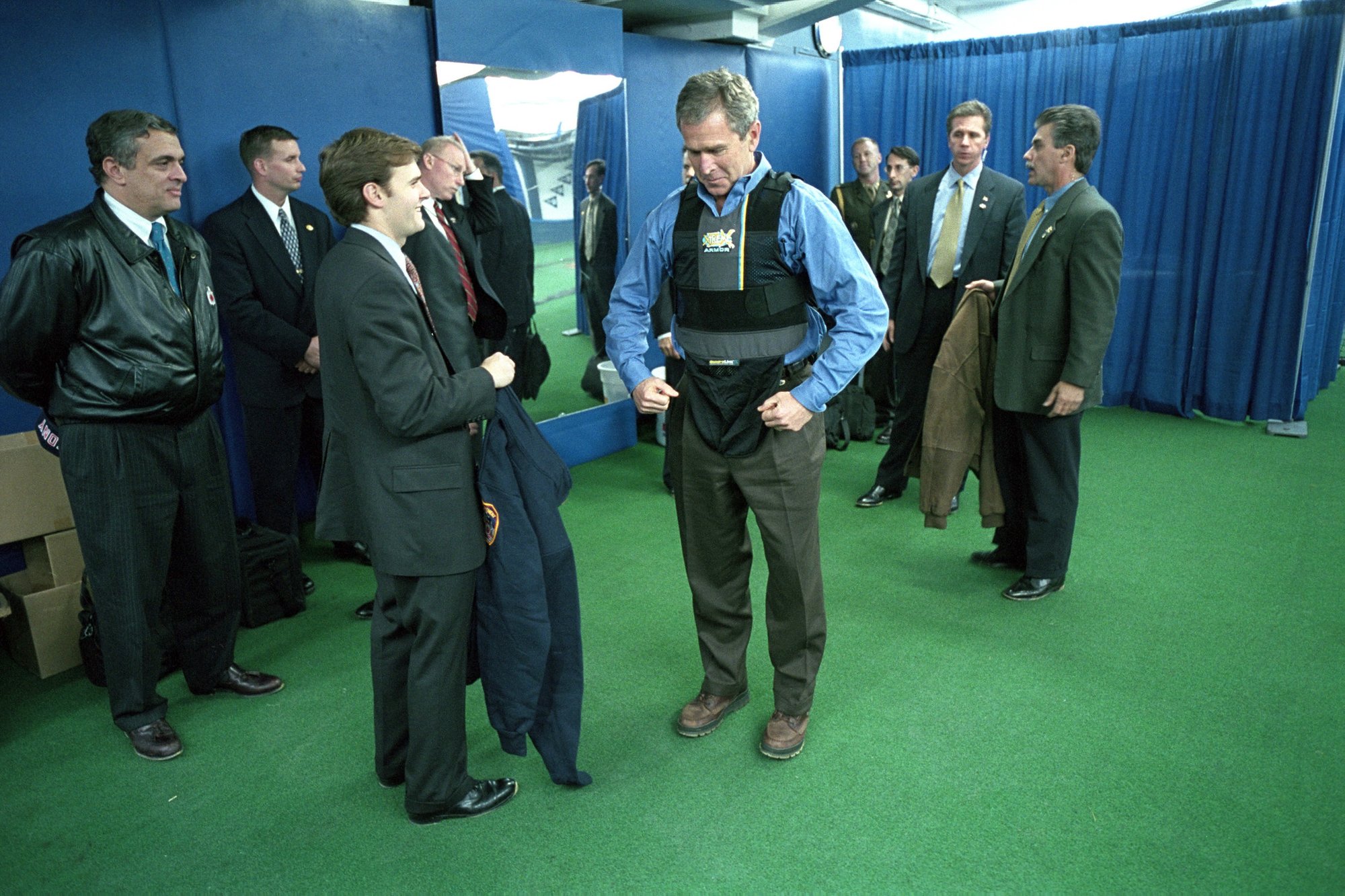 The vest stopped armor-piercing rounds too, but the inventors cautioned against rounds bigger than .45 caliber and certain "high velocity guns."
Criminal figures, like Chicago's Al Capone and New York's Legs Diamond, also visited the inventors.
"Today nobody can buy a vest unless they show written recommendation from a police department," Spooner said. "We started this system when gangsters stopped shooting each other and began shooting cops and people."
Spooner later provided his expertise to the US government to improve armored cars and develop shrapnel-proof vests for the Korean War. Bulletproof vests, which debuted in public spectacles that shocked newspaper reporters and photojournalists, ultimately proved invaluable in protecting law enforcement officers and service members.
Read Next: