A burning barn exploded in Oregon, killing a volunteer firefighter who'd already insisted his funeral take place at a rodeo arena beloved by bull riders, with free beer flowing for all mourners.
And in North Carolina, an apparent heart attack claimed a volunteer fire chief. Their deaths brought the number of firefighters killed on the job in 2022 to 18, according to the US Fire Administration.
Austin 'Aussie' Garrett Smith
Austin Smith, a St. Paul (Oregon) Fire District volunteer firefighter, died Feb. 3 at the Oregon Health and Science University Hospital in Portland, hours after he was critically injured when a burning barn exploded at a poultry farm.
Smith, 30, was one of dozens of firefighters from multiple departments who responded shortly after 4 a.m. on Feb. 3 to a blaze at a rural property roughly 30 miles south of Portland, according to St. Paul Fire District officials and Marion County Sheriff Joe Kast.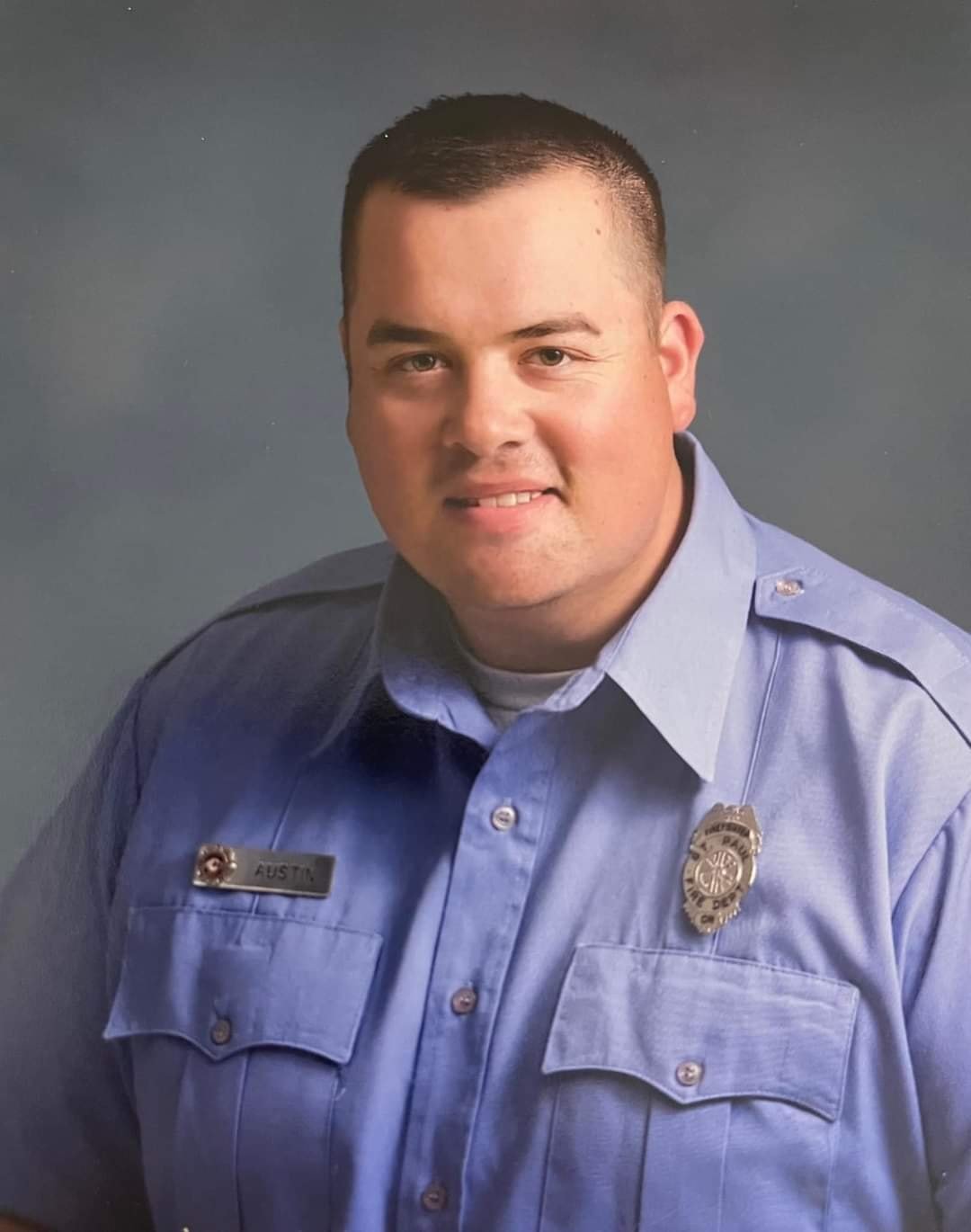 St. Paul Fire District Chief Bryan Lee told reporters Feb. 3 that Smith had been preparing for defensive fire operations when the tragedy occurred. Paramedics at the scene began immediate efforts to save his life, and a Life Flight Network helicopter rushed him to the Portland hospital, where Smith died.
He had served the fire district since 2015.
"We are all heartbroken over this loss," Lee said. "We appreciate the support from the community and public safety partners during this difficult time."
Investigators from the Marion County Sheriff's Office, Oregon State Police, and the Oregon Office of the State Fire Marshal continue to probe the cause of the blaze and have not reported what triggered the explosion.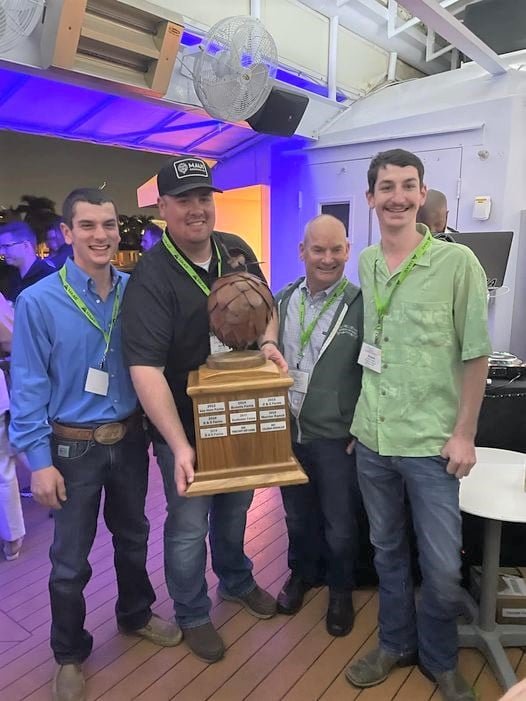 Smith's Saturday, Feb. 12, memorial service at the St. Paul Rodeo grounds, a stop on the professional bull riding circuit, was the firefighter's idea. He met his wife, Ashley, at the rodeo and played high school football there. Organizers estimated that 5,000 mourners packed the stands to remember Smith.
Smith's cousin and a fellow firefighter, Reed Godfrey, told mourners that when Smith's line-of-death packet was opened, there were only a few blanks filled out: name and date of birth, bank account number, and "instructions that if he died in the line of duty, he wanted a big party with lots of beer."
Which made sense, because Smith was a fourth-generation hops farmer at B&D Farms in St. Paul. Two weeks before his death, Smith's farm took home the American Hop Convention's coveted Cascade Cup, which showcases the nation's finest hops. It was the third time over the past decade the family farm had won the prestigious competition, according to the Oregon Department of Agriculture.
"Aussie" Smith spent six months working on an Australian wheat farm before studying at Oregon's Linn-Benton Community College. After he returned home to work the family farm, he used the hops he tended in a craft beer he brewed. Godfrey said Smith had hoped to open his own taphouse. And when his parents asked him how or when he'd do that, the cousin recalled Smith saying, "It's fine."
"Those were always Austin's last words: It'll be fine, don't worry," Godfrey said.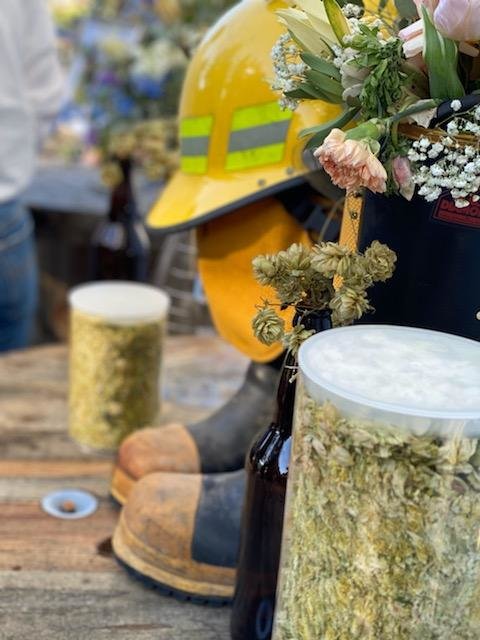 During the memorial service, fellow volunteer firefighter Todd Cook recalled being thrilled to see Smith in the apparatus operator seat of Engine 756 as it drove to the burning barn.
"I thought, 'Here we go together. This is what we do,'" Cook said. '"We do it for our community. We don't pick shifts or hours of the day. We don't even get paid. We do it for the love of our town and the people that it holds.' As we sit here today, we honor a young man who was beyond his years in civic and moral obligation in this town."
After the public service, St. Paul Rodeo officials released a prepared statement, urging those who wished to honor Smith's life to volunteer to serve their communities, too, and saying that everyone should "always show the utmost respect for those who keep us safe and put food on our table."
Austin Garrett Smith was born Sept. 2, 1991, to Dave and Lisa Smith in Portland, according to his obituary. He is survived by his parents; his brother, Zach; and his wife, Ashley.
He was buried at St. Paul Catholic Cemetery.
James 'Monk' V. Radford
Polly Watson Volunteer Fire Department Chief James V. Radford, 63, died Feb. 5 at the University of North Carolina Hospital after suffering an apparent heart attack while responding to an emergency call in Wilson County, according to the US Fire Administration.
According to a press release emailed to Coffee or Die Magazine, the department was dispatched to the call at approximately 1:06 p.m. on Feb. 5. Radford drove into the fire station's parking lot and then seemed to suffer what officials called a "medical emergency" at the wheel.
He crashed into a parked vehicle, and his fellow firefighters began administering first aid to save his life.
Wayne County Emergency Medical Services transported him to the hospital, where he died later that day, surrounded by family, according to the statement.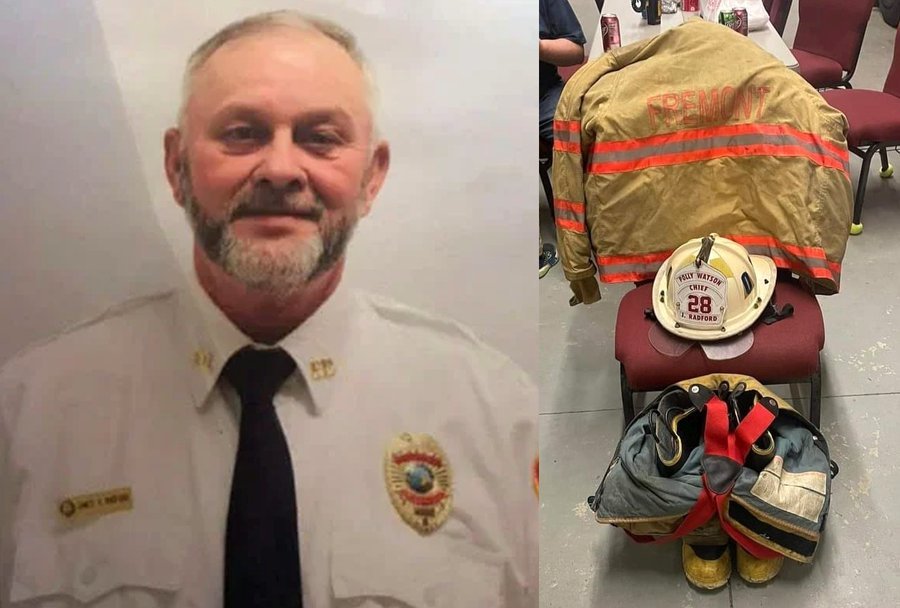 Radford was named the chief of the Polly Watson Volunteer Fire Department in 2021, after retiring from the Fremont Volunteer Fire Department. He had joined the Fremont station in 1996 and rose to become its lieutenant and safety officer, according to a flag alert issued by the North Carolina Department of Administration.
In his order to lower all flags on state property to half-staff to honor Radford's sacrifice, Gov. Roy Cooper said in a prepared statement that everyone in North Carolina was "grateful for his life and for all the first responders who work hard to keep us safe."
Radford was born Sept. 4, 1958, in Johnston County to Willie and Cassie Radford.
He was preceded in death by his parents, according to his obituary.
Radford is survived by his wife, Joyce; his son, James Dustin; and his siblings Shelton, Shirley, Frances, and Amy.
Radford's funeral was held Friday at the Shackleford-Howell Funeral Home in Fremont. His burial followed on family property in Fremont, according to Wayne County spokesperson Joel Gillie.
Read Next: