"You can't strike the American flag without expecting to get hit back by some Irishman," said Walter Winchell, an American radio commentator, during a 1945 St. Patrick's Day broadcast. Winchell may not have been specifically referring to Edward "Butch" O'Hare — but the Irish-American Medal of Honor recipient landed more than a few punches while serving in the U.S. Navy during World War II.
O'Hare became one of the first war heroes to answer the call after the Japanese attacks on Pearl Harbor. Today, he is immortalized as the namesake of Chicago's O'Hare International Airport, where thousands walk past marquees and displays daily, distracted by their travel itineraries and unaware of the heroism and selflessness displayed by the first air combat ace of the Second World War.
Irish-American Upbringing
Edward Joseph (EJ) O'Hare — also called "Easy Eddie" for his mob ties — was a successful lawyer, a well-connected businessman, and a loving father who anticipated ambition and grit in his children's futures. EJ and his wife, Selma, who was of German descent, raised their children — Edward "Eddie" Henry, the oldest and only son, and two daughters, Patricia and Marilyn — in the suburbs of St. Louis during the 1920s. They enjoyed the luxuries of an in-ground pool and black-and-white cameras to film home movies, items only available to those with great wealth. Although EJ and his son shared a first name, they had little else in common.
Judy Foster, Eddie O'Hare's niece, said EJ often became frustrated with his undisciplined and chubby teenage son. "His father said if there wasn't a war he would never amount to anything because he was lazy," she told KETC Living in St. Louis. "He got sent to military school because the last straw was he wanted to borrow the car and drive next door to the bakery shop to buy donuts."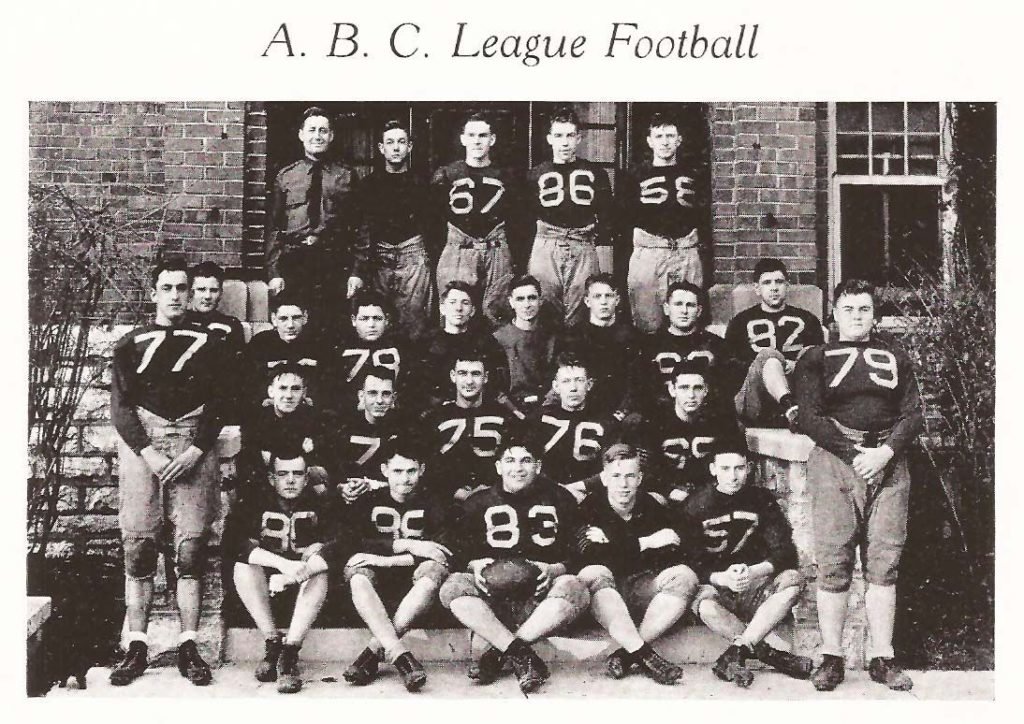 In 1927, at age 13, Eddie began attending the esteemed Western Military Academy (WMA) in Alton, Illinois, located 25 miles north of his hometown. Eddie spent the next five years at the academy, where he grew as a young leader and developed a friendship with Paul Tibbets, who later piloted the Enola Gay as it dropped the atomic bomb over Hiroshima. Eddie and Tibbets played on the football team together.
In his final years at WMA, Eddie was appointed the president of the school's rifle club. Upon graduation, EJ encouraged him to attend the U.S. Naval Academy in Annapolis, Maryland, and to take flying lessons. However, it wasn't an easy path for the young O'Hare — he failed the entrance exam in 1932 and was forced to attend Cochran-Bryan, an Annapolis Prep School, to get his grades up before enrolling the following year with the class of 1937. It was at the Naval Academy that Eddie earned the nickname that would follow him for the rest of his life, "Butch."
In 1939, two years after Butch's graduation, the O'Hare family made headlines when EJ was gunned down by hitmen suspected of being hired by Chicago gangster Al Capone. His murder shocked the community and his family, but biographers, historians, and newspapers suggest that EJ's ties to the mob connected his illegal greyhound dog races in Chicago with Capone's sleazy underworld.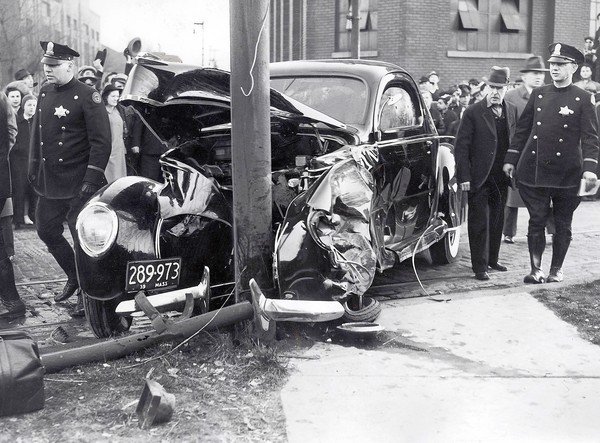 Several years earlier, EJ and Selma had divorced, and EJ moved to Chicago; he mingled with Capone and used his finesse as a lawyer to expand his races to Boston and Miami. It's believed the order for EJ's murder came from the mouth of Capone himself, who was serving time inside Alcatraz prison for tax evasion, due to EJ's role in supplying information to the feds. The family's name was tarnished until Butch discovered his calling as an aviator.
Outnumbered, but NOT Outgunned
Before Butch cut his teeth against the Japanese aboard the USS Lexington, commonly referred to as "Lady Lex," he received training from Lieutenant Commander John Thach. The legendary aviator developed the famous "Thach Weave," a dogfighting technique used to outmaneuver the zero from elite Japanese pilots by countering them from the rear. Thach only taught this maneuver to the best of the best — the "Bitching Teams," as they were called, the "Top Gun" pilots of their day. Thach recalled Butch's natural instinct, "He learned a thing a lot of youngsters don't learn: that when you're in a dogfight with somebody, it isn't about how hard you pull back on the stick to make a tight turn to get inside of him, it's how smoothly you fly the plane."
On Feb. 20, 1942, Lady Lex spotted two waves of 17 land-based twin-engine enemy torpedo "Betty" bombers on their radar systems as they were approaching their position. Immediately, U.S. Navy Grumman F4F-3 Wildcat fighter jets filled the skies, ready to protect their fellow seaman aboard the aircraft carrier. The first wave of a nine-plane enemy formation was eliminated by Thach's wildcats and anti-aircraft guns aboard the flight deck.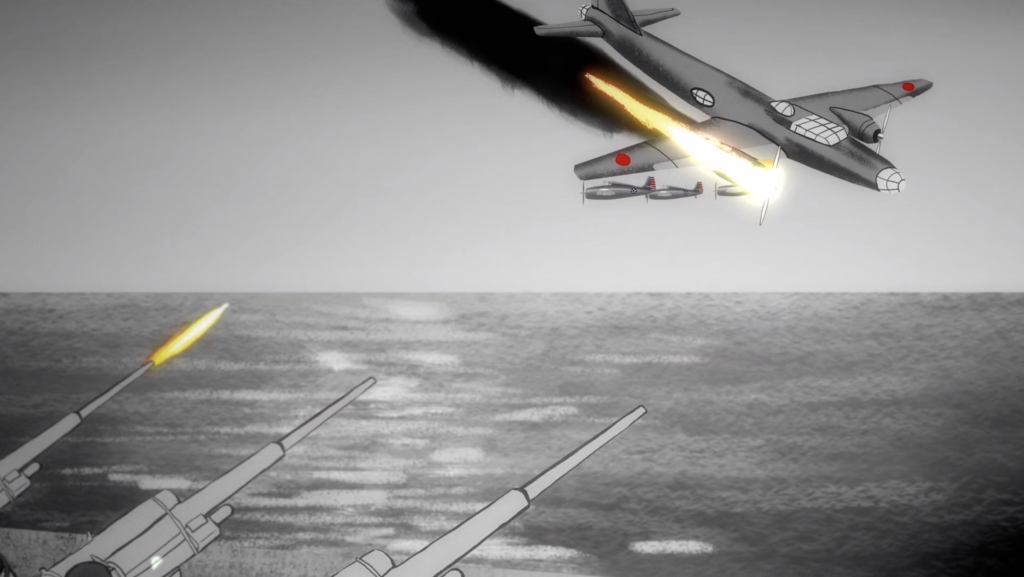 A second wave of Japanese bombers peered into view and quickly closed the distance with the Lexington. Only two aviators were in a position to counter the offensive: one was Butch, the other was Lieutenant Marion "Duff" Dufilho. They test-fired their four .50-caliber Browning machine guns, but only Butch's bullets zipped through the clouds. The decision to act while completely alone against eight bombers wasn't a decision at all.
Duff refused to leave his wingman despite his guns being rendered useless, and he trailed behind Butch as they climbed to an aerial advantage. Butch then dove while honing in his sights on a Betty bomber in a V-formation preparing to drop its payload. He fired in short, disciplined bursts, the bullets ripping through the fuselage and engine of one plane as he pivoted to strafe another. Thick, black smoke filled the enemy pilot's cockpit, forcing them to fall out of line.
Butch made another pass, his aim swiftly on target, disabling two more. Each shift of the stick was calculated, his rotors hummed and wings roared through the wind, diving and rising as his bullets hit their mark. On his third pass, Butch dispatched two bombers with such precision that he shot one of the engines completely out of the plane.
Running low on ammunition — but high on adrenaline — Butch made his final pass to save his helpless shipmates. By the time he returned to the Lexington, he had expended all 1,800 rounds of ammunition, five bombers were in pieces in the ocean, a sixth was damaged, and two of the original 17 escaped, all in just four minutes. Butch's heroic airmanship stands as one of the greatest feats by a lone pilot in the history of aerial combat.
"It was just careful timing. You don't have time to consider the odds against you," Butch said during a June 9, 1942, interview with the Washington Times-Herald, as reprinted in "Fateful Rendezvous: The Life of Butch O'Hare." "You are too busy weighing all the factors, time, speed, holding your fire till the right moment, shooting sparingly. You don't feel you are throwing bullets to keep alive. You just want to keep shooting."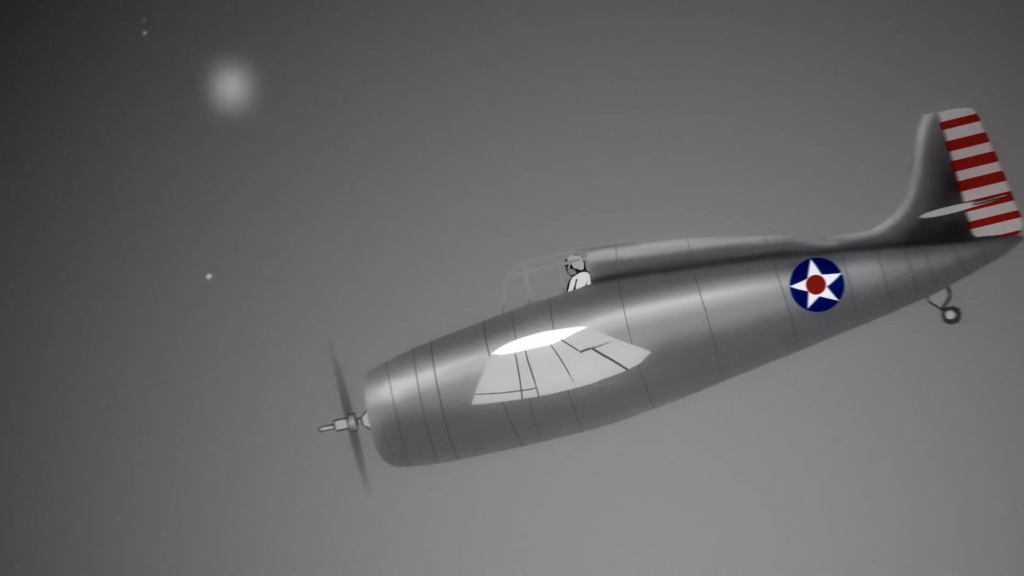 Butch added that his defensive tactics were as important if not the most critical during the battle. "You've got to keep moving," he said. "When you're sitting (and you do have to sit to fire) you've got to get your shots off and then move again. The longer you sit the better chance you've got to get hit."
All six enemy torpedos dropped by the bombers had missed, leaving the Lady Lex unscathed in battle. She went on to play an integral role in the Battle of the Coral Sea off the coast of Australia two months later, which was the world's first carrier-versus-carrier clash. During the battle, Lady Lex suffered catastrophic damage and infamously became the first carrier sunk in wartime.
Final Flight
Butch O'Hare returned home with the prestige of being the Navy's first combat ace of World War II and shortly thereafter received the military's highest award for valor, the Medal of Honor. As he shook President Franklin Roosevelt's hand during the ceremony, his wife, Rita, wrapped the medal around his neck. Butch didn't bask in the spotlight for long — he returned to training commands and was assigned as a commander to the USS Enterprise.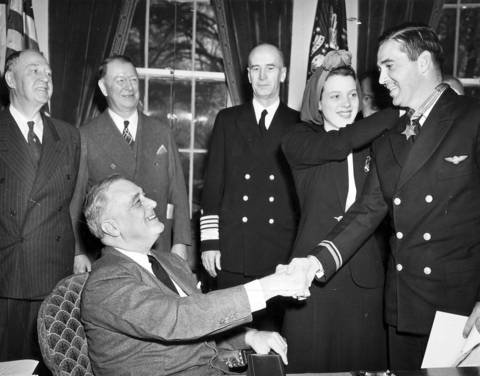 His combat record officially notes two Distinguished Flying Crosses. The first was awarded for actions on Aug. 31, 1943, when he wiped out 80 percent of the Japanese installations on Marcus Island. His second was for actions that occurred on Oct. 5, 1943, south of Wake Island, when he personally downed one enemy aircraft before following a fleeing pilot back to his base and, evading anti-aircraft shells, damaging three more. However, his last flight, for which he was awarded the Navy Cross, may be the most speculated.
Butch pioneered a nighttime unit that he called the "Black Panthers." On Nov. 26, 1943, Butch and his wingmen filled the black night knowing this mission, like all missions, was risky. After they got word of approaching Japanese planes, Butch and his teammates volunteered for the mission over Tarawa in the Gilbert Islands. They engaged the largest group headed in their direction, and Butch disfigured two Japanese fighters. In the chaos and fog of war, that was the last time he was seen.
Conjectures and hearsay suggest that he may have been hit by friendly fire during the melee, but historians believe a gunner from a nearby Japanese bomber got a lucky shot and splashed him into the ocean. Although a search and rescue effort was made, he was never found.
Despite the frequency with which his name is uttered by travelers around the world, Butch O'Hare's story is not well-known. He was an unlikely hero who became one of the finest aviators in U.S. military history. Butch's decision to return to war after receiving the nation's highest honor emphasized his patriotism and humility, even until his final flight.