Did a C-17 fly 800 people — almost five times the number of passengers the huge transport normally carries — on a single flight out of Kabul?
Is that even possible?
"This is the moment in time we spend our career training for," a pilot with 2,000 hours flying the C-17 told Coffee or Die Magazine. "Get into a combat zone and get people out."
Rumors swirled around a particular C-17 flight — RCH871, or Reach 871 — that left Kabul late Sunday, Aug. 15, according to flight tracking services, several social media accounts, and audio of what appears to be air traffic control chatter with the C-17 as it left Kabul. Though carrying that many passengers would almost certainly push up against the C-17's maximum performance specs, all that would truly be needed, the pilot told Coffee or Die, was the will of the aircraft commander to try.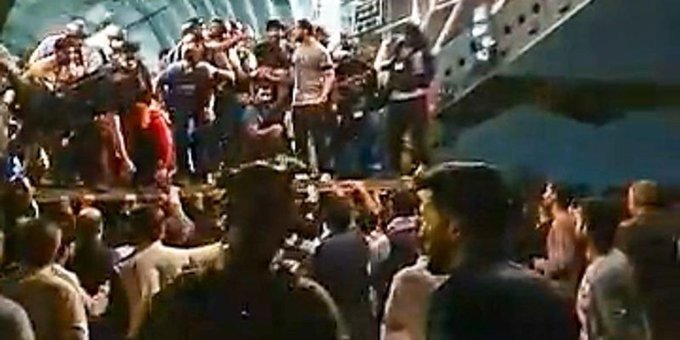 The air traffic control audio — which Coffee or Die could not authenticate but which was posted by a SoundCloud account with extensive history of posting military flight audio — appears to capture an air traffic controller's questions to a C-17 pilot.
"How many people do you think are on your jet?" the controller asks. A moment later, the same controller replies: "Eight hundred people on your jet? […] Holy — holy cow."
Later in the conversation, the controller asks the pilot about their estimated time of arrival at "OTBH," the designator for Al Udeid Air Base near Doha, Qatar, where flight tracking services confirm RCH871 was headed.
Air Force officials were not available to confirm the 800 passenger claim or the authenticity of the audio, but there is no question that a major emergency evacuation is underway in Kabul, with thousands of US and Afghan citizens waiting for flights out of the besieged city. And Reach 871 was clearly in the mix in the last 24 hours.
But, as a matter of flight physics, an 800-passenger flight is not outside of a C-17's capability.
As the Air Force's primary heavy lift aircraft, C-17s are rated with a 585,000-pound maximum takeoff weight — that is, the combined weight of the plane, fuel, and all cargo. An empty C-17 weighs 285,000 pounds, leaving 300,000 pounds for fuel and cargo. If 800 passengers each weighed 200 pounds — a high estimate, given that many are likely to be women and children — they would add only 160,000 pounds, leaving plenty of weight capacity for fuel.
Complicating the equation is Kabul's airport, which sits in thin, mile-high air and is surrounded by mountains.
However, USAF aircraft routinely take off with low levels of fuel, then quickly "hit" an airborne tanker aircraft to take on the fuel needed for a mission, as RCH871 appears to have done soon after leaving Kabul.
OK, so a C-17 could do it — but would everybody fit? The cargo area of a C-17 is just under 1,600 square feet, though the rear ramp provides some additional space. To squeeze 800 aboard — even accounting for children — would be a tight fit.
In normal configurations, C-17s can put 54 passengers on seats along its walls and close to 130 more on traditional airline-style seats that are loaded on pallets. But for emergencies — and many tactical missions — C-17 passengers can be loaded more haphazardly, with cargo straps slung across the cargo bay acting as makeshift seatbelts.
That configuration was used on the flight that carried the current informal record of roughly 670 passengers publicized by the Air Force. That C-17 flight came in 2013 when an aircraft from the 535th Airlift Squadron at Joint Base Pearl Harbor-Hickam, Hawaii, flew a mission that the Air Force reported held over 670 people during Operation Damayan, an evacuation of Filipinos from Tacloban to Manila after Super Typhoon Haiyan devastated the area.
Even the veracity of that number is not clear. In a photo released of that flight, Coffee or Die counted under 400 people in a picture taken from the so-called "ditch hatch," which is toward the front of the aircraft. The small area of the aircraft not visible in the photo is unlikely to hold an additional 270 people. However, other unofficial photos on social media appear to show aircraft from the same operation filled with even more people.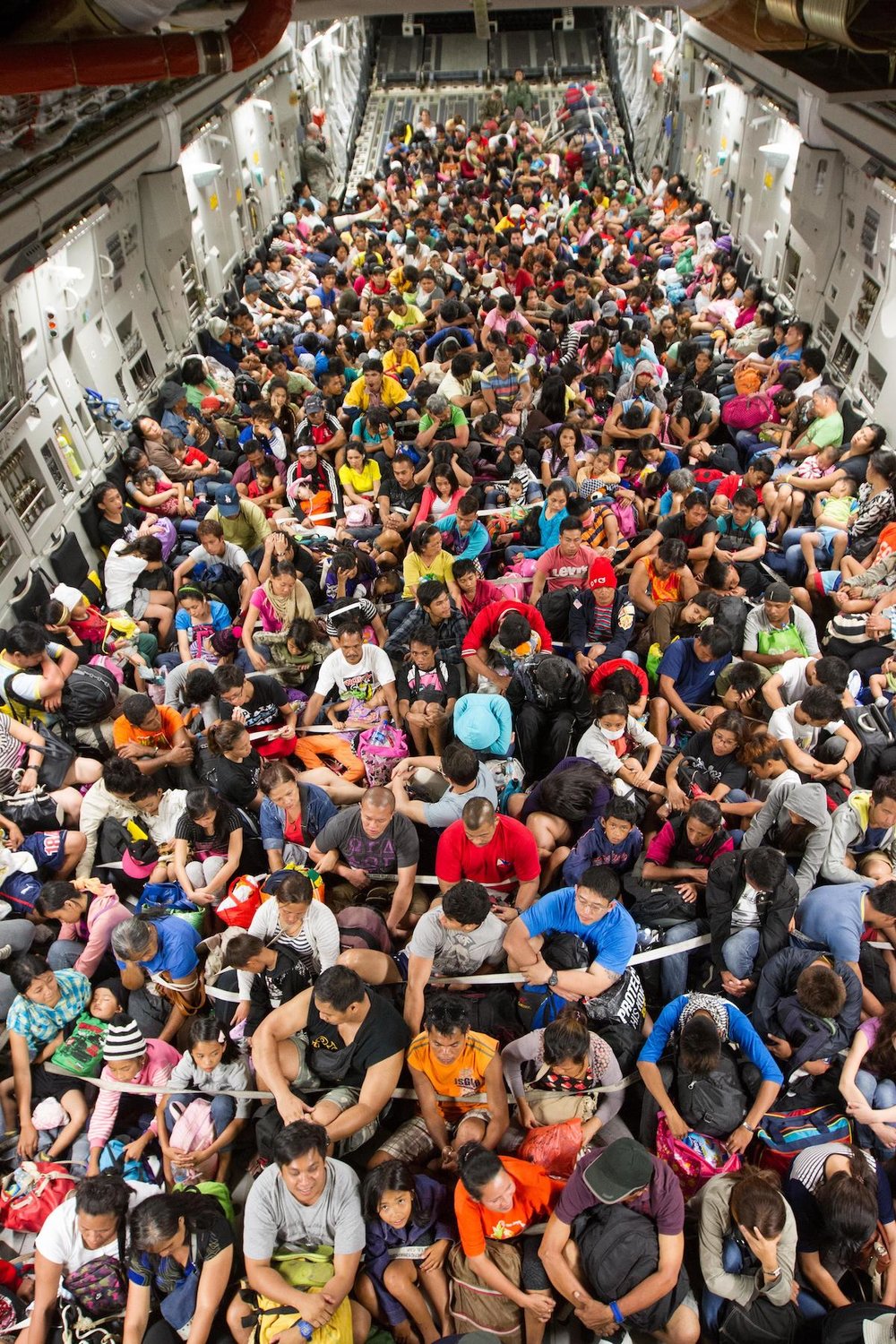 ---
Editor's Note: This story has been updated to reflect that the flight took off from Kabul on Sunday, Aug. 15.
Read Next: