A Stockton police officer viewed as a hometown hero among the city's Cambodian American community was killed Tuesday in a shooting that officials are calling an ambush. Jimmy Inn, a 30-year-old Cambodian American officer, was well-known on the block where the shooting unfolded and was celebrated as a role model.
The confrontation that killed Inn ended with a dramatic moment, when the suspected shooter, Lance Lowe, 30, began to strangle his son on the front lawn of the property. A neighbor tackled Lowe, pulling him off the boy. Police shot Lowe seconds later.
Inn's death was the second on-duty death of a California police officer in just 24 hours and marked the 125th on-duty death of a law enforcement officer in 2021, according to the Officer Down Memorial Page.
Authorities said Inn was responding to a late-morning 911 call for a potential domestic violence incident. A caller said they could hear screaming and saw a woman wearing ripped clothing and bleeding. Police officials said Inn arrived outside of the house shortly after 10 a.m. Preliminary information has led authorities to believe that as Inn approached the door, a male inside the home opened fire, mortally wounding him.
Another officer arrived in time to see the shooting unfold and returned fire. The man soon emerged from the house with his 8-year-old son and began strangling the child. A neighbor, who Stockton Police Chief Eric Jones said is choosing to remain anonymous, tackled the man and broke his hold on the child's neck.
Shortly after, Stockton police shot the man. Both Inn and the shooter were transported to local hospitals, where they were pronounced dead.
Inn was well-known in the neighborhood. One of the residents from that area told CBS13 that Inn was an officer who was always stopping to chat with the kids in the area, providing positive community engagement.
"He would always wave, he would always bring the kids over and give them a police sticker and all of that," Dino Cole, a local resident, told CBS13.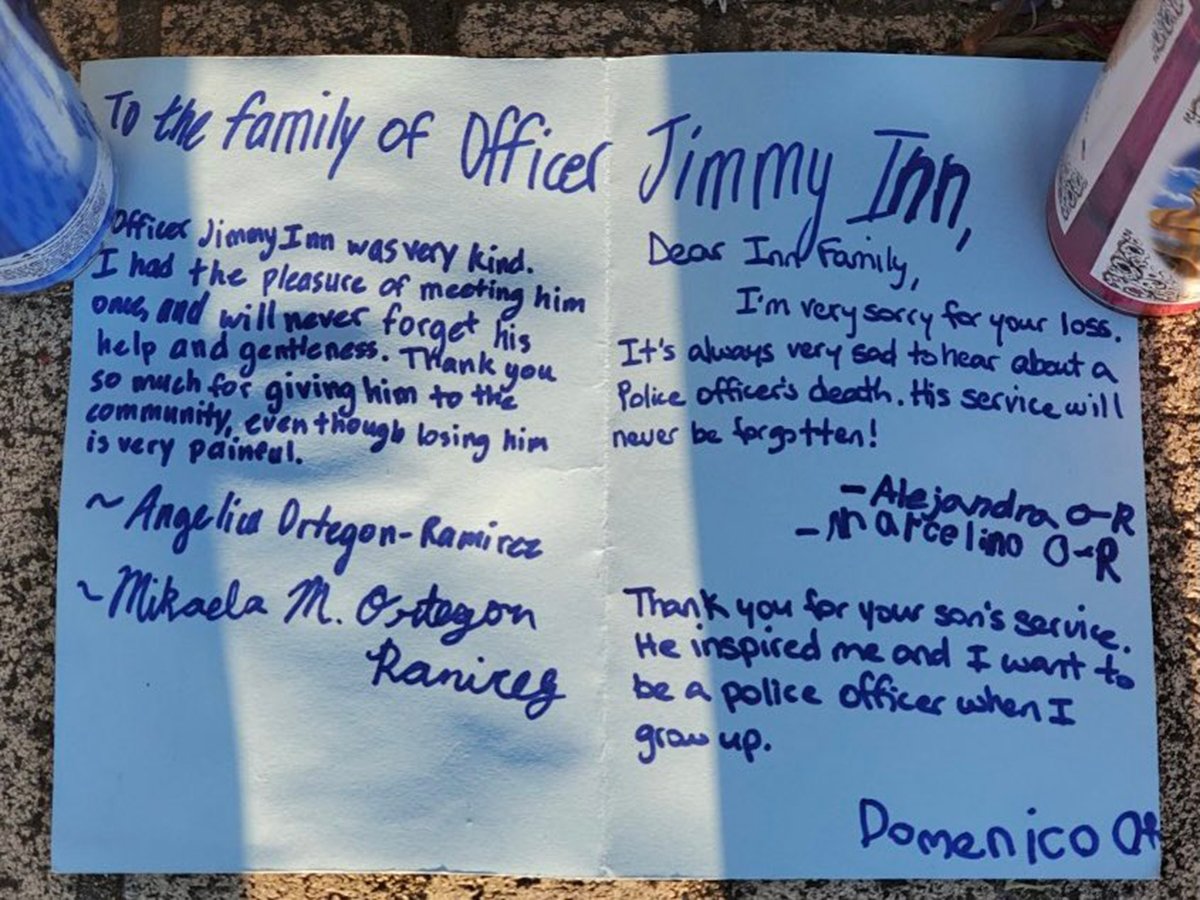 Jones had a message for the community during a press conference held Wednesday about Inn and law enforcement as a whole.
"Honor Jimmy Inn for laying down his life to sacrifice for others," Jones said. "Acknowledge that police work is dangerous and we should support our police officers as much as possible. […] This department will work together to move forward to protect our community."
Inn, who was with the Stockton Police Department for five years, was married to another Stockton police officer and leaves behind three children.
His death follows an incident Monday that killed San Luis Obispo Detective Luca Benedetti. Benedetti was shot while attempting to serve a search warrant on a robbery suspect. One other officer with Benedetti was injured.
Read Next: