The latest Call of Duty: Black Ops video game trailer dramatically presents the dire scenario of a Soviet cabal during the Cold War to infiltrate secret agents within the US over the span of a decades-long effort by Moscow to subvert American society from within.
The clip features snippets of a 1984 interview with Soviet KGB defector Yuri Bezmenov, in which he warns of Soviet "psychological warfare."
"Understand what's going on around you […] you are in a state of war, and you have precious little time to save yourself," Bezmenov said in a 1984 TV interview with conspiracy theorist G. Edward Griffin, from which the video game trailer drew some of its clips.
In the interview, Bezmenov warns of a covert campaign of "active measures" — also known as ideological subversion, or by the contemporary term: "gray zone" warfare — which was the preferred means by which the Soviet Union had hoped to bring down the most powerful military power in human history without waging a shooting war.
"It's a great brainwashing process that goes very slow," Bezmenov said in the original interview, describing Soviet active measures.
Perhaps this all sounds a bit hyperbolic and overly dramatic. The scary soundtrack comprising the background din of the Call of Duty trailer certainly adds a nice dramatic flair. However, this truly is an instance of art imitating life. And, no matter how chilling the video may seem at first glance, the reality upon which it is based is, in many ways, much more troubling.
From the perspective of America's foreign policy academy, military tensions between Moscow and the West ended after the Soviet Union's 1991 breakup. Yet, many Russians viewed the Soviet collapsed as a transition to a new era of conflict and competition with the West. Russian President Vladimir Putin, who served in the KGB in the Soviet era, famously called the Soviet Union's dissolution "the greatest geopolitical catastrophe" of the 20th century.
The Soviet Union's "active measures" campaign against the US is, once again, in full force at the hands of the Russian Federation. But Soviet operatives could have never dreamed of possessing the technological marvels and tools available to contemporary Russian spies and military leaders. The internet, smart phones, and social media comprise some of the potent force multipliers for the modern application of Moscow's Cold War-era, subversive strategies.
Moreover, modern Russia has weaponized information by deploying its state-run media organizations to undermine Western societies and democratic institutions. Thus, by taking advantage of Americans' historically low levels of confidence in journalism, Russia's information warfare is precision-targeted on our citizens through the internet and social media. These activities have manipulated and enflamed divisions within American society — often turning Americans against each other.
"The very 'rules of war' have changed. The role of nonmilitary means of achieving political and strategic goals has grown, and, in many cases, they have exceeded the power of force of weapons in their effectiveness," General Valery Gerasimov, chief of the General Staff of the Russian Federation, wrote in a 2013 article for the weekly Russian trade paper Military-Industrial Kurier.
The Gray Zone
Gerasimov's 2013 essay is frequently referenced as the gold standard in understanding what is now commonly known in the West as Russian "hybrid" or "gray zone" warfare. These terms do not imply covert warfare. Rather, gray zone warfare blends conventional military force with other means such as cyberattacks and propaganda, both on the battlefield and deep behind the front lines, to spread chaos and confusion. In conventional warfare, the effects of combat are limited to the ranges of the weapons used. In gray zone warfare, however, the battlefield knows no limit.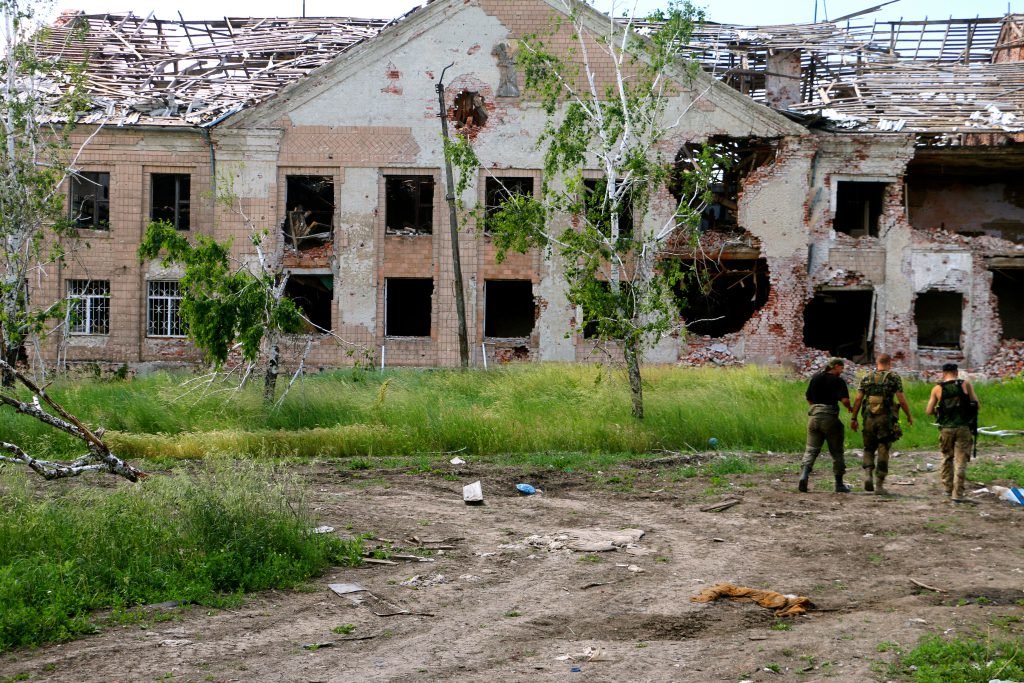 An Aug. 21 Congressional Research Service report highlighted how, according to the contemporary Russian understanding of conflict, war and peace are not binary conditions. Rather, Russian military thinkers consider the West and Russia to be locked in an endless and edgeless war fought on a broad spectrum of intensities, using both lethal and nonlethal means.
The Congressional report said Russian military doctrine still centers around the massed use of artillery and tanks — not altogether different than the World War II tactics that allowed the Soviet Union to overwhelm Nazi Germany's invasion force.
Yet traditional, massed military might is only one piece of Russia's overall national defense strategy. In 2014, after the United States and the European Union levied punitive economic sanctions on Moscow for its aggression in Ukraine, Russia embarked on a hybrid war blitz against Western democracies.
According to a June 2019 report from the Institute for the Study of War:
"Russia is optimizing itself to fight a poor man's war because it is poor and will remain so. Putin is sufficiently in contact with reality to know that he will fail if he attempts to regain anything approaching conventional military parity with the West. Putin has every reason to believe that outright confrontation with the American military will end badly for him."
Instead, by shifting the burden of conflict escalation onto its adversaries, Russia tests whether our leaders in the West are willing to retaliate against nonlethal, so-called gray zone activities with lethal military force. Russia is thereby able to threaten US national security interests and undermine the stability of the democratic world order without resorting to direct military action. Similarly, a Soviet military doctrine called "deep battle" supported front-line combat operations with other actions meant to spread chaos and confusion within the enemy's territory.
"Russia's military strategy identifies the use of kinetic force as only one component in support of wider political or diplomatic objectives," Andrew Bowen, the Congressional Research Service report's author and a Russian and European affairs analyst, wrote. "Rather than seeking to dominate a battlespace, Russia prioritizes flexibility and the ability to adapt to changing conditions in a conflict."
Field Test
Since 2014, Russia has used Ukraine as a testing ground for both its modern conventional and hybrid warfare doctrines, providing a case study for the new kinds of security threats the US and its Western allies can anticipate from Moscow.
The Ukraine conflict began on April 6, 2014, when Russian security agents and Spetsnaz (Special Forces) troops engineered an uprising that spawned two Russian-backed territories in eastern Ukraine — the Donetsk People's Republic, or DNR, and the Luhansk People's Republic, or LNR.
It was a textbook execution of Russia's modern warfare playbook, blending conventional military force with weaponized propaganda and cyberattacks to create confusion, both on the battlefield and deep within an adversary's home turf.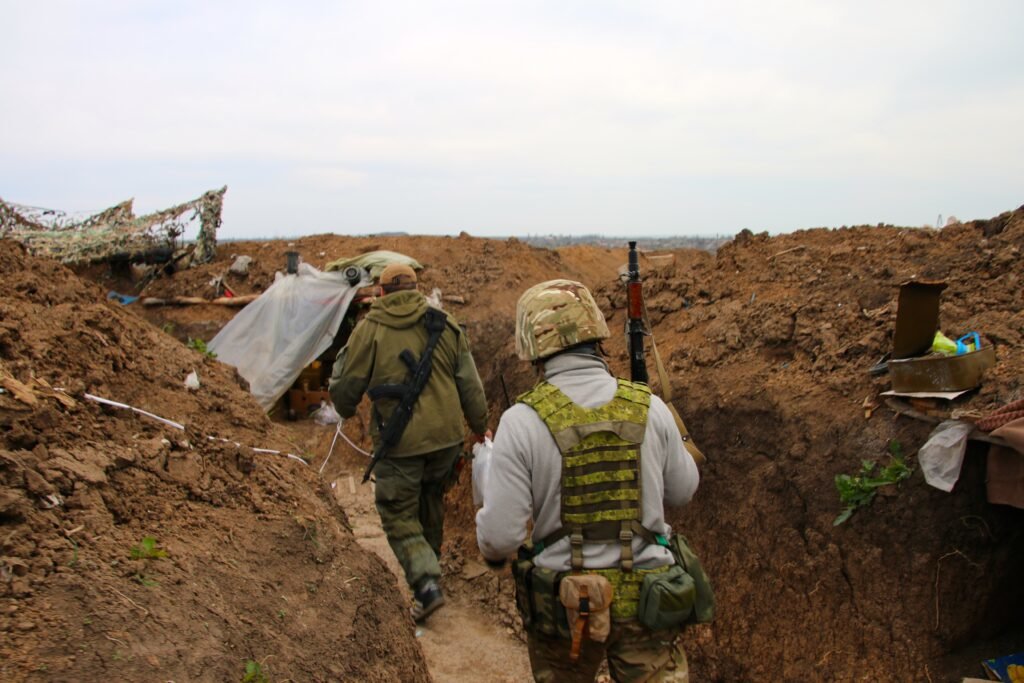 "Russia's conception of the nature of war in the modern era" is defined "by the use of nonmilitary tools and politically led conflict," Bowen wrote in the Congressional report, adding, "Subsequent Russian actions in Ukraine strongly reflected this view, as they were characterized by the extensive use of non-state armed actors, information and disinformation operations, and other non-kinetic strategies."
As airpower did after World War I, Russia's "hybrid" war against Ukraine has redefined the boundaries of the modern battlefield. Early airpower theorists argued that targeting an enemy country's industry and infrastructure could destroy its industrial capacity to wage war. That theory was later extended to include targeting civilian population centers to damage morale.
In his 1921 book The Command of the Air, Italian air warfare theorist Giulio Douhet wrote:
"No longer can areas exist in which life can be lived in safety and tranquility, nor can the battlefield any longer be limited to actual combatants. On the contrary, the battlefield will be limited only by the boundaries of the nations at war, and all of their citizens will become combatants, since all of them will be exposed to the aerial offensives of the enemy."
In 1943, in the midst of World War II, British air chiefs declared that the objective of their Combined Bomber Offensive was "the progressive destruction of the German military, industrial and economic systems and undermining the morale of the German people to a point where their armed resistance is fatally weakened."
That edict about airpower from the 1940s sounds quite similar to what Bezmenov described as the ultimate objectives of Soviet active measures.
Today, the shooting war in Ukraine is quarantined. Its physical effects extend only as far as the range of the weapons used on either side of the entrenched front lines. Outside the war zone, life goes on as normal. But there's another gray zone war going on in Ukraine that affects the entire country.
Like strategic airpower was conceived to do last century, Russia's gray zone attacks have targeted Ukraine's infrastructure, its military-industrial complex, and civilian morale. In September 2014, US Gen. Philip Breedlove, then NATO's top commander, called Russia's hybrid war in Ukraine "the most amazing information warfare blitzkrieg we have ever seen in the history of information warfare."
The main goal of Russia's information warfare, according to Ukrainian security officials, is to incite civil unrest throughout all of Ukraine and to undermine the government's credibility. Moreover, Russian cyberattacks have hit Ukraine's power grid, water supply systems, the country's banking system (shutting down ATMs), its largest international airport, and the electoral process. Russian drones have destroyed Ukrainian weapons depots, and Russian operatives have waged a clandestine assassination pogrom across Ukraine, targeting key security personnel and Russian turncoats. By using these tactics, the Kremlin is targeting the Achilles' heel of any democracy — public opinion.
To that end, Russia has exploited social media as a weapon of war against Ukraine as well. In the eyes of Ukrainian security officials, the internet has become as much of a battlefield as the trenches in the Donbas. Consequently, Kyiv has banned Russian internet search engines, as well as popular Russian social media sites. The ban spurred pushback from the millions of Ukrainians who used those Russian sites for daily tasks and social reasons. But Ukrainian officials insisted the sites posed a national security threat and the ban stuck.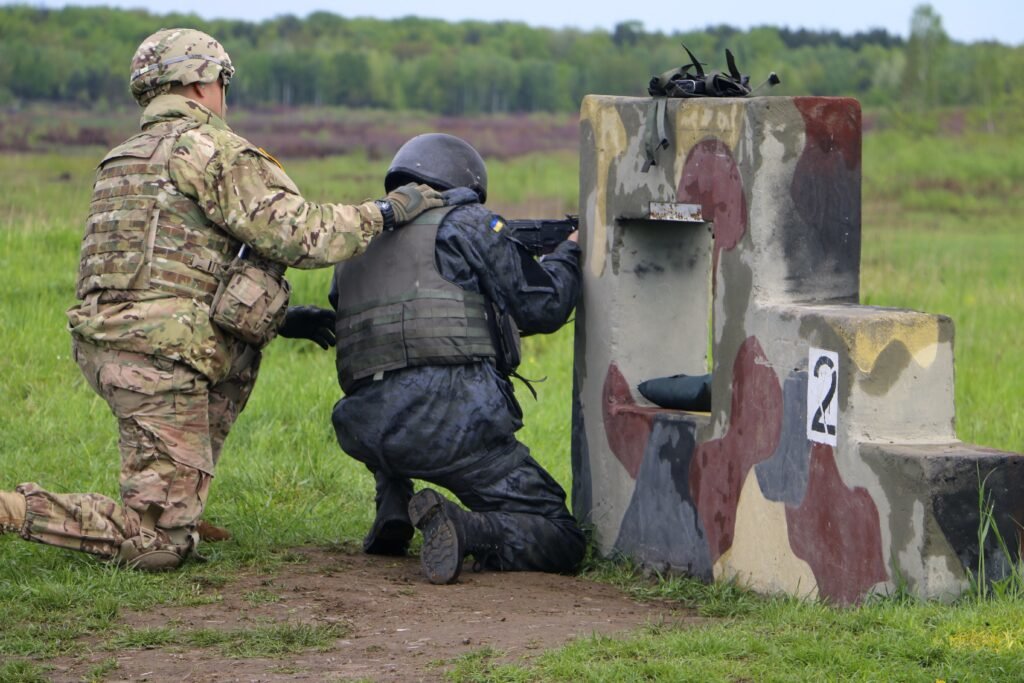 Journalism, too, has been among Russia's hybrid weapons against Ukraine. In turn, Ukrainian officials have banned many Russian TV stations from broadcasting in Ukraine, and foreign journalists accused of spreading Russian propaganda have been expelled.
It's true that gray zone warfare has not replaced the tactical uses of combat airpower like close air support or air interdiction. But hundreds of miles behind the front lines in Ukraine, Russia's propaganda and cyberattacks have largely supplanted the strategic use of airpower.
"Cyberpower has in part replaced many forms of traditional power, from air and submarine power to assassination," explained Kenneth Geers, ambassador of NATO's cybersecurity center and a senior fellow at the Atlantic Council.
"Ukraine has been an evolutionary step forward," Geers said, "with examples of digital conflict seen across the spectrum, in every domain, from politics to diplomacy, in military operations, business, critical infrastructure, and social media."
Betrayal
On Friday, federal officials arrested a former Army Special Forces soldier for allegedly spying for Russia from 1996 to 2011. According to the Department of Justice, Peter Debbins, 45, shared information with Russia's GRU — the country's military intelligence agency, roughly analogous to the CIA.
"Debbins violated his oath as a US Army officer, betrayed the Special Forces and endangered our country's national security by revealing classified information to Russian intelligence officers, providing details of his unit, and identifying Special Forces team members for Russian intelligence to try to recruit as a spy," said John Demers, assistant attorney general for national security, according to a Justice Department release.
According to court documents, Debbins was recruited by Russian intelligence while he was still an ROTC student at the University of Minnesota. Debbins married a Russian woman, and they made numerous trips back to Russia over the years.
While sensational and perhaps reminiscent of a Cold War-era Tom Clancy novel, Debbins' alleged espionage is nothing more than a brief glimpse at a shadow war being waged against the US, and the West more broadly, by the Russian Federation.
The true danger, many experts warn, is when that so-called shadow war spills out into the open.
"Russia's preference for the measured use of force, however, does not imply a trade-off between the decisive use of military power and escalation management. Russian military strategy prioritizes the threat of further punishment," Bowen wrote in the Congressional report. "It would introduce high-end conventional firepower when a low-cost strategy appears insufficient, and it could escalate or de-escalate force depending on the situation."
A new Russian National Security Strategy is anticipated in 2020.