The volunteer firefighters thought the woman might be drunk, but she was screaming she'd left her dog behind in her convertible, which was overturned and filling with tidal canal water.
And then a member of Crawford Volunteer Fire Department heard whimpering coming from a black 2010 Infiniti in the black of the North Carolina night. A Currituck County Sheriff's deputy also spotted air bubbles in the water.
Investigators believe the 43-year-old driver — Lesley Ann Dudzinski of Shawboro — had steered her sports car onto the shoulder of Highway 34 near Moyock on Sunday, June 12. She overcorrected at the wheel, veering across the roadway and into a canal roughly 5 feet deep, according to a North Carolina State Highway Patrol collision report.
She'd lowered the convertible top, "so when that thing was upside down, the only thing you could see was the bottom of the car and the wheels sticking up," Assistant Fire Chief Tim Walter told Coffee or Die Magazine.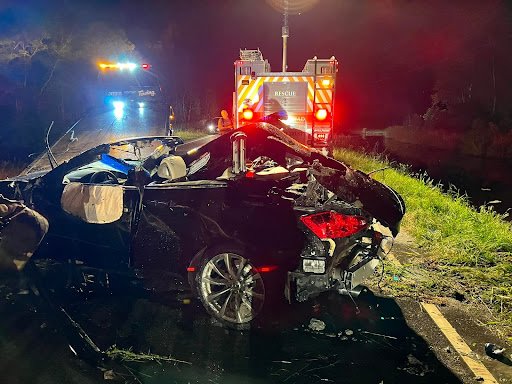 Firefighters received the dispatch shortly before 1 a.m. and only hours after Walter had celebrated his 57th birthday. They didn't have far to go. They saw the convertible bobbing in the ditch water about five blocks from the station house.
Tidal canals along the Carolina coast often come 12 feet wide and 8 feet deep, but it depends on how much water has flowed into them. The water is especially high when a nor'easter or hurricane looms and is sucked dry if tides or winds prod the water out to sea.
"It really depends on if it's low tide or high tide," Walter said. "That water will push all the way up, over the top of the ditch lines."
It was so high on Sunday that the firefighters couldn't pry open the Inifiti's doors. Walter suspects the dripping Dudzinski had rolled out of her car uninjured before it flipped on its top.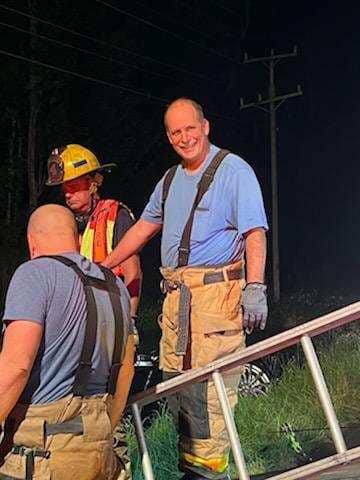 The firefighters hooked the convertible to a Lantz Towing truck and "rolled it over," Walter said. That's often a tricky feat for firefighters, but Walter said several of his volunteers work full-time as tow operators.
Then they spotted the black-and-brown mutt stashed under the dashboard. After the car entered the water, he apparently scooted to the only pocket of air left in the Infiniti, his head just above the rising water.
"It was scared to death, but it was not injured or nothing," Walter said. "He was just happy to be alive, and we're happy, too. There's nothing better than to save an animal because we weren't expecting that."
Walter said the dog appeared to be in shock.
"He was just trying to survive for 20 minutes underwater in a little space that we couldn't even believe that he could have survived in," Walter said. "I would think that dog was probably wore out from trying to get up in a place just to be able to put his nose above water."
Walter told Coffee or Die a male friend of the driver arrived at the scene to briefly fetch the dog and no one in the department has heard from them since Sunday.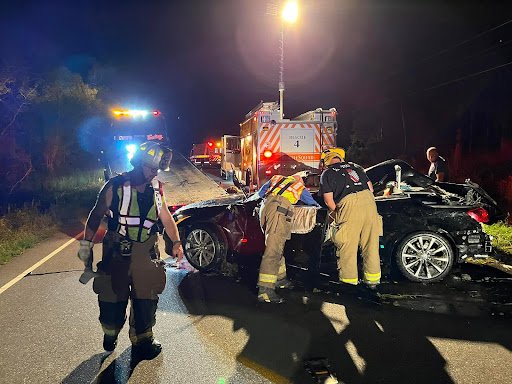 Dudzinski was arrested for driving while under the influence, an open container violation, and careless and reckless driving, and she was transported to the Currituck County Detention Center in Maple.
The North Carolina Highway Patrol continues to probe the incident. Investigators estimated $4,000 in damages to the convertible.
Coffee or Die's attempts to contact Dudzinski were unsuccessful. The telephone number listed on the crash report is no longer in service, and she didn't respond to an email seeking comment.
A criminal records check revealed Dudzinski has been ticketed five times for minor traffic violations in Virginia, but her most recent conviction was in 2007.
Walter told Coffee or Die he and his firefighters were glad they rescued her pooch.
"You never give up," he said. "You always, always continue until you know either it's going to be good news or bad news, but you've got to continue to look and search and try until you get the outcome."
Read Next: 2 Men Roll Over Embankment, Portland Firefighters Rush To Rescue Them