Prosecutors called more than a dozen witnesses in the second week of Derek Chauvin's trial over George Floyd's in-custody death last May. A line of high-ranking police officers and medical experts argued that it was Chauvin's use of excessive force during a violent arrest that killed Floyd. Video of the officer holding Floyd down with his knee sparked a summer of protests and riots in Minneapolis and around the country. Prosecutors elicited several strong moments of testimony that directly laid the blame for Floyd's death on Chauvin's decision to kneel on Floyd for nearly 10 minutes.
Lawyers for the former Minneapolis police officer, however, met each witness with a drumbeat of questions that returned to their central argument in Chauvin's defense: Fentanyl in Floyd's system made him physically difficult to control and was a medical factor in his death, and Chauvin had to overcome not just Floyd but also a hostile crowd as he arrested Floyd.
Chauvin's defense team is expected to call its own witnesses next week, who will likely dispute many of the conclusions the jury heard from prosecution witnesses.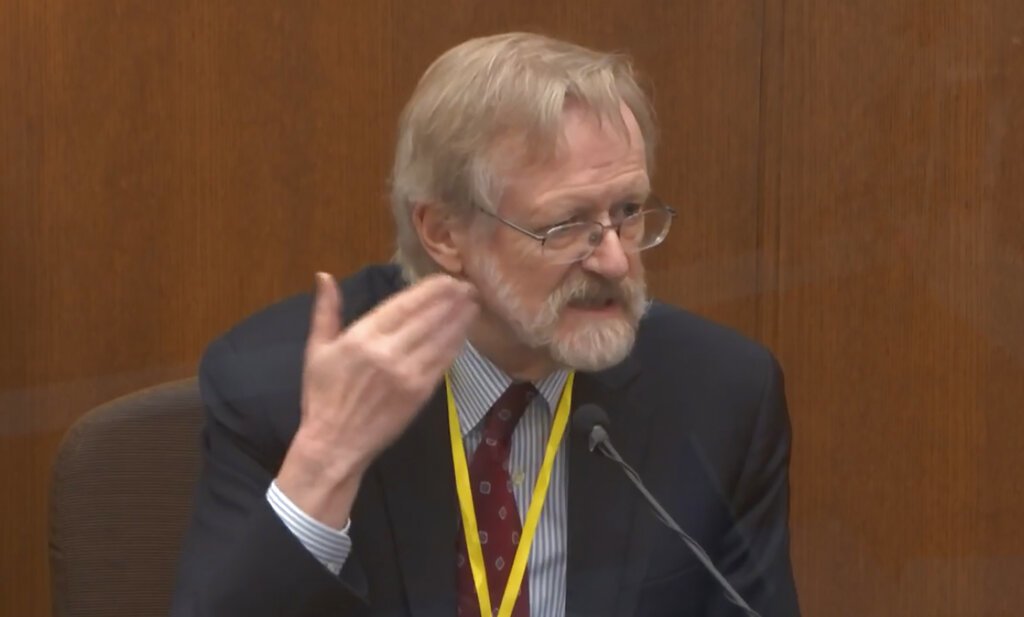 Prosecutors have split their case into three distinct sections. The trial's first week concentrated on eyewitness testimony of Floyd's last minutes, hearing emotional memories from those who were present. However, the trial's second week, which concluded Friday, was focused almost entirely on experts drafted into the case either to discuss the police procedures that Chauvin may have violated or to give medical opinions on the exact conditions that stopped Floyd's breathing and heart.
On the police side, two current police officials testified that Chauvin was grossly out of line in his treatment of Floyd. The head of Minneapolis' homicide unit, Lt. Richard Zimmerman, said that kneeling on Floyd's neck or back, particularly after he was unconscious, was "totally unnecessary."
Putting a suspect facedown, Zimmerman said, "and putting your knee on a neck for that amount of time, it's just uncalled for."
In cross-examination, Chauvin's lawyer asked Zimmerman if, in his experience, a suspect who appeared unconscious could wake up and become immediately violent. Zimmerman agreed that behavior was possible in a street arrest.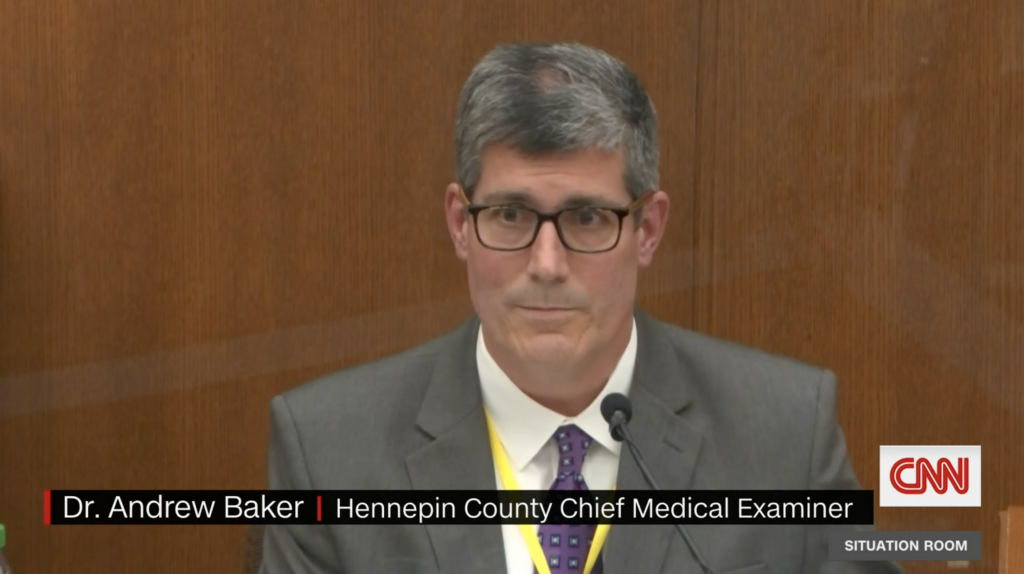 Prosecutors also called Minneapolis Police Chief Medaria Arradondo, who said Chauvin had "absolutely" been outside of department policies on use of force, de-escalation, and his duty to render aid. MPD policy allows for "light to moderate" pressure in neck restraints, he said, and in his view, Chauvin's use of his knee was beyond those limits.
"There's an initial reasonableness in trying to just get him under control in the first few seconds," Arradondo said. Once Floyd had stopped resisting, he continued, "and clearly, when Mr. Floyd was no longer responsive and even motionless, to continue to apply that level of force to a person […] in no way, shape, or form […] it is not part of our training and it is certainly not part of our ethics or values."
Perhaps the most striking testimony came from pulmonologist Dr. Martin Tobin, who testified that, by analyzing video of Floyd under Chauvin's knee, he could pinpoint the moment Floyd died — about halfway into the nine and a half minutes Chauvin held him.
Tobin narrated several minutes of video of Floyd, pointing to images of Floyd trying to use his fingertips to gain room to breathe and noting both his voice and the sounds of his breathing dropping lower. At one point, when Floyd goes still and does not move again, Tobin said, "One second he's alive, and one second he's no longer. That's the moment the life goes out of his body."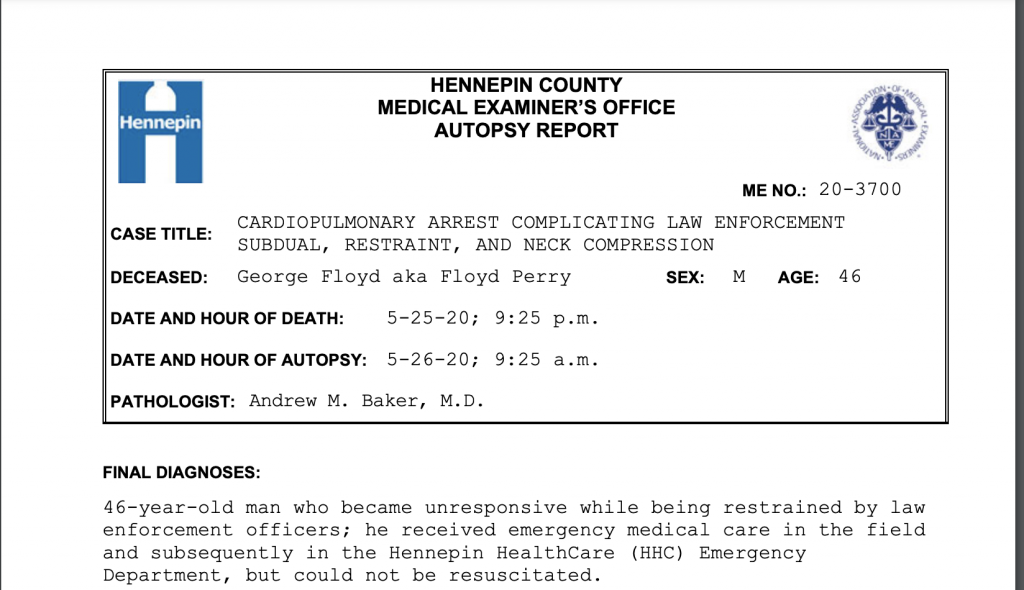 Chauvin's defense attorney asked Tobin if Chauvin was actually not on Floyd's neck but rather perched on Floyd's back. Tobin said the difference in a few inches of placement would not make any real difference.
Chauvin's defense did win several concessions from prosecution witnesses.
A police investigator admitted that the initial processing of a car had missed two partially chewed pills that were later found to be "speedballs" with Floyd's DNA on them.
In the most contested moment of the week, prosecutors got another investigator to review a video clip in which Floyd appears to tell officers, "I ate too many drugs." Chauvin's lawyer Eric Nelson got Senior Special Agent James Reyerson to agree that Floyd appeared to say those words. However, prosecutors then asked Reyerson to review the clip again, after which he said he thought Floyd was saying "I ain't do no drugs."
Chauvin's team also closed the week by winning a concession from a medical witness. Dr. Andrew Baker, the coroner who performed Floyd's autopsy, said Floyd had severe heart disease, including high blood pressure. He also said that the level of fentanyl in Floyd's body could have been fatal all by itself.
"In other circumstances, it would be a fatal level," Baker said.
Read Next: