The newest and largest aircraft carrier launched by China — and the first to rival American carriers in size — was christened Friday with a name that sends a clear message about why it was built: "Fujian."
Fujian (pronounced foo-jyen or foo-jyahn) is the coastal Chinese province closest to Taiwan, adjacent to the US-allied, self-governed island across the 110-mile-wide Taiwan Strait. China has long used naval activity in the South China Sea to intimidate Taiwan and refute its claims of independence. Just in recent weeks, officials in Beijing have insisted — as they have for years — that the Taiwan Strait is not an international waterway but part of Chinese waters, a claim the US rejects.
Taiwan's Premier Su Tseng-chang said Wednesday that "China's ambition to swallow up Taiwan has never stopped or been concealed."
It is into that heated political atmosphere that the Fujian was launched and christened Friday.
The exact dimensions of the Fujian have not been released by Chinese authorities, but most Western observers who have estimated its size believe it is on par with American Nimitz-class supercarriers, which are 1,092 feet long. More importantly, its flight deck layout is essentially identical, with a forward launch deck that incorporates catapults, which earlier Chinese aircraft carriers do not have.
The ship is China's third major aircraft carrier put into service since 2016 (the last US carrier put to sea was the Gerald R. Ford in 2017, and the John F. Kennedy is scheduled to enter service in 2024). China's first carrier, the Liáoníng, was an unfinished Russian ship purchased and completed by China in 2012 and reported to be in full service in 2016. The Shandong, the first wholly Chinese-built carrier, is largely similar to the Liáoníng and came online in 2019. Both are about two-thirds the size of the Fujian with a "ski-ramp" style launch ramp.
China's two smaller carriers are said to accommodate just over 30 aircraft, a far smaller force than a Nimitz-class Carrier Air Wing, which typically embarks with close to 70 aircraft.
China has ramped up its naval aviation force in recent years, deploying carrier versions of the J-15 fighter, a domestic-built version of one of Russia's most modern fighters, the Su-33. Chinese-focused media have also reported that the J-20, a Chinese-designed fifth-generation fighter meant to rival the American F-35 and F-22, will be deployed to carriers as well.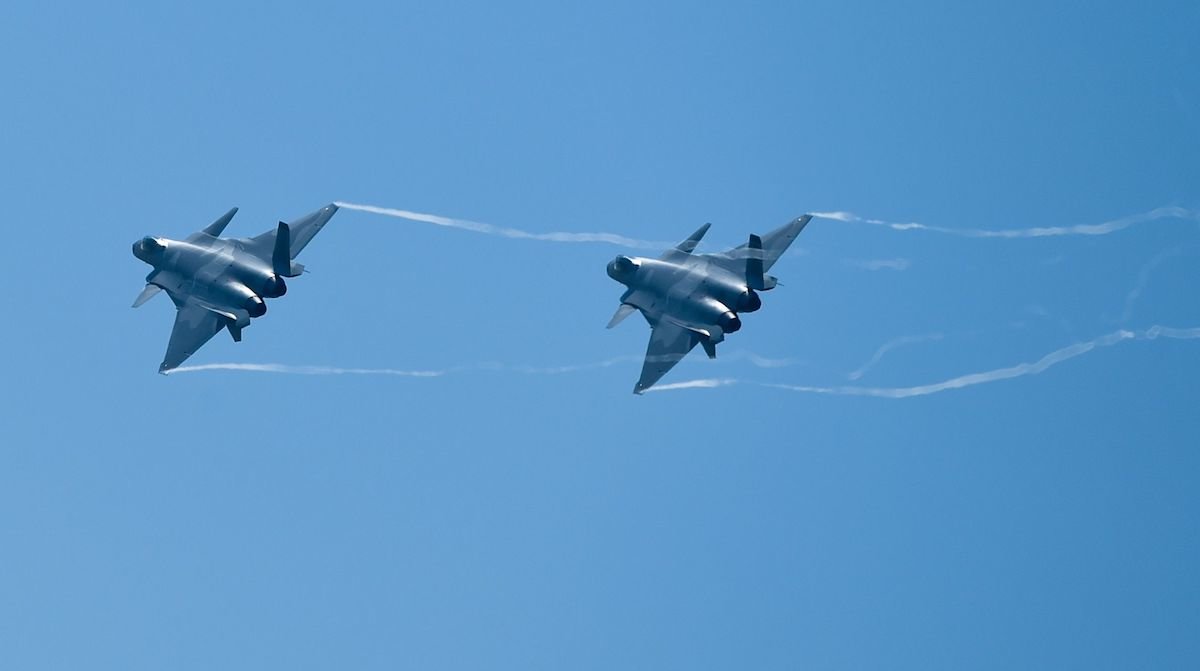 The US has 11 carriers in service, 10 Nimitz-class and the marginally larger Gerald R. Ford. The Ford's primary difference from earlier carriers is not size but equipment, including the Electromagnet Aircraft Launch System, or EMALS, which replaced the Nimitz-era steam-driven catapults.
The Fujian also is reported to have an electromagnetic launch system, though, unlike American carriers, its power plant runs on conventional diesel fuel rather than an onboard nuclear reactor.
The ship launched covered in red banners, many of which were printed with messages. Naval News printed a translation of some of the banners, which it said read: "to build a strong and modern navy, and provide strong support for the realization of the Chinese dream of a strong military. To realize the party's goal of strengthening the army in the new era, and build the people's army into a world-class army in an all-round way."
Unlike those of most Western nations, China's navy falls under its army, the People's Liberation Army or PLA.
Read Next: