Lt. Col. Arthur "Ted" Ballard was an experienced Air Force aviator who flew dozens of combat missions in his F-105 jet. He earned a Distinguished Flying Cross before being shot down during a bombing run over North Vietnam in September 1966.
He survived 2,351 days and seven Christmas holidays in captivity at various prisoner-of-war camps, including the notorious "Hanoi Hilton."
Perhaps his most powerful contributions to the Vietnam War record, beyond even his combat achievements, were the recollections he penned in a series called "Christmas in the Dungeons of North Vietnam."
Ballard shared his experiences during the Christmas seasons from 1966 to 1972 until his release six and a half years later as part of Operation Homecoming on March 4, 1973.
His first year in captivity, Ballard spent Christmas Eve in 1966 in a tiny prison cell, which he shared with another Navy aviator, Ensign George McSwain. Ballard had been in a cast from his left ankle to his chest for two months but had graduated to hobbling around the room with crutches. His cellmate wasn't as fortunate. For seven weeks separated from other American POWs, Ballard watched McSwain undergo an extreme form of torture called "holding up the wall," which was meant to force a war crimes confession from Ballard.
McSwain had to stand facing the wall with his arms straight over his head for hours on end without rest, often interrupted by beatings when fatigue set in and his limbs failed. Despite the brutality, McSwain's resilience didn't waver, and come Christmas morning, the camp commander had forgiven him for his "crimes."
"George's long ordeal was over," Ballard wrote. "In a way we felt it was a victory for us since I did not have to write a confession or condemn the United States government. Several times I came close to calling a halt to the torture and writing the statement, but George was a tough man and he took it as he said he could. The Vietnamese gave us a good Christmas dinner — a piece of meat, lots of rice, and, for the first time, cabbage soup."
Ballard wrote down his reflections of Christmas Eves and Christmas Days over the years, often describing the surprising humanity of his captors. The years of pain, hunger, thirst, fear, anxiety, humiliation, and degradation aren't explicitly covered in his Christmas stories but are explored in his book From the Dungeons of North Vietnam: Return With Honor March 4, 1973.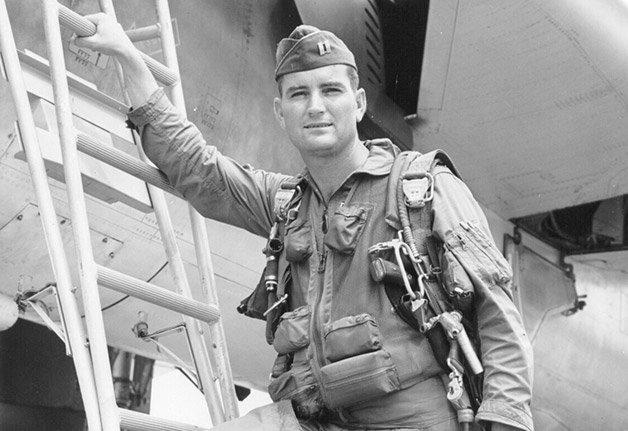 "The first ten months of 1969 were the worst for the POWs," Ballard wrote for his Christmas 1969 entry. "An attempt to escape had failed and the Vietnamese had retaliated with extreme brutality."
But by Christmas, conditions had improved. Several of the POWs received packages from home and shared them. Ballard received a set of thermal underwear, and after a cellmate gave him a blanket, he could finally stay warm during those "long, sleepless, miserable nights."
"We made Christmas cards for the men in the other buildings," Ballard continued. "These were 'air-mailed' by tying a rock to the paper and throwing them from our courtyard to theirs. For a Christmas tree, we decorated a small swiss-type broom with strips of cloth and paper with various designs."
Another POW and artist who enjoyed doing things with his hands used a black pajama top as a canvas and drew a tree on it.
"From paper and cloth he made stars and other ornaments and attached them to the tree," Ballard recalled. "Small packages with each of our names were also attached. This was kept hidden during the day but was hung on the wall in the evenings for our enjoyment."
Despite their circumstances, Vietnam War POWs alongside Ballard managed to celebrate the Christmas holidays, in conditions often unimaginable and far apart from their loved ones back home.
Ballard's "Christmas From the Dungeons of North Vietnam" can be read in full here.
Read Next: Fighting Communism With Candy: The Berlin Candy Bomber