The October sun beat down on the flight line, searing the asphalt around the Black Hawk. Beads of sweat dripped from Luke Peelgrane's face. It was "balls-hot," dry, and the former Green Beret was stressed out of his mind as he prepared for a new mission, this time armed solely with a camera and shot list.
In a role that's half Hollywood director, half drill instructor, he had the models don fatigues and gear, practice getting on and off the bird, and rehearse every minute of what would be his most logistically challenging shoot since founding Clandestine Media Group.
Peelgrane came to photography out of necessity. While still in the military, he ran RE Factor Tactical and realized how expensive it was to pay for product photos. So he watched photography lessons online while on deployment, bought a professional camera, sought advice from friends, and became his own photographer.
"Because I was going on deployments all the time, I had a good idea of what the current situation looked like downrange — what people were wearing and what the scenarios looked like," Peelgrane told Coffee or Die Magazine. "So I would come home, take that application, and put it toward photo shoots that we would use for our own internal marketing."
Soon, other companies asked whether they could participate in the photo shoots. Peelgrane realized he had to split the businesses, and Clandestine was born in early 2019. Now, he's in the process of selling RE Factor and focusing entirely on hammering out his niche in the content and marketing space.
The word "authentic" is frequently applied to CMG's work. All salaried employees are veterans, bringing unrivaled precision and attention to detail to their projects.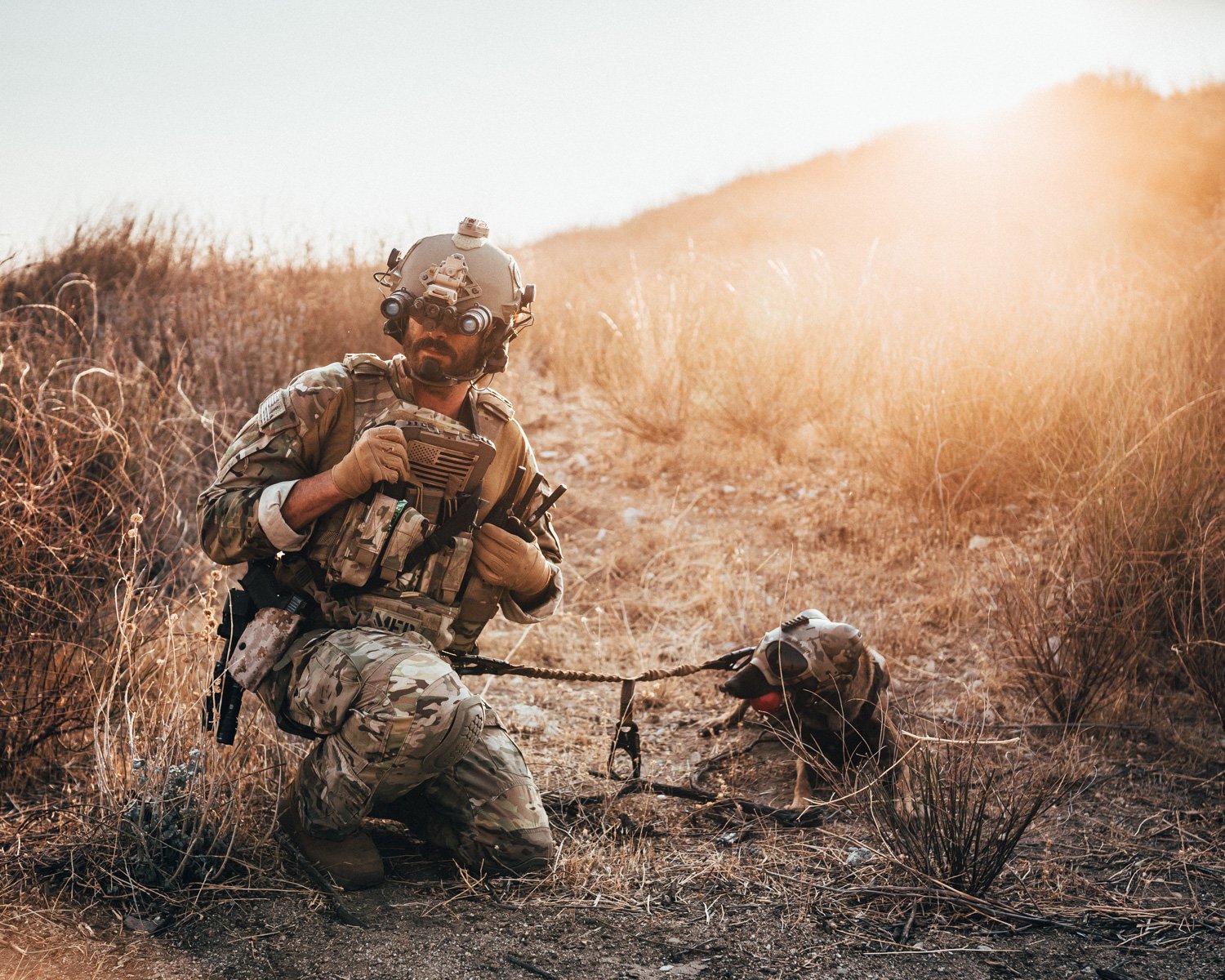 "If you're in the military, it's a job, but it's also a lifestyle," Peelgrane said. "A person will look at a photo, and the first thing they do is just start looking for things that are wrong. You can have the coolest shot in the world, but if the guy's American flag patch is backwards, it literally ruins the entire shot."
The models in CMG's photo shoots are almost exclusively current or former special operations forces and SWAT guys. They're fit, covered in tattoos, sport impressive beards, and know how to handle a rifle or fast-rope out of helicopters.
"The devil is in the details," Black Rifle Coffee Company editor-in-chief Logan Stark said. "In this day and age where everyone seems to be a tactical guru or have this cool vibe they're trying to go after, Luke is one of those dudes who's able to approach and feature guys who actually live that life instead of just a model."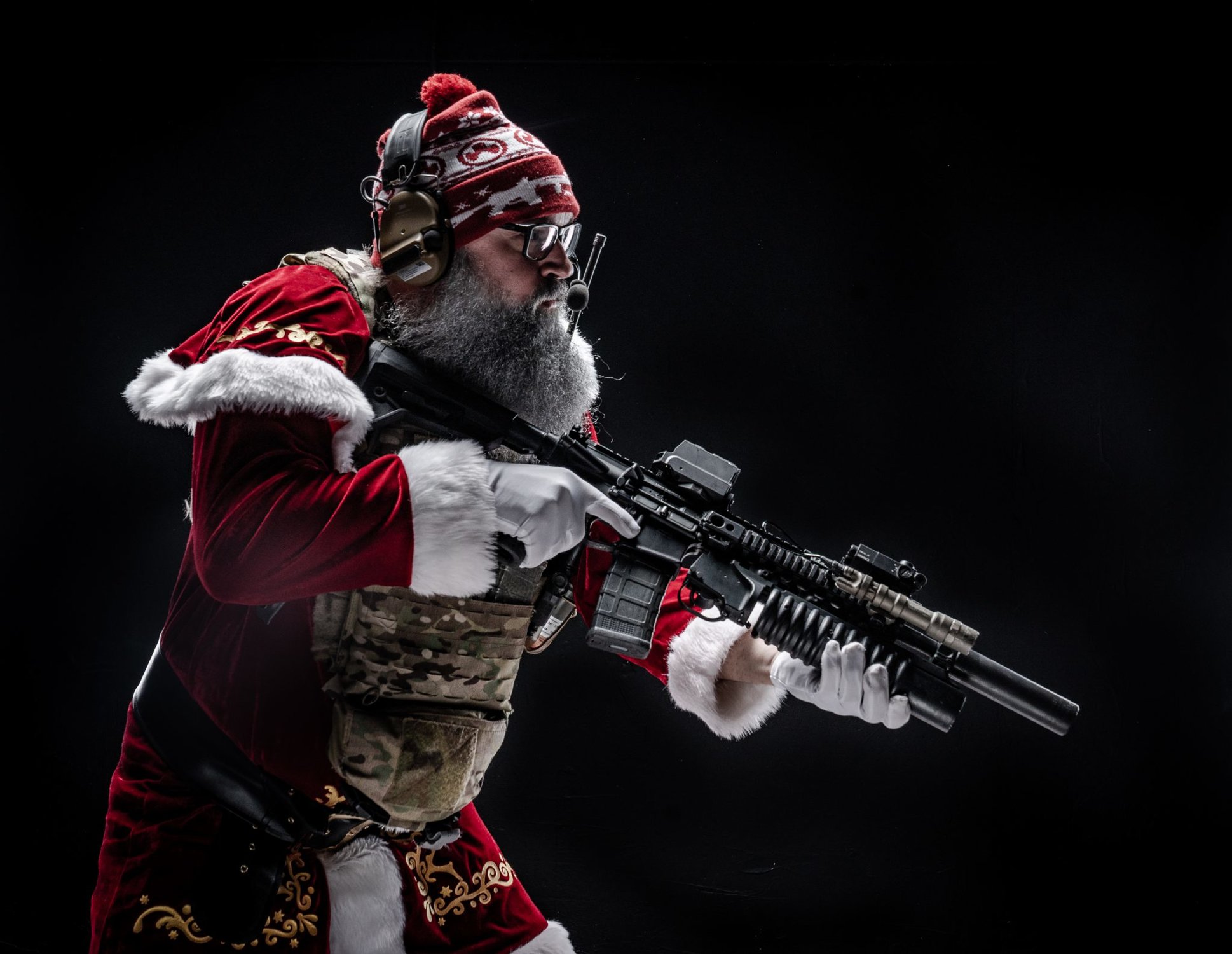 Peelgrane's commitment to hiring veterans is a big part of why BRCC likes to work with CMG, Stark said. That, and Peelgrane's ability to consistently nail the shot and incorporate the element of epic fun BRCC strives for.
"I want that guy who's downrange, deployed overseas, to look at these photos and say, 'That's fucking cool. That's rad.' We want that guy to be able to see himself in the photo and have it be authentic to the people we represent," Stark said. "We fuck around. There's no point in doing this stuff if we're not having fun while doing it."
Peelgrane wasn't having much fun on that scorching morning in Southern California, the final – and hardest – day of a five-day shoot that had already taken his crew on boats in the San Diego Harbor, through an abandoned mansion, and to several other locations in Los Angeles County. Several noncompeting brands, including BRCC, split the bill for the Black Hawk shoot, which cost about $160 for every minute of blade time, Peelgrane said.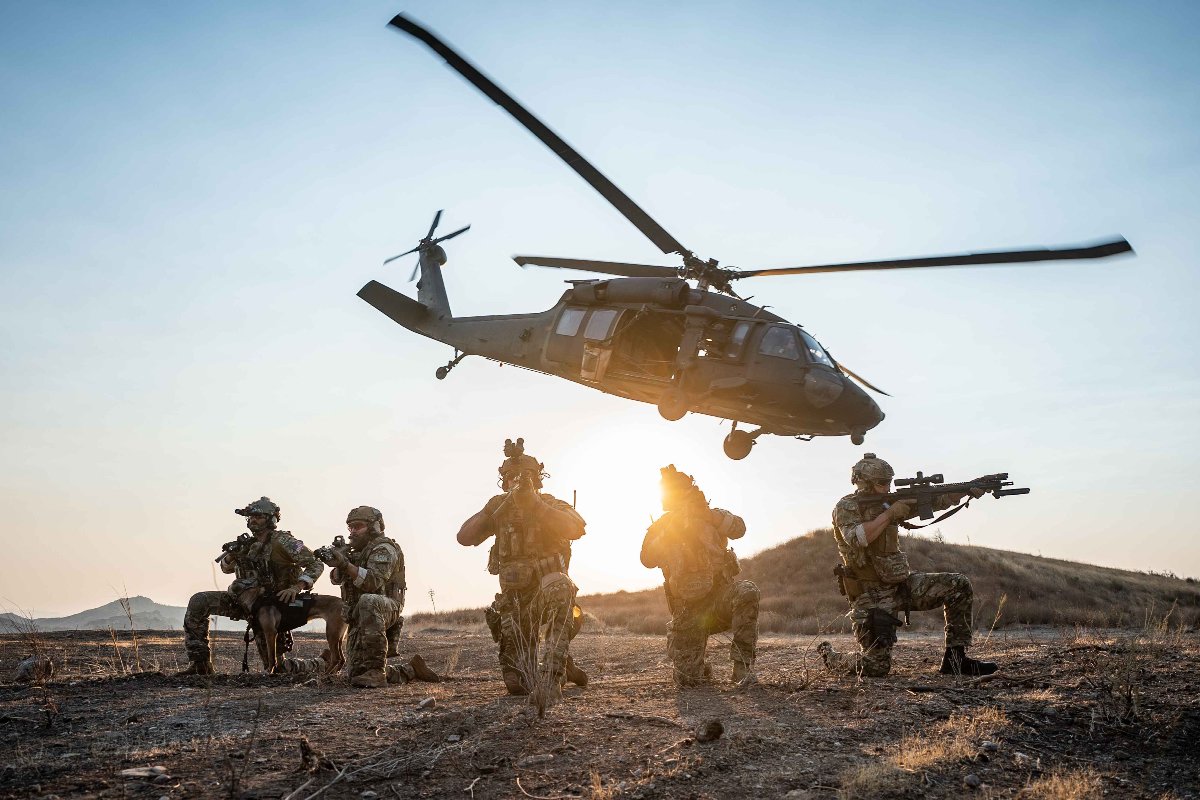 When the Black Hawk took flight for one of the final sets of shots, Peelgrane hung out the side, tethered to the chopper. They descended on a piece of private land, which had been secured just days prior to the shoot because other locations kept falling through. CMG finally found a field on Google and called up the owner to ask how he felt about them landing a helicopter on his property.
When the helicopter performed its initial landing flare, Peelgrane realized they'd forgotten one crucial step: watering down the landing pads.
The ground crew ducked their heads as dirt, sticks, and other debris washed over them in a vicious dust cloud. CMG photographer and Israel Defense Forces veteran Naomi Schware even had chunks of earth in her teeth when she smiled. They got the rest of their shots, then sent the dust-covered cameras to get professionally cleaned.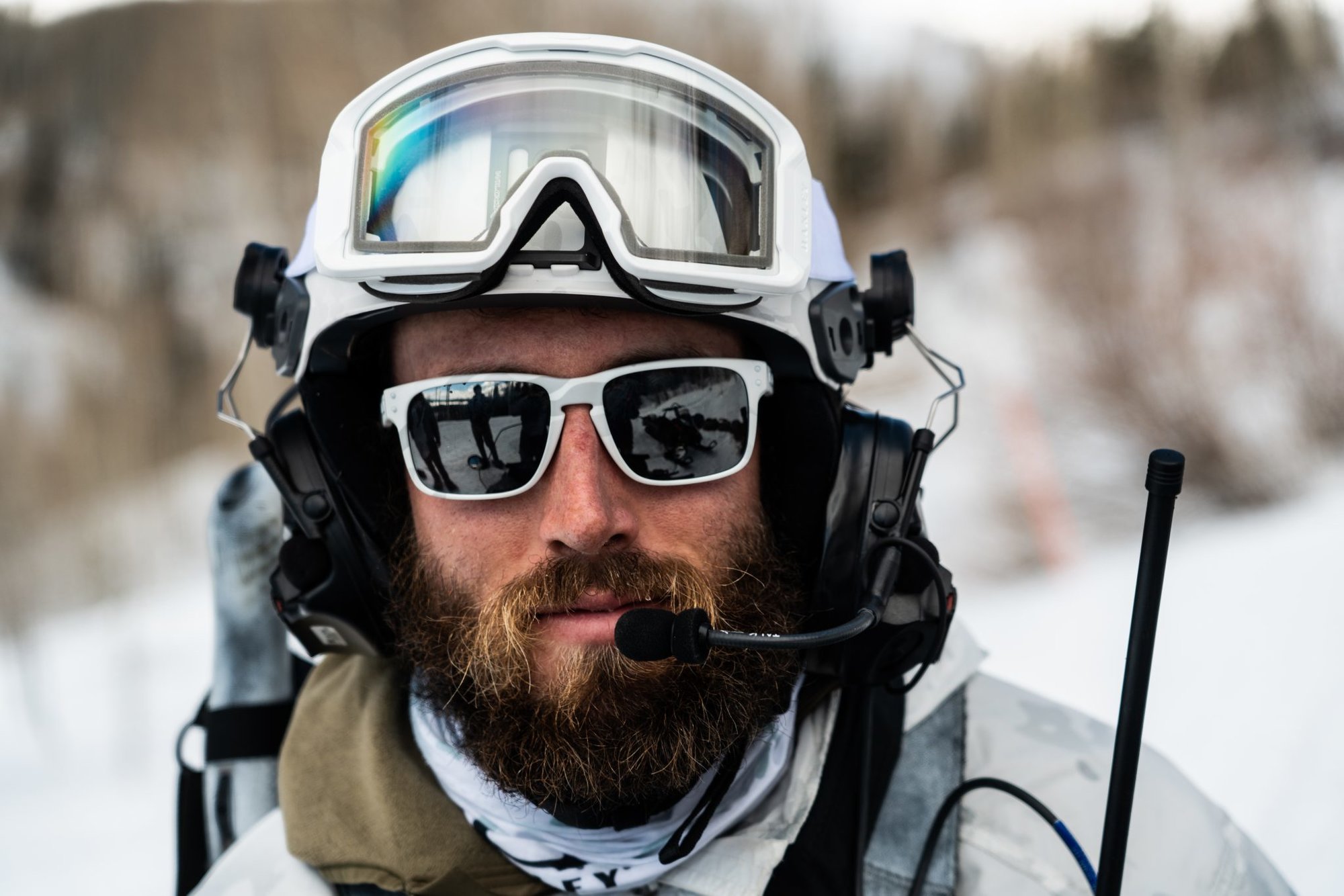 As the shoot wrapped, Peelgrane realized what a turning point it had been for Clandestine. For the first time in two years of being in business, he felt like he had a professional marketing company.
"Compared to two years ago, it's night and day," Peelgrane said. "I now consider us to be one of the industry leaders."
During the return flight, Peelgrane finally put down his camera and looked around. He was flying over LA in a Black Hawk with the sun setting in the background.
"This is cool," he thought at last.
Read Next: Coffee or Die Joins USO on Whirlwind Tour of Military Bases