KYIV, Ukraine — Four Ukrainian soldiers have died in combat against Russian-backed forces in Ukraine's eastern Donbas region during the past two days. The deaths come amid heightened military tensions between Kyiv and Moscow following a recent uptick in violence in Ukraine's eastern war zone that parallels the ongoing mobilization of Russian forces — including thousands of troops, armor, and artillery — along Ukraine's frontiers.
Two Ukrainian soldiers died during a battle on Monday. "Two servicemen received fatal gunshot wounds amid enemy shelling," the Ukrainian military announced on Facebook, adding that its units returned fire on Monday after intense fighting broke out at several places along the roughly 250-mile-long, entrenched front line in the Donbas.
Two more Ukrainian soldiers were killed in combat Tuesday. One died due to mortar fire from the Russian side near the settlement of Nevelske. The other soldier was killed when a Ukrainian vehicle was struck by an improvised explosive device, or IED.
On Tuesday Ukrainian officials ordered an emergency meeting of the Trilateral Contact Group — a peace negotiation framework including representatives from Ukraine, Russia, and the Organization for Security and Cooperation in Europe. Attacks by combined Russian-separatist forces since March 26 have killed eight Ukrainian soldiers, Ukrainian President Volodymyr Zelenskiy wrote Tuesday on Twitter.
"These gross violations of the cease-fire amid the unprecedented buildup of Russian forces near Ukraine's state border and the belligerent rhetoric of representatives of the occupying authorities cause deep concern among the political leadership of Ukraine and international partners," Ukraine's Trilateral Contact Group delegation said Tuesday in a Telegram post.
Moscow, for its part, blames Kyiv for the recent rise in tensions.
"So far, we can't see signs indicating that the Ukrainian side wants to somewhat calm down, drop bellicose rhetoric hidden behind the talk about some imaginary threat and take control of its army units that are deployed directly along the contact line [in the Donbas] and that often become a source of provocations," Kremlin spokesman Dmitry Peskov said Tuesday in Moscow, the Russian news site TASS reported.
On March 30, Ukrainian Chief of Staff Ruslan Komchak said Russia was massing military units on Ukraine's southern and eastern borders. Since then, US and NATO leaders have pledged their support for Ukraine, and US military forces in Europe have gone to their highest watch level.
"We've asked Russia for an explanation of these provocations," US State Department spokesman Ned Price told reporters Monday in Washington. "But more importantly, what we have signaled with our Ukrainian partners is a message of reassurance."
Over the past week, many Ukrainian and Western analysts have assessed that Russia's military mobilization is probably intended to send a coercive political message to Kyiv rather than set the stage for an imminent military offensive.
However, events on the ground are in flux and recent developments have spurred some leading experts to revise their initial assessments and warn that offensive Russian military action is now more likely than they had originally thought. Particularly troubling are the Russian military units amassing in Crimea — the Ukrainian peninsular territory on the Black Sea that Russia invaded and seized in 2014.
"The [Russian] force gathering in Crimea is quite concerning. More units appear to be departing for the peninsula each day. So this situation is developing," Michael Kofman, director of the CNA Corp.'s Russia Center and a fellow at the Woodrow Wilson Center's Kennan Institute, wrote Monday on Twitter.
Kofman added: "Does this mean invasion imminent? No. I'm largely where I was last week in that initial analysis. But confidence levels are important. I'm less confident that this is just a coercive demonstration than I was before."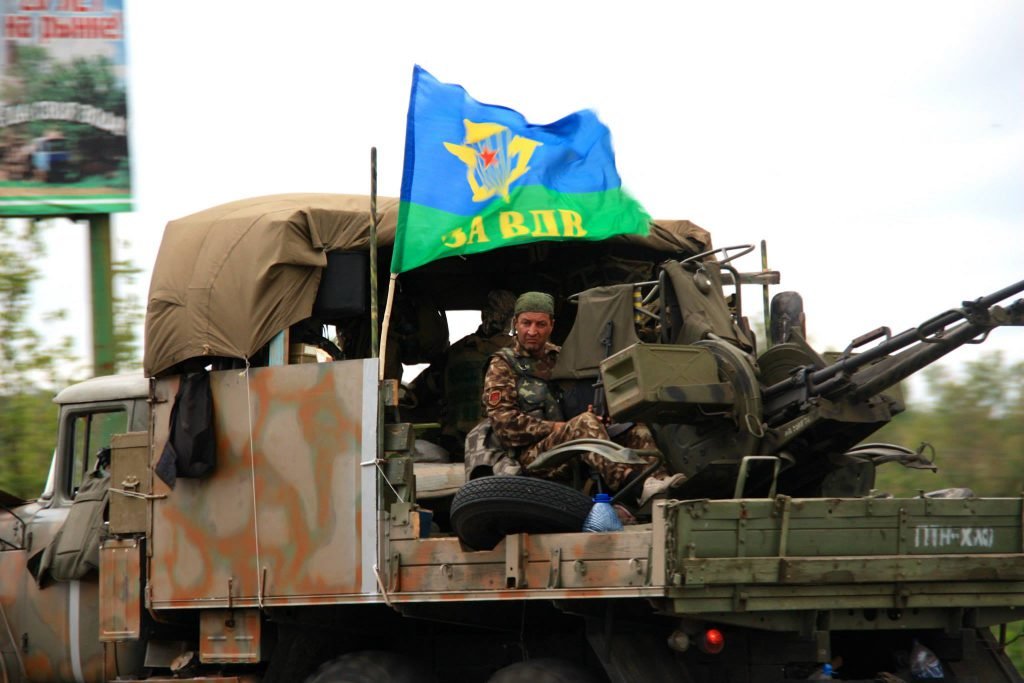 Russia's concentration of artillery near Ukraine's borders raises the specter of increased artillery exchanges between the Ukrainian and Russian-backed camps in the Donbas — where Russia continues to fund, command, and control two separatist territories' war efforts against Ukrainian government forces.
Another worrisome sign, experts say, is that Russia has moved military units from its Central Military District to Ukraine's borders. Those units are not normally tasked for operations in the vicinity of Ukraine, experts say.
"The Central district does not even border Ukraine, and troops from there have no business being near Ukraine outside of a major exercise or something more sinister," according to the Conflict Intelligence Team, a Russia-based, open source intelligence group that investigates the wars in Ukraine in Syria.
The Russian 76th Guards Air Assault Division — a unit that saw action and suffered casualties in eastern Ukraine in 2014 — has also reportedly moved to Crimea. According to the Conflict Intelligence Team, the 76th Guards is "one of the most combat-ready Russian units."
On Tuesday, NATO Secretary General Jens Stoltenberg announced on social media that he had called Zelenskiy to "express serious concern about Russia's military activities in and around Ukraine & ongoing ceasefire violations."
"NATO firmly supports Ukraine's sovereignty & territorial integrity. We remain committed to our close partnership," Stoltenberg wrote on Twitter.
Zelenskiy reportedly urged Stoltenberg to expand NATO's presence in the Black Sea region as a hedge against Russian aggression.
"Such a permanent presence should be a powerful deterrent to Russia, which continues the large-scale militarization of the region," Zelenskiy told Stoltenberg, according to a readout published to the Ukrainian president's website.
Read Next: