Two California National Guard aircrews received the Distinguished Flying Cross for their actions on Sept. 5 and 6, 2020, that saved 242 people from the Creek Fire that surrounded the Mammoth Pool Reservoir campground, according to a White House press release.
"Today it's my profound honor to award seven extraordinary soldiers with the Distinguished Flying Cross for their remarkable courage to rescue their fellow citizens," President Donald Trump said during the award ceremony, later adding, "Your unyielding determination lifts our nation. You're what makes our nation great, and we thank you very much."
Chief Warrant Officers Joseph Rosamond, Kipp Goding, Irvin Hernandez, Brady Hlebain, and Ge Xiong, and Sgts. George Esquivel and Cameron Powell made up the aircrews manning the MH-47 Chinook and the UH-60 Black Hawk that made three separate trips into the blazing, smoke-filled area.
The Cal Fire incident command had told them not to go due to the extreme danger from the high winds and dense smoke, but the aircrews made the decision to fly in because they knew their fellow citizens' lives were at stake.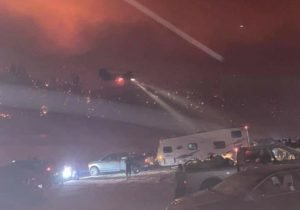 "This was a crew effort. […] If one of those guys had said, 'Hey, I'm past my limit,' we would have stopped," Chief Warrant Officer 5 Rosamond, pilot of the Chinook, told Coffee or Die Magazine. "It was definitely a crew decision the entire way."
Because of the severity of the conditions they were flying in, Rosamond said, his aircrew communicated with the Black Hawk aircrew consistently throughout the night in order to have constant feedback on what routes were the safest and where the smoke was shifting.
"Because of the change in temperature after the sun went down, everything was kind of settling down into the valleys and visibility was getting worse," Rosamond said of the flying conditions. "In fact, we took three different routes of ingress into the lake over the three lifts just because the first one worked out the first time [but] didn't work out the second time. So we had to find a different way to come in. So we came in from the south. Then we came in from the east, and then finally we came in from the north."
Rosamond and the rest of the aircrews in California are working around the clock to rescue those they can and assist with wildfire suppression as the West Coast continues to burn. As of the time of publication, Cal Fire has recorded 3,154,107 acres burned, 7,718 active fires, 20 confirmed fatalities, and 13,559 structures damaged or destroyed.