KYIV, Ukraine — On Monday the US Coast Guard cutter Hamilton arrived at the Ukrainian port of Odessa following interoperability exercises with the Ukrainian navy in the Black Sea.
The Hamilton's port visit signals the latest development as the US military ramps up its presence in this maritime region, which has fast become a geopolitical fault line between Moscow and NATO.
Underscoring those tensions, on Sunday the State Border Guard Service of Ukraine reported that three Russian military combat vessels had shadowed a Saturday rendezvous between the Hamilton and a Ukrainian coast guard vessel in the Black Sea about 100 nautical miles offshore of Odessa (within Ukraine's maritime exclusive economic zone).
The Russian vessels reportedly included two coast guard "Hunter" patrol craft, as well as a Russian navy "Project 22160" patrol ship named the Pavel Derzhavin. The State Border Guard Service of Ukraine released several photos showing the Derzhavin within close proximity to the Hamilton.
Ukrainian officials described the encounter as "dangerous," and a "blatant violation of international law."
"The shadow by itself is a common tactical method — but in addition, [the Russian vessels] started to initiate some kind of repelling actions," Andrii Ryzhenko, a former Ukrainian navy captain, told Coffee or Die Magazine.
"For example, [the Russian vessels] sent voice messages that they had closed certain areas of international waters, and they conducted dangerous maneuvers," Ryzhenko added. "These activities are direct violations of international law, and very rude maritime behavior. Any vessels have the right of freedom [of] navigation in international waters — and nobody can suspend it."
Referring to Russia as the "aggressor country," the State Border Guard Service of Ukraine reported: "The ships of the aggressor country sometimes announced fictitious coordinates of closed areas, demanding [the US and Ukrainian vessels] leave them, then maneuvered dangerously and tried to artificially narrow the maneuver zone for the Ukrainian and American ships."
The Grigory Kuropyatnikov, the flagship of the State Border Guard Service of Ukraine, reportedly attempted to contact the Russian vessels on "international maritime security channels." The Russian vessels never responded, according to Ukrainian defense officials.
"A blatant violation of international maritime law has been carefully documented and documented by Ukrainian border guards," the State Border Guard Service of Ukraine said in its Sunday statement.
The Hamilton, a Legend-class national security cutter, entered the Black Sea on April 27 "to support NATO allies and partners," the US Navy's 6th Fleet announced. The passage marked the first visit by this class of US military vessel to the Black Sea since 2008.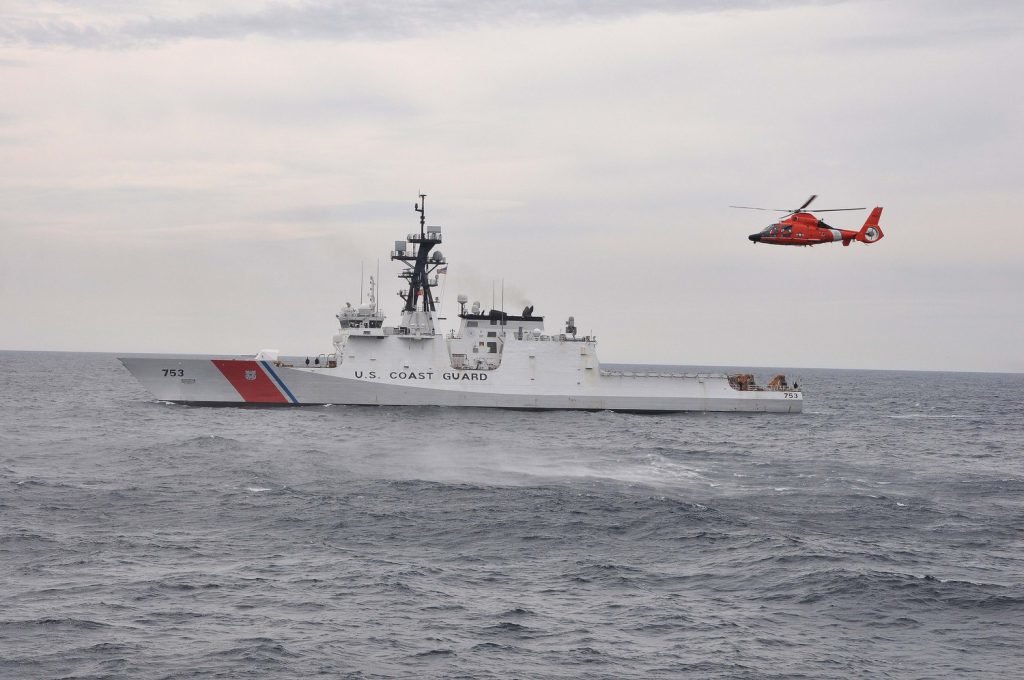 The Black Sea has become a flashpoint between Russia and Ukraine — two erstwhile Soviet allies, which have been locked in a low-intensity land war in eastern Ukraine since April 2014. That year, Russia invaded and seized Ukraine's Crimean peninsula in the Black Sea, and then engineered an unconventional warfare invasion of Ukraine's eastern Donbas region.
Since 2014, the Black Sea has emerged as a geopolitical hot spot, pitting NATO and Russian forces against each other in tit-for-tat exercises and patrols.
Russia's armed forces, ensconced on the occupied Ukrainian territory of Crimea, have kept a careful eye on the Hamilton during its Black Sea deployment. On Tuesday, Russia's Black Sea Fleet launched a combat exercise.
"The Black Sea forces and means have begun monitoring the actions of USCGC Hamilton," the Russian National Defense Control Center said in a statement.
Two US destroyers were scheduled to enter the Black Sea in April while Russia was massing tens of thousands of troops on Ukraine's borders. The US Navy exercise was canceled amid mounting fears in some quarters that Russia was preparing for an outright invasion of Ukraine.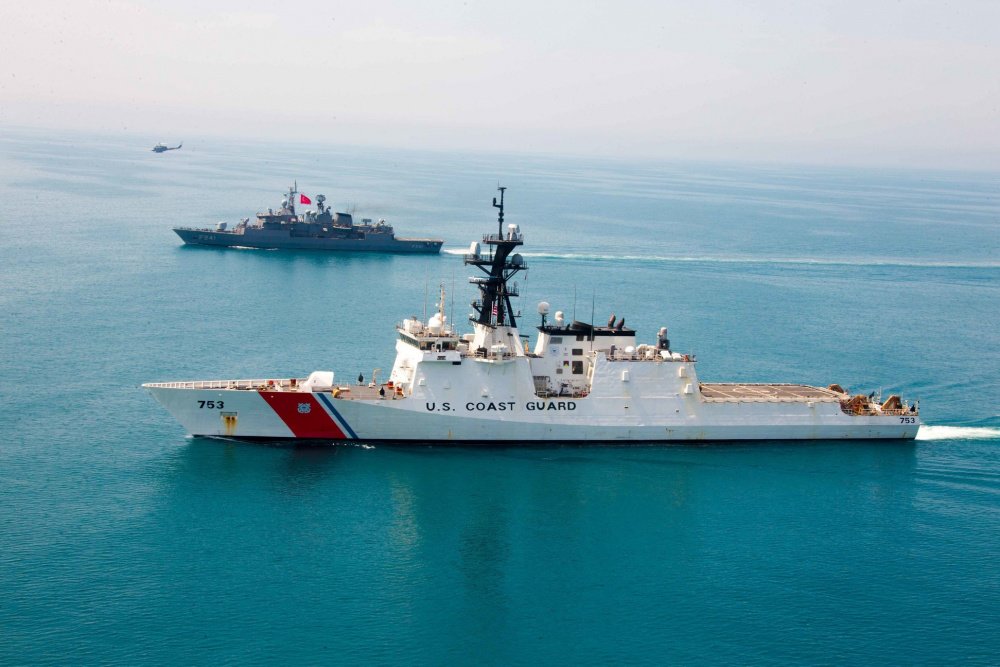 On April 22, Russia announced that it was partially withdrawing some of its military forces massed on Ukraine's borders. Yet, Ukrainian and US officials have warned that Russia's drawdown is less substantial than they originally thought. The pieces are still in place for Russia to launch a surprise offensive into Ukraine, according to both Kyiv and Washington.
Only Russia and Ukraine have coastlines on the Sea of Azov — a shallow-water sea that is a major trade artery for Ukraine. The only route for ship traffic into the Sea of Azov is from the Black Sea through the Kerch Strait. In May 2018, Russia opened a bridge over the chokepoint. Since then, all maritime traffic now passes under Russia's Kerch Strait bridge.
On April 15, Russia announced that, due to military exercises, the Kerch Strait and its surrounding waters would be closed to "warships and other state vessels" from April 24 until Oct. 31.
"Russia has a history of taking aggressive actions against Ukrainian vessels and impeding access to Ukraine's ports in the Sea of Azov, impacting Ukraine's international commerce," US State Department spokesman Ned Price said in an April 19 statement, regarding Russia's new restrictions at the Kerch Strait.
"This represents yet another unprovoked escalation in Moscow's ongoing campaign to undermine and destabilize Ukraine," Price said.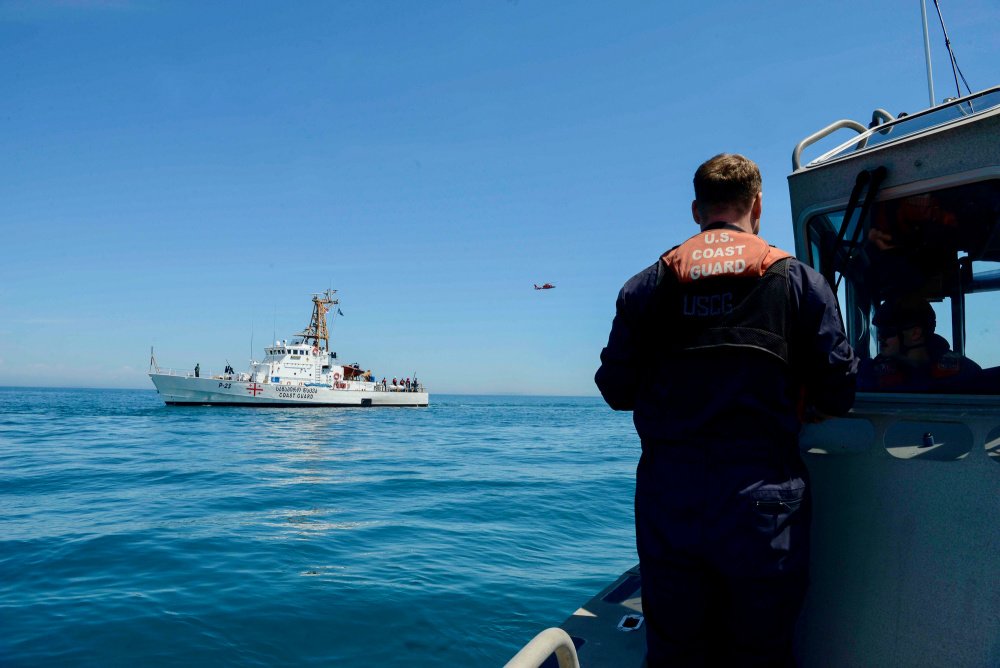 On Nov. 25, 2018, Russian navy and coast guard forces attacked and captured three Ukrainian navy vessels that were transiting through the Russian-controlled Kerch Strait. The attack marked the culmination of months of Russian harassment of Ukrainian ships, both military and merchant, traveling into the Sea of Azov.
Moscow has garrisoned some 40,000 troops in Crimea and deployed nuclear weapons-capable missiles and bombers to the occupied territory, as well as Russia's most advanced surface-to-air missile systems, according to Ukrainian and NATO officials.
Thus, the entirety of Ukraine's Black Sea and Sea of Azov coastlines remains under the shadow of Russian surface-to-air missiles — a lethal prospect for Ukraine's air force. Russia has also begun to build new warships in Crimea, a move that Washington has criticized.
Read Next: