You can't save them all.
Coast Guard rescue swimmer Ryan Pierce learned that lesson the day the call came to evacuate a man who'd suffered a heart attack aboard a cruise ship off Florida's Atlantic coast.
Pierce and the other three members of his Miami-based aircrew loaded onto their bright orange MH-65 Dolphin helicopter and took off, headed east over the ocean. While en route to the awaiting cruise ship, and purely by chance, the helicopter passed near a small fishing boat in distress. Flares arced into the sky just before the vessel slipped under the surface. The two men who'd been aboard were now in the water.
"We hovered around them and literally watched the boat sink. I had a weird, creepy feeling," Pierce later recalled.
Inside the helicopter, the two pilots, the flight engineer, and Pierce agonized over what to do. Without an immediate rescue, the two boaters would probably die. But the heart attack victim's life was in jeopardy, too — there were medical personnel aboard the cruise ship, but he needed to get to a hospital fast.
The Coast Guard crew debated what to do. For his part, Pierce considered jumping in the water with a small raft to wait with the boaters until the helicopter could return. But there wasn't enough gas left to make the round trip to the cruise ship and back, then hoist three people from the water, and get back to base. Calling for another helicopter wasn't really an option, either. In the time it would take for another MH-65 to arrive on scene those two boaters could easily ride the Gulf Stream into the vastness of the Atlantic Ocean. In that case, they'd be lost forever.
"We had to pick one or the other," Pierce said. "We had to choose."
Ultimately, the Coast Guard crew agreed on a course of action. They were going to rescue the boaters.
"We ended up saving these two guys first … and the guy on the cruise ship passed away," Pierce said. "So the pilots, my pilots, were beating themselves up over this for a while. Wondering if they'd made the right decision."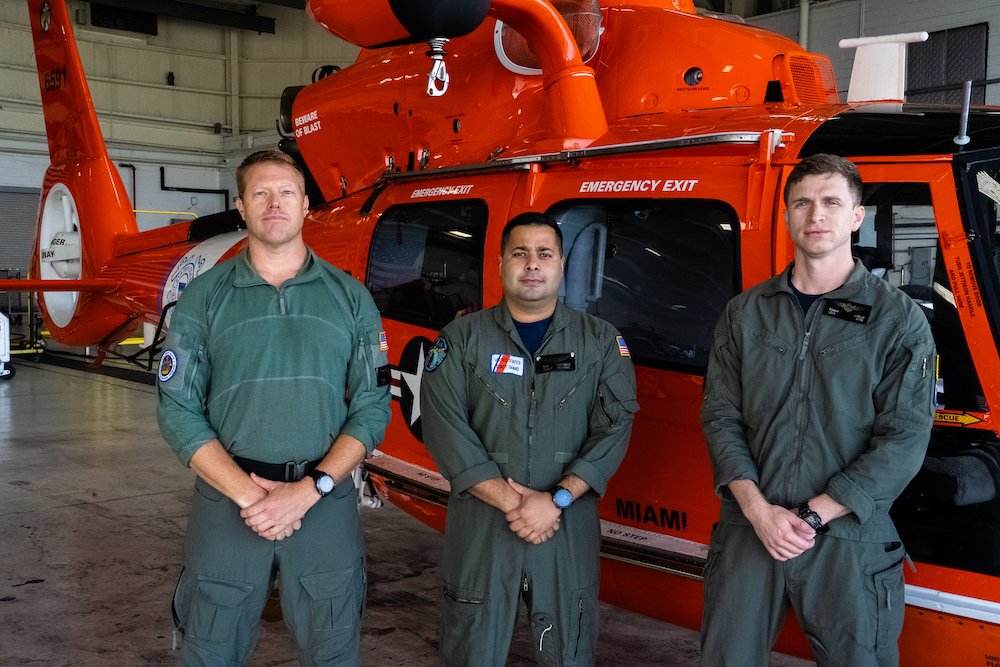 Coffee or Die Magazine recently visited Coast Guard Air Station Miami. Located on a dedicated ramp at Miami-Opa Locka Executive Airport in south Florida, Air Station Miami comprises five MH-65E "Dolphin" helicopters and five HC-144 "Ocean Sentry" aircraft. In all, some 350 total Coast Guard personnel are assigned to the station, including 25 MH-65 pilots and 30 HC-144 pilots.
Throughout the balmy June day, the facility's alarm frequently sounded — each time signaling another search and rescue call.
The pace of operations was frenetic, nearly nonstop. Yet, as is so often the case among a highly trained and seasoned military outfit, the outward demeanor of the aircrew members did not reflect the life-or-death stakes of their job. They appeared calm, unhurried in their actions. They shared a joke or engaged in small talk while donning their flight gear or while stepping out to the aircraft.
To an outside observer, these behaviors may seem jarring, even detached, given the seriousness of the job at hand. But the secret to success in military aviation, especially a specialty as stressful as search and rescue, is a term called "compartmentalization." It's the ability to quarantine emotions that are not helpful to the execution of one's duty. Fear, above all, must be ignored.
"We have to be able to go out and do anything for anyone at any time," said Lt. Cmdr. Thomas Horejs, an MH-65 pilot.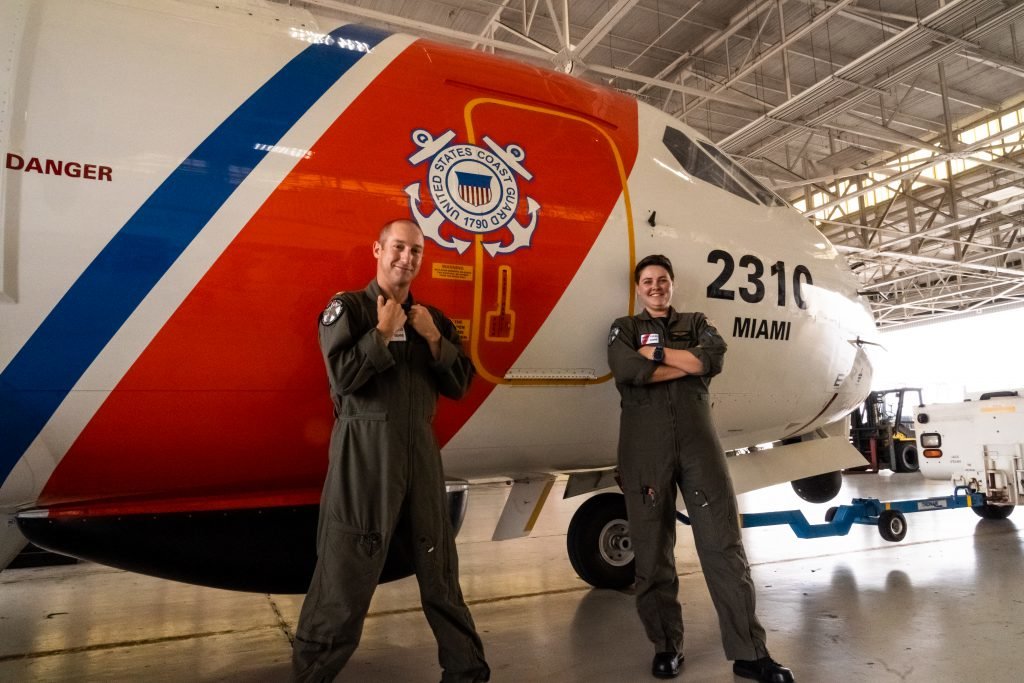 Acting calm is the best way to feel calm. Thus, all the joking and the smiles and the small talk. The coolness on display is how Coast Guard aircrew members deal with the stress of their chosen profession. But when it's time for wheels up, the compartmentalization gives way to absolute focus as they endeavor to live up to their creed: "Always ready, that others may live."
"There's a tangible switch when it's mission time," said Lt. Cmdr. Corey McPartlin, an HC-144 pilot. "You go right from smoking and joking, and then snap, it's time to go. It's an instantaneous switch."
Aircrew are on call for search and rescue missions during 24-hour shifts, which they typically pull about once or twice a week. When not on call for overnight duty, aircrew members can still be assigned as backups. That often makes weekends a tough proposition — flight rules prohibit drinking alcohol or leaving town. They have to go about their off-duty business with the constant awareness that at any moment they could be recalled to base and tasked to a mission.
During the overnight shifts, the crews have to be ready to launch within 30 minutes of a search and rescue call. They call it the "firehouse mentality" — to always be ready to respond at the drop of the hat. No matter the weather. No matter the hour.
"So you're sleeping in your rack, you get the call, you're flying in 30 minutes," Horejs said. "You have to be able to jump in a helicopter in the darkness of night, in the worst weather, the weather the other services won't fly in. And, you know, you go fly. How many times have I gotten a weather brief from the FAA saying they do not recommend [visual flight rules] flight. I'm like okay, well, that's my job."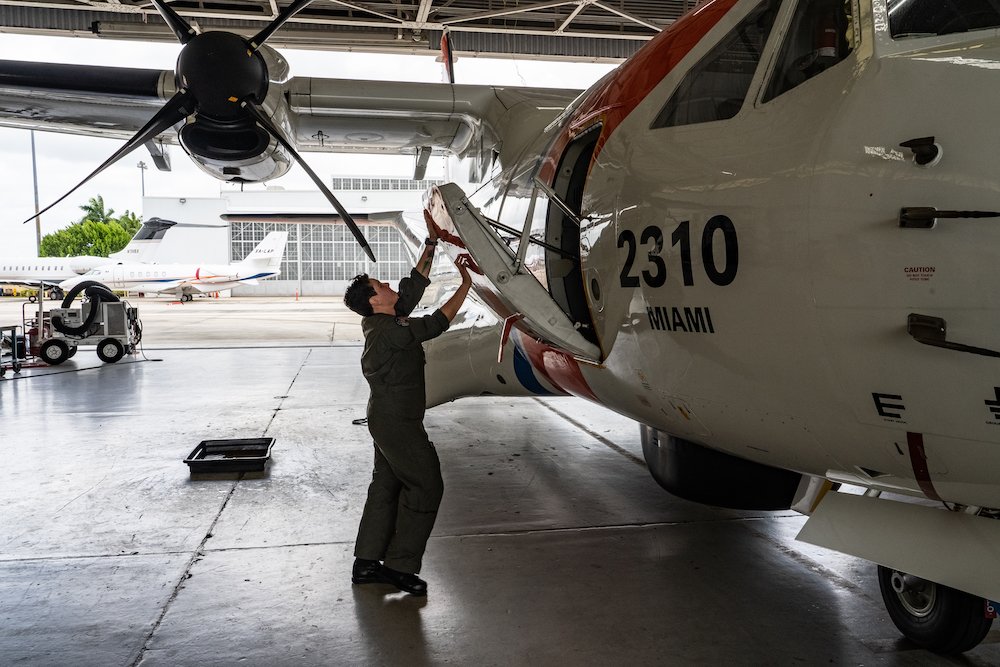 Haley Schulze, a sensor operator on the HC-144, says she packs an overnight bag every time she flies, just in case her aircraft gets tasked to a multiday mission and has to divert to another airfield. "The pace of operations can be crazy," she said.
Schulze, who joined the Coast Guard right out of high school, said it was the homeland defense mission that drew her to the branch. (She'd previously considered joining the Air Force.) "We're saving the good guys and catching the bad guys," Schulze said about the job. "I love it."
The HC-144 is the Coast Guard's eye in the sky. Equipped with an advanced suite of sensors and avionics, the twin-propeller aircraft provides airborne intelligence, surveillance, and reconnaissance to assist in search and rescue missions. The HC-144s are also invaluable to drug-interdiction and other homeland security missions.
"I want to find the people we're looking for. And I want to do my part to stem the flow of narcotics, illegal money, firearms, human trafficking — all that stuff," said McPartlin, the HC-144 pilot. "I want to make a difference."
Air Station Miami is among the busiest aviation search and rescue units in the Coast Guard. Prior to the COVID-19 pandemic, evacuating medical emergencies off cruise ships was a "weekly" mission. The unit's bread-and-butter mission, however, remains rescuing those who are lost at sea. And with the pandemic waning and the summer season in full swing, boaters are now returning en masse to the waters off Florida's east coast. The pace of operations is resultantly on the rise.
And hurricane season has just begun.
"We are the hurricane response, and we do not evacuate," Horejs said. "But your family might evacuate. I have a pregnant wife right now and she's due in October, at the height of hurricane season. So there might be a point when she's on the road by herself, and I'm here. But you have to compartmentalize that and go do your mission — and be ready to go at all times."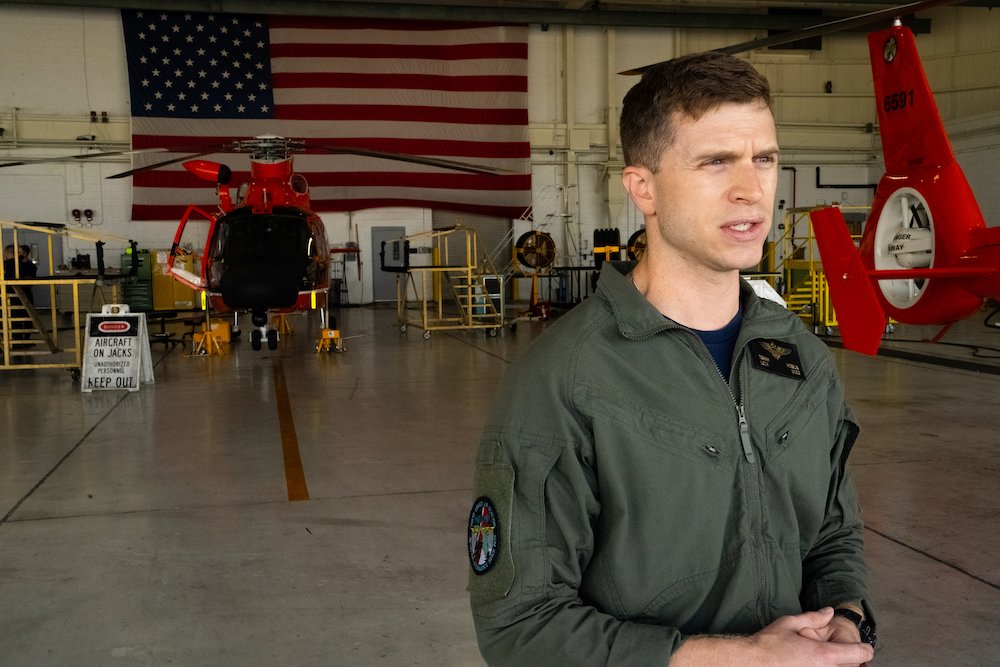 The Coast Guard's operational infrastructure effectively breaks down into multiple nationwide districts, each of which oversees various sectors. Florida is part of the 7th District. And Air Station Miami typically communicates with Sector Miami and Sector Key West.
Search and rescue missions are launched after 911 calls, radio distress calls, or other communications from so-called good Samaritans. And each sector is the equivalent of a military tactical operations center, directing and monitoring missions. Sectors also offer valuable in-flight intelligence to aircrews — such as triangulating cell phone signals to guide an aircraft onto a stranded person.
Single ship, over water, at night: That's the sweet spot for Coast Guard rescue helicopter pilots. But they train for a broad gamut of other missions, too, including rescues in urban environments and mountainous terrain. The rescue swimmers train to operate in multiple environments, as well, such as heavy surf, cliffs, caves, and forests. Coast Guard aircraft can also be tasked to assist in law enforcement operations.
For search and rescue flights, each helicopter launches with four crew members on board — two pilots in front, and a flight engineer and a rescue swimmer in back. The helicopter is generally able to take on three additional people during a rescue, although that number can go up depending on multiple factors, such as weight and the amount of fuel remaining.
The flight engineer in back has access to an infrared camera to help spot lost people on the ocean. The whole crew wears night vision goggles when flying at night — the Miami units recently upgraded to white phosphor goggles, improving their ability to operate in low illumination. Nevertheless, night vision goggles or not, a human being in open water is exceptionally hard to spot.
"When it comes to night search and rescues, when it comes to finding people in the water at night, that is probably the hardest mission," said Petty Officer 2nd Class Nick Rodriguez, an MH-65 flight mechanic. "I mean, it's literally a needle in a haystack."
Even during the day, it's a challenging task. For that reason, Rodriguez underscored the importance of signaling devices — even something as simple as a mirror — which can dramatically improve one's chances of survival.
"People need to understand that the smallest level of signaling device gets you picked up," Rodriguez said.
To be good at search and rescue, you need years of training. Sometimes, however, you encounter situations for which no amount of training could ever prepare you. In those moments, the lives of your crew and the people you're trying to save might depend on a split-second decision, made from a mixture of intellect, experience, and pure gut instinct.
"It sounds like a movie, but it happens all the time," explained Horejs, the MH-65 helicopter pilot. "You get on scene and you have 10 minutes to do a rescue. You're thinking about the weather, about fuel. You don't want to pick these people up and put them in a worse situation by running out of fuel before you get home."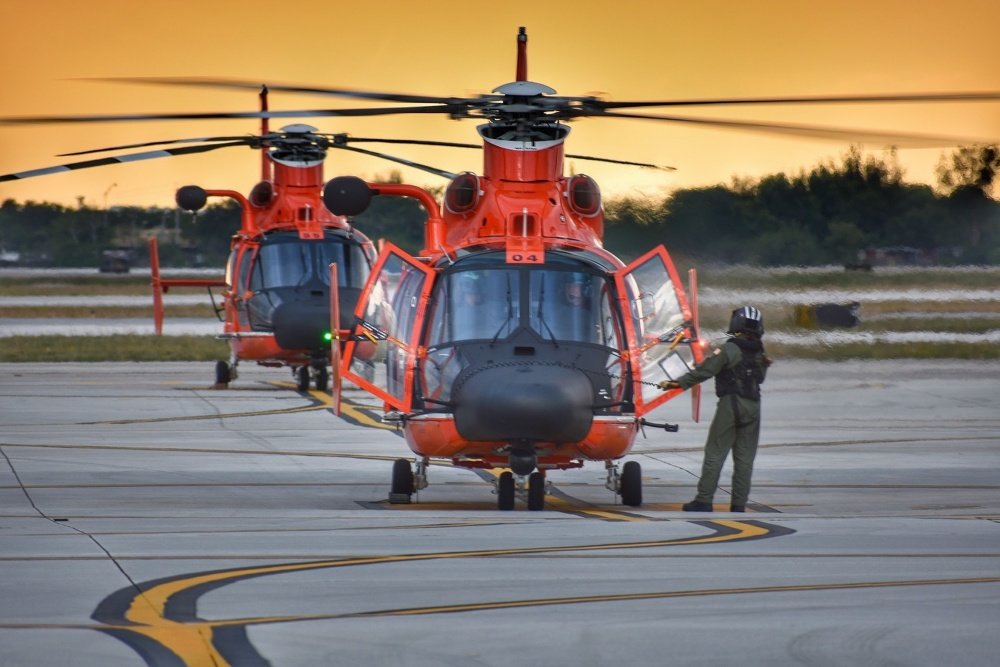 The writer Tom Wolfe famously coined the term "the right stuff" to describe the nonchalant poise under pressure displayed by American test pilots and astronauts. The catchword among the Coast Guard aircrew members at Air Station Miami is "trust."
"We're consistent people," said Pierce, the rescue swimmer. "We're habit based. And we all made it through the training. So when you show up, everyone knows they can trust you."
Knowing that everyone is held to the same high training standards allows crews to operate seamlessly and to have absolute trust in high-stress situations. But training is just one part of being prepared. Experience, above all, is the foundation of that magical ability to make the right call in a high-stress situation with multiple lives on the line. Experience also imparts upon its possessors a subconscious ability to detect subtle clues from their environment — things to which their conscious selves may be blind.
Pierce recalled a search and rescue mission for a pair of missing scuba divers near Key West. On the second day, a ferry headed to the Dry Tortugas discovered one of the divers. The second one remained missing, however, so Pierce's crew kept searching. As the helicopter neared its fuel limit, and the crew's exhaustion mounted, something caught the pilot's eye. He simply let out a long sigh that broke squelch over the helicopter's intercom system.
Then he said: "Let's turn around."
A beat later, the pilot added: "I don't know — I don't know if I saw something."
"And sure enough, it was the dude," Pierce later recounted. "Floating there, waving his hands."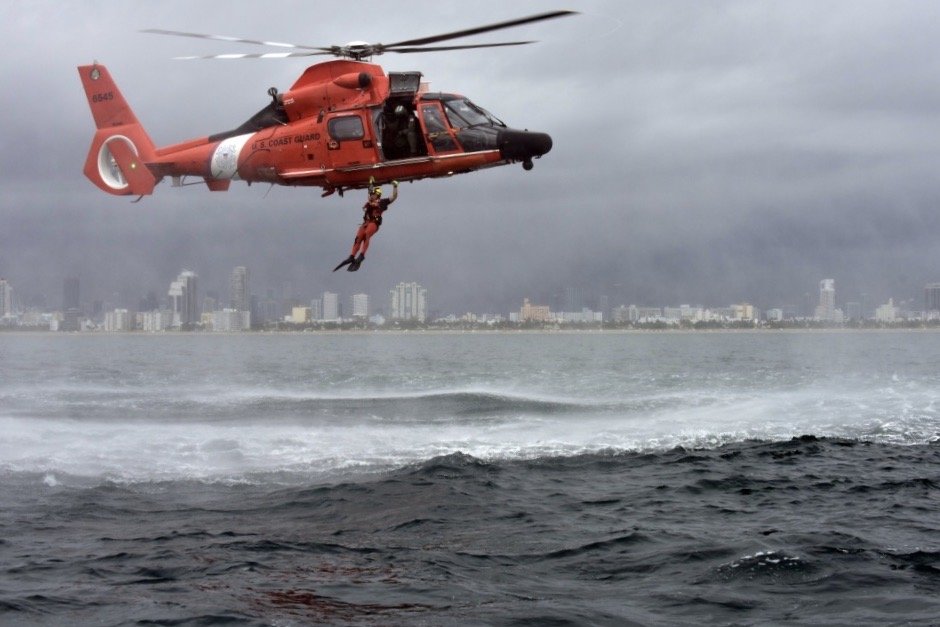 Creativity is a big part of the job too. Especially since rescues rarely fall into black-and-white, cookie-cutter scenarios for which you can fully prepare ahead of time. Each rescue presents its own challenges and requires crews to sometimes innovate solutions on the spot.
"You always try to exploit every possible opportunity, try to come up with every single solution to result in the saving of a life, and do it safely," said McPartlin, the HC-144 pilot.
McPartlin flew search and rescue missions over New Orleans in the aftermath of Hurricane Katrina in 2005. Speaking with Coffee or Die, he recalled the nonstop flow of emergency calls on the radio — including from children. McPartlin relayed the calls to helicopters, trying to guide them onto the locations of stranded people based on street names of a city he'd never visited.
On one particular mission that McPartlin has never forgotten, his aircraft ran low on fuel and he had to depart his orbit over New Orleans and head back to base. And as New Orleans got farther and farther away, those desperate voices on the radio faded into static.
"And then you go back out and you hear nothing. You don't hear the voices that you're trying to help," McPartlin said. He continued: "You always look back and think what you could have done differently. Should I have been more assertive? Or was there an option out there that we just didn't know about, which would have allowed us to stay on scene longer, or at least put the camera on where these people were?"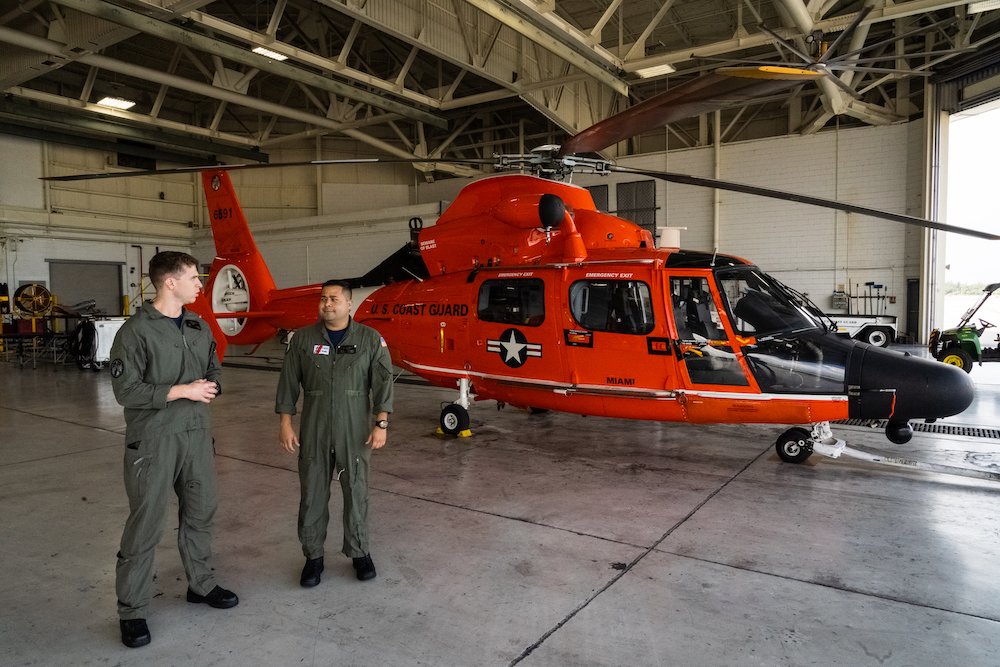 Coast Guard aircrews rarely interact with the people they rescue. Thus, the rewards of the job are organic to each individual crew member's sense of duty. They quietly enjoy the job, never expecting fame or fortune for what they do. And you can't help but feel a flush of pride when you see those American flags on their shoulders.
"We could all probably make a lot of money outside of the service," Horejs said. "But we're here because we care. We wouldn't be here if we didn't care about each other and care about the mission."
"I was at a point in my life. I was like, I know I have more in me to do some pretty cool stuff," said Pierce, the rescue swimmer. "I don't want to make it to my grave thinking, gosh, I wish I did that. That's why I'm here. I don't want to have any regrets. And in that effort, I can do a good thing."
But the hard truth of the job is that not every rescue is successful.
Most aircrew members are adept at compartmentalizing the occasionally tragic outcomes of their work. But it's also important to talk about what they've seen with their comrades, so as to not to second-guess the decisions made in the heat of a high-stress rescue.
"We have those conversations," Pierce said. "We've got guys in here that have seen some pretty gnarly stuff, and it's incredibly therapeutic to talk."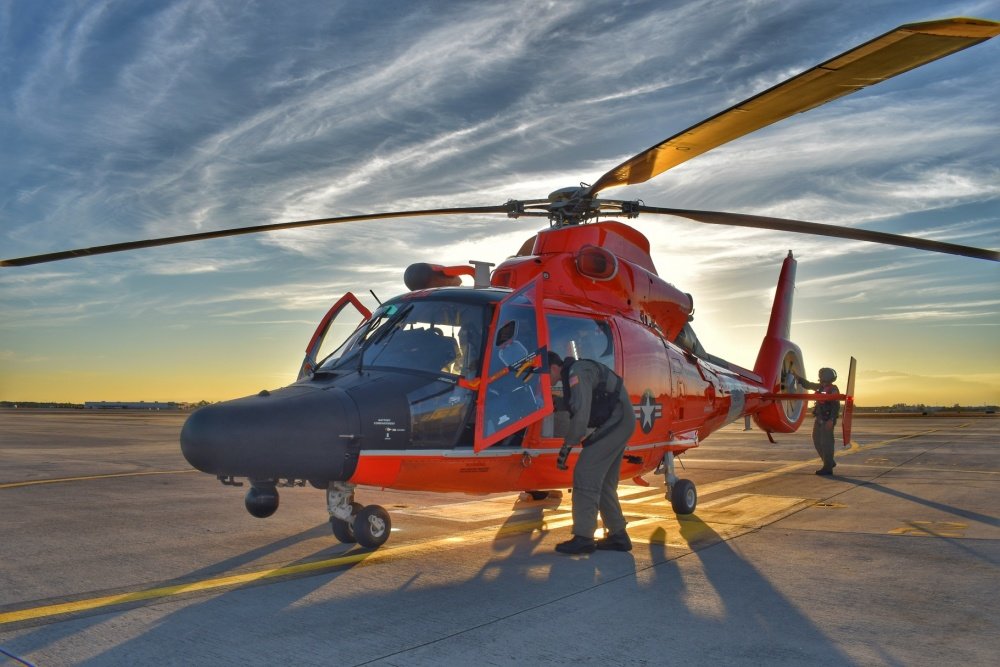 Rodriguez described a mission early in his career that underscored the human stakes of his chosen profession. While searching for two missing boaters, his crew spotted someone in the water.
"We came into a hover and saw that it was a woman face down in the water, clearly dead," Rodriguez said. "The whole feeling of the crew immediately changed. We went from trying to find somebody, to finding them dead. I feel like the quiet in the helicopter is something I'll never forget."
Rodriguez continued: "She was young, she was a mother, and she had kids. And it was the first time I'd ever seen a dead body, outside of a funeral home. I know that people die in the water all the time — but that was an eye-opening experience for me."
Another rescue stands out in Rodriguez's memory for an altogether different reason. His aircrew had rescued three boaters after their fishing boat capsized. "It was a beautiful boat," Rodriguez explained. "Thirty-six feet, you know, center console, triple outboards — a beautiful, beautiful boat."
After landing, Rodriguez said to the boat's owner: "Hey man, I'm sorry about your boat."
The man replied: "I don't give a shit about my boat. I have two kids, and I'm going to see them tonight thanks to you."
"I have two kids. And as a dad, it hit home," Rodriguez said. He paused, nodded once for effect, and then added: "It was a good rescue."
Read Next: