Looking up from the tablet in his hands, Army Special Forces veteran Joe Mooney shook his head, struggling to find the appropriate words. Despite the concealment his tattoos, beard, and sunglasses offered, the hulking former operator failed to hide the lump in his throat from the quiet group standing before him. At his feet, in section 60 of Arlington National Cemetery, stood the marble headstone of his former teammate and friend Joshua Lloyd Wheeler, a member of an elite Army Special Missions Unit and the first American killed in the fight against ISIS in 2015.
"There's no use reading this," Mooney said, waving the tablet containing details of Wheeler's 20-year career. "This guy was a fucking stud. He was a stud."
The modest gathering of friends, veterans, and family members congregated around the first gravesite of a dozen special operations veterans they planned to visit in Arlington. The event marked the end of the eighth annual Ride for the Fallen — a memorial event hosted by Coast X Coast, a nonprofit dedicated to honoring fallen members of the special operations community.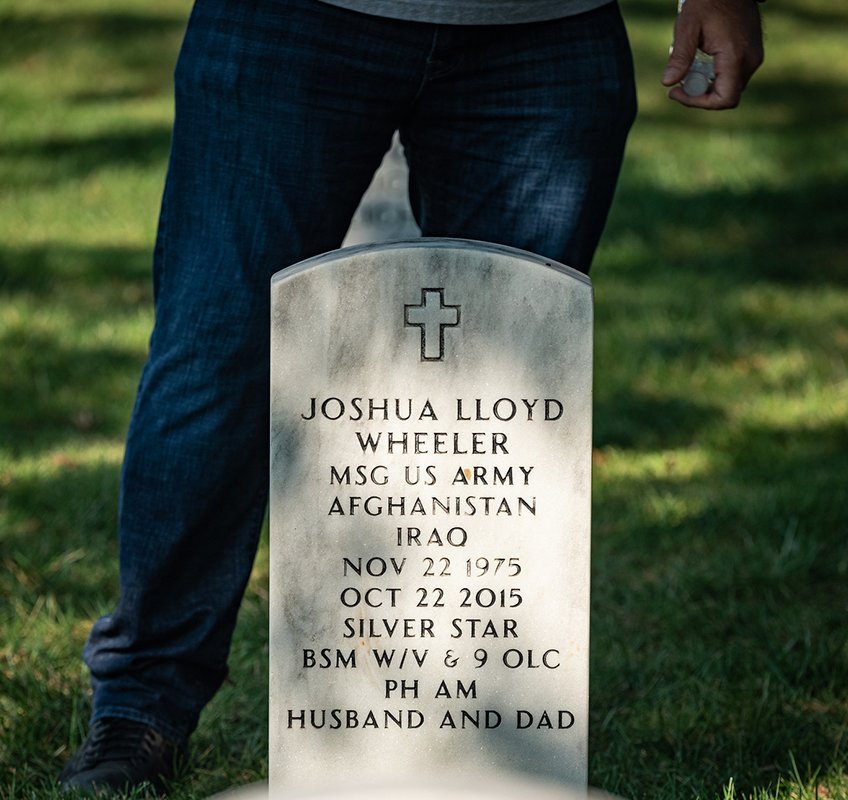 This year's ride involved 11 stops in nine states, ending in Arlington Sept. 10 — the day before the 20th anniversary of the 9/11 attacks.
Coast X Coast was founded in 2014 by Special Forces veterans Cris Valley and Jason Buck to honor the life of Sgt. 1st Class Ryan Savard, a Special Forces soldier killed in action in 2012. Buck was wounded in the same operation in which Savard was killed and wanted to find a way to memorialize his friend.
"Ryan was insanely generous," Savard's former teammate and Coast X Coast's chief operating officer Johnny Wilson told Coffee or Die Magazine. "He was violent when it came to the work, but extremely generous and one of the happiest people."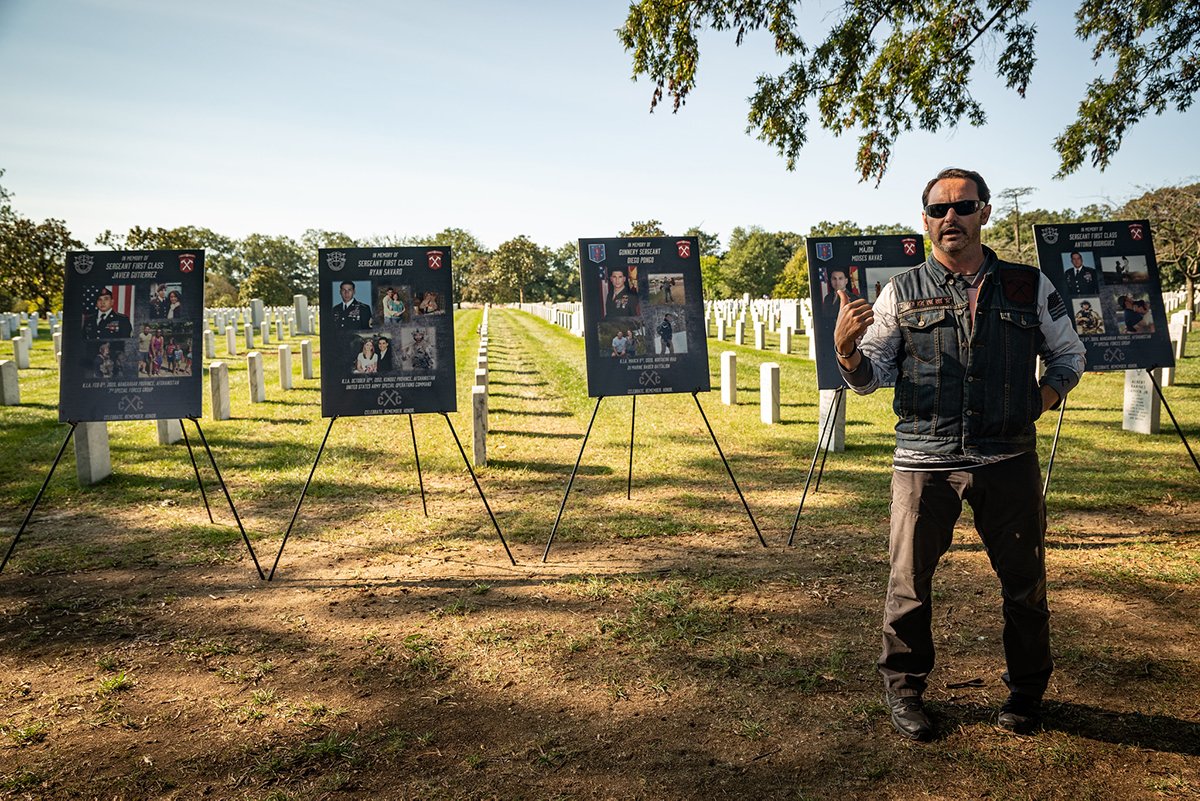 Seeking to honor their fallen brother, Savard's teammates hopped on bikes and rode from California to North Carolina. The idea was to celebrate life and freedom by unshackling themselves from a regular schedule, exploring and enjoying the American landscape, and visiting as many Gold Star families as possible. That initial ride was the seed that sprouted into the larger goal of raising money to help the families and wounded comrades of the fallen.
"We want the families involved in this community. The money is secondary," Wilson said. "The family aspect is the biggest part, and the ride itself is also therapeutic for a lot of the guys."
Each year Ride for the Fallen selects a handful of honorees whose stories are then highlighted at each stop along the way. As the original inspiration for the ride, Savard's story is retold and honored every year. Coast X Coast was created to honor Army Special Forces soldiers but has grown to encompass every branch of the armed forces.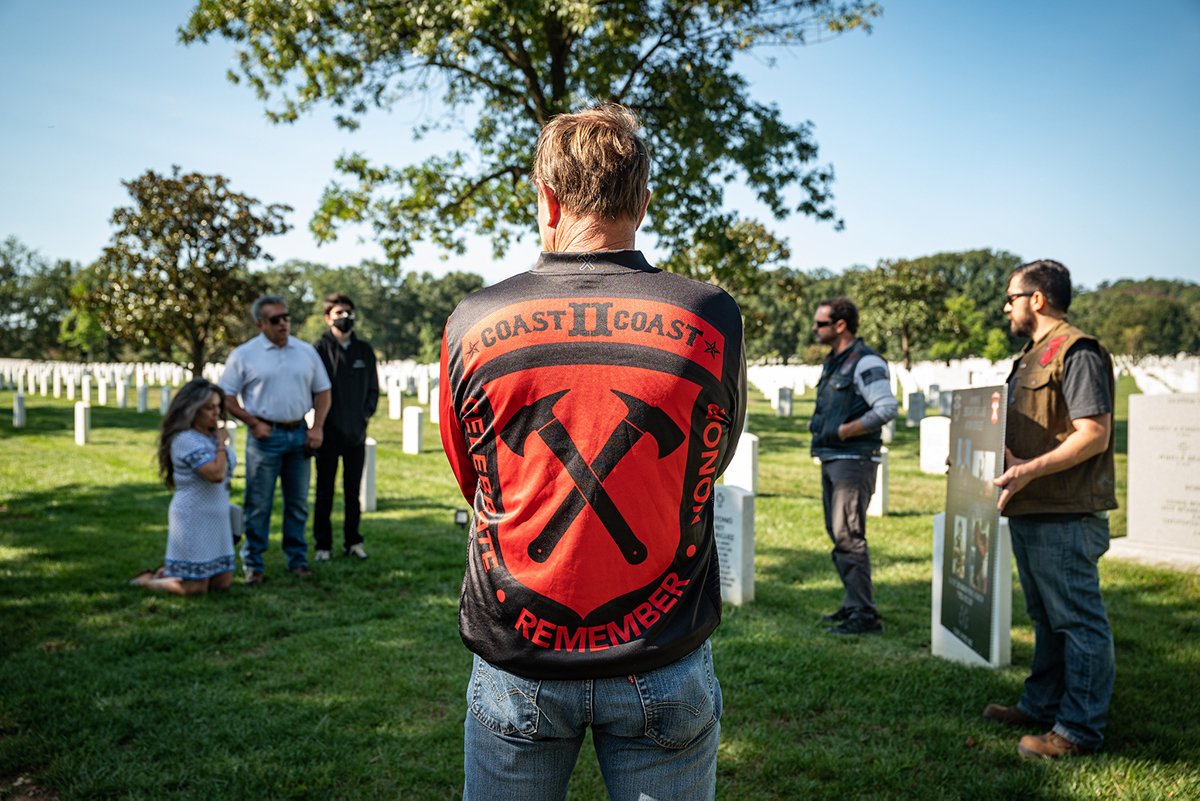 "We're not branch-specific," Wilson said. "We've helped a few different guys from the different commands."
This year, Coast X Coast highlighted the sacrifices of Marine Raiders Gunnery Sgt. Diego Pongo and Maj. Moises Navas. The Raiders were killed in action March 8, 2020, while conducting operations against an Islamic State cave complex in Iraq.
"I didn't have the opportunity to meet them personally, but by all accounts … their actions at the front of the unit saved a lot of Marines," Mooney said, addressing the group while standing between the fallen Marines' headstones.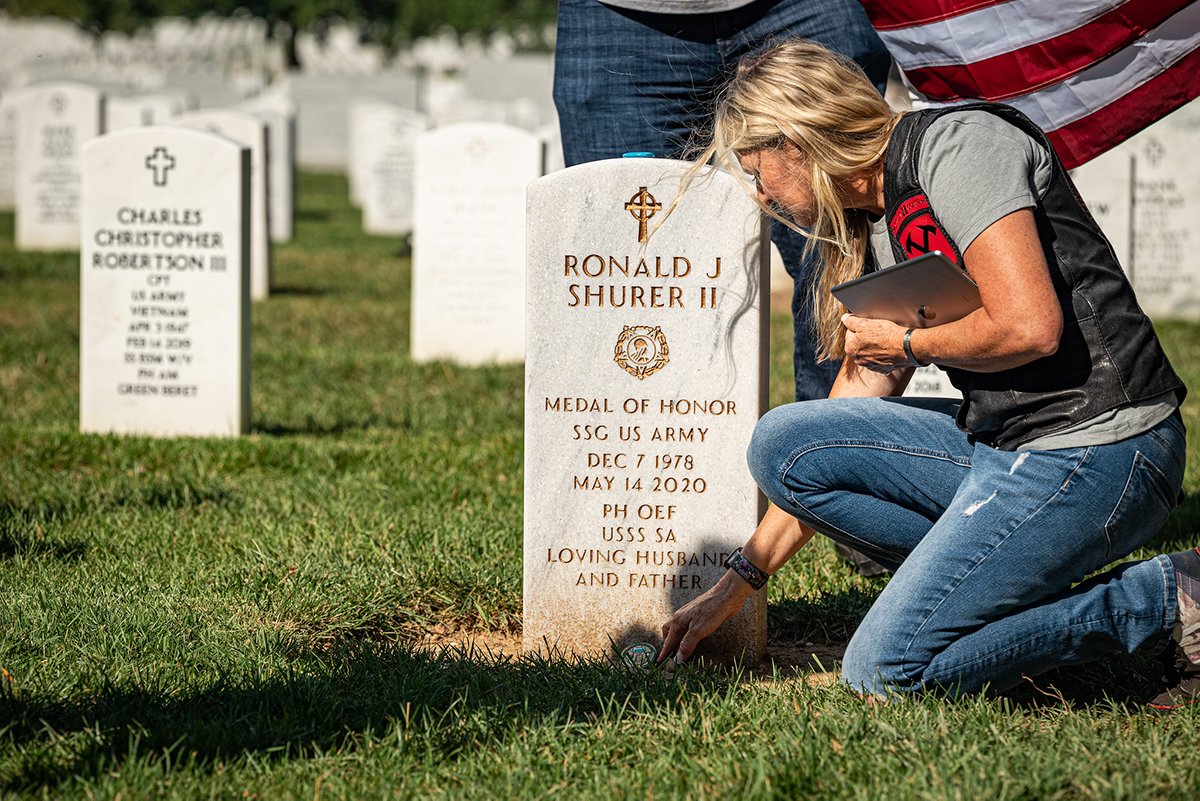 This year's honorees also included two Special Forces soldiers killed in action a month before Pongo and Navas were.
Sgt. 1st Class Javier Gutierrez and Sgt. 1st Class Antonio Rodriguez — both members of 7th Special Forces Group — were killed while conducting combat operations in Nangarhar province, Afghanistan.
Rodriguez, known as "Rod" by his friends and family, deployed eight times with the 75th Ranger Regiment and twice with 7th Special Forces Group. Rodriguez's parents and brother joined the veterans at Arlington.
"I am so sorry for you guys," his mother, Guadalupe Rodriguez Jaramillo, said to the veterans gathered around her son's gravesite. "I only have one baby here; you all have so many."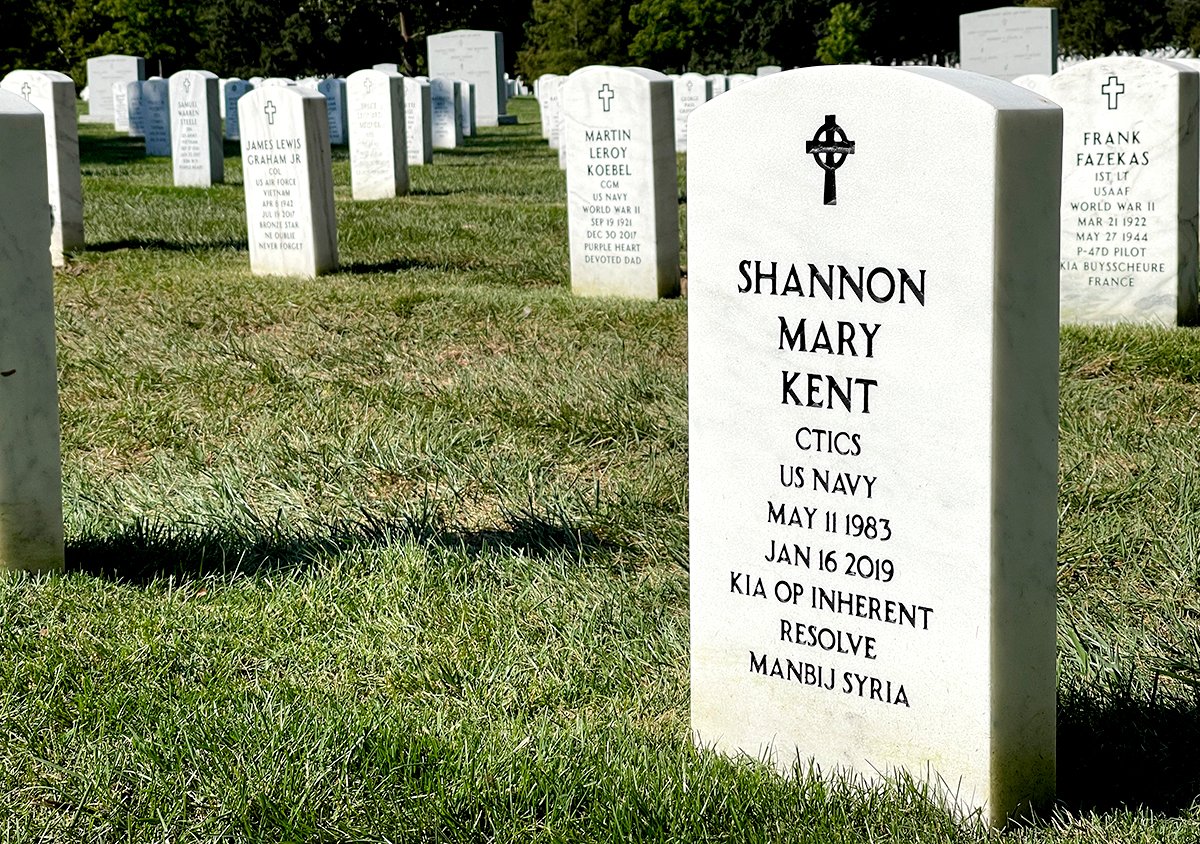 "We just want to keep helping people," Jaramillo told Coffee or Die. "He was always helping everyone around him, and he can't now. But I can.
"I'm doing my best to fill shoes I never thought I'd be in, but I'm here, and I'm trying."
In an effort to help preserve her son's legacy, Jaramillo launched a nonprofit and an academic scholarship for New Mexico State University. The first student awarded the scholarship was an Army medic.
"Can you believe a medic is the first person awarded his scholarship?" Jaramillo said. "How beautiful is it that the last person who worked on my son in the field was a medic?"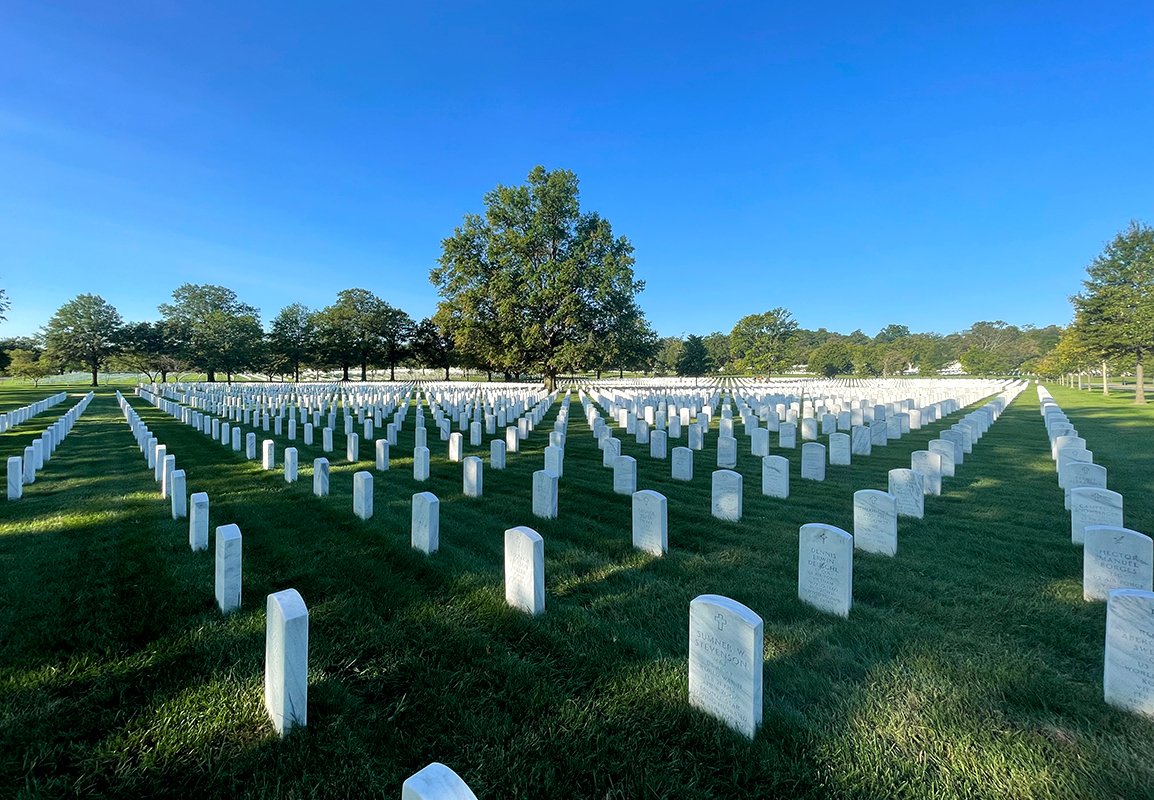 Following a visit to Rodriguez's graveside, Wilson led the group to several nearby headstones of other fallen special operations members.
Attendees learned of Sgt. 1st Class Eric Emond, a former Marine scout sniper and Green Beret who helped design the nation's first Iraq and Afghanistan war memorial before being killed in Afghanistan in 2018; Capt. Matthew Roland, an Air Force Special Tactics officer who, upon being shot in a "green-on-blue" ambush, used the last moments of his life to put his vehicle in reverse and save the lives of his friends; and Wilson's close friend and Medal of Honor recipient Staff Sgt. Ronald J. Shurer. Just yards from Shurer's gold-lettered headstone stands the headstone of Senior Chief Petty Officer Shannon Kent, a trailblazer in Naval Special Warfare.
Standing in Arlington National Cemetery's Section 60 — the 14-acre home of service members killed in the Global War on Terror — the headstones of those special operators resemble drops of white in a marble sea of sacrifice. According to Wilson, the members of Coast X Coast hope to continue finding positivity from so much loss and expand their organization to meet the future needs of wounded operators and families of the fallen.
Read Next: Navy SEALs, NHL All-Stars, Paralympians, and More Face Off in One-Night-Only Memorial Game