Dr. Donnelly Wilkes earned his medical degree in an unconventional way. He signed up for the pre-9/11 Navy at the end of a long period of relative peace for the United States. His deal with the Navy was it would pay his tuition at Tulane University's prestigious medical school if he served as an officer for six years. He figured he would do his time as a battalion surgeon with a Marine infantry unit somewhere in San Diego.
Then 9/11 changed everything. After graduation Wilkes was bound for Iraq's deadliest combat zone in what would become known as the First Battle of Fallujah, Iraq, as featured in his memoir Code Red Fallujah: A Doctor's Memoir at War.
As Wilkes grows up in Placerville, California, his Christian faith is cultivated and develops into one of the book's primary themes. He excels in medical school. When he arrives in Fallujah in early 2004, his faith is put to the test. The invasion phase of Operation Iraqi Freedom had ended, and a rising insurgency has emerged to set the pace for the rest of a much longer and bloodier war than initially planned for.
Wilkes accepts his mission as a challenge rather than a hardship. Throughout the book he places heavy emphasis on having been well trained by the Navy for combat medicine. Combat medicine is much different than standard practice, he explains. The patient is not receiving care in a sterile, controlled environment. Medical personnel on the ground must make life-or-death decisions under the pressure of combat while being able to utilize only the tools at their disposal before the patient hopefully reaches a hospital alive.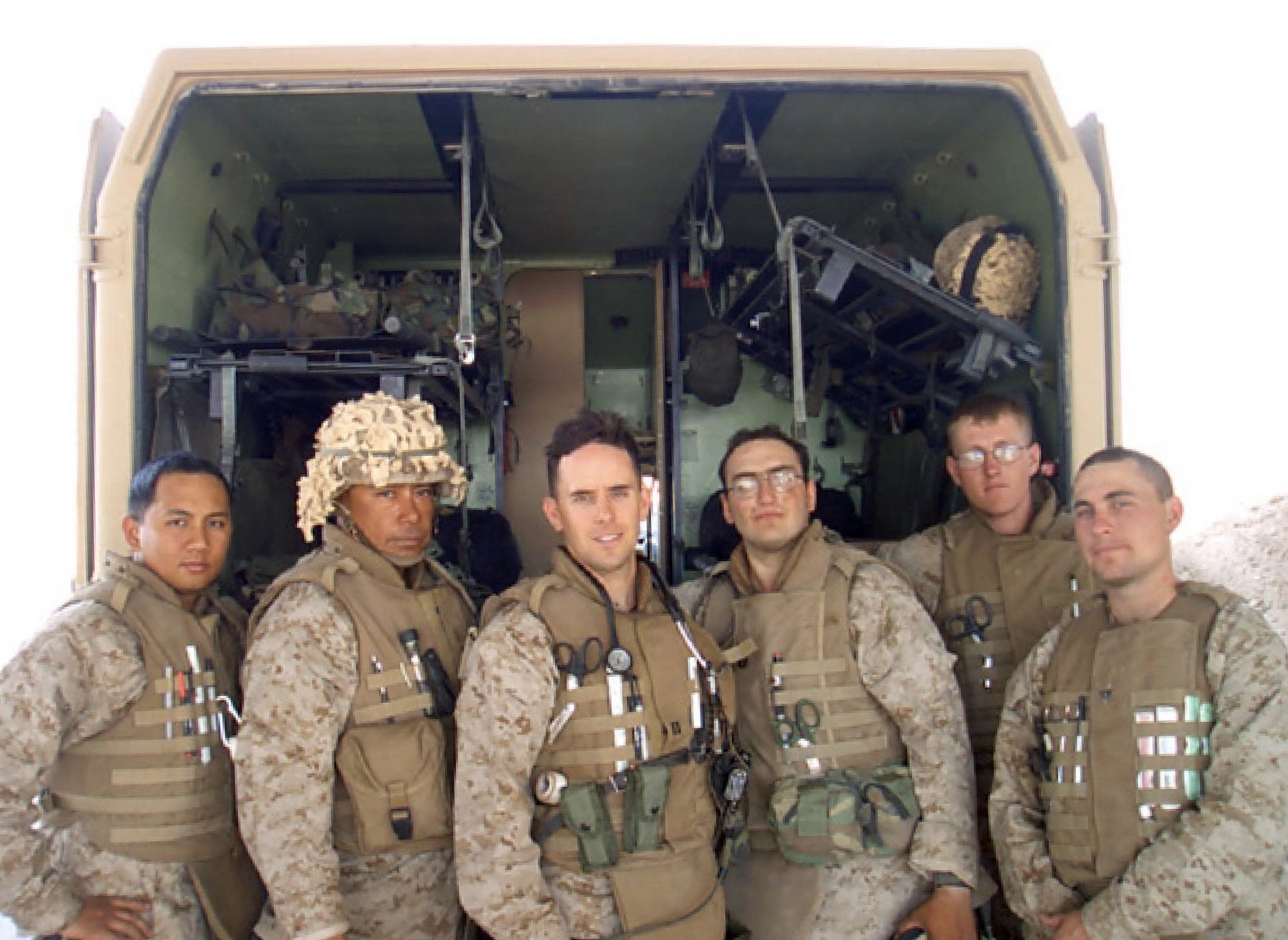 "Field medicine is vastly different from hospital medicine. Under any normal circumstances, you have time to order studies to help make decisions — things like labs, scans, and diagnostics. Advanced monitoring and imaging can help to assess cardiac and lung conditions before interventions are made. Blood tests may yield insight into a problem before it gets worse. In the field, you only have the tools you brought with you and your clinical skills. Decisions must be made quickly, sometimes on the fly without the diagnostic tools you're used to. If you make a mistake, even one that causes harm, you must forgive it and move on — there is no time for remorse. All the Marines want to know is that you'll do absolutely everything you can. The environment is unforgiving; lighting is poor, the heat intense, and working conditions harsh on the ground. Add combat to the mix and it's like ballet with a bull."
Read Next: Thanksgiving in the Second Battle of Fallujah
After arriving in Fallujah assigned to 1st Battalion, 5th Marines, Wilkes is introduced to constant enemy shelling by rockets and mortars. The intensity of combat heats up as the Marines invade the city of Fallujah in April 2004. Wilkes is positioned under "the cloverleaf," a looping highway structure leading into and out of the city of Fallujah. He is to serve as the medical officer in charge of an intermediary position. The patients he treats are delivered by the forward units to Wilkes' position, where his mission is to stabilize them until they can be evacuated by ambulance back on base to Camp Fallujah's hospital where more formal care exists.
None of his training could have prepared Wilkes for facing his first mortal casualty. He runs through a gamut of emotions as a painfully impossible situation unravels in front of him. At the end of all that he could do, Wilkes spontaneously seeks to comfort the Marines and staff present and hosts a prayer circle over the fallen Marine. The act was photographed by The Associated Press and viewed by an international audience.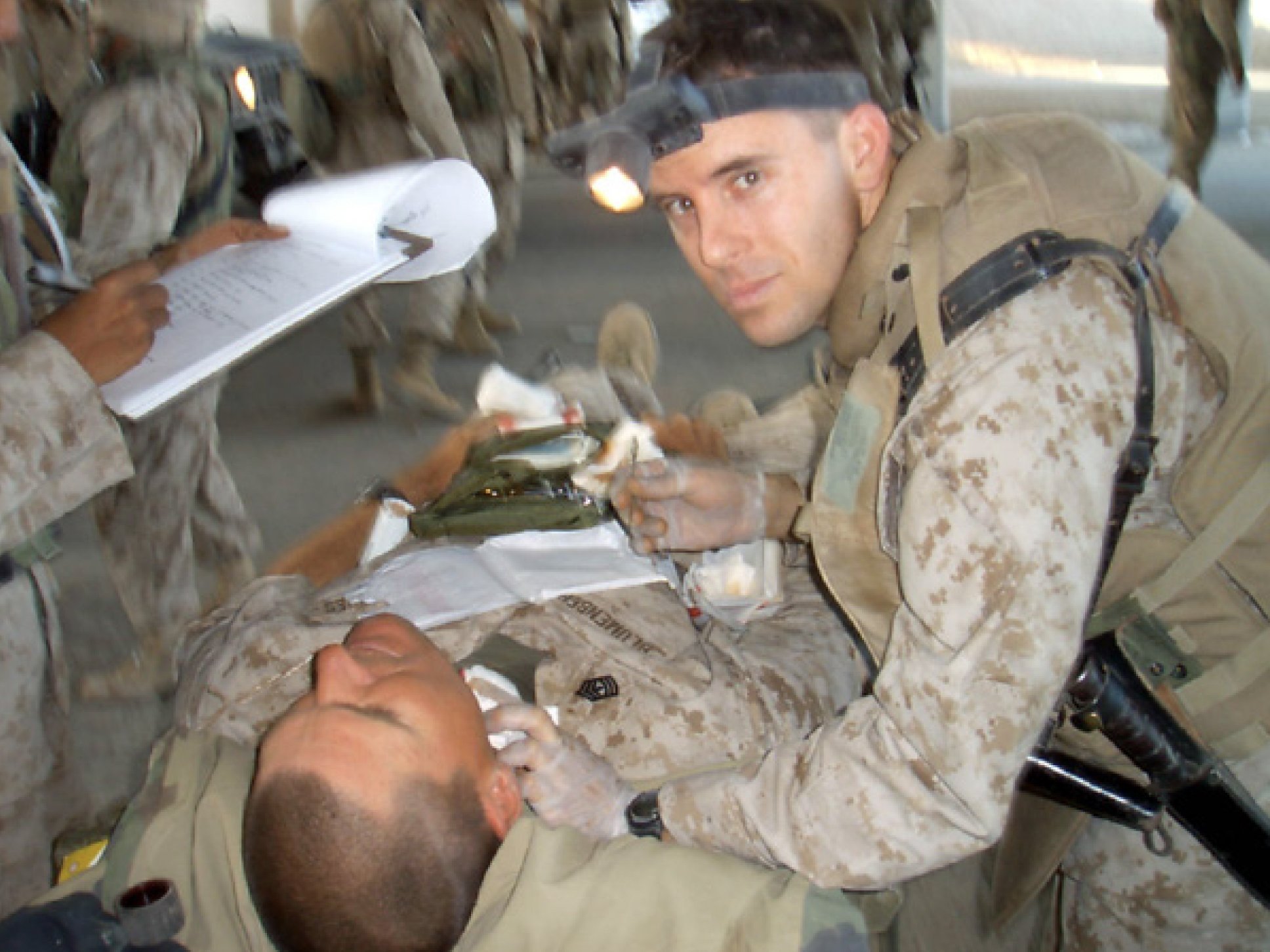 The book shines when Wilkes gets into the nitty-gritty details of his time as a practitioner of combat medicine. His skill set is evident, and his tone is unique because of a detached perspective seemingly required by his profession and assisted by his training. He is able to effectively reflect upon and almost academically walk the reader through his decision-making process under extreme stress. Not only does this work prove to be technically demanding for Wilkes, but his journey takes a mental toll as well. He calls on his faith when times get hard and faces the challenges before him with grace.
It is clear that the Marines he cares for are foremost on his mind, and if they are surrounding an injured buddy who is probably terminal, it becomes Wilkes' burden to try anything he can think of to save the wounded Marine's life, even if there are no good options, because the Marines who surround their buddy are watching Wilkes work and silently want to be assured that he would give the utmost effort for them.
Code Red Fallujah is a pretty standard war memoir told through the perspective of a patriotic young man who went to combat. What stands out is that, as an autobiographical war account, it features a unique perspective. Because Wilkes is behind the front lines and lacks firsthand knowledge of how the Marine in front of him was injured, the carnage itself becomes the driving action of this war story. I would recommend Code Red Fallujah for military academic reading and those interested in war memoirs.
---
Code Red Fallujah: A Doctor's Memoir at War by Donnelly Wilkes, M.D., Post Hill Press, 208 pages, $18