It's hard to remember a time when beer only came in two options — light or dark — unless you happen to be drinking at McSorley's Old Ale House, New York City's oldest bar, where to this day they proudly serve only two types of beer. This acclaimed establishment has been visited by presidents, authors, musicians, and more; a time warp with no mention of the latest IPA, barley wine, or sour beer. Save that for Brooklyn.
But not everything can be as timeless as shouting "light" or "dark" in a staple such as McSorley's. Beer has evolved through the years, with more than 7,000 breweries in the United States to date. Aside from the traditional pale ales, lagers, and stouts, even drinkers who generally don't prefer beer can find something sweet, like the popular pumpkin beers that grace every shelf come September, or even fruit-infused brews with flavors including grapefruit, blueberry, and tangerine.
One of the most popular types of beer in the market today is coffee beer, and several breweries are producing interesting interpretations of the beverage.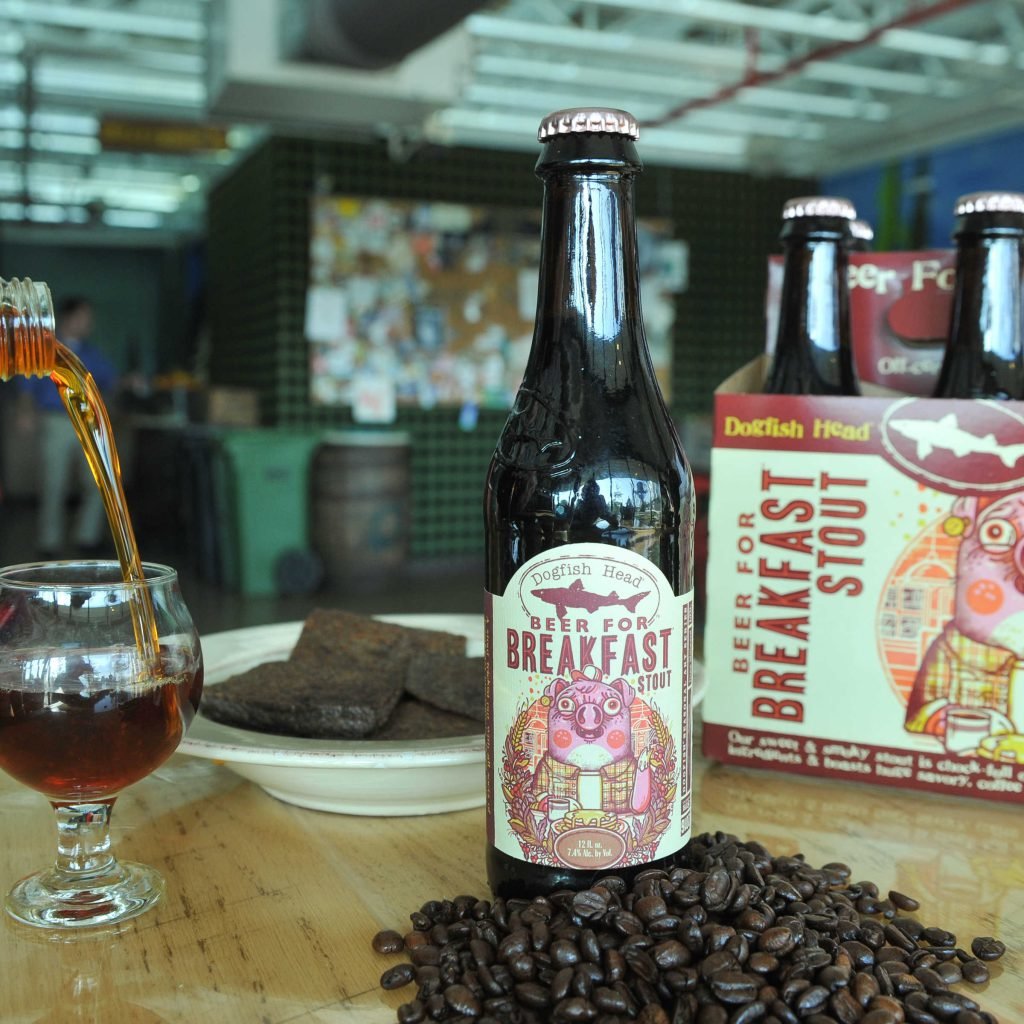 Coffee stouts date back to the 1990s when craft brewing began to take flight. Dogfish Head Brewery was one of the first to experiment in the style, and their latest creation is Beer for Breakfast.
"Beer for Breakfast is a full-bodied stout tricked out with all sorts of breakfast ingredients, including Guatemalan Antigua cold press coffee, maple syrup harvested from western Massachusetts and for a quintessential Delawarean touch, Rapa Scrapple and their secret blend of spices," Dogfish Head PR explains in an official statement. "Two-row applewood smoked barley, Kiln Coffee malt, flaked oats, roasted barley and caramel malt, along with additions of molasses, milk sugars, brown sugar and roasted chicory lay the foundation for this malty, breakfast-themed concoction. Enjoy huge notes of coffee in the nose and savory layers in the flavor."
As the craft beer craze continued into the 2000s, more breweries across the United States began making their own versions of the beloved brew. However, the process can be complicated. In fact, some coffee beers on the market do not include coffee at all. The mix of deep roasting a variety of creamy malts such as barley and chocolate often results in a rich aroma reminiscent of coffee. However, adding your favorite espresso to a beer batch might give it an extra kick — just ask Founders Brewing's brewmaster, Jeremy Kosmicki.
"Breakfast Stout was the first coffee beer we made back in 2002 and quickly became a staple in the lineup," he said. "It's not an easy beer to brew — super messy, in fact — but because it was so popular with our fans, we moved it to year-round brand availability a couple years ago. It uses two different coffee varieties — roasted by our hometown neighbors Ferris Coffee and Nut — at separate points during the brewing process to extract the best possible coffee flavor. That intense coffee flavor complements the abundance of chocolate and oats used in the stout perfectly, giving it a really thick and chewy mouthfeel."
Stouts aren't the only type of beer made with coffee. Coffee porters have also become popular for beer lovers, with the main difference being the malt chosen for the batch. Porters typically require malted barley, while stouts are usually made from unmalted roasted barley.
Oskar Blues has recently launched a new addition to its coffee line, Death by Affogato. Senior marketing manager Aaron Baker talked about the inspiration for the newly batched porter.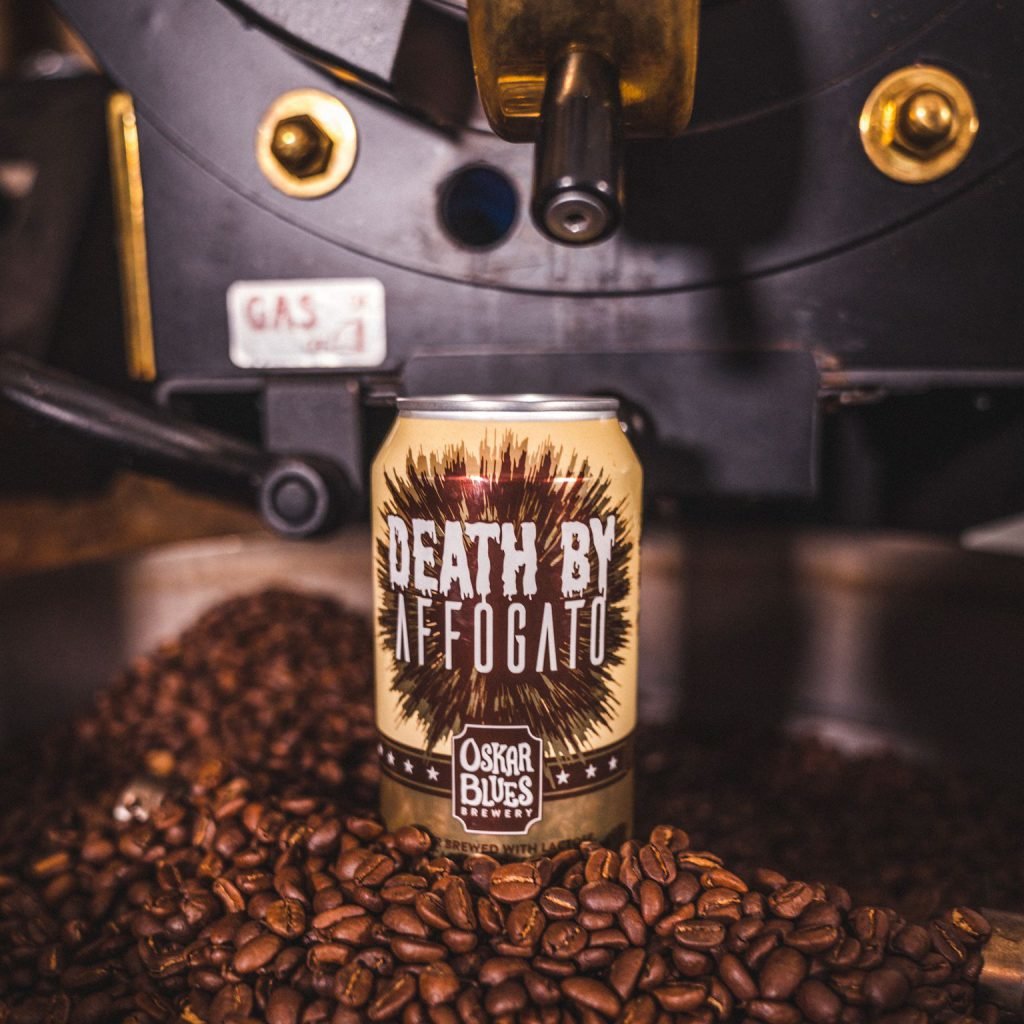 "Death by Affogato is the second entry in our 'Death By' Series of decadent porters — originally inspired by our fall seasonal Death by Coconut," Baker said. "The beer begins with a rich, dark porter brewed with chocolate malt and malted oats to complement roasted coffee and creamy vanilla. Using Spinbot 5000 technology, this malty porter is infused with cacao nibs, hand-split Ugandan and Madagascar vanilla beans, and coffee from Colorado's own Traction Coffee Roasters.
"The beer is a tribute to the classic Italian dessert, affogato — vanilla gelato topped with a freshly pulled shot of espresso. It's full of flavors of milk and dark chocolate, espresso, vanilla, and caramel. Surprising notes of caramelized sugar, toasted marshmallows, and breakfast cereal round out a porter perfect for late-night sipping. Taking inspiration from a dessert was somewhat new for us, but it was fun for our brewers to try to duplicate those flavors in a beer."
"We like to think of ourselves as proudly unpretentious foodies here at Oskar Blues," said Juice Drapeau, head brewmaster. "In a beer like Death by Affogato, we've taken inspiration directly from the culinary world. 'Affogato' is a fancy name but forget about that. All you need to know is that ice cream and coffee are a legendary pair."
Today, McSorley's is still often packed with Manhattan locals chugging their pint of either light or dark, chatting about the old days when life — and beer — was much simpler. However, if you're feeling adventurous, there are plenty of modern beer options — malted or unmalted, coffee infused or not — that provide the extra kick (or buzz) we're looking for.