In 1861, a citywide sound ordinance prevented steam rail lines from being constructed through downtown Baltimore. The PW&B Railroad, coming out of New York and Philadelphia, ended at Baltimore's President Street Station. Several blocks away, the B&O Railroad, which connected the city to Washington, DC, began at Camden Station. This gap in rail lines forced passengers traveling between northern states and the capital to walk through downtown Baltimore in order to catch their next train. The seemingly insignificant sound ordinance, with a little help from coffee, played a little-known key role in the first bloodshed of the Civil War.
In February 1861, just two months before the outbreak of war, President-elect Abraham Lincoln was forced to make that short walk through Baltimore on his way to Washington. Baltimore, a city in which Lincoln had received only about 1,000 out of the roughly 30,000 votes, was known for its volatile, anti-Republican populace. To avoid a possible assassination attempt, Lincoln made the short journey between train stations in disguise and under the protection of a personal security detachment headed by Allan Pinkerton. Lincoln, disguised as an elderly man, was pushed in a wheelchair along Pratt Street, under the cover of darkness around 4 a.m., successfully avoiding a conflict with the rowdy citizens of Baltimore.
Two months later, at the onset of war, two regiments of Massachusetts Volunteers traveling from Philadelphia to Washington were forced to make the same short walk between stations. Their commander, Gen. Benjamin Butler, happened to be a coffee fanatic. Recognizing the invigorating effects of caffeine, Butler was known for making his troops replace the water in their canteens with coffee, and would later go so far as planning some of his attacks around when his soldiers were most caffeinated.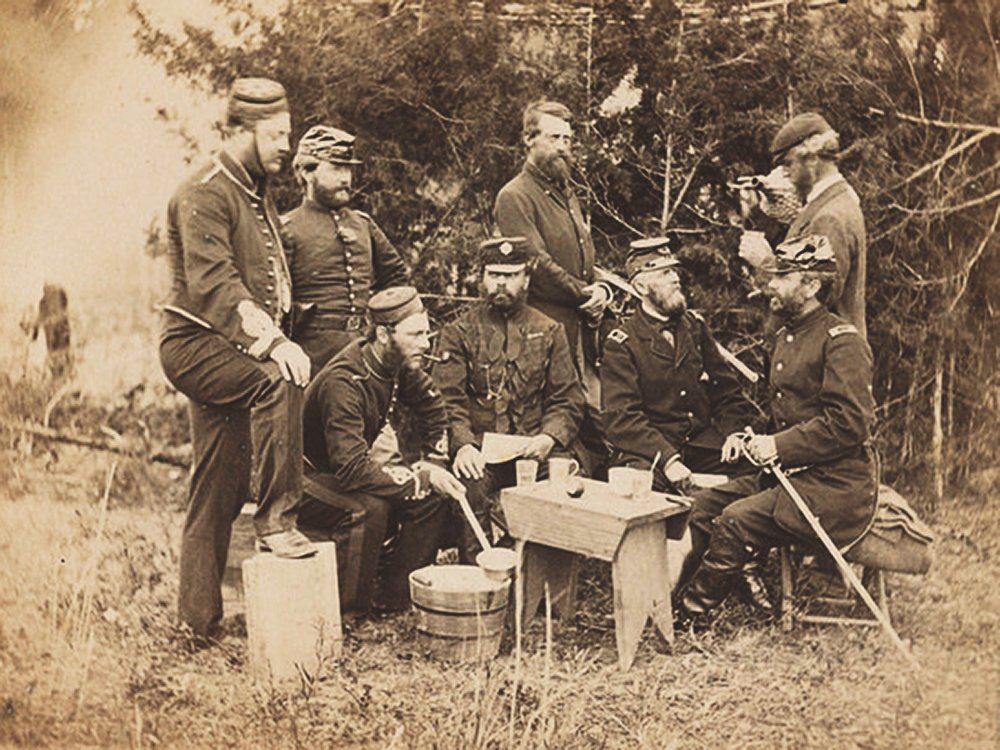 When Butler's troops arrived by train at Camden Station, led by Col. Edward Jones, they approached the unavoidable walk through the pro-slavery city much differently than Lincoln had. Instead of sneaking quietly along Pratt Street in the wee hours of the morning, the highly caffeinated regiments paraded in broad daylight, complete with flying colors, a drum corps, and a marching band.
It was no secret that the working-class port was diametrically opposed to war, and a large formation of federal troops marching down the cobblestone would be viewed as hostile. Jones' troops expected to be "insulted, abused, and perhaps assaulted," but were instructed not to engage with the angry mob. This directive did not last the 10-block walk between stations. As riotous citizens began throwing stones and bricks and firing pistols, the soldiers returned fire into the crowd.
The exchange of gunfire was brief, but before Jones' men boarded the train bound for DC, 12 citizens and four soldiers were dead, marking the first bloodshed of the Civil War — bloodshed that likely could have been avoided with a little more tact and a little less coffee.
While coffee may have played a minor role in the war's first casualties, it played a much larger role in its outcome. When the war officially began, the United States' "Anaconda Plan" was put into place, virtually sealing off the Confederacy by way of the largest naval blockade at that point in history. The blockade prevented imports from reaching any of the 10 Southern seaports, curbing the Confederacy's supply of weapons, ammunition, and, of course, coffee. Blockade runners were able to exchange just enough cotton for provisions needed to fuel a four-year war effort, but coffee imports into the South nearly ceased.
Simultaneously, the thriving ports of Baltimore, Philadelphia, Boston, and New York provided the Union an abundance of materials needed for war, not least of which was coffee. Back in 1832, President Andrew Jackson replaced the army's rations of alcohol with coffee, making it the only officially caffeinated army in the world. And while those government beans may have given the Union Army a little more energy than its Southern opposition, the abundance of coffee had an unintentional benefit; one that might have played a much larger role in the outcome of the war.
Despite the advent of deadlier weapons, such as the Minié ball and rifled artillery, it was disease that claimed most of the lives lost during the Civil War. At roughly 450,000 deaths, illness claimed more than twice as many as those killed in action. Among the common ailments, dysentery wore the crown of deadliest. The bacteria-borne disease riddled both armies, but while malaria more heavily plagued the Union, dysentery, typically spread through unclean water, all but decimated the Confederacy.
With 36 pounds of coffee issued annually to Union soldiers, federal troops consumed the bitter drink at an unprecedented rate. Coffee consumption among federal troops was so high that some Sharps rifles even came with a small grinder built into the buttstock. Across the battlefields of America's deadliest war, Union camps gleamed with thousands of tiny campfires all boiling water for the morning brew.
This seemingly insignificant act of boiling water for coffee coincidentally purified it and helped stem the spread of dysentery. Foot soldiers of every era can attest to the debilitating effects of that disease; whether a bout of dysentery proves fatal or not, a soldier struggling through the throes of bloody bowel movements is combat ineffective. So while Union troops greedily guzzled their caffeinated beverages, they inadvertently protected themselves from the deadly waterborne bacteria. As the war progressed, Confederate forces found themselves increasingly lacking in healthy, hearty troops, and ultimately entered some of the war's pivotal contests with insufficient forces. In part, one could conclude, this was due to a lack of coffee.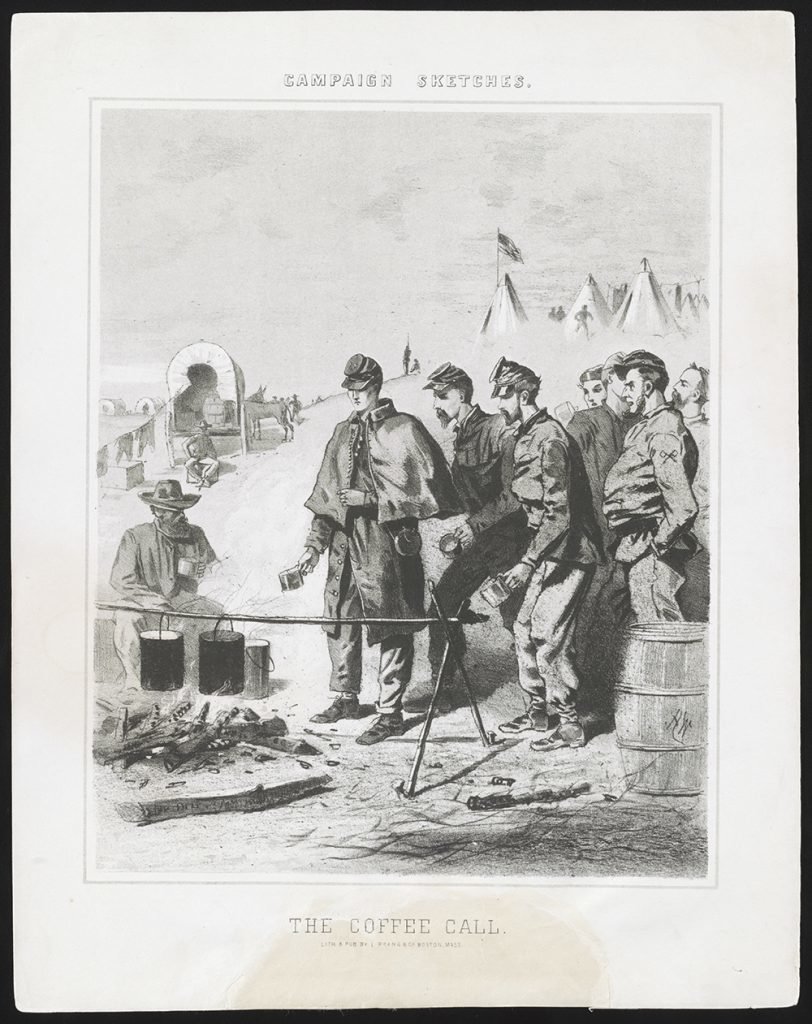 Bereft of coffee, Confederate troops tried to replace the invigorating beverage with other boiled concoctions. However, substitutes made of chicory, acorns, or dandelions did not seem to cut it, so the boiling of water was never widespread. Taking coffee's place, tobacco became the vice of choice for Southern soldiers.
Behind cotton, tobacco was the largest crop being grown in the South, so there was never a shortage of quality tobacco for Confederate forces. While the Union blockade effectively limited the amount of coffee flowing into the South, it similarly stopped the export of tobacco, leaving Union troops longing for the leaf.
In opposition to the glowing fires of Union coffee pots, one can imagine the glowing bowls of Confederate pipes. This shared lack of resources resulted in oft-romanticized truces, where pickets from opposing armies would meet and exchange goods. Tales of such trades abound along the Rappahannock River and at places like Chattanooga, Fredericksburg, and Vicksburg. Despite the pleasantly nostalgic idea of shared coffee and tobacco under white flags, the small truces did nothing to prevent widespread consumption of tainted water among Confederate troops.
Federal industry, a stronger economy, and larger pools for recruiting are more commonly cited as some of the decisive factors in the outcome of the Civil War, but lopsided consumption of coffee should not be overlooked. Highly caffeinated Billy Yank ultimately bested dysentery-addled Johnny Reb, in part due to the small, yet significant role of coffee.
Coffee has continued to aid the American warfighter in every subsequent conflict. From jarheads boiling the black liquid on the sands of Iwo Jima to GIs roasting coffee with C4 in the Mekong Delta, troops still thrive on America's favorite caffeinated beverage. While disease still takes a toll on modern armies, rest assured, a lack of coffee will not hinder American troops in wars to come.