If you pay attention to Glengarry Glen Ross — the 1992 film best remembered for its incredible acting, gorgeous cinematography, and iconic, meme-generating "coffee is for closers" scene — it's hard to miss the fact that the whole movie is a thinly veiled anticapitalist screed.
Yet somehow, Alec Baldwin's character — who can poetically be remembered simply as "Fuck you! That's my name!" — appears in a single, roughly eight-minute scene in which he cements himself as the film's spiritual anchor and manages, through a captivating mix of alpha-male posturing, hip-hop-like braggadocio, and literal demonstrations of his brass balls, to strike an uncomfortable blow to the American male psyche. The nature of that discomfort, how it manifests, is essentially a filmic Rorschach test.
Confused? Follow me for a second.
Most of the film takes place inside a dingy office building in Chicago, the headquarters for four real estate salesmen — played by Jack Lemmon, Ed Harris, Alan Arkin, and Al Pacino — and their wormy, sycophantic boss, played by Kevin Spacey.
The film's inciting incident is a roughly eight-minute rhetorical curb-stomping wherein Baldwin, who represents capitalism in its worst iteration, mercilessly eviscerates the principal characters, especially Lemmon's Shelley Levene and Harris' Dave Moss.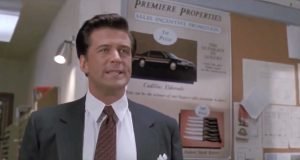 "Put that coffee down!" Baldwin says with a deadpan stare that locks like a tractor beam onto Lemmon, who glares back, cowlike.
"Coffee is for closers only," he says as Lemmon nervously laughs.
"You think I'm fucking with you? I am not fucking with you. I'm here from downtown. I'm here from Mitch & Murray, and I'm here on a mission of mercy. Your name's Levene? You call yourself a salesman, you sonofabitch?"
It's later revealed that Levene is nicknamed "the Machine" because of his past prowess as a salesman, so Baldwin's character is effectively shanking the biggest guy in the yard right out of the gate. Classic power play.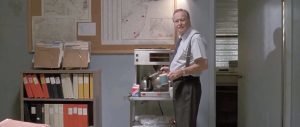 "I don't gotta listen to this shit," Harris' Moss declares indignantly.
"You certainly don't pal," Baldwin's character fires back. "Because the good news is, you're fired. The bad news is you've got — all you've got is just one week to regain your jobs, starting with tonight. […] Oh. Have I got your attention now? Good, because we're adding a little something to this month's sales contest. As you all know, first prize is a Cadillac El Dorado. Anybody wanna see second prize? Second prize is a set of steak knives. Third prize is you're fired."
And there we have the stakes.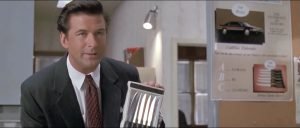 Coffee is for closers, and now keeping your job is for closers. So the whole film is about a system in which the most corrupt, malevolent, predatory practices are encouraged and lauded, and anyone with a conscience is a chump. Even as the principals lament the malevolent machinations of their invisible tormenters — the never-seen corporate boogeymen Mitch & Murray — none of them act in a truly noble or courageous way. All of them constantly morph into the objects of their own contempt as they continuously look for angles to get ahead throughout the film.
"A-B-C … Always be closing," Baldwin's character tells the salesmen, smugly delivering some kind of corporate training refresh, as if the cookie-cutter advice is something they don't already know. He also makes very clear that the only thing that matters — the only true measure of worth for a salesman — is his ability to close.
"Nice guy? I don't give a shit. Good father? Fuck you! Go home and play with your kids. If you want to work here, close," he says.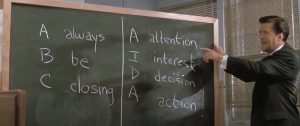 In 2012, comedy writer David Wong made the case — in what might be the greatest listicle of all time — that the "coffee is for closers" scene is "the greatest scene in the history of movies."
"It's brutal, rude, and borderline sociopathic, and also it is an honest and accurate expression of what the world is going to expect from you," Wong wrote in "6 Harsh Truths That Will Make You a Better Person." "The difference is that, in the real world, people consider it so wrong to talk to you that way that they've decided it's better to simply let you keep failing."
Wong effectively turns the film's anticapitalist themes around when he frames the Baldwin scene as a binary Rorschach test of sorts.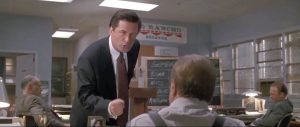 "As smarter people have pointed out, the genius of that speech is that half of the people who watch it think that the point of the scene is 'Wow, what must it be like to have such an asshole boss?' and the other half think, 'Fuck yes, let's go out and sell some goddamned real estate!'"
Or, as the Last Psychiatrist blog put it:
"If you were in that room, some of you would understand this as a work, but feed off the energy of the message anyway, welcome the coach's cursing at you, 'this guy is awesome!'; while some of you would take it personally, this guy is a jerk, you have no right to talk to me like that, or — the standard maneuver when narcissism is confronted with a greater power — quietly seethe and fantasize about finding information that will out him as a hypocrite. So satisfying."
Throughout the film, the corrupting influence of cutthroat capitalism is on display over and over again.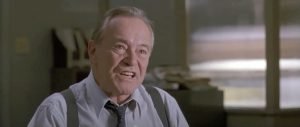 Al Pacino's Ricky Roma is one sale away from winning the Cadillac when he meets James Lingk, played by Jonathan Pryce, in a Chinese restaurant. Roma's main sales tactic appears to be to exploit Lingk's apparent closeted homosexuality so he can literally screw him out of tens of thousands of dollars. When Lingk tries to back out of the contract he signs, Roma lies to him repeatedly, hoping to trick him into letting the three-day grace period pass before he can legally renege on the deal.
The stakes are especially high for Levene, who we learn has a loved one receiving some kind of medical treatment, which we're made to assume depends on health insurance he gets from his job. Levene is desperate to close a deal, and by the end of the film, he celebrates closing a massive $82,000 deal, only to be told by his boss the people he sold the property to are mentally ill and therefore can't be held to the contract.
Just before the "coffee is for closers" scene, Ed Harris' Moss says, "The rich get richer; that's the law of the land."
This truism is the central plot point of the film. Coffee is for closers. The new leads — the Glengarry leads, which would give all the salesmen a fighting chance at closing enough deals to keep their jobs — are for closers. Capitalism is a system in which — as Navy SEALs love to say — "it pays to be a winner." The problem with the zero-sum game, as depicted in the film, is that it often drives people to desperation and ruin.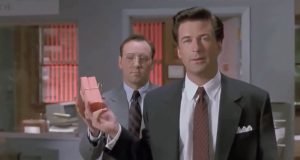 But as Wong explains, the allure of "coffee is for closers" is the same romantic ideal that we've always been sold as central to the American dream. It's the promise that if we close enough deals, we can be Baldwin. We're told it's not the Glengarry leads or any leg up that anyone can give us. It's the sheer force of our will to succeed. It's all about the bootstraps.
"Society is full of people who need things," Wong explains. "They need houses built, they need food to eat, they need entertainment, they need fulfilling sexual relationships. […] The moment you came into the world, you became part of a system designed purely to see to people's needs. Either you will go about the task of seeing to those needs by learning a unique set of skills, or the world will reject you, no matter how inoffensive and courteous you are. You will be poor, you will be alone, you will be left out in the cold. […] What about love and kindness — don't those things matter? Of course. As long as they result in you doing things for people that they can't get elsewhere."
While there are plenty of holes in the perfectly dreamy Horatio Alger fantasy in which we Americans love to indulge, Wong reminds us that, like it or not, dominance hierarchies or, preferably, competence hierarchies are immutable facts of life. Lamenting their existence and the inherent fallibility of human institutions actually has little consequence.
Coffee is for closers. It pays to be a winner.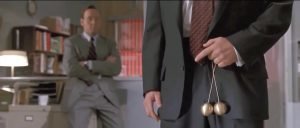 "Friend, if the system falls apart, take everything I've said above and multiply it times a thousand," Wong warns any reader or watcher of Baldwin's speech. "The person without skill and drive will not be given food. The new masters may fly the banner of equality, but you'll slowly notice that the talented and charismatic are still getting the best stuff. That won't change in your lifetime, or in the lifetimes of your great-grandchildren."
And here is what makes "coffee is for closers" such a brilliant and infectious meme in the American psyche: It's a tough-love reminder that the stories we tell ourselves matter and the universe does not give a single fuck about your feelings. It's a poignant endorsement of the "it pays to be a winner" mindset.
So now you have to ask yourself. Which kind of person am I?
Always be closing, or put that coffee down. Because coffee is for closers.