October ushers in the season of leaves changing colors, Fantasy Football league rivalries, and coffee drinkers lining up at their favorite coffee shops for the ultimate fall beverage: the pumpkin spice latte.
Sure, pumpkin spice might be a great morning pick-me-up, but what about those weekend Halloween parties you have coming up? Let's not forget Sunday brunch, happy hour, date night — all perfect examples of times when an adult fall coffee beverage is in order.
Our friends at The West, a trendy coffeehouse and cocktail bar in Williamsburg, Brooklyn, took Coffee or Die step-by-step through the of making a Cold Brew Pumpkin Martini — the adult beverage you didn't know you needed this October.
First, dip the rim of a martini glass onto a plate of simple syrup, then coat it with a mixture of cinnamon and sugar. The cinnamon-sugar rim not only amplifies the fall aesthetic, but it also complements the flavors of the drink inside the glass. Next, chill the glass by filling it with ice.
In a shaker, combine two shots of cold-brew coffee, 4 ounces of vanilla vodka, 2 ounces of Kahlúa, and a pump of pumpkin spice syrup. Then throw in a pinch of nutmeg and cinnamon for good measure.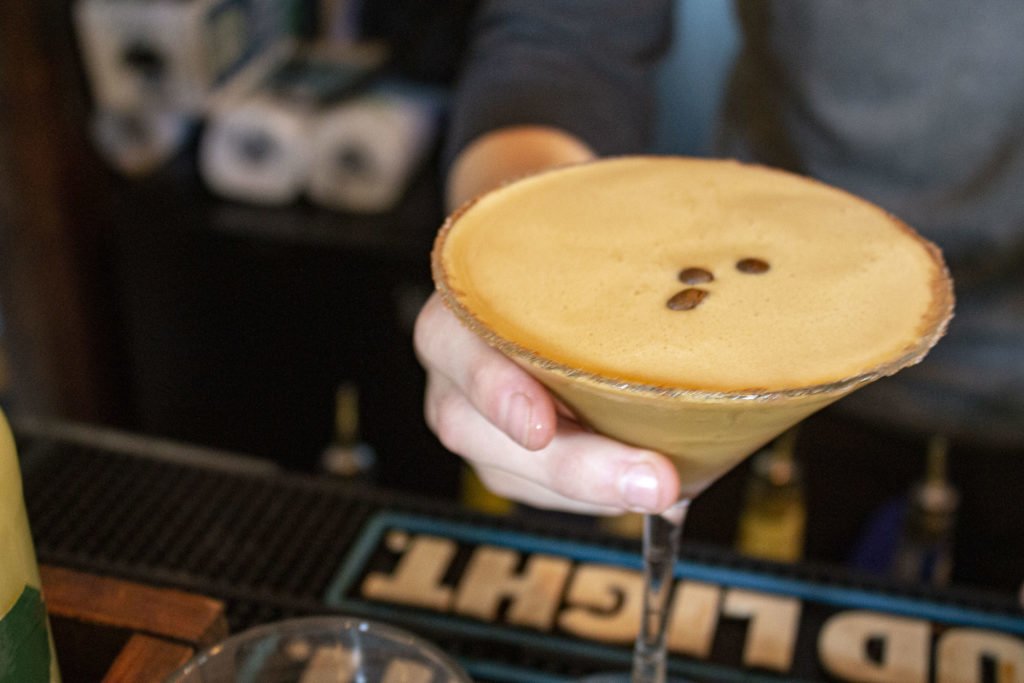 After giving it a strong shake, remove the ice from the chilled martini glass and pour in the delectable concoction. To finish, garnish the drink with two espresso beans.
There are many variations of the pumpkin martini. The West's version is a classic, with the perfect balance of coffee and pumpkin. Some alternatives include using the trendy cream liqueur RumChata in lieu of Kahlúa or using pumpkin puree instead of a syrup.
There are plenty of delicious fall drinks beyond the traditional pumpkin-flavored beverage. From spiked apple cider to maple bourbon old fashions, the flavors and ingredient combinations are nearly endless.