We're at 10,188 feet on the mountain when I start to worry. The numbness in my toes has crept into my ankles and is now climbing up my shins toward my knees. My hands are clumsy for lack of blood, and icy water is running down my back and attempting to breach my waistline. I'm painfully cold and getting colder fast. Brutal wind and sheets of snow punish every step I take toward Mount Rainier's summit, still more than 4,000 feet above our small column of Army and Marine Corps veterans. The last command given by both my wife and my editor suddenly echoes in my head: "Don't fucking die up there."
At 14,411 feet, Mount Rainier is the highest peak in Washington and the most glaciated mountain in the contiguous United States. Known to locals simply as "The Mountain," Rainier dominates the Seattle skyline. More than 10,000 climbers visit the mountain every year, and about half successfully reach the summit, most of them with the help of guides.
We're eight hours into the climb and battling a blizzard high up in the clouds when the reality of our extreme isolation really hits me. We're on our own, hours away from the nearest piece of dry clothing or warmth, and no one is coming to help. No magic switch can be flipped that will stop the wind and rain, no portal to transport us back to our cars and dry clothes at the base of the mountain. It's up to us to figure something out. If we don't, we risk freezing to death.
The realization both terrifies and thrills me. This is the scenario that the same part of my brain that misses combat was hoping for. The rest of my brain — probably the part not rattled around by IEDs — is scared shitless.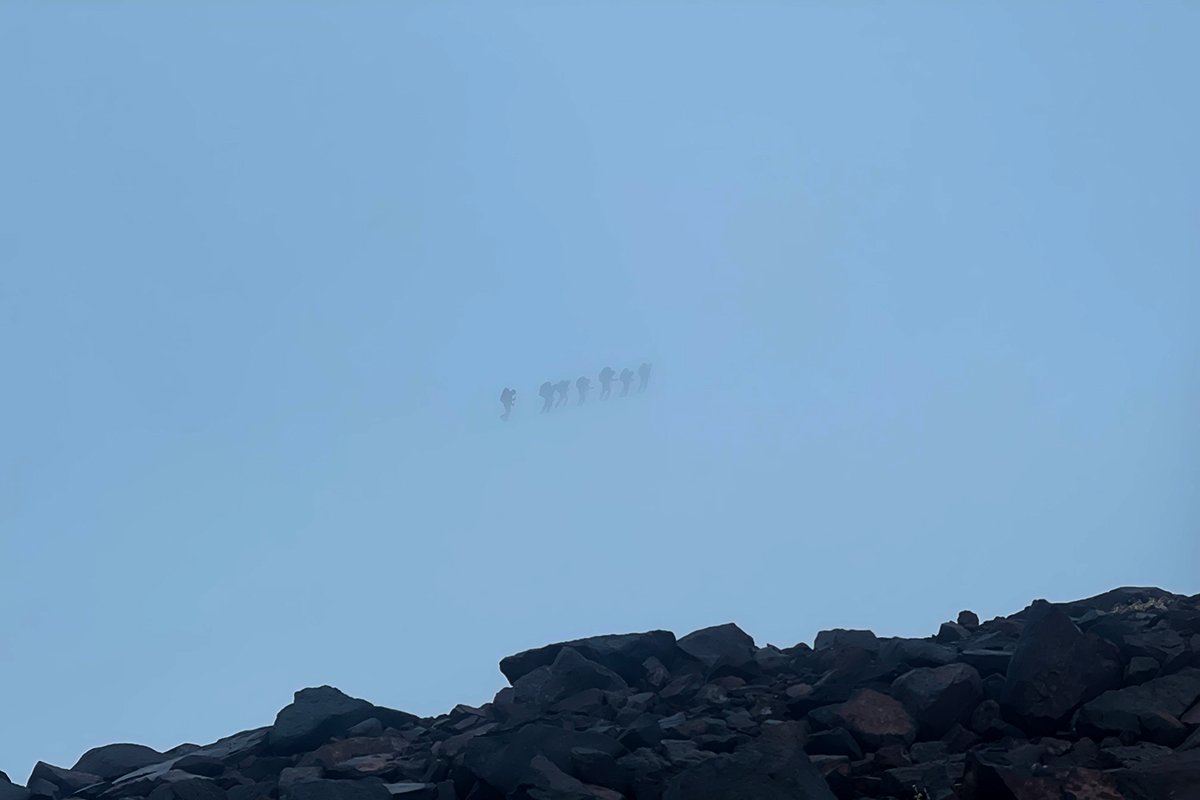 24 Hours Earlier
It's June 12, 2021, and strewn across the lawn of the modest rancher in Puyallup, Washington, is every kind of climbing gear one might possibly need to climb the mountain. Tents, packs, ice axes, crampons, glacier glasses, goggles, freeze-dried food, water bottles, insulation pads, sleeping bags, ropes, harnesses, and cold-weather clothing all lie in the grass like the aftermath of a miniature tornado.
Our team of climbers — several experienced, most of us inexperienced — come from two veteran service organizations: Patrol Base Abbate and Veterans Adventure Group, or VAG. Leading the climb are two Army veterans, Justin Matejcek — the founder of VAG — and Austin McCall, a former Ranger and the most experienced climber on the team. The rest of us are mostly Marines. There's Michael Spivey, a former combat engineer and Paralympian who left one of his arms in Sangin, Afghanistan; Kevin Fallon, a stocky, active-duty Marine infantry officer; and Jordan Laird, a former scout sniper who served alongside Spivey through some of the heaviest fighting of the entire Afghan War.
"We've still got team gear that needs to get packed up," Matejcek says to no one in particular. He's reminding us this is not a guided climb, and everyone has to chip in to lug the essentials more than 10,000 feet up to Camp Muir. No Himalayan Sherpas or Samwise Gamgees will be carrying gear for us. Everyone is his own mule.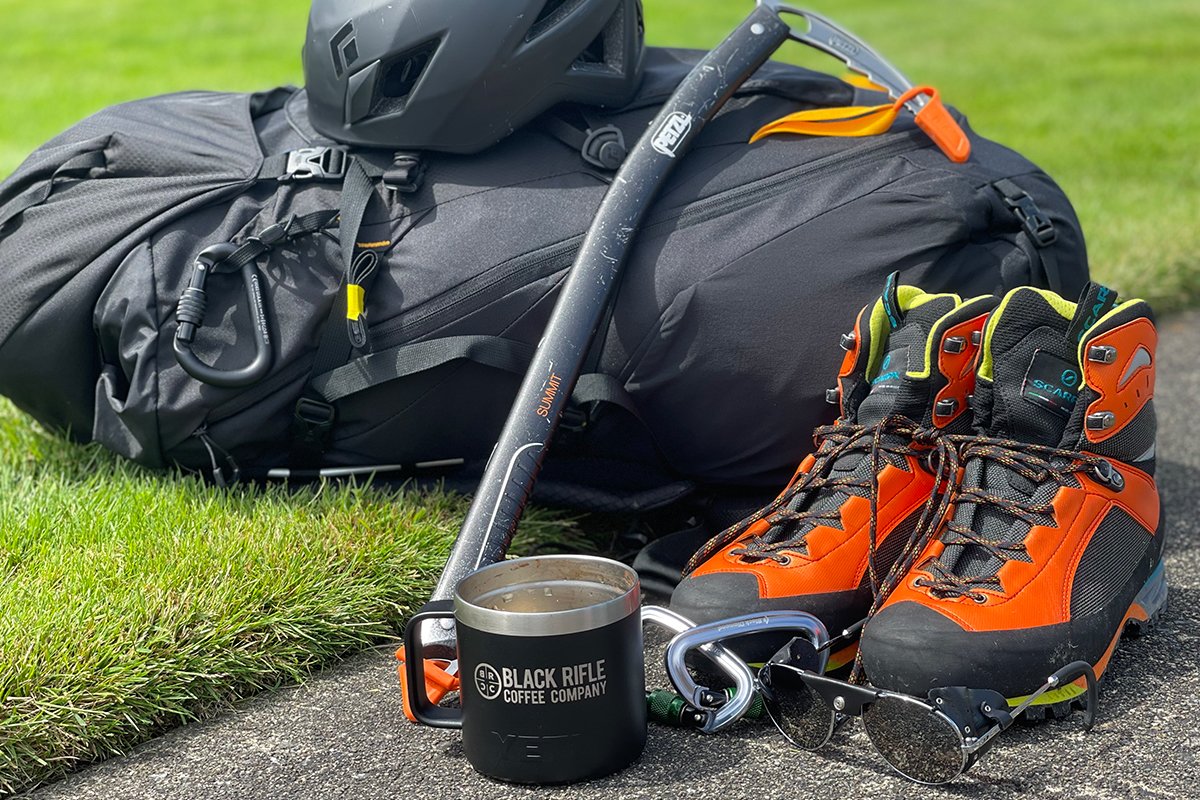 Matejcek is a former sniper from the 101st Airborne's Pathfinder Company and an avid outdoorsman. In 2016, he founded VAG to give veterans opportunities to try extreme sports, including an annual climb of Mount Rainier. He has taken 128 veterans up the mountain, with 85% reaching the summit — a much higher success rate than the park's 45% average for independent climbers. In just a few short hours, Matejcek will live up to his promise of placing us all in an extreme environment where "veterans thrive and most people merely try to survive," as he puts it.
Most of our team is here through Patrol Base Abbate. The organization's namesake, Matt Abbate, earned the Navy Cross in October 2010 while serving as a Marine scout sniper in Sangin, Afghanistan, where he was later killed in action. Among the climbers gearing up around me are three of Abbate's former comrades, including Laird.
"Hey brotha! I told you you'd be getting a hug when I met you!" Laird says, wrapping me up in an uninvited bear hug. "I'm Jordan, your new favorite hippie scout sniper."
From the moment he hugs me to when he drops me off at the airport four days later, the smile never leaves his face. His positive attitude infects the whole team, but beneath the outward positivity, Laird has been struggling. Following his years in the Corps, Laird dabbled in security contracting but ultimately hung up his M40 sniper rifle. He tells me he's freelance writing for a few publications but is still looking for a more fulfilling career. When another Marine veteran — who is scheduled to go on a different climb after us — finds out Laird was in 3/5, he practically bombards him with loose connections to Abbate.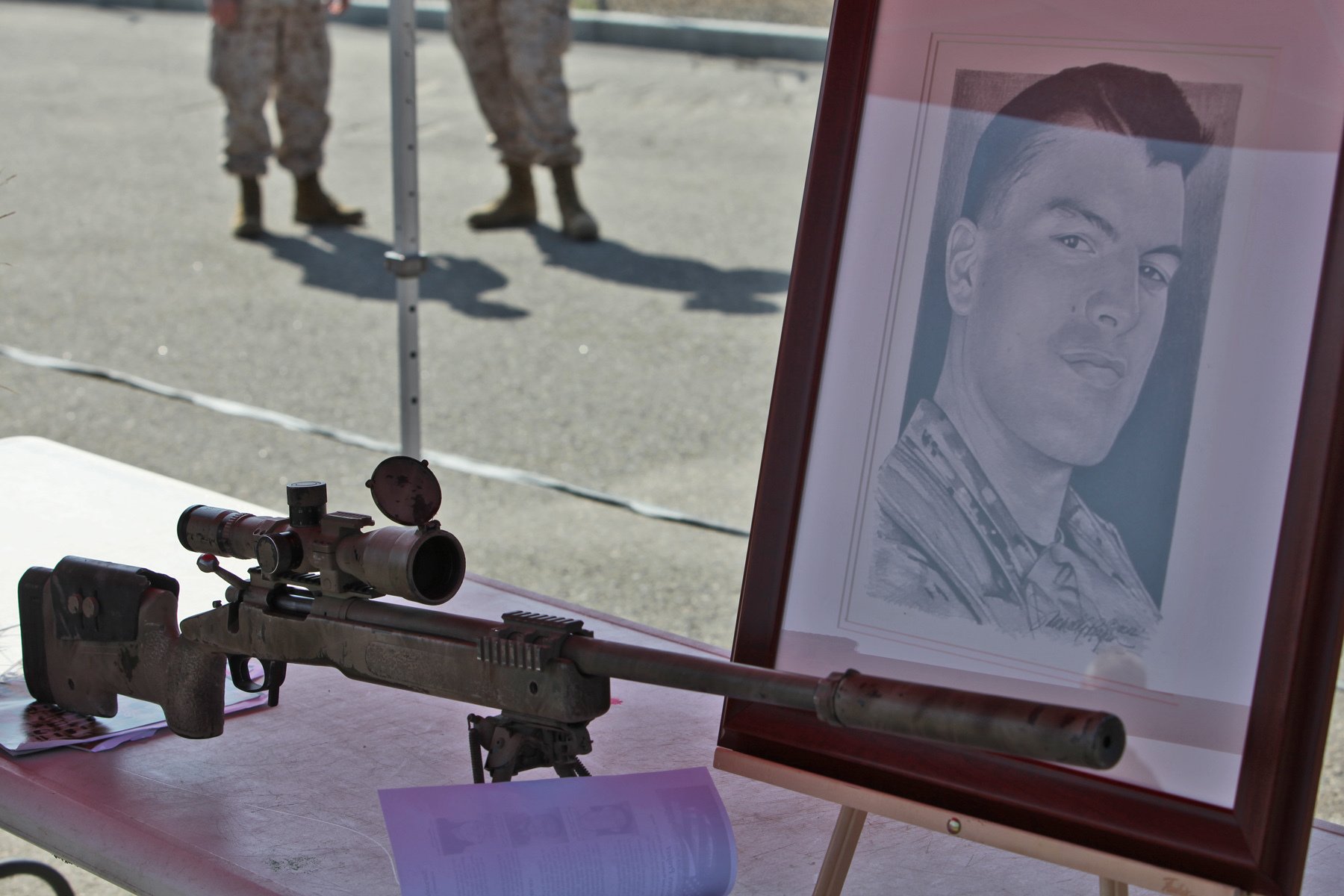 "I worked with a guy who went to school with Abbate! Real stand-up Marine," the guy says, unaware of Laird's close relationship with Abbate.
"Oh, nice man," Laird says politely. He nods along respectfully until the guy gets tired and moves on to bother someone else.
"That kind of stuff really frustrates me, dude," Laird says to me. "Why do guys feel like they have to validate their service by making up some connection to guys like Matt?"
I don't have an answer for him, but I nod in agreement. A year earlier, a friend of mine killed himself. He was an experienced combat leader who lost his leg to an improvised explosive device less than a month into my first deployment. He had become an outspoken figure regarding mental health and gathered a substantial online following within the veteran community before he decided one day to put a pistol in his mouth and tragically end his life. There was a tidal wave of false sympathy on the internet. Droves of people commented on various social media platforms, gushing about how great of a man he was, elbowing each other over who had the deepest connection. It was all bullshit. The truth was, he wasn't a great man. He wasn't even a great Marine. And the massive social media presence he had created ultimately failed to fill whatever void he was burdened with. The forced connections people felt the need to brag about after his death irked me the same way this guy irked Laird.
After final gear checks, we retire to our respective air mattresses and couches for an early bedtime. The sun is still high in the sky at 9 p.m., but we've got an early start tomorrow. I scarf down another helping of spaghetti for the extra carbs, then pull my sweatshirt over my head for some darkness.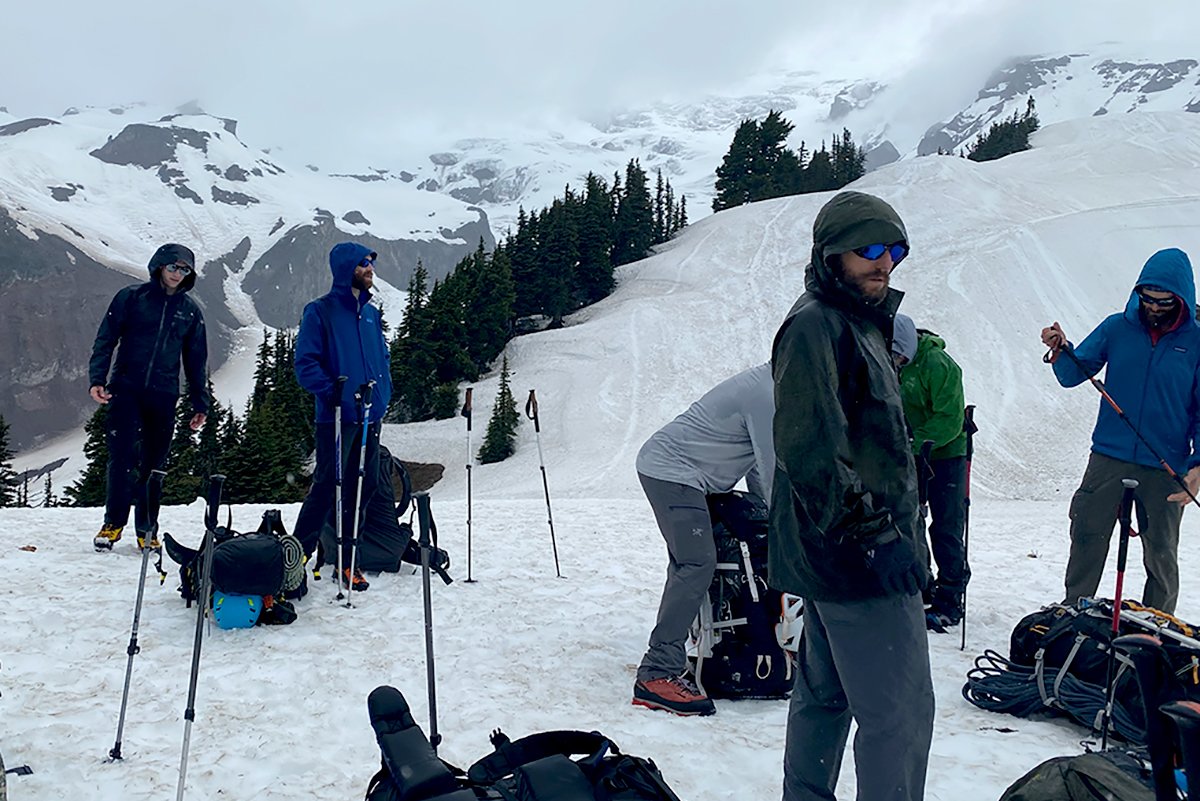 Zero Hour
I wake up at 4:30 a.m. to McCall stuffing emergency radios and equipment into his bag.
"Here," he says, tossing me an emergency avalanche beacon. "Find room for this."
The familiar pack stuffing transports me back to the quiet moments of spread loading extra batteries and ammo before a patrol. The whole team is up now, moving slowly in scattered corners of the house, making final decisions on what gear and clothing can be left behind to make room for extra snacks. I replace a midweight layer with some extra food and the emergency beacon before taking my overstuffed pack and climbing into one of the vehicles.
Cloud cover completely shrouds the mountain in the twilight as we pull into the upper parking lot at Paradise, but the mountain's mammoth presence still dominates the air. You can feel its size looming just out of sight.
The beginnings of a few inside jokes have sprouted, and a shared nervous excitement is starting to bring us together. I rub sunscreen on my nose as McCall eats another Spam and rice snack left over from last night.
"No such thing as too many calories going into a climb," he says with rice stuck in his toothy smile. "I'm not even hungry, dude."
I'm not the only one who laughs and then nervously breaks out another last-minute snack.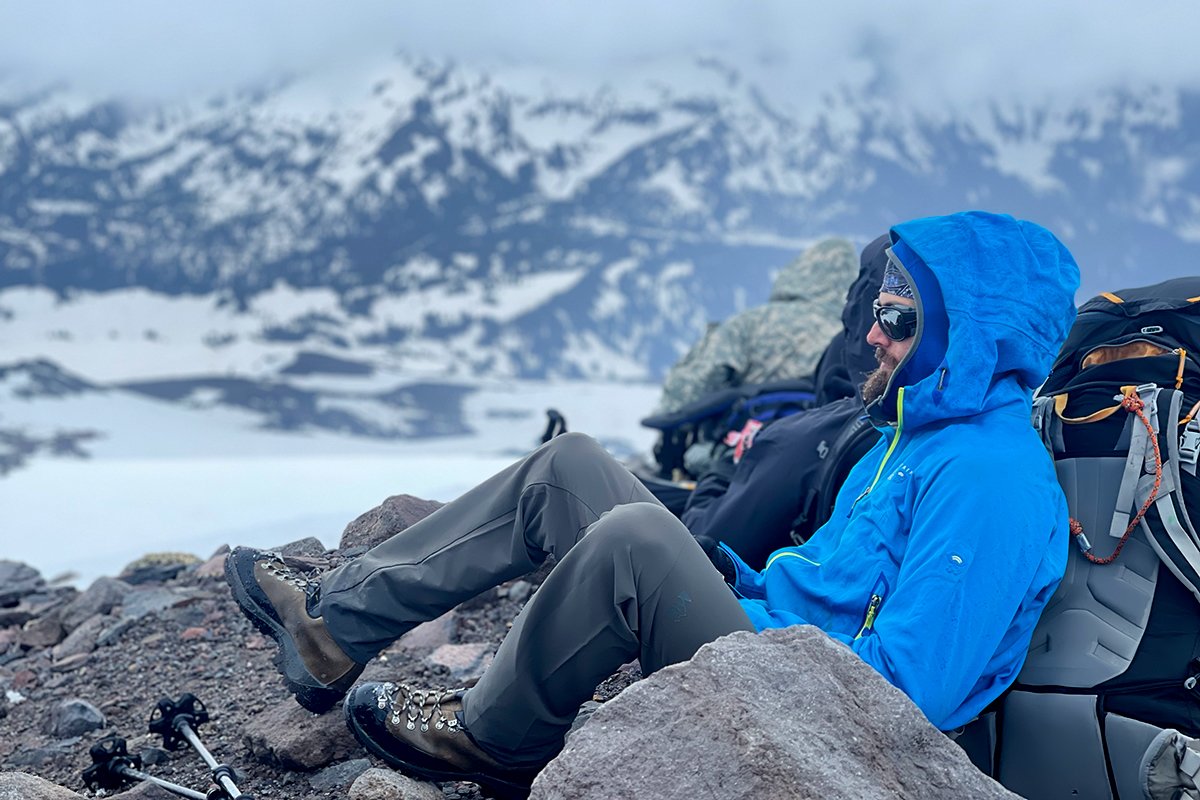 We step off around 8 in the morning, moving from the parking lot to snow in a single step. The climb starts in the first few yards. Each step is equal parts forward and upward. We walk for a few minutes through scattered pines, then stop to make final pack adjustments and drop unwanted layers.
Walking in the snow isn't quite as frustrating as sand or mud, but it's noticeably different from hard ground. I ignore the self-doubting voice in my head telling me I didn't spend enough hours on the stair climber.
Into the Storm
Three hours into the ascent it's clear the weather is not on our side. The water trickling down the back of my legs is an uncomfortable first sign that my waterproof layers have reached their limit and just succumbed to the weather. Water always wins eventually. As I accept the fact that the rest of the climb will be done wet, I can't help but smile. I know the rest of the team is experiencing the same rain-induced moment of misery with me.
The wind blows a combination of snow, rain, and fog in driving sheets that make it hard to see. The snow-covered ground merges with the cloud we're climbing through, and visibility becomes limited to less than 20 yards. I turn and look below me, and a ghostly silhouette shakes its head at me. I can tell by the exaggerated head shake and bouncing shoulders that Laird is laughing. I laugh too, then turn and pay attention to the placement of my next step.
The mountain … simplifies life in a way similar to war, and just like in the war most of us fought in, carefully placing one boot in front of the other becomes the most important task in the world.
There's something relaxing about climbing. Being exposed to the extreme spectrum of weather in such a remote place makes life's daily problems seem trivial. The mountain has a way of pulling back the bullshit and revealing the superficiality of so many self-imposed problems. It simplifies life in a way similar to war, and just like in the war most of us fought in, carefully placing one boot in front of the other becomes the most important task in the world.
"You good bro?" McCall asks Whitman Rabren, an Army veteran who has had his head down and spent each water break rolling cigarettes instead of drinking.
"Yeah," Rabren responds without looking up. "Altitude is kicking my ass."
Altitude sickness does not discriminate. Like a mortar, it comes for anyone at any time. It doesn't care how many times you've climbed or what kind of shape you're in. Altitude sickness, or acute mountain sickness, can be life-threatening. It stems from a lack of oxygen getting to your brain due to thinning air at high elevations. It's common, and usually involves only mild symptoms like headache and nausea, but those can quickly develop into pulmonary or cerebral edema if you're not careful.
In the military, open water is often referred to as the "great equalizer" because no matter what kind of shape you're in or how tough you are, if you aren't prepared to swim, it will make a floundering fool out of you in no time. Life at high altitude is similar in its indiscretion.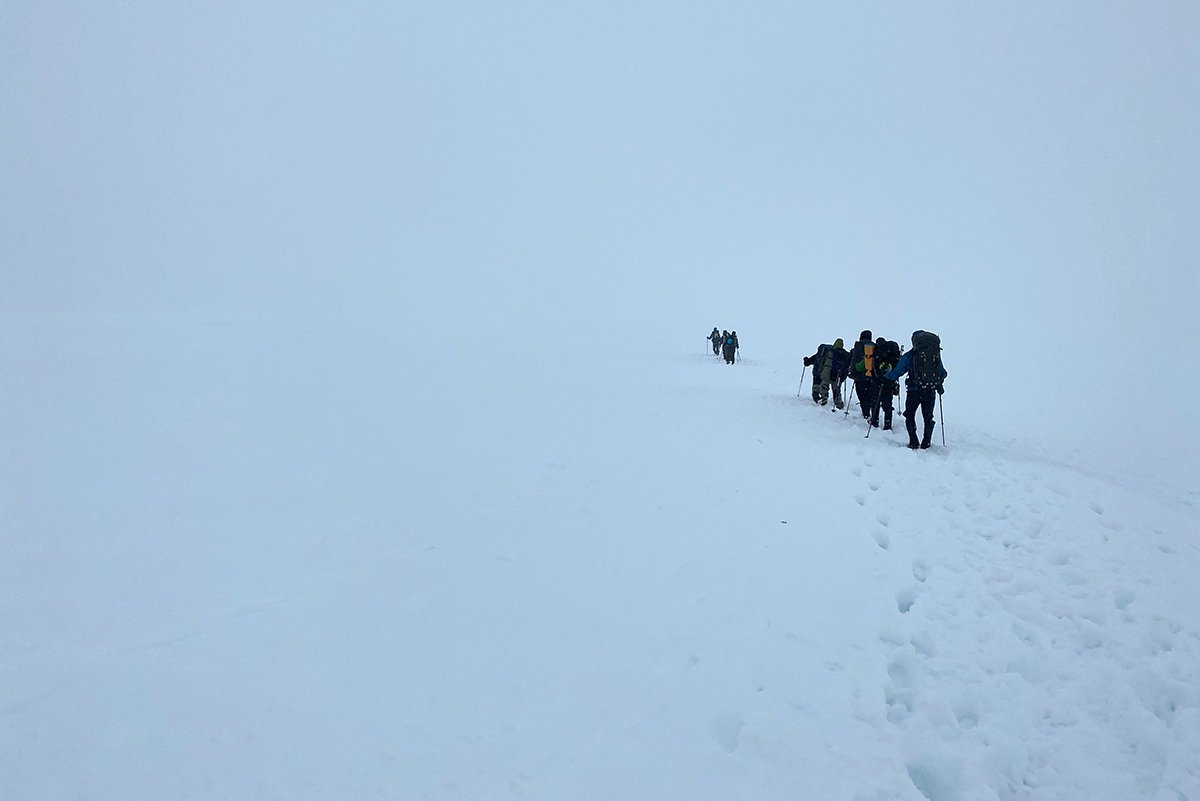 Rabren insists he just needs to drink a little more water, but he's fine to continue. With the weather getting worse and visibility declining into whiteout conditions, we decide to keep the group together and continue upward to Camp Muir.
While Matejcek, the sniper, and McCall, the Ranger, bring up the rear to ensure no one gets left behind, Fallon takes it upon himself to walk point. The former infantry platoon commander seems at ease in the storm. His demeanor is exactly the same as it was the night before when we were warm, dry, and sharing a spaghetti dinner. He may as well have been sitting on a beach somewhere.
Fallon's never been on Rainier, but he's no stranger to climbing. He's already bagged half of Colorado's 14,000-foot peaks and California's Mount Whitney: the tallest American mountain outside of Alaska. I watch as he takes the lead and disappears into the white nothingness above us. Spivey naturally falls in line behind him, and I follow.
The wind turns from strong to hostile. It now takes our full attention and a significant amount of energy to fight the wind. The increased gusts deny us the ability to rest between steps, as we have to lean into the wind just to avoid being blown into the void. The rain pelting my hood makes the mountain's own Gore-Tex paradiddle, and becomes the only thing I can hear above the howling.
I start to question why the hell I am 10,000 feet out of my league. I didn't need to be up here freezing my fucking ass off, desperately searching for any respite from the 90-mph shitstorm the mountain was throwing at us. I took this assignment for a few reasons — most of them self-serving.
On a professional level, I want to prove to my boss he didn't make a mistake when he hired me. By climbing this godforsaken piece of rock, I'll prove I'm more than just an extra set of hands on a keyboard. I'm willing to go to any clime or place in pursuit of a good story. Now that I'm in that place, I'm really questioning my judgment.
On a personal level, I came for another reason. I'm desperate for another taste of camaraderie. Not the kind of joy you share with the rest of the kitchen staff after emerging from the weeds of a long night in a busy restaurant, or even the kind of fellowship you might get as part of a tight-knit police shift (both of which I've already tried). I'm hungry for one more taste of real camaraderie, the kind you can only get when your life is in your team's hands, and theirs in yours. I want the level of trust I haven't felt since flying out of Afghanistan for the last time. That's why a lot of us are here, voluntarily suffering — together.
After eight hours of leaning into the wind and setting one foot in front of the other, I see a series of dark shapes above me. Jutting out of the whiteness like the black humps of some Lovecraftian leviathan is Camp Muir. A tower of exposed rock provides a partial wall to a guide shelter: a stone hut measuring 10 feet by 24 feet. Muir also houses two stone pit toilets and an emergency shelter, though most of the camp is hidden in the whiteout.
Spivey looks back at me and waves toward the rocks. The wind makes it too loud to shout to each other, but I know he's making sure I see the camp. I wave back and return my attention to where I'm placing my feet. They've been soaked for hours now, and I can only tell they're freezing because my calves feel cold. From my shins down, I feel nothing.
I take a few more steps, then turn and make sure Laird sees our salvation up ahead. He waves, and I turn back to eyeing my feet into Spivey's boot prints. It's fully dark by the time I stumble into Muir. I find Spivey standing behind the guide shelter, trying in vain to escape the biting wind.
"Why aren't you inside?" I yell, even though we're standing inches from each other.
"No room! They can't let anyone else inside! Said it's strictly for the climbers who paid for a guided climb," Spivey shouts.
The wind is going to make setting up a tent nearly impossible, and we have a whole team of climbers who are dangerously close to getting hypothermia.
I can't believe it. We are soaked and freezing. The wind is going to make setting up a tent nearly impossible, and we have a whole team of climbers who are dangerously close to getting hypothermia.
"Did you tell them how wet we are?" I ask.
Spivey nods, then shrugs. I stand next to him trying to think of what to do, but the cold leaves my brain without ideas. Laird arrives next, and we find ourselves huddled together inside the pit toilet.
"It's hard being hard," Laird offers, his smile covered in a wool gaiter.
The rest of the team starts to arrive, and eventually we're all crammed inside the same pit toilet. Rabren is still on his feet, but his head is pounding so hard he barely opens his eyes or speaks. If the situation weren't so grave, we might be laughing at the absurdity of our shitter-shelter. After a few minutes of unproductive shaking, we notice a headlamp coming down from the higher portion of camp. Despite the snow, I can make out Fallon's illuminated face.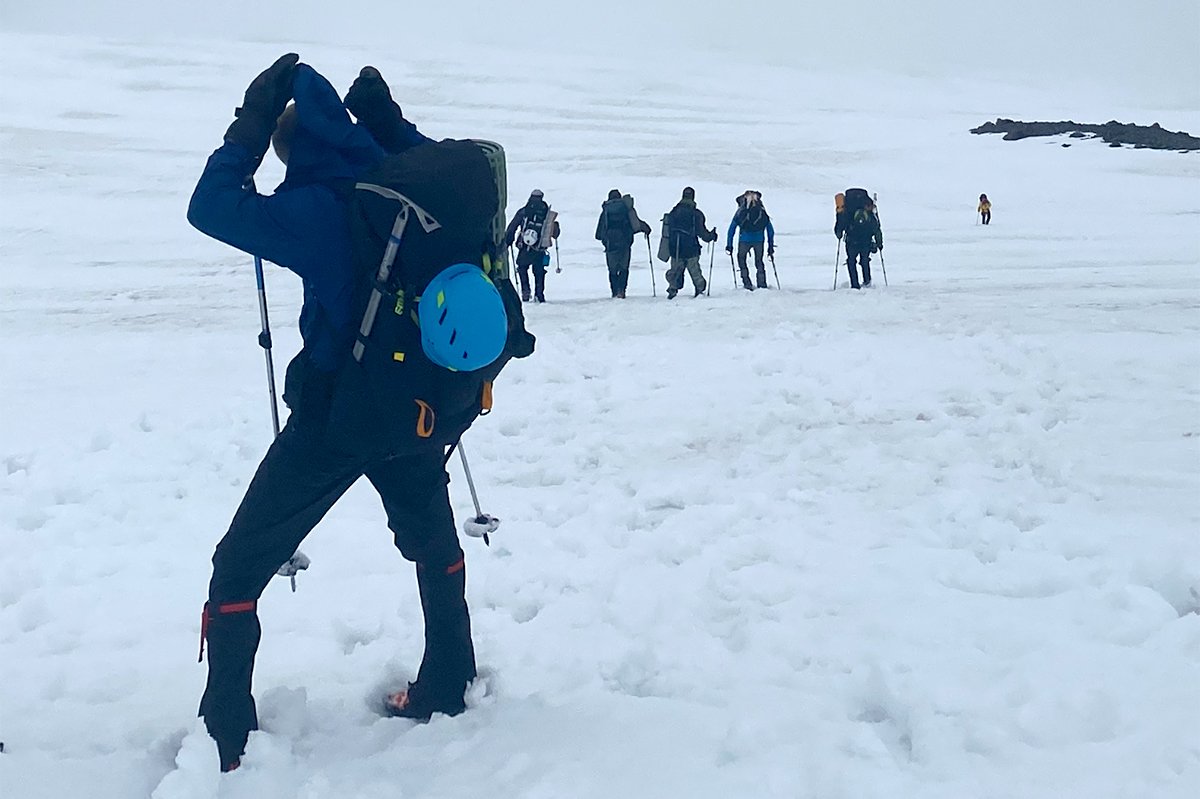 "Boys! I found an emergency shelter. Follow me," he says before turning around and climbing back into the darkness.
We step into the wind and head in the direction of Fallon's light.
Around a snowdrift is a small, heavy door with a section of steel pole in place of a doorknob. It more closely resembles a hatch on an old frigate sunken into the mountain than a door. I hunch over and squeeze through the small opening to find two shivering climbers inside.
"Glad to see you guys made it," one of them says. "Dude, we would've fucking died if this place wasn't here."
The two climbers inside are young, probably teenagers. Based on the pile of soaked snowboarding clothes on the icy floor, his self-assessment seems accurate.
The inside of the rectangular shelter is freezing, but it's out of the wind and rain. A layer of ice coats the floor, but two levels of wood line one of the walls like giant bunk beds. One by one the rest of the team piles in until we're all accounted for. A few short comments of gratitude get muttered, but for the most part we each silently go about shedding our wettest layers and climbing into our sleeping bags.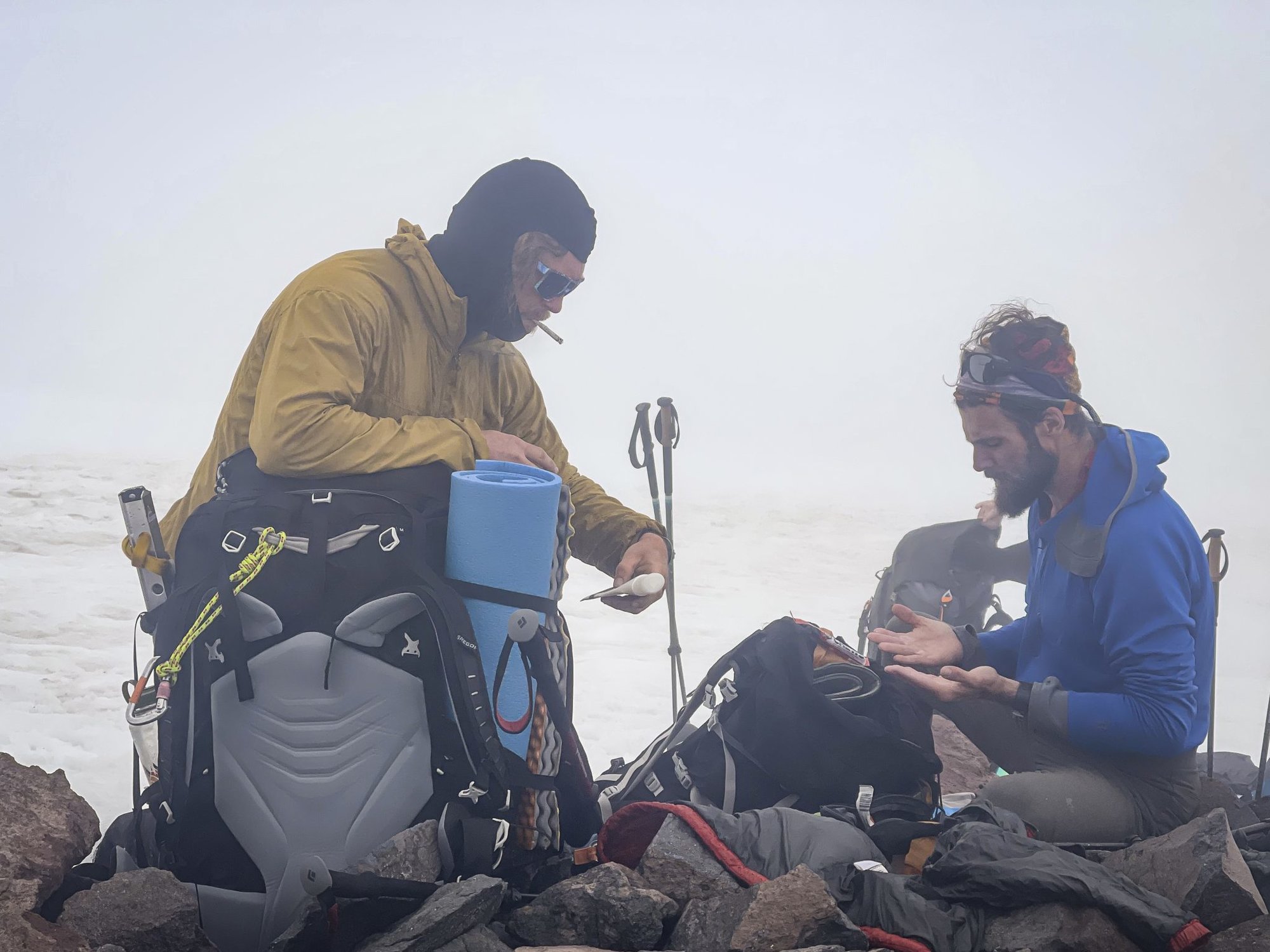 The risk of hypothermia is virtually gone inside the shelter. With no unrelenting wind and rain, I finally have a chance to appreciate the moment. Wrapped in my sleeping bag cocoon, I realize the mountain has given me exactly what I wanted. We stepped off with our eyes on the summit, but we were here for the journey. We wanted hardship and shared misery. A beautiful climb from base to peak would have provided some gorgeous photo ops and some bragging rights, but most of us would have felt cheated. I lie awake smiling and shaking for hours before warming up enough to doze off.
Risk and Respite
Just like the morning after a bender in a shared hotel room, one by one, people start to open their eyes. Quiet conversations slowly elevate until most of us are awake, but we're all too cold to venture out of our bags.
"Who here still has any dry clothes?" Matejcek asks, sitting up in his orange sleeping bag.
A quick survey reveals most of the team is still soaked to the bone. With no dry clothing, it's clear that a push to the summit is no longer feasible.
After a quick breakfast of hot coffee and civilian MREs, we pack up for the descent. Dry clothes and beer waiting at the bottom of the mountain will make descending in one piece a victory.
We make final checks and prepare for the long climb down to Paradise. I turn to take in one last glimpse of the summit from the 10,000-foot viewpoint, but as if our decision to abandon the summit push makes us unworthy, the mountain refuses to fully reveal herself through the clouds. I turn back and trudge after Spivey down into the clouds below.
The day after our team gets off Rainier without a hitch, another climber is killed on the mountain. Unusually warm weather weakened the snow, and the climber broke through a snow bridge, falling 60 feet to his death.
News of the accident reminds me how thin the line is between adventure and tragedy. Death on the mountain feels as random as death in combat. And while the risk of dying was markedly smaller during the climb, the risk played an undeniable role in my appreciation of the experience. It's what makes a post-gunfight cigarette taste like heaven, and it's what made our post-climb beers so delicious.
"Man, I feel like I can't remember anything besides being cold, wet, and happy at Muir!" Laird tells me a month later.
It's how all of us remember the climb. For our small team of mostly inexperienced climbers, a taste of what high altitude has to offer was a welcome respite from life after war. It was cold, wet, and miserable, but it reminded us of the inner strength we all possessed, yet seldom needed in a wonderful life away from combat.
---
This article first appeared in the Spring 2022 print edition of Coffee or Die Magazine as "Cold Mountain."
Read Next: Peace in the Clouds: How One of the World's Deadliest Warriors Found His Zen