In late 1968, Army Col. Jack Treadwell was probably the most decorated — and perhaps most famous — active duty soldier in America. He was awarded the Medal of Honor for actions in World War II before — almost uniquely among Medal of Honor recipients — continuing on with a full career in the military. By November of 1968, he was the chief of staff of the 23rd infantry division, whose troops were spread across several remote Vietnamese patrol bases. Wanting to keep a connection with his troops, Treadwell took a helicopter tour of the front lines, bringing along a young major from his staff.
Approaching a jungle landing zone, the helicopter crashed, trapping Treadwell inside the burning airframe. The major, having freed himself and escaped the crash, realized Treadwell was trapped and returned to the burning helicopter to pull his boss and a second soldier free.
The major was Colin L. Powell, who died Monday, Oct. 18, at 84 as a towering figure in American military history but who was, first and foremost, an infantry soldier from the Bronx. He is survived by his wife, Alma, whom he married in 1962, and three children.
For his rescue of Treadwell, Powell received the Soldier's Medal. By the time he retired from public life in recent years, Powell had risen to be both chairman of the Joint Chiefs of Staff and the Secretary of State as the first Black American to hold either role. And while the majority of the men and women who rise to those positions begin their careers in the Ivy Leagues or at military academies — including, for both jobs, four of the five most recent officeholders — Powell's parents were Jamaican immigrants to the South Bronx, and he attended the City College of New York, joining the Army via ROTC.
A Life of Service
As a general, Powell helped plan the invasion of Panama, served as national security adviser to Ronald Reagan during the collapse of the Soviet Union, and most memorably, led the military into its first major post-Vietnam conflict, the 1991 Gulf War in Kuwait and Iraq, as chairman of the Joint Chiefs of Staff. He was named to that position by President George H. W. Bush and remained there under President Bill Clinton. He was George W. Bush's secretary of state for four years, including through 9/11 and the invasion of Iraq. As America's top diplomat, Powell engineered the so-called coalition of the willing, a term used often by Bush to refer to the 31 nations that participated militarily in toppling Saddam Hussein.
"Many presidents relied on Gen. Powell's counsel and experience," former President George W. Bush said in a statement Monday.
In 2008, Powell surprised politicians from both parties by endorsing Barack Obama for president over John McCain, whom Powell considered a friend.
"I think we need a generational change," Powell said on NBC's Meet the Press in announcing his endorsement. "It isn't easy for me to disappoint Sen. McCain in the way that I have this morning."
Powell remained a Republican and briefly considering a run for president. In recent years, he spoke out against his party's changing leadership. "We have come to live in a society based on insults, on lies, and on things that just aren't true," Powell said in 2018. "It creates an environment where deranged people feel empowered."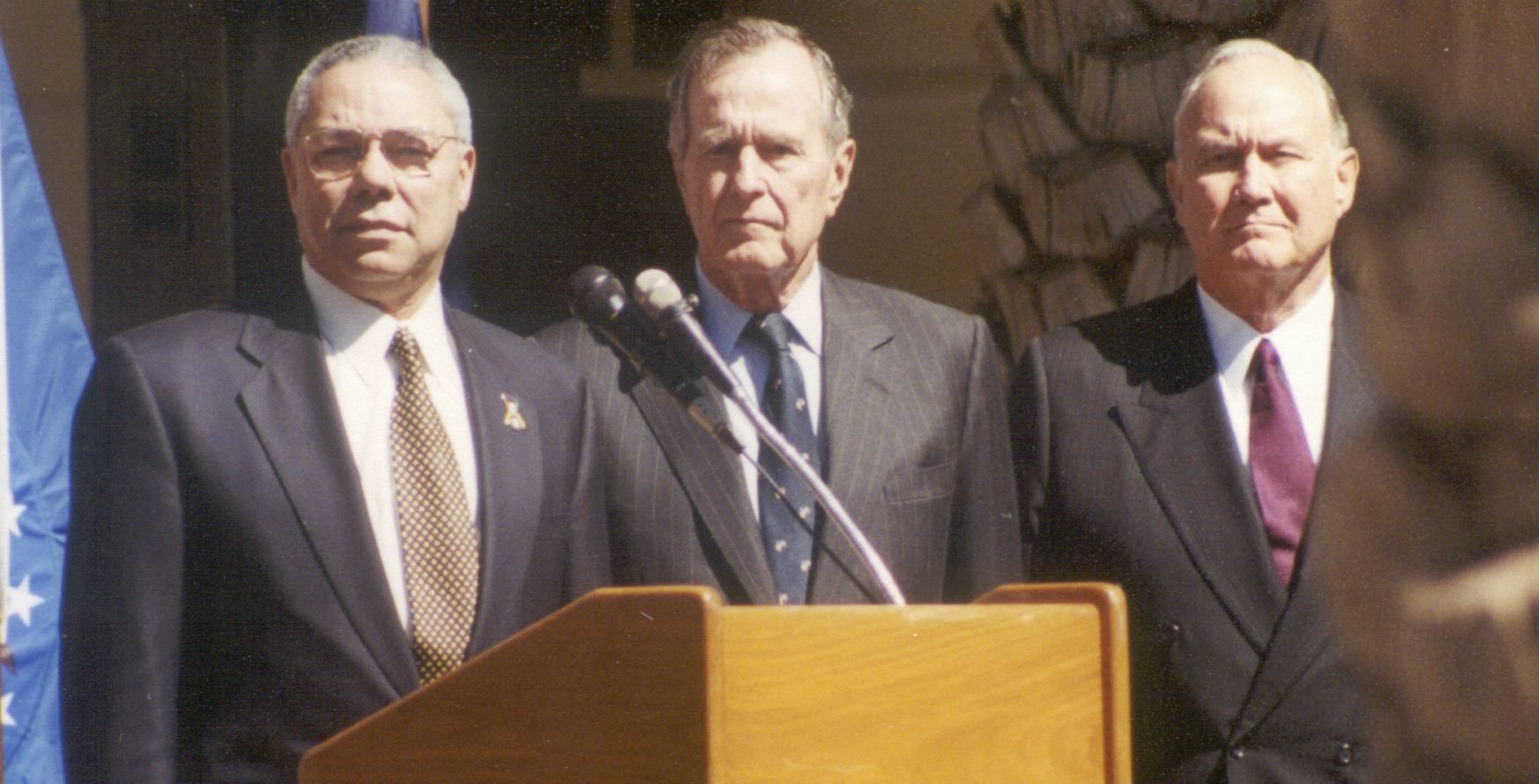 Military Legacy
As chairman, Powell introduced a process and commitment to American military power that still bears his name, the "Powell Doctrine" (a name coined by journalists, not Powell), which he laid out in the 1992 Pentagon publication, "National Military Strategy of the United States."
"For most of the past 45 years the primary focus of our national military strategy has been containment of the Soviet Union and its communist ideology," he wrote. But going forward, Powell said, the US would have to shift from facing one enemy to a force capable of filling many roles. Powell argued that military force should always be a last resort that the objectives behind it should be clear. As a leader of the force, he wanted to reorient the military away from facing one powerful enemy in Soviet Russia to embracing general ideas like force projection, technological advantages, and most importantly, "decisive force" — the idea that the US should never enter a fight in which it did not have an overwhelming military advantage.
"Once a decision for military action has been made, half measures and confused objectives exact a severe price in the form of a protracted conflict which can cause needless waste of human lives and material resources, a divided nation at home, and defeat," Powell's planners wrote in the 1992 document. "Therefore one of the essential elements of our national military strategy is the ability to rapidly assemble the forces needed to win—the concept of applying decisive force to overwhelm our adversaries and thereby terminate conflicts swiftly with minimum loss of life."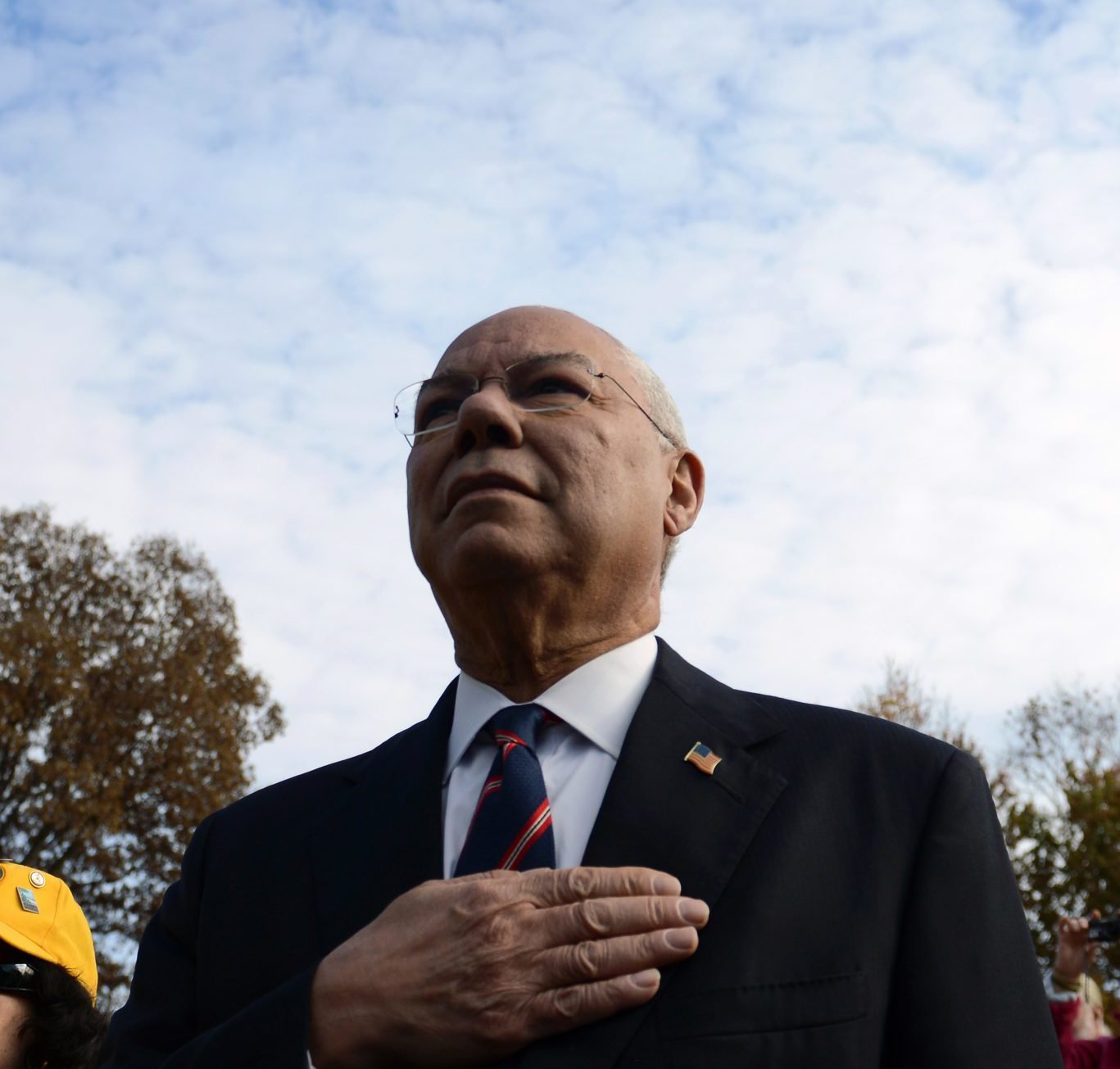 Writing in Foreign Affairs in 1992, Powell said, "The reason for our success is that in every instance we have carefully matched the use of military force to our political objectives. We owe it to the men and women who go in harm's way to make sure that this is always the case and that their lives are not squandered for unclear purposes."
However, once clear of the military, Powell faced a world where those principles of overwhelming force and clear objectives did not offer a clear path. As secretary of state in 2003, he gave an infamous speech at the United Nations that made the case for war with Iraq, a case that later fell apart when the regime of Saddam Hussein was found to have never possessed the array of so-called "weapons of mass destruction" that Powell claimed Hussein had.
Powell died, his family said, of complications from a COVID-19 infection, and he had received COVID-19 vaccinations. But medical conditions in his final years made Powell a high-risk patient for whom vaccines did not provide the level of immunity they do in the general population. Powell was a survivor of a blood cancer known as multiple myeloma, a condition that degrades the immune system and that, several studies have shown, reduces the effectiveness of COVID-19 vaccines.
Read Next: One More Wave: The Navy SEALs Helping Disabled Veterans Heal With Custom Surfboards