"Hey you!" an Iraqi man shouted with a heavy accent. "You're that guy!"
"What? What are you talking about?" replied Andrew Anthony Hernandez, a US Army combat veteran turned private security contractor working in Baghdad, Iraq, in 2015.
"It's you," an American contractor chimed in. "The guy from the internet."
This interaction immediately prompted Hernandez — known professionally as Drew Anthony — to check on a Facebook video he'd posted the day prior called "10 Ways To Identify a Combat Veteran." To pass the time in Iraq, he was posting funny videos for his friends and family on his Facebook page parodying the monotony and stereotypes of military life. The humorous list included identifying combat vets by their patriotic tattoos, manly beards, and a readiness for "ass whoopin" to defend American values. Overnight, the video had gone viral with 500,000-plus views.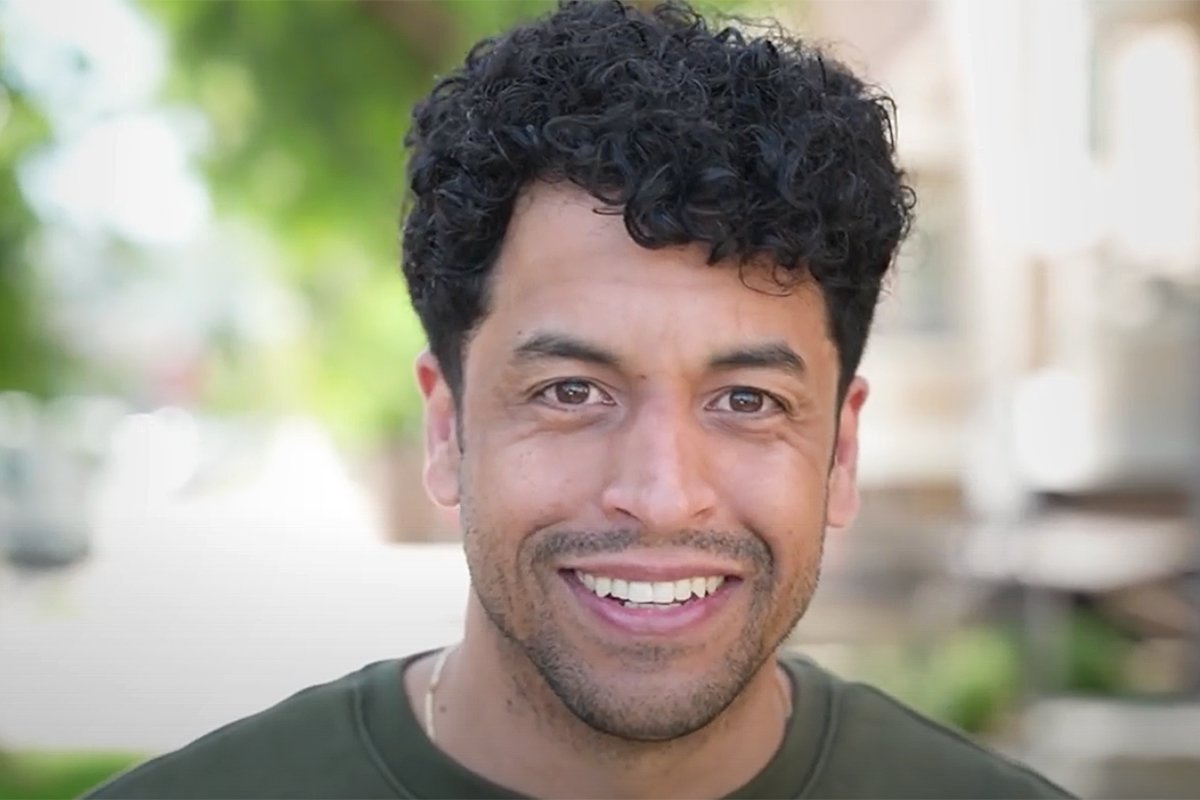 While viewers — including several fellow contractors in Baghdad — found the video funny, Hernandez's boss was less enthusiastic, mainly due to a security badge worn by a fellow contractor in the video that was not supposed to be photographed. Hernandez quickly took down the video and blurred the security badge before re-uploading it. Undeterred, he used the sudden internet fame to launch A Combat Veteran pages on Facebook and YouTube.
Within a few short years, he amassed hundreds of millions of views and hundreds of thousands of followers by serving up videos anyone who wore a military uniform could find hilariously relatable: the recruiter who, like a bad ex, won't stop calling someone until they enlist; the lazy soldier, aka shammer, who magically appears only after all the work is done; and the drill sergeants who endlessly push the boundaries between tough training and potential hazing.
As the brand grew, Hernandez started generating some income off the platforms' views but made it clear it was all fun and games. Not work. Resources, equipment, and effort were always kept at a minimum.
"I had a thing about working hard, because I worked so hard for so many years," Hernandez said. "I didn't want to work hard at this. I wanted it to be as simple as possible."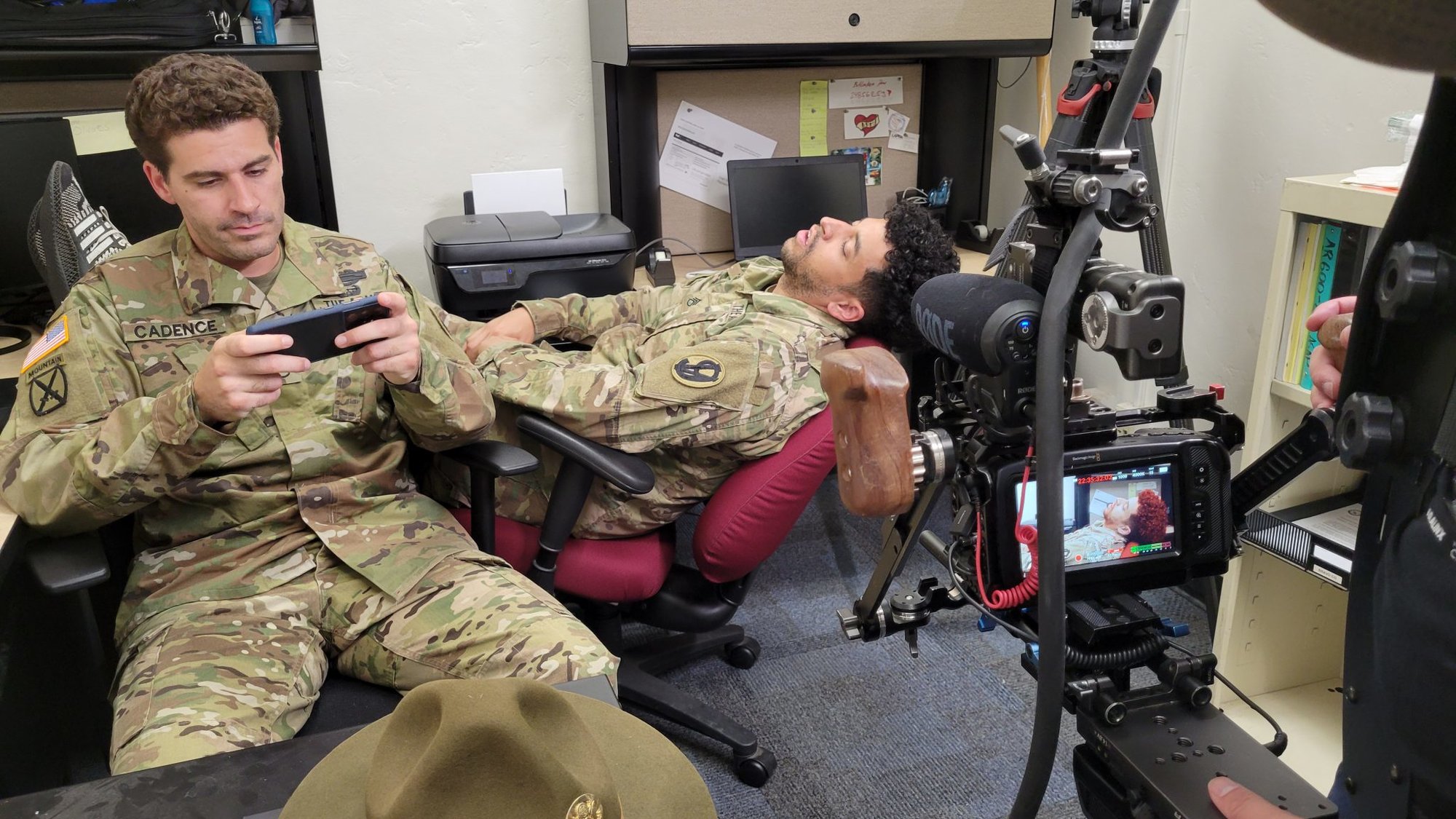 A Combat Veteran continued to reach millions of viewers. So Hernandez moved to Hollywood and became a familiar face within the veteran community. A chance meeting on Hollywood Boulevard in 2019 with one of his fans would lead to an unexpected business partnership.
"Hey you!" shouted a man on the boulevard. "You're that guy!"
The man was Juston Graber, a US Army infantry veteran with tours in Iraq and Afghanistan, now an aspiring actor in Los Angeles. The pair talked about filmmaking and the Hollywood grind, then exchanged information to collaborate on a sketch.
Not anticipating Hernandez's tendency to keep all things simple, Graber, who has a bachelor's degree in theater from the University of Southern California, showed up to the first shoot with multiple costumes and a full light kit. He made a good impression, so the two men looked for other projects to collaborate on.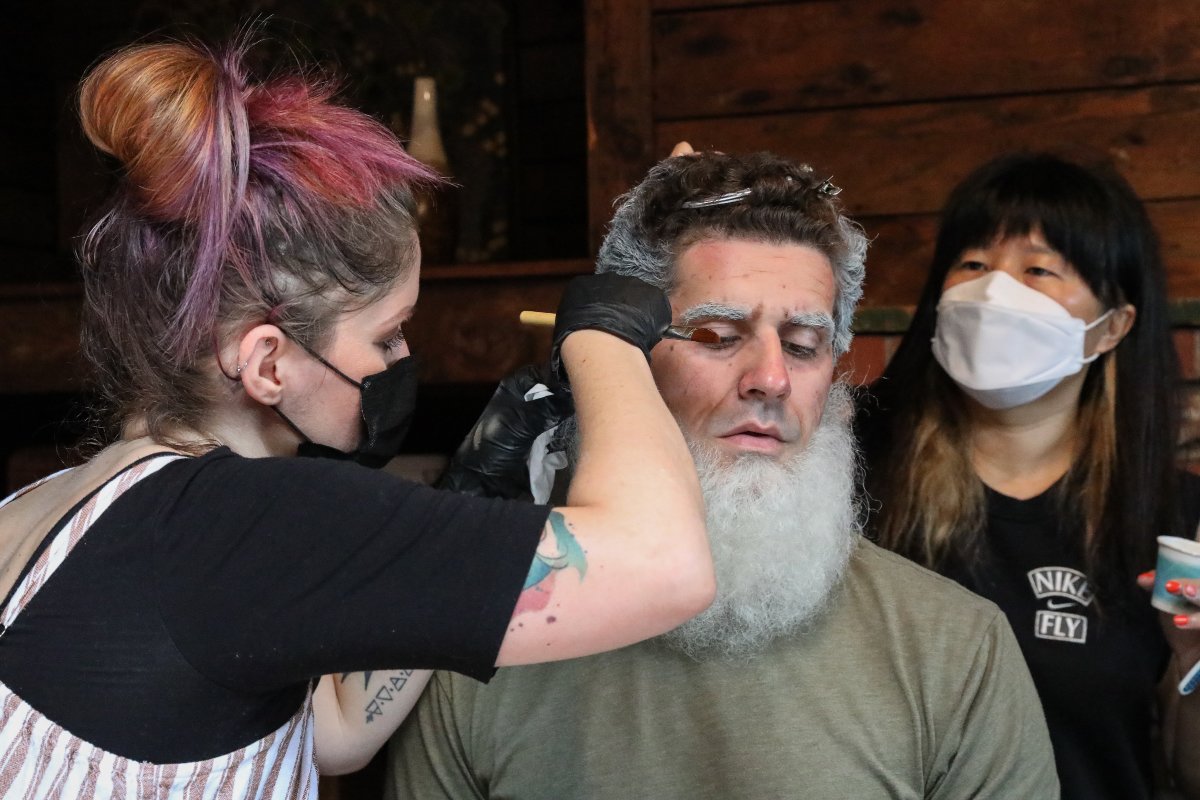 Within the next several months, they wrote and shot multiple short films. Their 23-minute horror film Orisha — about a soldier caught in the clutches of a powerful deity — has received 13 awards from multiple film festivals, according to IMDb. Their crime miniseries, Heist, received acclaim from A Combat Veteran fans. Spread, a biological thriller, is currently in film festivals and has already received a Florence Film Award for best picture and best actor for Graber's performance.
Even with their rising success in short film and online content, the vetrepreneurs still felt unappreciated by the industry. Both struggled to land auditions or roles, even ones that specifically called for military combat experience. Their only consistent showbiz roles were the ones they created themselves.
In early 2021, Facebook suddenly stopped paying A Combat Veteran revenue owed from streaming views. Hernandez spent months contacting support and being passed from one supervisor to another, all while keeping the problem a secret from Graber.
It was a devastating awakening. A major company held their livelihood in its hands and could stop paying them for any reason. Hernandez was fed up, so he approached Graber with the idea to build their own streaming app.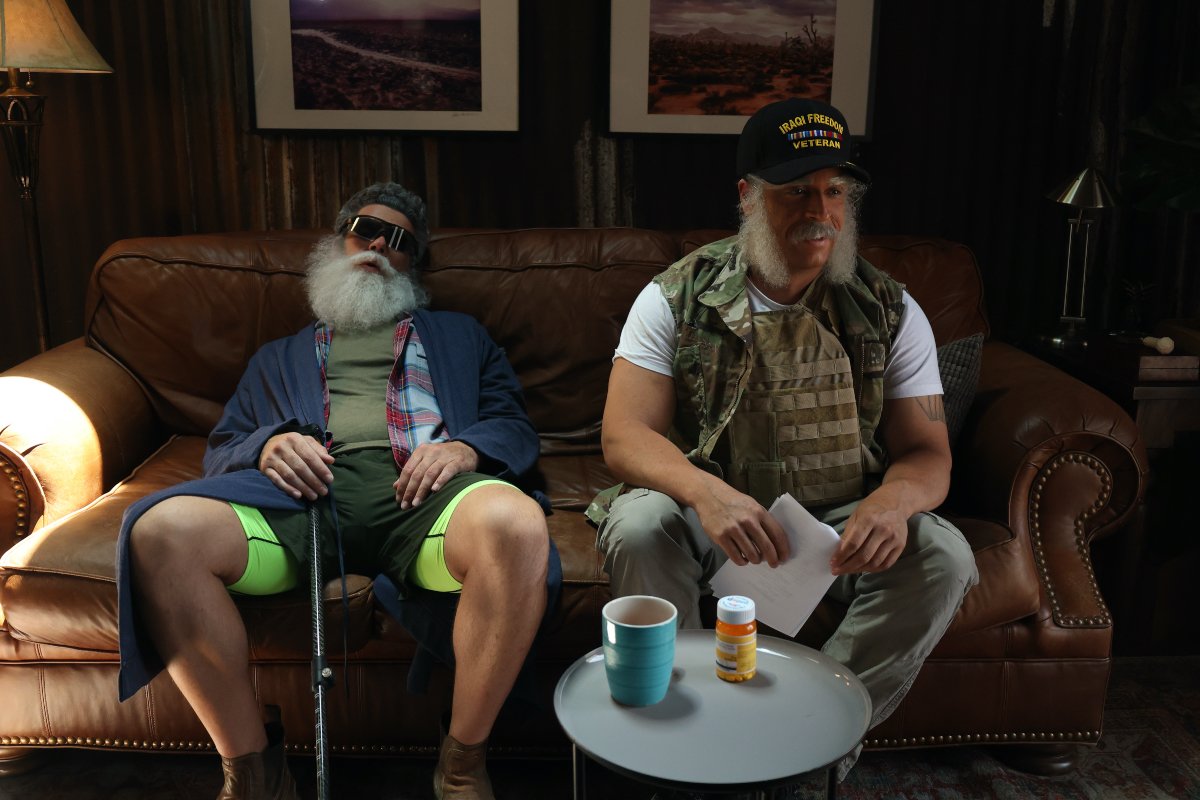 "I told him we should get things resolved with Facebook and start up next year," Graber said. "The next day, he told me he paid the startup fee and we now have our own app. I'm like 'Son of a bitch!' Well, I guess we are doing this."
For Hernandez, the choice was simple.
"I knew if I waited a year, this wasn't going to happen," Hernandez said. "Things will get solved, we'll be good financially and it won't happen."
In May, Hernandez and Graber launched the A Combat Veteran app, which gives viewers access to their comedy sketches, short films, narratives, and commentaries for $4.99 a month. They pulled content that was previously on Facebook and YouTube and relaunched it on the app. Today, they continue to produce a wide range of content with larger budgets and experienced crew members. They even shot a Western with live horses. The app also freed them from the oversight of social media algorithms, rules, and censorship. But the main benefit was control over their own journey as storytellers.
"The app puts us in a position to not need anyone in this town," Hernandez said. "You can spend 30 years working for your Hollywood breakthrough and it never happens. We get to do what we love."
Hernandez and Graber are also creating opportunities for other military veterans looking to showcase their talent and make a break in Hollywood. Veterans have worked on A Combat Veteran productions as actors, camera operators, sound operators, and more.
Running their own production company does have its drawbacks. The pair now find themselves working harder than ever. Subscribers haven't signed up in the numbers they expected, and with the average production costing $500 to $1,000 per minute of screen time, every project's potential is scrutinized.
"In building the app, we've made all the wrong moves," Hernandez admitted. "No matter how much you prepare for something, you always seem to make mistakes." The biggest upset has been the large amount of money poured into a marketing strategy that has provided only minimal results.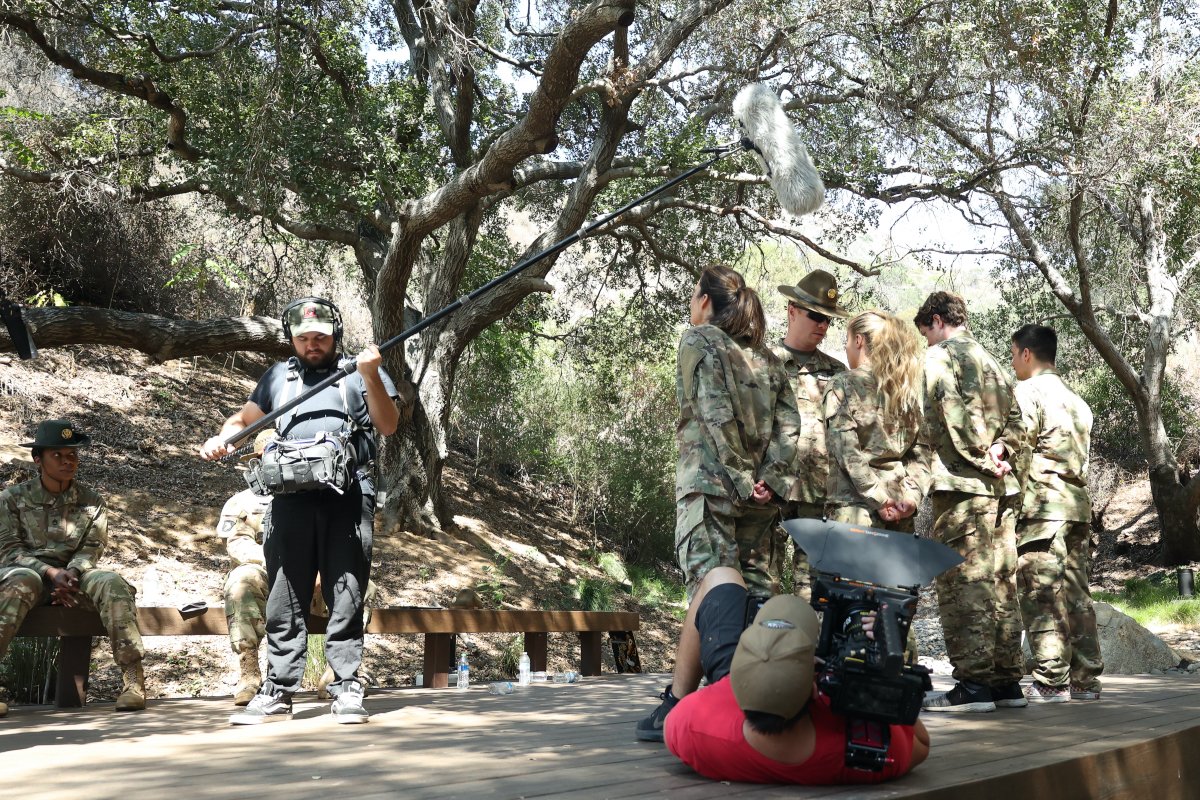 Sometimes that stress has shown in front of the camera. In a recent drama called Til Valhalla, a story involving the subject of veteran suicide, the entire film had to be reshot because Hernandez's performance wasn't up to snuff. Both men admit they have struggled with suicidal thoughts in their post-military lives, but bringing authenticity to this character was still a struggle.
"The military teaches you to toughen up," Graber shared with Hernandez. "But in acting, vulnerability is your most powerful tool."
Hernandez and Graber have invested their livelihood in the A Combat Veteran brand. It's a big risk in a long-term game, but risk is a familiar place for two combat veterans.
"The military teaches everyone to be too stubborn to quit," Hernandez said. "You gotta feel this shit. You can't go into this thinking you're not going to sacrifice anything for it. Everyone has to sacrifice something. I'm not just too stubborn to quit, I'm ready to risk everything for it."
Read Next: