These days, quick and convenient ways to get your caffeine fix on the go have never been more accessible. But have you ever tried to pick up a specialty drink in highly congested areas, like a mall, a movie theater, or a live sporting event? If so, then you probably had to brave the long lines typically found at those venues.
This week, Costa Coffee, the United Kingdom's leading innovator in barista-quality, machine-crafted coffee, announced that it would be testing a new line of coffee machines across select locations in Bristol, England. The "Costa Express Hot and Iced Drinks Machine" is the world's first integrated self-service coffee machine.
The Costa Coffee story began in 1971 when brothers Sergio and Bruno Costa arrived in London with a burning desire to make great-tasting coffee a part of everyday life. The brothers first opened a small-batch roaster on Fenchurch Street, London, where they proceeded to test 112 variations of coffee before choosing their signature blend. Named "Mocha Italia," it remains Costa's calling card. Today, the Costa brothers' roastery — located in the English town of Basildon, Essex — is one of the largest in Europe, processing up to 45,000 metric tons of coffee a year.
Over the next two months, Costa Coffee will debut the Costa Express Hot and Iced Drinks Machine in more than 40 Costa Express locations across the town of Bristol in the United Kingdom. Here in the US, the company's original self-service machines are a popular attraction at movie theaters.
"Costa Express is synonymous with exceptional coffee on-the-go, so we're delighted to begin trialling our Costa Express Hot & Iced drinks machine in Bristol this Summer," Nick Orrin, director of Costa Express UK&I, said in a press release. "The technology is nothing short of a gold-standard level of innovation — a world's first for the self-service coffee machine industry — and we're proud to lead the charge as our customers can now enjoy their favourite hot or iced barista quality, machine crafted coffee."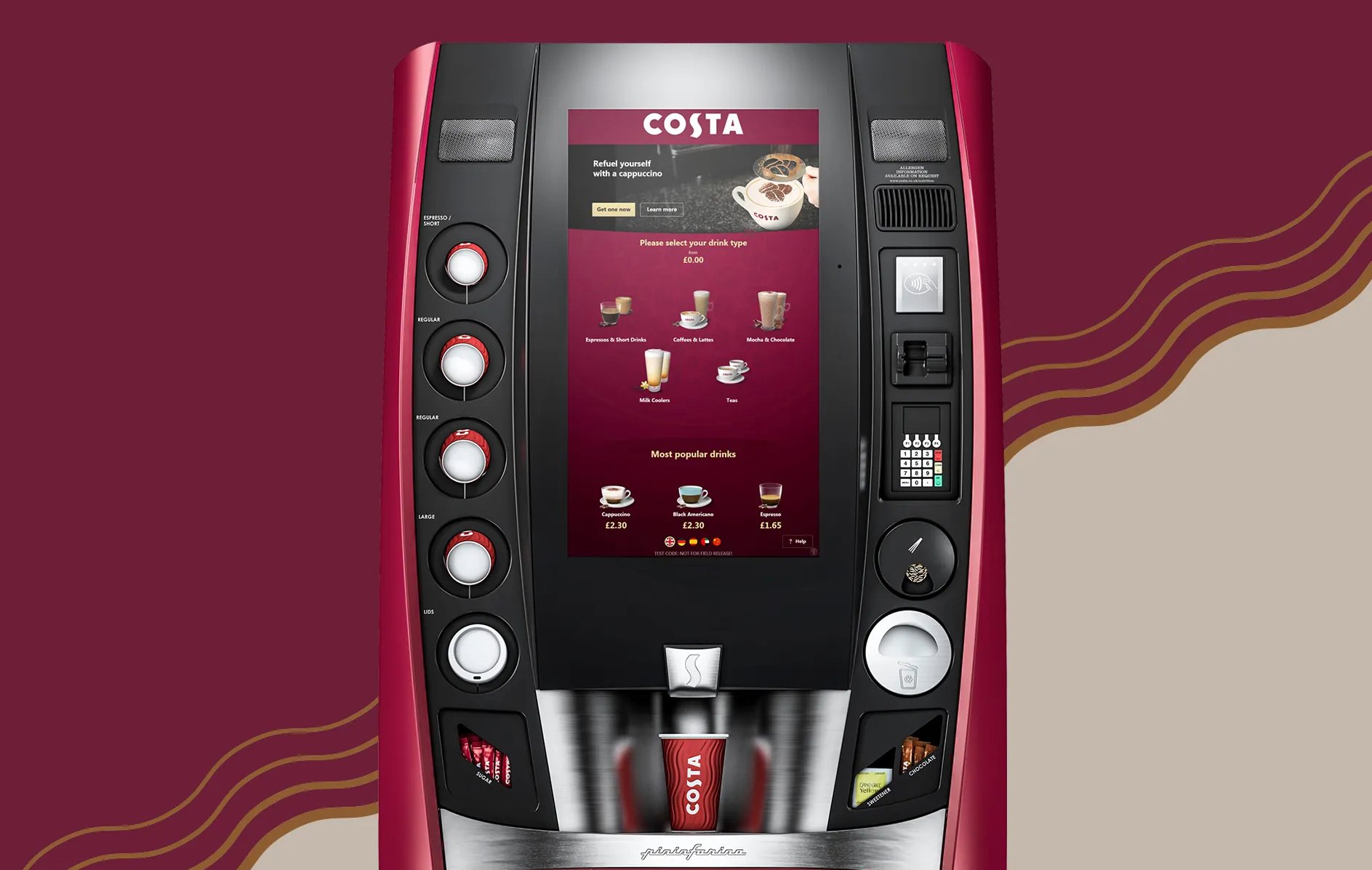 The newly updated self-service machines will offer 500 unique hot and iced drinks. With the newly released iced coffee offerings, enthusiasts can now choose from various drinks, all brewed using the company's signature blend.
Each modern self-service machine will use freshly ground signature-blend coffee beans, real milk, and cutting-edge technology, giving enthusiasts a specialty drink experience. The new Costa Express machines will also offer a selection of iced fruit drinks, including strawberry and lime flavored beverages.
"Customers from all over the country are blown away by the quality of our product and during these uncertain times, their daily coffee run has proven to be all that more important as they try to include a bit of normal in their routine," Orrin said.
Read Next: