While the battle against the coronavirus pandemic continues, America has recently made major strides in combatting another public health crisis — the war on drugs.
Over the past 12 weeks, U.S. counternarcotics forces working for U.S. Southern Command seized 269,000 pounds of cocaine, 18,000 pounds of marijuana, and captured 1,000 drug traffickers. Altogether, the captured drugs were equivalent to roughly $2 billion in illicit profits, U.S. Secretary of Defense Mark Esper said Friday during remarks alongside President Donald Trump at U.S. Southern Command in Florida.
It was a historic haul. And the results marked a key win for a counterdrug blitz across the Caribbean Sea and the Eastern Pacific, which Trump set in motion on April 1.
"You're on the front lines every day saving countless American lives and delivering the righteous thunder of American justice," Trump said at U.S. Southern Command on Friday. "Our message is clear: You will not threaten our citizens, you will not poison our children, and you will not infiltrate our borders. We will find you, we will stop you, and we will put everybody that we find behind bars — if you're lucky."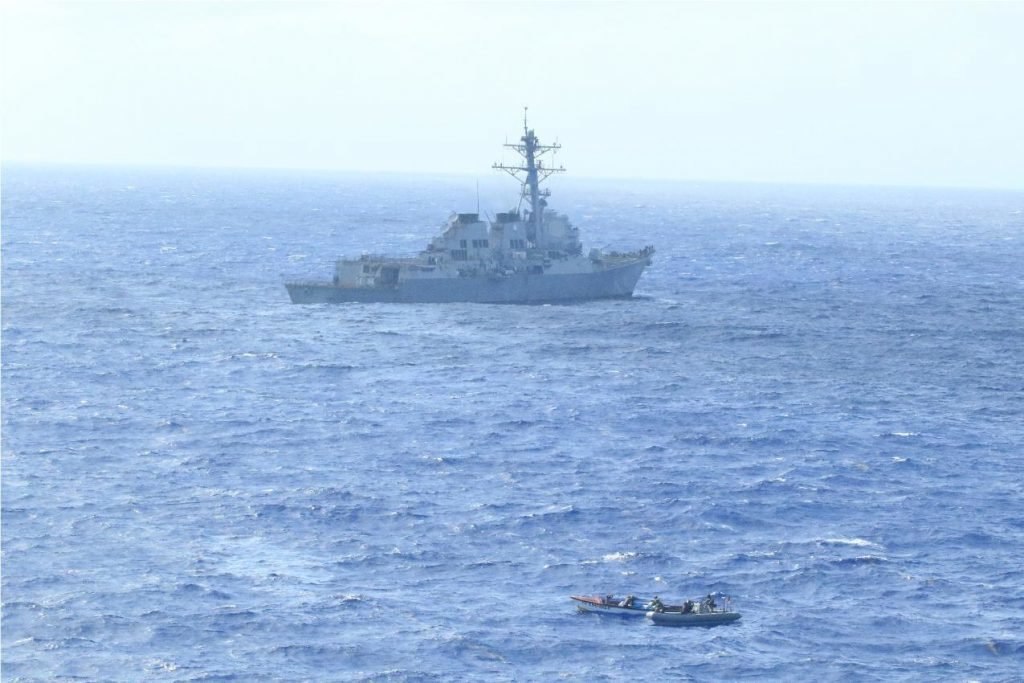 According to a White House fact sheet, illegal drugs are responsible for 70,000 American deaths each year. The aggregate annual value of the drug trade from Central and South America into the U.S. is roughly $90 billion, U.S. officials say.
U.S. officials anticipated that Central and South American drug cartels, along with narco-terrorists and other criminals, would try to take advantage of the coronavirus pandemic to step up shipments of illegal drugs to the U.S. homeland.
"Transnational criminal organizations have destroyed far too many American lives," Esper said Friday in Florida.
The resulting counterdrug mission was called the "Enhanced Department of Defense Counternarcotic Operation in the Western Hemisphere." The effort increased ships by 65 percent, surveillance aircraft flights by 75 percent, and added 1,300 personnel over baseline, according to the Department of Defense.
U.S. Air National Guard and other Reserve units were activated to supply the additional manpower and hardware needed to fulfill the task force's needs. The additional assets comprised four U.S. Navy destroyers, five U.S. Coast Guard cutters, and eight aircraft, Esper said Friday.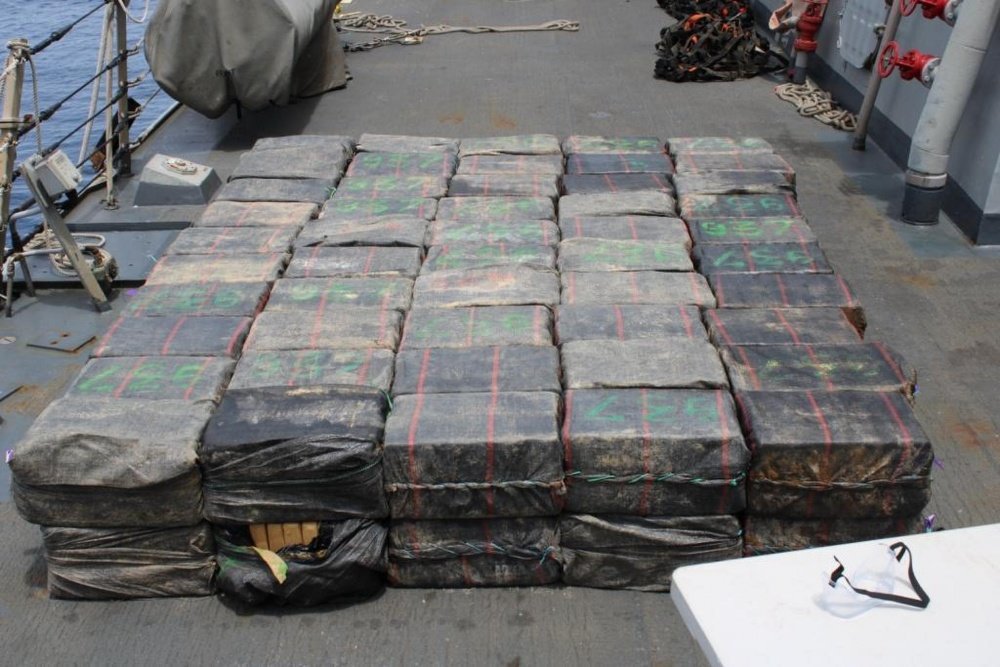 The U.S. Air Force temporarily deployed four aircraft — an E-3 Sentry (AWACS) and an E-8 Joint STARS (JSTARS), supported by two KC-135 Stratotanker aerial refueling aircraft — to the Caribbean island of Curaçao to participate in the operation.
"Currently, nearly a dozen Navy and Coast Guard ships and over 15 aircraft from across the interagency are supporting our efforts, in addition to security forces deployed to the region," Esper said. "Despite the challenges posed by the coronavirus pandemic, our enhanced counternarcotics operations have shown great success in countering those threats by disrupting the flow of illicit drugs, denying our adversaries financial resources, and strengthening the capacity of partner countries in the region."
Units from the Coast Guard, Navy, Customs and Border Protection, FBI, Drug Enforcement Administration, and Immigration and Customs Enforcement, working alongside agencies from 22 other countries, all joined forces in the counternarcotics operations, the Pentagon reported.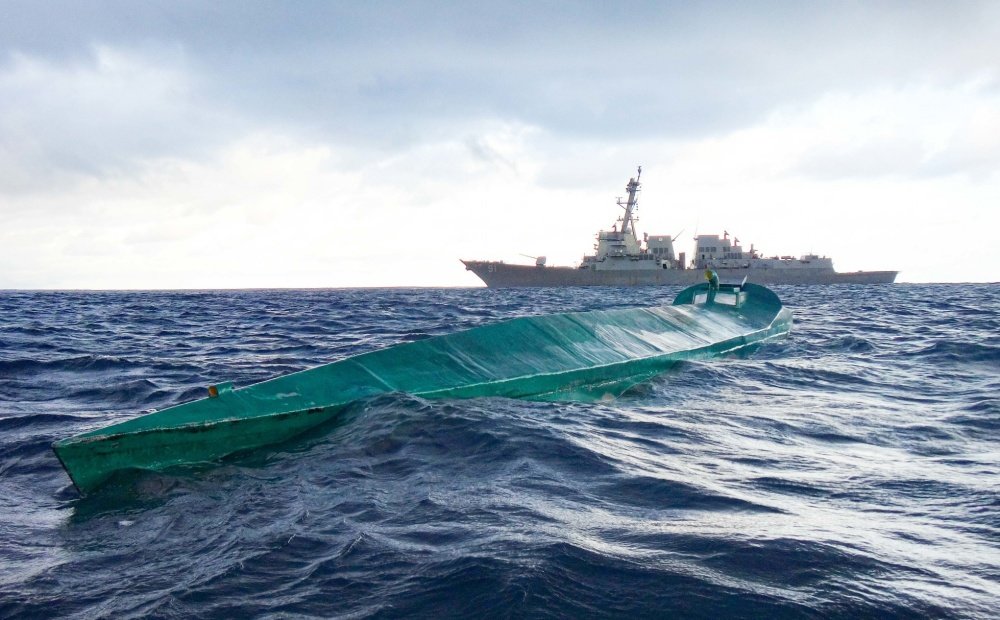 U.S. Coast Guard and Navy vessels, supported by U.S. military aircraft, interdicted four "go fast vessels" smuggling illegal drugs over four days from May 24 to 27, according to a U.S. Southern Command release.
"The results of this historic international campaign have been absolutely phenomenal," Trump said Friday, according to a White House readout. "These actions have denied the cartel of billions of — various cartels of billions and billions of dollars in cash, and prevented the loss of untold American lives, and we've seen the results in the United States."
On March 15, the littoral combat ship USS Detroit departed Florida for a four-month cruise in the Caribbean Sea and Eastern Pacific Ocean as part of U.S. Southern Command's enhanced counternarcotics operations. It was the USS Detroit's debut cruise in the U.S. 4th Fleet's area of operations, and the ship didn't come back empty handed.
On Saturday, the USS Detroit returned to Mayport, Florida, having "disrupted" some 4,000 pounds of cocaine, worth an estimated street value of $124 million.
"Detroit did a fantastic job while deployed, sending strong messages to our partners and our adversaries that the United States Navy operates globally and in all conditions," said Rear Admiral Don Gabrielson, commander of the U.S. 4th Fleet, according to a Pentagon release.